Chasing Caribou—Road Trips Style!
Hunters: Realtree Road Trips' Producer Marc Womack, Michael Waddell and pro-staffers Ralph and Vicki Cianciarulo
Location: Mirage Outfitters, Quebec, Canada
Dates: October 9-15--2005
Weather: Fairly mild with temperatures dipping into the 20s at night and highs reaching 45 degrees during the day.
Weapons: Compound bows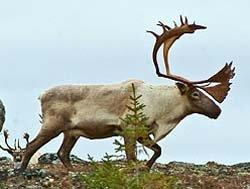 I've worked for Realtree as a cameraman for five years and had never hunted on camera. So when I found out that I was going to get to hunt caribou for the first time and have the hunt filmed, I was really excited. I was also really looking forward to hunting with Mirage Outfitters. I had heard a lot of great things about the outfitter and wanted to experience all it had to offer for myself. Realtree pro staffers Ralph and Vicki Cianciarulo hunt Mirage Outfitters every year and love it, and Michael Waddell, David Blanton, John Tate and Steve Finch have all hunted there as well. I was ready for my turn.
On the first day of our trip, we flew in to Montreal then flew deeper into the wilderness landing on a gravel runway. Then we drove two hours to the main lodge -- a beautiful log house that can accommodate approximately 100 people. The lodge boasted a beautiful interior as well as power and chefs. From there, we drove down to the river, boarded an otter float plane and flew an hour to base camp, which was more primitive but still comfortable and nice. Just getting to our hunting location that day was an adventure.
Although not as elaborate as the lodge, the camp where we stayed had generators and gas heat. We had comfortable beds and two camp cooks, so we slept and ate well.
The hunt was slated as a rifle hunt, but we decided to bowhunt instead. The first night we arrived, we sighted in our bows as we watched caribou crossing the ridge right across the lake from us. We had two tags each and were anxious to fill them. The first morning, Michael said he wanted me to shoot first, so I took him up on the offer.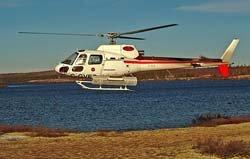 Depending on where the caribou are, you can take a float plane or helicopter trip out to where you'll be hunting. If they're close to camp, you can get on flat bottom boat and motor across the lake to your hunting local.
MARC'S MONSTER 'BOU
Since we had spotted caribou across from the camp that night, the next morning we took a boat across the lake to where we determined we'd find them. Within 45 minutes of leaving our camp, we ran into a small line of caribou. I didn't know what a big bull was supposed to look like. Michael had some experience with them, and of course, the guide knew all about their measurements and scores, so I depended on them to tell me when to shoot. As the first group walked by us, the guide said, "No. Wait." Then, a second group came by. I heard both him and Michael say, "There's a really big one. He's huge."
I could tell by the tone in their voices and the look on their faces that the approaching bull really was really huge, so I knew I had to get a shot off at him. When he got within bow range, I aimed and fired. My arrow hit dead on. He ran over the hill about 60 yards and died. I was so happy to have taken my first caribou.
For several days, that caribou was the biggest one in camp, even among those that the rifle hunters had shot. It grossed Boone and Crockett, but I don't know the score.
MICHAEL SEE MICHAEL SHOOT
The next day, it was Michael's turn to be the shooter. This time we took a float plane to our hunting spot. We flew over a line of thousands of caribou as they migrated to their winter destination in James Bay. It was quite a sight.
As soon as we got out of the plane, Michael ran up the hill and spotted a nice caribou 45 yards away. He said, "What about that one?" I said, "I'm on him with the camera." Then, within two minutes of getting out of the plane, Michael shot and killed his first caribou.
Laughing, I told him we needed to slow down because we had three more days' worth of hunting to do and only two more caribou to kill. There was another rifle hunter with us. I videoed him killing his caribou with a gun 45 minutes later. I was pumped to have gotten two great caribou kills on video within one hour of leaving the plane.
UP CLOSE AND PERSONAL
Later that day, Michael and I made it our mission to see how close we could get to a caribou with our bows. After doing some more scouting, we found a trail that crossed the river. Michael set up within 20 yards of the trail. I set up with my camera 10 yards behind him. He sat there as at least 200 bulls passed by him. Finally, he picked out a nice bull and shot it at only 10 steps from him. It ran off over the hill a few yards before it piled up. With that shot, Michael was done hunting for the trip.
When we returned to the plane, we found out that Ralph and Vicky had each killed a nice caribou and the gun hunter had killed another one, so we had six caribou we had to get back to camp.
DEAD WRONG WIND
The third day, we went out by helicopter. I got some great helicopter footage of the landscape and of the caribou. I had one more tag to fill and soon discovered that hunting that day was going to be a little bit tougher.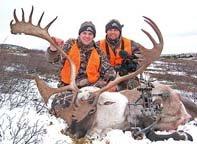 When you watch TV shows of caribou hunts, you'll think that taking one is pretty easy. If the wind is right, it can be. But, when the wind is wrong, taking a caribou with a bow is really tough. The minute the caribou smell you, they move out of bow range. You could probably still take one with a gun, but not with a bow. The wind was dead wrong that day.
The bulls were moving east to west, and the wind was blowing north to south. We had to scout around for a spot that would be downwind from the herd as they moved through. After three or four hours of scouting and failed attempts at getting close to the caribou, we found the perfect spot just south of the herd. We setup and waited. Finally the herd passed by us within range. A nice bull stopped right in front of me at 47 yards and offered me the perfect broadside shot. I took it and hit dead on. He ran a few yards and fell over dead.
I was excited to have finally taken my second caribou. The wind conditions that day had me really worried. I wasn't sure I'd get the chance to fill my second tag, but it happened. The second bull wasn't as big as the first caribou I killed, but he looked more impressive to me because his antlers were more palmated and had more character.
I truly had an awesome time on that trip. It was by far the most fun hunting trip I've been on since working with Realtree. I've enjoyed some pretty great trips, including ones to New Mexico and Africa, but this one had those beat. Even if I had just been working the camera and not hunting, I would have had a great time. Caribou hunting with Mirage Outfitter is the easiest high-adventure hunt that a person can have. It's adventurous, but it's not like enduring a month-long blizzard in Alaska.
ABOUT MIRAGE
From a simple dream, Mirage Outfitter has become reality thanks to the unrelenting work of a team which overlooks nothing to make your stay in the North an exciting experience that you'll remember all your life.
That explains why almost 90 percent of visitors return year after year, and how Mirage has so quickly become the largest winter outfitter for caribou hunting on the entire eastern seaboard of America without losing, in the process, the personalized touch which tourists value so much.
TROPHY HUNTS
To the well-informed caribou hunter, it is no longer a secret that to increase the odds on taking a record book caribou a hunter requires four very important things:• Float aircraft mobility
• Large caribou herds
• Excellent positioning of the camps
• Timing of the hunt
Mirage Outfitters has all this and more!
Mirage offers trophy caribou hunters incredible mobility with their specialized float aircrafts! Generally, the caribou herds in late September and October are migrating through at least one of the five outpost camp locations. The caribou herds are usually never more than a short flight away. Taking into account the unpredictable nature of caribou migrations, Mirage has modified one of its float aircrafts. With its payload of 1,500 pounds (depending on distances) and its extended long-range tanks, there isn't anywhere in the western sectors of Hudson' bay that cannot be reached. With four hunters per fly out, there is ample room for extra gear and caribou antlers on the return flight back to the camp.
STRATEGICALLY LOCATED CAMP: Taking into account the annual north to south migrations of the Leaf River caribou herds, the five full-service camps are located along the main migration corridor. As the caribou leave their summer ranges and migrate from the northern territories towards their wintering grounds in James Bay, your base camp is selected according to caribou movement and easy float aircraft accessibility to the herds.
ACCOMMODATIONS AND SERVICES: Mirage Outfitters has the finest selection of outpost camps in northern Quebec. Each camp is fully equipped with electricity, hot showers and full kitchen services. All the camps are new wooden structures with varying degrees of luxury. The further the camp is located north from the main lodge, the more rustic will be the accommodations. The two centrally located camps, The Clear Water Lake and Nastapoca River camps are the finest and most luxurious any one will find in northern Quebec.
TIMING FOR BIG BULLS: In late September, the caribou are out of velvet, migrating quickly and regrouping into large herds. Late September is a pre-rut period with the middle of October period producing caribou that are going into full rut.
The key to a successful trophy caribou hunt requires that hunters have numerous sightings of large bulls. The more caribou that can be looked over, the better the chances are of spotting a trophy bull. The hunting periods of late September and October are the best times of the year for numerous bull sightings. During the beginning of the pre-rut period in late September, caribou herds start to regroup and migrate together in preparation for oncoming rutting period and breeding season. As the pre-rut period progresses, bull bachelor groups migrate together in large numbers and start to establish their physical dominance within the herds. The bulls are constantly on the move seeking out the cowherds coming from their northern summer ranges.
As the pre-rut periods progress, bulls will start to gather up large harems of cows and begin to merge with the ever-increasing size of other caribou herd segments. Eventually, when the full rut period commences, the caribou herds have increased to such large numbers that thousands of animals are migrating together creating large vein like trails that scar the landscape for hundreds of miles. Once the main caribou migration trails have been located with aircraft, pilots drop off hunters in advance of the herds. Hunters quickly find out that spotting trophy bulls in large herds is not always easy. There are sometimes so many caribou migrating by the hunters that it becomes very difficult to judge antler scores and have time for a well-placed shot. Quite often, the big trophy bulls will be very interspaced within the herds and have large numbers of cows and other bulls surrounding them. The migration speed of the main caribou herds is generally faster in the pre-rut periods of late September when the bulls are in their cow-seeking mode. (Up to 25 miles per day) As the full rut kicks in, herd movement slows down a little while breeding activities start to occur.
For more information on Mirage Oufitter, call 1-866-339-6202, or check out www.mirageoutfitter.com.