Early Bow Battle in Wyoming
Early Bow Battle in Wyoming
The deer were there, but the weather threw the boys a major curveball. Here's how it all went down. -- By John Tate as told to Stephanie Mallory
Hunters: Bill Jordan, John Tate, Steve Snow and Mitch Hagen
Dates: August 31- September 6, 2005
Location: Seven J Outfitters in Sundance, Wyoming
Game: Whitetails
Weather: Mild the first day and in the upper 90s the rest of the time
Technique: Bowhunting the easy-to-pattern bucks as they travel to and from their summer feeding locations
Seven J Outfitters in Sundance, Wyoming, is one of my favorite places to hunt not only because of its beautiful location near the Black Hills and the trophy deer, but because Wyoming has the earliest whitetail season in the entire country, and I love to get an early shot at the bucks. The first part of September is a great time of year to hunt because the bachelor groups of bucks are still in a late-summer-feeding pattern traveling to and from alfalfa fields. We like to setup and hunt in their transitional areas as they travel to and from the fields.
The owners, Jeff and Deb Smith run a great operation and put forth a lot of effort into scouting and making sure that every hunter has the best possible opportunity to take a deer. They start scouting every morning and afternoon beginning the end of July, so by the time the hunters arrive, they know where the big deer like to hangout. By Jeff, Deb and the guides doing their homework, they're able to put us in close proximity to the deer's travel corridors, but that doesn't necessarily mean we're going to kill one.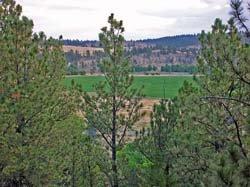 Bill and I were excited to hunt with trophy hunters Steve Snow and Mitch Hagen. They have their own video series called Pure Adrenaline. They're good guys and really, really good hunters. We knew them before the hunt but hadn't had a chance to spend a lot of time around them. We enjoyed hanging out with and getting to know those guys while in Wyoming.
Pre-Hunt Patterning
After we arrived on the afternoon of August 31, we went out to do some long-range scouting. We took advantage of the great vantage points that overlooked the alfalfa fields. From these vantage points you can figure out which way the deer go in the mornings and evenings, and then you can set up along their points of travel.
On the day we arrived, the weather felt great with temperatures in the 70s. On the morning of September 1, it got really cool, and I actually started shivering, but I wasn't complaining since I had just come from 96-degree temperatures in Georgia. But, the remainder of our hunt, it warmed up with temperatures reaching into the 90s. The heat started limiting the deer movement in the mornings and evenings. The first morning we hunted when it was cool, we saw deer movement past 9:30 a.m. and that afternoon they moved as early as 4 p.m. The rest of the hunt, when it got really hot, we would see the last deer movement by 7:30 a.m. or 8 a.m., and they wouldn't start moving in the evening until 5 a.m. or 5:30 a.m. Since the deer moved out of the fields to their bedding location so early in the morning, we had to set up closer to the bedding areas. By the time it was light, the bucks were already one half mile from the field coming to the beds.
There were some awesome alfalfa fields throughout the property that provided food for hundreds and hundreds of deer. Steve and I decided to hunt a large piece of property together--a huge alfalfa field, which was as green as a football field in the summer and at least 2 to 3 feet tall in alfalfa. The rancher had gotten three different cuts of hay off that pasture that year.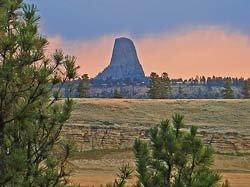 Bill decided to hunt up in the timber where Jeff and Deb had seen some large deer. There were no alfalfa fields, but there was plenty of browse. Bill didn't see a ton of deer every day, but he did see a few nice ones out of bow range. Mitch Hagen hunted a couple of different areas including up in pines and around the draws coming off wheat fields and alfalfa hay fields.
Steve and I saw tons of deer. At least 200 or 300 deer used the field we hunted. Rim rock that circled around the alfalfa field, and the Belle Fourche River ran right through the middle of it. We'd climb up on the rim rock ledges to look out and see what draws the bucks were using. The rim rock was great for spotting, but it caused the wind to constantly change direction. On one side of the field, we'd have perfect wind coming out of the west; then we'd go to other side of the draws where the wind would be blowing from the wrong direction like from the east or from the north. The constantly changing wind made it hard for us to make a decision on where to set up. We'd sit up in a tree for an hour with the perfect wind direction, then it would suddenly switch. The wind was by far the most frustrating element besides the heat.
Close Encounter with a Shooter
The first morning, I saw a lot of deer movement from the stand because it was cool and they were out moving around. I looked out in the alfalfa field at 7:30 a.m. and saw a nice buck at a distance as it fed alone on the edge of the field. I watched him for a while as well as some other deer that came by my stand that morning. Slowly but surely, the big buck kept making his way toward me. As the day progressed, more does and small bucks came by my stand and the big deer slowly walked out of sight.
Our guide, Kenny Morga, said he'd be there to pick me up at 9:30 a.m., so when my watch showed that it was 9:30 a.m., I figured the hunt was about over until I looked up to see horns coming up the trail that ran in front of my stand. I told the camera guy that a good buck was coming. When I got a good look at him, I could see that he was at least a 130-inch, 8-pointer. My hands were shaking as I put on the release. He stopped approximately 35 yards right in front of us, but a large limb I used for cover was in my way. Little did I know, there was a little spike under my treestand. He smelled where we walked in, got spooked and caused the bigger buck to spook as well. The big deer ended up running away to the west of us. My jaw dropped in shock and disappointment. That experience was disheartening, but I was pretty pumped because I had had a close encounter with a shooter buck that first morning.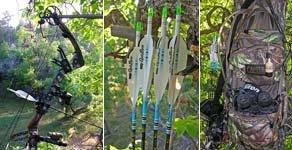 Ace in the Hole
That evening, the wind was right, so Kenny put me in what he called an ace in the hole ground blind next to the river. Across the river was a small bank that backed up to a rim rock wall. He told me that the deer would come from the south and walk that river-bank edge 30 yards across from the ground blind out to north and head to the alfalfa field. Kenny had seen a nice 140- to 150-class 9 pointer in that area on several occasions.
After we got set up, we watched as some does and young bucks walked down the trail just as Kenny said they would. The wind was blowing perfectly. Then we spotted something in front of us. On closer inspection, we realized it was a mountain lion! He came down to the waters edge just yards from our ground blind. We both just stared at the lion in wide-eyed amazement. After a few moments, he ambled away. It was quite an experience to see such a big, deadly cat at that close of a proximity to us.
After our hearts stopped pounding in our chest and we settled down, I spotted some movement on the trail. Sure enough, at approximately 6:30 p.m., the 9-pointer that Kenny had told me about was headed down the trail that ran right in front of our blind. This is a sure thing, I thought to myself. Kerry Seay, my cameraman, started filming the buck. Man, I was pumped up. I knew that he wasn't going to jump the river or climb the wall. He was going to come right by my setup at 30 yards. The buck took its time coming down the trail giving us some awesome footage.
I sat there with my bow up ready for it to happen. I looked back at the buck and saw him raise his head. Then, to my horror, I felt the wind blow through the blind as it changed directions. Catching our scent, the big buck spun his head up, turned around and ran back the way he came. I had watched him come in toward us from more than 250 yards away, and then I watched him turn tail and run. I got my hopes up because I felt sure he would walk right in front of me just like the other deer had. I was so disappointed. I had a heck of a day of hunting with two close calls, but stuff like that just happens.
We named that big 9-point buck Houdini. We didn't see him again for several days. During the rest of our hunt, Kenny spent most of time scouting him and ended up seeing him 1-1/2 miles from the alfalfa field away from timber on the back side of the property.
The evening, after Kenny had spotted the deer, we hunted a different stand near the alfalfa field, but Kenny ended up watching him come down the trail next to the river from the ground blind we had previously hunted.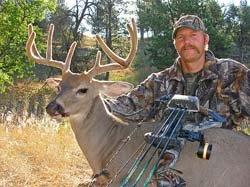 After our troublesome day in the ground blind, we couldn't find an area with consistent wind. The hot weather brought more southerly winds, which messed up many of our game plans. We played cat and mouse with the wind for the rest of the hunt.
A Lucky Break
Despite the problems with the wind, on the second day, Steve Snow shot a 125-inch, 8-pointer in full velvet at 15 yards.
He was hunting over a travel corridor away from the field because the deer were leaving the field early to get back to their bedding area before it got to hot. Steve had just gotten up into his stand and hadn't gotten his release on yet when he saw two bucks coming down the trail. As soon as they got right in front of him, he pulled back his bow and fired.
Bill saw two different eights and a 9 pointer that would score 130 to140 -- nothing within bow range. He didn't see a huge number of deer, but he was hunting bigger deer. He was willing to set up in there and make it happen. Mitch saw some good bucks, played cat and mouse all week, but never got close enough to shoot any of them.
The heat hurt us, but the wind was the biggest problem.
The heat hurt us, but the wind was the biggest problem. Despite our troubles with the wind, we had a great hunt. We had some awesome close encounters and had a great time just hanging out with each other. Jeff and Deb just built a really nice new lodge back up on one of the hills away from everything. It's quiet and comfortable with a very cozy atmosphere. I know when we hunt at Seven J, that Jeff, Deb and the guides are going to do everything they can to provide us with the best opportunity possible for taking a good deer. It's always a memorable hunting experience at Seven J.
For more information on Seven J Outfitters, call 307-283-3443, or check out www.sevenjoutfitters.com.