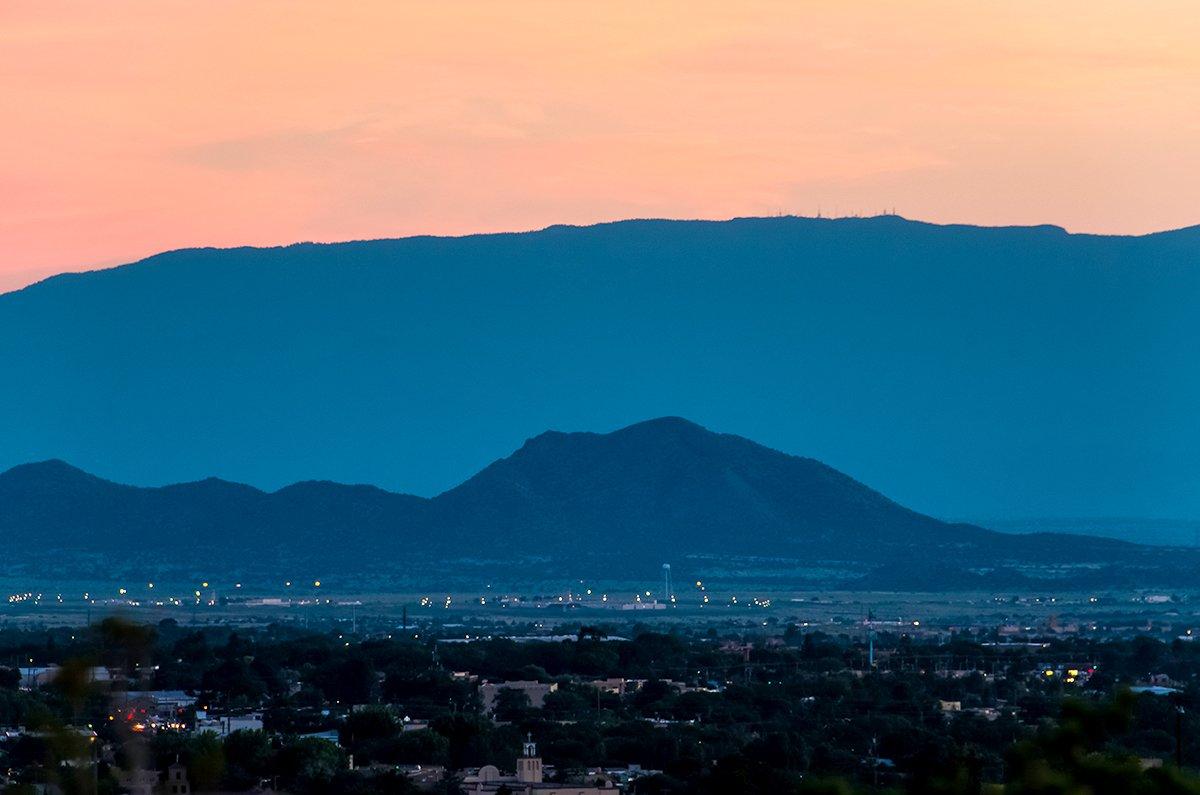 What you notice first about Santa Fe and remember later is the smell: a clean whiff of mesquite, juniper and piñon pine that drenches the dry desert air. But that isn't the only homegrown blend the city distills. Sante Fe is equal parts Wild West and New Age, Native American and Hispanic, old money and old hippie — an odd concoction that goes down smoothly.
"That's because everyone here has the same state of mind," says Coyote Cafe owner Mark Miller. "We're all looking for a quieter way of life." The quiet seems certain in this adobe town where artists outnumber computer programmers, bolero ties and crisp, black jeans are accepted formal wear, and the sense of escape is painlessly obvious.
Then again, Santa Fe is a gigantic playground — hiking trails out the back door, serious Saturday morning bikes ride, whitewater just up the road, and enough fins, fur and feathers to keep you busy. The country's oldest and highest capital city (A.D. 1610 and 7,000 feet, respectively) shows up on many gotta-go-there lists not only for its aesthetics but also for its vast desert playroom: ski runs 30 minutes from town, 320,000 acres of adjacent wilderness, Rio Grande whitewater and game animals galore. Some captives stay for love, some for inertia. Some for the scenery.
"What struck me when I first moved to Santa Fe," says Jennifer Rios, a transplant from the East Coast, "was the signature of true native." It isn't the cowboy boots, tie-dyed T-shirts, and black dresses that parade by jars of salsa every Saturday at the farmers' market. "No, you can tell real locals," Rios claims, "because they almost never wear a watch, and if they do they wouldn't be caught dead checking it."
Here's how Santa Fe sets her hook. An unwitting target passes through town on a road trip. Nearing the Plaza, she blinks at adobes blushing umber in late afternoon, red-chile ristras dangling out front, and courtyards shaded by leaning cottonwoods. The Sangre de Cristo Mountains seem as close as an old movie backdrop. The next morning, she idly thumbs through the classifieds over huevos rancheros, taps the brakes to check out a front yard For Sale sign, and thinks, I could live here.
Grab Your Gun
Pick your poison, hunters, 'cause New Mexico truly is the Land of Opportunity. Quail and javelina roam the deserts, and gigantic bull elk are found high on the mountains. Even African oryx and Persian ibex are available to hunters lucky enough to get a license for the tightly regulated seasons. And over-the-counter licenses are available for mule deer and white-tailed deer, wild turkeys, Barbary sheep, bear and cougar.
With a herd numbering between 70,000 and 90,000 and a very real chance for a 350-inch or better bull, there's little doubt elk rule the animal kingdom. That's quite a recovery since the beginning of the 20th century, when the state's herds had been reduced to near nothing and some considered the elk all but extinct. But then numerous releases on both private and public lands, combined with conservative hunting strategies, brought them back.
Elk here fire on all sensory cylinders — smell, hearing and vision — and have an almost eerie knack for staying one step ahead of their pursuers. They hang out at high altitudes, in crags and gullies and dark folds of timber, in steep and slippery places where humans fumble around at a disadvantage, so trailing them ain't a walk in the park. You don't have to be a burly mountain man like Jim Bridger or need the stamina of a mountain goat, but you can't be a couch potato, either. No worries, though. The area is crawling with guides and great places to hunt, including private ranches, public land and Indian reservations.
What's all the grousing about?
You won't need horses to haul blue grouse out of the mountains, but you will enjoy the same scenery as elk hunters. This chicken-like bird has long been the Holy Grail of upland bird hunters in New Mexico, although quail hunters might argue otherwise. To say grouse are a challenge to hunt is an understatement, maybe even an insult. Successful hunters need the vigilance of the Knights Templar on a crusade to find the coveted chalice.
Craig Springer speaks of hunting them with the zeal of a besotted teenage boy in love for the first time.
Whatever you do, don't tell my boss. He's hasn't noticed I get sick a lot in September. It's a seasonal affliction that gets to about a thousand or so New Mexicans every year. It is not life threatening, but it consumes me. Come September blue grouse hunting is all I think about.
If you know your dog, her body language tells you she's scented a bird, Springer said. Then it happens. Even though your hound telegraphed a flush, you're never completely ready. First comes the baritone whirr of wings, then a pair of blues bust cover and head down canyon.
In fluid motion man, dog and bird are engaged in a primordial affair of predator and prey. Time seems accelerated it all happens so fast. It's habit-forming, and I'm an addict.
Grouse hunting begins and ends in September. It's like being asked to leave the theater before the closing act, Springer said, and you don't get your money's worth.
All because the elk is king.
"The real issue is not hunter safety, but grouse hunters interfering with big-game hunters. There is no history of accidents where the two seasons coincide, said Troy Hawks, spokesman for the Western Gamebird Alliance. In our opinion, it's a matter of priority. Elk hunters take priority over grouse hunters."
Mountain Bike the Winsor Trail System
Several great single tracks snake through the eastern half of the Santa Fe National Forest, but one trail stands out as an all-time classic. The Winsor Trail is a fat-tire epic suitable for both old-school riders who like to earn their descents and out-of-shape downhillers who cringe at the thought of climbing. Ascend from the base of the trail or shuttle a car to the Santa Fe Ski Basin parking lot, and drop in from there. It's an awesome ride down as you wind through forest that changes from spruce and aspen to pines and high desert scrub. The trail's only problem? Popularity, so save it for a mid-week ride.
Backpack the Pecos Wilderness
After a weekend sabbatical in the backcountry, writer Ed Williams decides, New Mexico is like a smart and beautiful woman: She saves her best features for those who truly appreciate them, which brings to mind the Pecos Wilderness.
It's one of those 'lost' backpacking places the crowds don't crowd, but is beautiful to photograph and hike through. Save it for summer or fall, though. Winter brings deep snow piles, the unpredictability of avalanches, impassible snowdrifts and an unwelcome hint of danger.
The most popular mountains are the Truchas Peaks, of which four are clustered together, and one of them, South Truchas, is the second-highest mountain in the state, reaching 13,024 feet. At that height, the world is unforgiving. Your lungs and muscles wage war with your inner will. Your manly side says to push it, but your sensible side says, Remember what the tortoise said to the hare, 'Slow and steady wins the race.'
Fish the Jemez Mountains
If one too many turquoise coyotes have howled at you in the streets of Santa Fe, put in Steppenwolf, drive north and east through Los Alamos, and wind through the Jemez. Although close to major population centers, the mountains hold half a dozen prime fly fishing waters. The area was created by an enormous volcanic eruption: a blast that sent boulders and ash into the Midwest. High peaks (more than 11,000 feet), volcanic soil, forests, and reasonably good access roads add up to fine fishing. You won't catch big trout (The largest is 17 inches.) but you will catch a lot — anywhere from 20 to 30 on a good day.
Choosing which water to fish is the hardest part. Do you walk along the Rio San Antonio, the Rio Cebolla, the Rio Guadalupe, or pull out the float tube and bob on scenic Fenton Lake? (No powerboats; it's hardly big enough to put one in.)
Sante Fe is a busy place. A busy place that wouldn't be so bad to call home, especially if the For Sale sign is in the right yard.
FAST FACTS
Lit by an annual average of 300 days of sunshine, and situated 7,000 feet above sea level at the base of the Sangre de Cristo Mountains, the city of 67,000 inhabits an airy plateau of its own. Adding to its reputation as "the City Different" is Santa Fe's silhouette of low-lying adobe buildings, which means the closest thing to a local skyscraper is a supersize cactus.
DON'T MISS
For the best sense of Santa Fe's heart, head toward the central Plaza — a small town square that resembles Mayberry crossed with the relaxed attitude of posh Mazatlán. Its anchor is the sprawling Palace of the Governors, where American Indians huddle under the portal, spreading their silver across a sea of Pendleton blankets. Older treasures, though, lie just outside of town at the Museum of International Folk Art, which features Chinese opera dolls and Mexican masks wearing pop-eyed expressions. It's the same exuberant look you might see on faces at Ten Thousand Waves, a mountainside spa where visitors can sample salt glows and a communal hot tub filled with aromatherapists and psychic pet healers.
WHERE THE LOCALS EAT
In a city where even kids know their chipotle from their poblano chiles, all the seasoned palates have attracted a conga line of chefs. Among the best is Mexican-born Martin Rios, who dishes up a buttery sesame-crusted ahi tuna in the Old House restaurant. Just as memorable is the Coyote Café, where owner Mark Miller serves up the city's Spanglish flavors with a modern twist. Chile verde-infused pork shank, anyone? "Call me," Miller laughs, "the Santa Fe pioneer." The same tendency to experiment surfaces at Geronimo in the 1756 adobe house where a stylish crowd plows through spicy Thai prawns. If the international potluck seems too haughty, head for the die-hard taco joints for a gut bomb that tastes good going down. At Maria's the chicken enchiladas are wrapped in fresh tortillas and rolled before your eyes (though you may not notice after dipping into the restaurant's menu of 100-plus margaritas).
THE PERFECT 48 HOURS
Greet the sun with a run on the Dale Ball trails, and recover with breakfast at Tia Sophia's. Rent a bike at Mellow Velo, and spend the afternoon on the Winsor Trail. Unwind in a hot tub at Ten Thousand Waves spa. After dinner at the Anasazi Restaurant, salsa dance at El Farol. On day two, grab breakfast at Café Pasqual's, then rent gear at High Desert Angler and fish the Pecos River. Finish with dinner at Guadalupe Café and enjoy a night of gourmet tailgating at the Santa Fe Opera.