Located just north of Montebello, Quebec, roughly midway between Montreal and Ottawa, Kenauk (from "mukekenauk," the word for turtle in the language of the Algonquins) is a 100-square-mile private year-round wilderness reserve that is open to the public. Its expansive forests hold whitetails, moose, bear, wolf, coyote, hare and grouse. Its abundant lakes and streams are home to trout, bass and assorted panfish, and its wetlands to waterfowl. The Ch'teau Montebello--a historic luxury log-building resort—is part of Kenauk and has welcomed guests and dignitaries from around the world since 1930.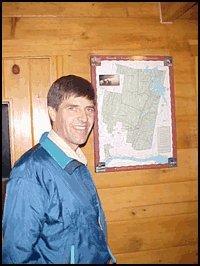 Originally a private fish and game preserve known as Reserve de la Petite Nation," Kenauk was owned and operated by Canadian Pacific Hotels and a favorite holding of the corporation's executives, who often went there to hunt, fish, relax and enjoy the outdoors. In 1999 Canadian Pacific Hotels acquired Fairmont Hotels, creating Fairmont Hotels & Resorts. And thus the reserve became Fairmont Kenauk at the Chateau Montebello.
The Kenauk Reserve is a unique model of diverse environmental management, utilizing rotational timber management to enhance multi-stage habitat growth. Annual harvests of game are carefully recorded to ensure an ongoing population of abundant and healthy animals. It also boasts its own private hatchery, rearing and stocking thousands of rainbow, speckled and brown trout in its abundant lakes, ponds and streams.
Within the reserve are scattered 13 roomy lodge-type cabins for guests to stay in, with each offering all the comforts of home, including thermostat-controlled heating, full kitchens, lighting and a fireplace. Each cabin is situated on a scenic site and also comes with its own large territory exclusive to the guests staying there. It is wilderness living in modern-day comfort.For the past 22 years, Bill Nowell has been the manager of this vast and complex operation. To say Bill wears many caps of responsibility would be an understatement. A fish and wildlife biologist, Bill came to Kenauk in 1980 and remembers vividly his introduction to this unique place.
I was fresh out of college when Kenauk's Board of Directors decided to hire me on a one-year contract. One of the board members took me aside and said, 'This is a special place to me, so you'd better not mess it up.' That got my attention really fast.
When I arrived at Kenauk it was nighttime, and they simply dropped me and my baggage off at the hatchery building. Back then, there was just a single dirt road into the area, and that dead-ended at the fish hatchery. There were no lights or bunks there, but luckily I'd brought a sleeping bag and flashlight. So I spent the first night 'roughing it'—which was okay, since I grew up spending a lot of my time outdoors.
Born in Manitoba, Bill was a Canadian Air Force brat and never got to stay anywhere very long. He says that by the time he graduated from high school, his family had lived in 13 different houses, including the five years spent in France and England. His father was an avid outdoorsman and took his family camping often. One year, Bill spent his entire summer vacation on a nearby lake, where he fine-tuned his fishing skills and which spawned his later decision to become a biologist.
Having hunted moose and whitetails at Kenauk on several occasions, the most appropriate description I can come up with for it is unique. For the time you're there, it's like owning your own private remote hunting lodge and prime hunting land. When you enter the main gate and stop at the office, you're given a map to your cabin and a topo map of the area or areas that only you and your companions will be hunting. You also have the option of hiring one or more guides, by the day or for your entire hunt.
The heavily wooded terrain is rugged with numerous rock outcroppings, long ridges, lowland swamps and it's all punctuated by 70 lakes and ponds. The preferred methods of firearms hunting for deer are still-hunting during the day, taking stand along well-beaten game trails at dawn and dusk, rattling and calling, or if you have sufficient personnel, putting on short drives. Quebec and Kenauk had their first-ever special muzzleloader season in 2002. The five-day season immediately started after the regular firearms season. During the special early bowhunting season, hunting from a tree stand along travel routes is effective. The various hunting seasons start in late September and end in November.
Another attraction of Kenauk is its large moose population. Hunting is restricted to bowhunting only and the moose season coincides with the archery deer season. Experienced guides who are excellent callers are available to entice the huge plodding moose within easy bow range. During a preseason scouting trip, I watched in awe as Kenauk guide and game warden Gilles Gladu expertly called a big bull down a dirt road for more than a hundred yards, to a point almost to where Gilles stood calling, right next his parked truck. It would've been an easy 20- yard bow shot—maybe less if Gilles had kept enticing the monster.
But it is definitely the deer hunting which brings the most hunters to Kenauk. On my last firearms season hunt there, eight hunters in our camp took seven bucks, three of which were at least eight-pointers. The lone hunter who didn't shoot a buck passed up a fork-horn, otherwise we'd have been a perfect eight-for-eight. That's unbelievable whitetail hunting anywhere. In fact, over the course of four different hunts I've made at Kenauk, I've never failed to see a legal buck, despite opting not to take several due to the fact I was holding out for a trophy rack, of which there are many roaming Kenauk's territory.
With its well-kept system of carefully placed dirt roads that offer access but don't infringe on the large preserve's vast natural habitat, getting around within it is as easy as reading the strategically placed signs and reading the Kenauk visitor's map. Accessing deeper into the habitat on foot is often made easier by logging roads in varying stages of recovering growth.This year, while muzzleloader hunting at Kenauk, I asked Bill Nowell what, if any, future plans he had for this unique place. His answer was typically laid-back Nowell: More of the same, only better.
That's hard to imagine for an avid hunter such as myself, since Kenauk is about as good as it gets for whitetail and moose hunting.