Do You Trek Into the Backcountry on Your Hunts?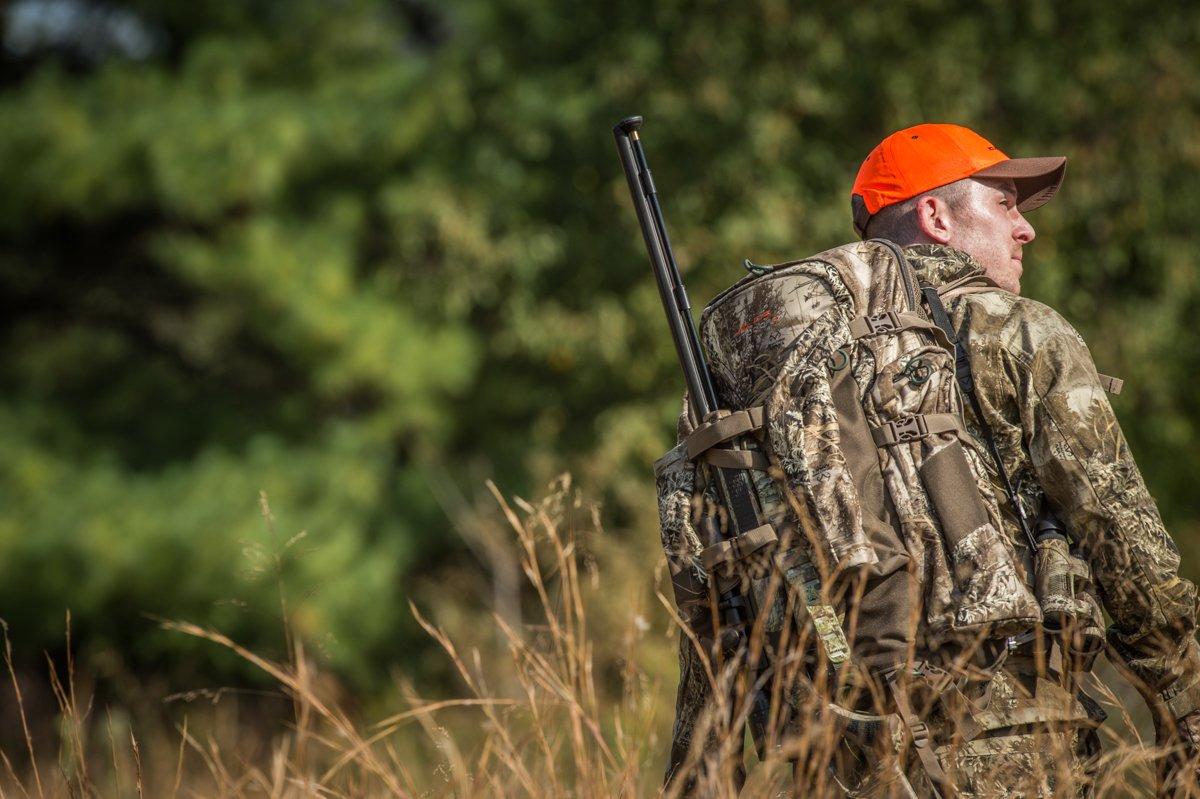 It felt refreshing to set my bow down and peel away my 55-pound pack. After the grueling 4-mile hike — mainly uphill no less — the force of the pack's weight pressing on my back, in addition to gravity's pull, was causing my legs to scream, my shoulders to ache and my back to bark. It was good to finally reach the Colorado alpine region where I would spend the next few days chasing mountain muleys.
A summer scouting trek helped me identify an area with several secluded basins that were tucked below an imposing piece of granite, and it was on that Indian summer weekend that I found what I was after — well over a dozen velvety-racked bucks scattered across the area that I could easily access from camp. A handful of these high-altitude kings sported 160-inch racks, and I was more than eager to get after them over the next few days. I was in an area only a strong back, boot leather or hooves could access, and I was alone. Who could ask for anything more.
This may sound strange to some and even downright bizarre to others, but for me, there's nothing like striking out into the wilderness with only the bare essentials on my back and a bow in hand. It's my passion. I look forward to doing it every fall and usually across more than one Rocky Mountain state. In fact, if I didn't have typical working-man responsibilities, you wouldn't see me for several weeks during the early fall.
The Load
Becoming a backpack hunter is not for the faint of heart. Not only must you be in top physical condition and be mentally tough, but the equipment you choose could mean the difference in a wonderful experience or one of complete misery. The first step to making it one you can write home about is choosing a quality pack that fits properly and distributes weight. One that doesn't rob you of the much-needed energy necessary for when you finally get to your destination.
There are two basic packs to choose from when considering those multi-day trips: external-frame and internal-frame packs. Both have their place depending on what you're after. For the most part, external-frame packs seem to have a more rugged construction. They carry and distribute heavy loads well — like the protein from that 6X6 bull you killed — and come in extreme sizes for those 10-plus day trips, however, they tend to be heavier. On the other hand, internal-frame packs tend to be lighter and more comfortable if worn properly.
If you flip through any hunting catalog, you'll see a number of brands to choose from, both pricey and just plain cheap. As with most things, you get what you pay for, so buy the best pack you can afford, and if that means saving a little longer for a better one, do it. In the long run, it will pay off both in quality and comfort. When it comes to internal-frame packs, it's hard to beat Sitka Gear's new 45 Bivy and Badlands 4500. Both of these top-quality packs are around 4,500 cubic inches and are perfect for those weeklong jaunts out west. There are several good external-frame packs from which to choose, and a couple of quality ones to consider are Cabelas Alaskan series and Black Creeks Gear Guide Master Packs.
Whichever style of pack you choose, look for the right size for the job you're looking to accomplish. If you're only heading out for a long weekend, you'll need around 3,500 cubic inches of packing capacity. This will give you plenty of room for the three- to four-day trips. However, for trips lasting five-plus days, a 4,500- to 6,500-cubic-inch pack is a must.
Lugging Your Lodge
Deciding on the type of shelter to use is another vital choice for the backpack hunter. Picking the wrong one could not only add un-needed weight, but one of poor quality could add to your misery index. There are several things to consider: weight, season and style. If you're looking to head in alone during the typically warmer and dryer earlier season and want as little weight as possible, then consider a bivy sack system. Although they don't offer the roominess a tent does, they will keep you dry and are a snap set up. One of the best ones on the market today for those early season hunts is Slumberjack's Optimus system. The Cabelas XPG Bivy Sack is also a solid option. It weights less than one pound and can easily be stuffed into a small pocket on your pack.
Personally, I prefer tents to the bivy system for the simple fact of floor space. I like to keep my gear dry during those nights in the Rockies when unforeseen weather rolls in, and a bivy sack does not offer that. Furthermore, tents will keep you drier as well, and staying dry and comfortable allows you to save energy, which is a must when hunting in these steep conditions.
While there are many brands to choose from, think quality and weight when picking a tent. Keep the tent in the 5-pound range and make sure it is seam-sealed and has a rain fly. This will keep you dry when those soakers roll in. A couple of choices are the North Face Rock, Kelty Gunnison and Cabelas XPG Ultralight. They offer room for two would-be hunters and gear.
Also, if you are planning on hunting at higher altitudes where snow may crash down on you at any given time, make sure you have a three-season tent. This will protect you from the elements and allow you to stay in the backcountry as long as the weather doesn't get to the point where you could get stranded. Never play games with Mother Nature; she usually wins.
Sleep Tight
A quality sleeping bag is a must, and things to consider when choosing one are weight, packability and weather. You don't want a wimpy bag when heading to the backcountry. Bags made of goose or duck down offer all of those considerations. They are very warm, lightweight and with a stuff sack are extremely compact, which is a plus when you're living off your back. Some down bags to consider are the Marmot Ultralight and Backpacking series and Cabelas XPG Ultralight. Although they are a little pricey, upwards of $400, they weigh around 2 to 3 pounds.
Synthetic filled bags are also a good choice, and with today's expanding technology, they are fairly light, compact and will provide warmth even when wet. These types of bags are well-suited for a variety of weather conditions, which is essential for unpredictable storms. Although there are many brands to choose from, Slumberjack's Thermolite Extreme series is a great choice. They are some of the lightest and most compact out today, which makes them perfect for the traveling hunter. However, when choosing a synthetic bag, get one that's rated a little colder than you think you might need, as it will lose its warmth over time.
A good sleeping pad will keep you from loosing body heat at night and offer added comfort after a hard day of hunting. For the purposes of backpacking, foam and self-inflating pads are the norm; however, I prefer the latter for all-around comfort. The Therm-A-Rest Prolite packs smaller than a football and weighs 13 ounces.
Happy Feet
Happy feet equal a happy hunter — period. Furthermore, it's my opinion that quality boots and socks are even more important than the synthetic, hydrophobic garments that's the rave these days. While those types of layer clothing system are excellent, having dry, warm and blister-free feet are a must. And with quality footwear products available today, there's no reason your feet should take a beating.
For starters, wear quality synthetic socks, not cotton. Don't get me wrong, cotton socks do have their place in life — like keeping the chill off your feet while you're setting in your recliner — but they don't belong on the feet of a backpack hunter. These synthetic-type socks offer moisture-wicking properties for added warmth and help to prevent blisters. SmartWool, Thorlo and Injinji are a few of the top brands.
Good quality boots are also essential to keeping your feet happy. I know some backpack hunters who prefer Gore-Tex trail running shoes because they are lightweight. However, they offer little ankle support. When you're spending days in rough, rocky terrain, burning 10-plus miles a day, tough boots are a must. With several solid brands to choose from, like Danner, Wolverine, Rocky and LaCrosse, picking a good quality boot is a cinch. Just make sure they are broken-in before you head out or I can guarantee you won't have happy feet at the end of the week.
Other Essentials
Water is your lifeblood when hunting in the rugged West. And although it is cold and clear when pouring from alpine basins, it may not be safe to drink. Pump filters like Katadyn's micro water filter are great, and they pump about a gallon of cool, pure water every 4 minutes. For added flavor and much-needed vitamins and minerals, just add Wilderness Athlete's Mango Bango Energy & Focus Drink Mix.
A cooking stove and a titanium pot are also must-have items in the backcountry. Being able to eat a hot meal at the end of the day is huge, both physically and mentally. Titanium is lightweight for easy packing, and Snow Peak's titanium Spork (spoon and fork) is all you'll need. The MSR Pocket Rocket is a great compact canister-fueled stove that has served me well for years.
Speaking of hot meals, it's hard to beat freeze-dried meals from Mountain House. They really hit the spot at the end of a long day, and they taste nearly as good as Mama's cooking — but don't tell her that. Furthermore, their double-serving size is high in carbohydrates and will replenish your energy tank.
Mountain House also makes breakfast meals, but I prefer packets of maple and brown sugar oatmeal or a mix of granola and powdered milk for a quick breakfast. Although I snack throughout the day on nuts, dried fruit and beef jerky, lunch time can be a big energy boost. While they are not the best tasting, when broken down, MRE's from the local army surplus are lightweight, can be warmed and will fill that hole in your stomach.
A GPS (Global Positioning System) and/or compass is also a must-have when living off your back. When the fog rolls in or darkness settles, these are invaluable tools that will help you navigate in virtually any condition. I've had to rely on them on more than one occasion when having to hike a couple of miles back to camp in less-than-ideal conditions.
Having a hardcore mindset is perhaps one of the most important ingredients if you're trekking into some of the most remote and rugged regions in the Lower 48. Fact is, killing a buck or bull is your ultimate goal, and if you're not confident in your abilities and don't have a can-do attitude, you might as well stay home and watch the latest episode of Realtree's Monster Bucks on your flat screen. However, if you come prepared, both mentally and physically, you'll be able to complete the task before you.
​Don't Miss: 5 Great New Bows for 2017
Editor's Note: This was originally published July 18, 2008.
Are you a big game hunter thirsty for knowledge? Check out our stories, videos and hard-hitting how-to's on big gam hunting.