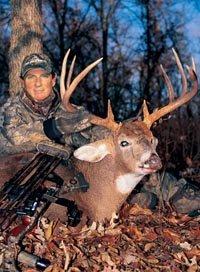 The end of summer is approaching in a hurry. Before long, the leaves will change colors, a cool autumn breeze will begin to blow and hunters will venture outdoors in search of trophy animals and adventure. The Realtree guys already have their schedules set, and they're just waiting for the dates to arrive. Read on to find out where their travels will take them this season.
THE WESTERN SWING
The first stop for the Realtree Outdoors gang will be Seven J Outfitters in Sundance, Wyoming. From August 31 through the first week in September, Bill Jordan and I will hunt with Joel Maxfield from Mathews Archery. We've hunted at Seven J for eight years in a row. The hunting and the people at Seven J are great. That's why we keep going back for more.
That same week, Michael Waddell will head to Montana and West Timberline Outfitters to hunt with Joel Harris, Realtree pro staffer. They've got quite a hunt planned. They're going after a combination of whitetail, antelope and elk. Joel will be making his TV debut with the Realtree cameras.
On Sept. 6, I'll drive from Sundance to Gillette, Wyoming, to hook up with Paul Vaicunas of Horton Crossbows. We'll hunt antelopes with crossbows for couple of days.
On Sept. 8, Michael will fly from Montana to Western Kansas where he'll enjoy an early season muzzleloader hunt at Unit 15 with Bosco Gregory through September 14.
THE BUGLE CONNECTION
From Sept.15-23, Michael and Mark Womack will hunt elk in New Mexico.
On Sept. 18, Bill will join Brad Harris in Utah to hunt elk at the OEI Land Properties through September 24.
From Sept. 21-28, John Tate and I will archery hunt for whitetails, mule deer and antelope at Northern Rockies Outfitters, which is north of Great Falls, Montana.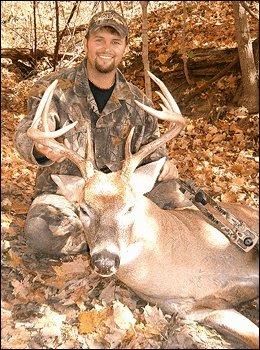 On Sept. 28, we'll hunt our favorite local in Milk River, Montana. Bill Jordan will hunt with John LaCorte of Nikon and Terry Rohm with Tinks 69 through Oct. 4.
From Sept. 30- Oct. 7, Michael will bowhunt whitetails in Illinois with Rodhouse Rut N' Strut.
During Oct. 4-10, a group of bowhunters will head back to Milk River, Montana. That group will include Ginger and Jesse Morehead and Travis "T-bone" Turner.
BOU-TIFUL HUNTING
From Oct. 5-13, I'll bowhunt for caribou in Quebec, Canada, with Gary LeVox, lead singer of Rascal Flatts, and Lee and Tiffany Lakosky, co-hosts of Scent-Lok's Gettin' Close TV show.
On Oct.18-25, Michael will bowhunt for whitetails at the Newell Ranch in Texas. It's not a ranch that's open for commercial hunting. His guest will be country music singers Blake Shelton and Miranda Lambert.
Oct. 26-Nov. 5, Bill will travel to Northern Missouri to hunt at Border Bucks Outfitters.
On Oct. 29, Ned Yost, manager of the Milwaukee Brewers, and I head to Alberta, Canada, to hunt whitetails with outfitter Ron Nemetchek at North River Outfitting. I'll hunt with Ron through Nov. 7.
NOVEMBER BIG BUCKS
Michael will head to Indiana on Nov. 1 to bowhunt with Scott Shultz with Whitewater. They'll hunt through Nov. 7.
On Nov. 4-11, Bill Jordan and baseball player Ben McDonald will return to Dodge City in western Kansas to hunt with Perry Ross Outfitters.
On Nov. 9-14, I'll head to South Dakota to hunt a new place for us called Pheasant Crest Outfitters in Kimball, South Dakota. I'll be joined by Al Kraus and Steve Bachar. Al is an archery dealer in Rapid City and Steve is a friend.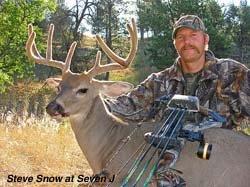 During Nov 13-19, Michael and country music singer Rhett Akins will hunt mule deer in Colorado with Aaron Neilson at Adventures Wild.
On Nov.17, I'll join Gary LeVox, lead singer of Rascal Flatts, to bowhunt whitetails at the Diamond Springs Ranch in Kansas with Bob and Audrey Boos. We'll hunt through Nov. 22.
From Nov. 26-Dec. 4, Bill will hunt Western Kentucky with Mathews pro-shooter Jackie Caudle on a piece of property that Greg Ritz, president of Thompson/Center Arms, leases.
Dr. Richard Reid and I will hunt whitetails in Texas at Adventures Outdoors with Jason Stillwell from Nov. 27-Dec. 2.
DECEMBER TREKS
From Dec 3-8, Michael will join country music singer Lorrie Morgan and her son to hunt the Double MR Ranch outside of Senora, Texas, with outfitter Steve Anderson.
From Dec. 4-11, Bill and his son Tyler will hunt the Halff Brothers Ranch in Pearsall, Texas.
On Dec. 9 I'll be taking Staff Sergeant John Nolan, an Iraqi war veteran, bowhunting at the Newell Ranch in Texas. We'll hunt through Dec. 16.
In mid December, Michael will go to Louisiana to knock some ducks out of the air with the Duck Commander and the Duck Men.
A FULL PLATE
As you can see, we've got an exciting season ahead of us. We're hunting several places that are new to Realtree with both old and new hunting buddies. Check out the website throughout the season to read journals of these hunts. With any luck, we'll stack 'em up like we did last season.
TV Shows
Tune In and Get Real! Realtree keeps you tuned in to all the latest hunting action. Catch the finest hunts in North America, on Realtree Outdoors. Or just catch North America, on Realtree Road Trips. Our TV line-up could be described as a top-rated Classic Hunting Show, and an over-the-top Hunting-Related Reality Show. We're bettin' you won't want to miss either one! Click here to find out what's on TV and when.