Is This on Your Bucket List?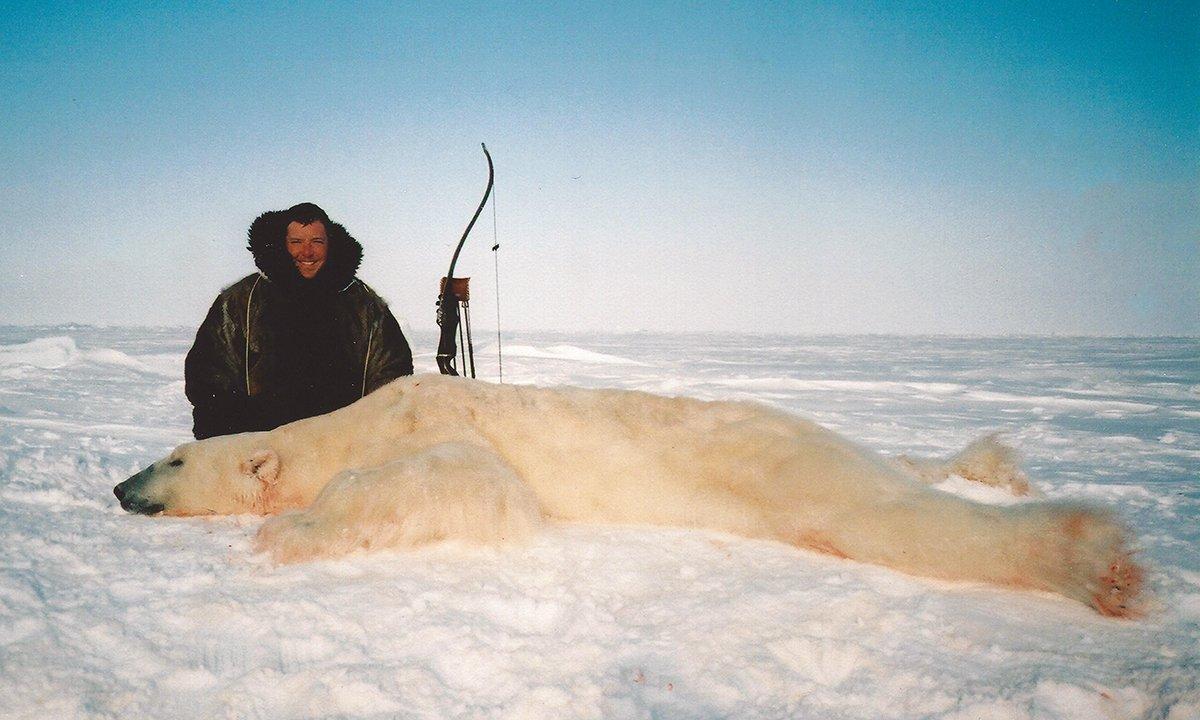 Since he was a hopeful teenager working at Fred Bear Archery in Gainesville, Florida, Fred Eichler dreamed that one day he'd get to hunt the species of remarkable creatures that were mounted on the company walls.
Eichler's adventure of a lifetime began the last week of April as a polar bear hunt at Gjoa Haven in the Northwest Territories, booked through Adventures Wild. The frigid arctic temperatures which dipped to -40 degrees at times were hard to bear, but techniques used by the natives for generations helped to ease some of the discomfort.
I brought all the latest clothing and super-warm apparel with me, but when I got there, the guides dressed me in caribou skins, Eichler said. I didn't know what to think at first, but I soon discovered that the hide was warmer than anything I'd ever worn.
Eichler also spent four nights in an igloo where he says he slept comfortably.
The guides could build an igloo in 15 minutes, Eichler says. The snow is much different than what we have in the states. Because of the super-cold temperatures, there's little moisture in the snow, so it's easy to cut out in blocks. The guides would spiral the blocks all the way around until there was an opening at the top. Then they'd cover the opening with another block of ice. At first, I didn't want to get into the igloo because it looked as if it could collapse. But I learned that an igloo is quite sturdy because of its shape. In fact, one of the guys climbed up the side of the igloo and stood on the top of it to demonstrate its durability. The igloo acted as a little insulator and was 30 to 40 degrees warmer inside. The guides threw caribou skins on the floor of the igloo, and we put our sleeping bags on top of the skins. We managed to stay relatively warm. Our igloo was actually sitting on top of the frozen ocean, which made me a little nervous. In fact, a seal popped up through a hole in the ice just 100 yards from us. I thought to myself, 'If the seal can bust through the ice, so can we.' But the guides eased my mind telling me I had nothing to worry about.
During the hunt, a fierce snow storm blew in causing Eichler and his guides to take refuge in the igloo for two straight days. When the storm was at its worst, they couldn't see 50 yards in front of them. But when the storm subsided, and they weren't seeking refuge in the igloo, they were seeing polar bears — plenty of them.
On the days that we had good visibility, we'd climb up to the top of these small rock islands or on top of glaciers and glass for bears, Eichler said. I saw 11 polar bears during the three days I actually got to hunt. That area has a very healthy population of bears.
On the fifth day, Eichler and the guides spotted a large boar with a sow. The big bear was in an open area relatively close to their scouting position. The guides determined that the bear was far enough from the edge of the ocean that it would be safe to unleash the dogs, which were used to slow down the bear in a similar manner that dogs are used for cougar hunting, except in this situation, 12 huskies were released.
The dogs didn't actually stop the bear, instead, they slowed him down to make it possible for me to shoot it with my recurve bow, Eichler says. I took a monster P&Y bear that stood 9 feet tall and weighed, I'm guessing, between 700 and 1000 pounds. I was thrilled to death. This hunt was unlike anything I've ever experienced. I had a great time hunting the polar bears, and I really enjoyed getting to know the Eskimos. One of the Eskimo guides was 67 years old and in better shape than anyone I've ever met. He would run around all day in search of bears, then when we'd get back to camp, he'd seal hunt with a spear. He'd wait by a hole in the ice, and when a seal would come up to get air, he'd spear it. For several days, I ate and lived like the indigenous people of that area have for many years. I wore caribou skin, ate raw fish and seal and lived in an igloo. It was quite a hunt.
Don't Miss: North American Super Slam: 29 Big Game Animals You Need
Editor's Note: This was originally published July 14, 2005.
Are you a big game hunter wanting to learn how to accomplish your goals? Check out our stories, videos and hard-hitting how-to's on big game hunting.