This Man Overcomes Physical Challenges to Hunt Big Bucks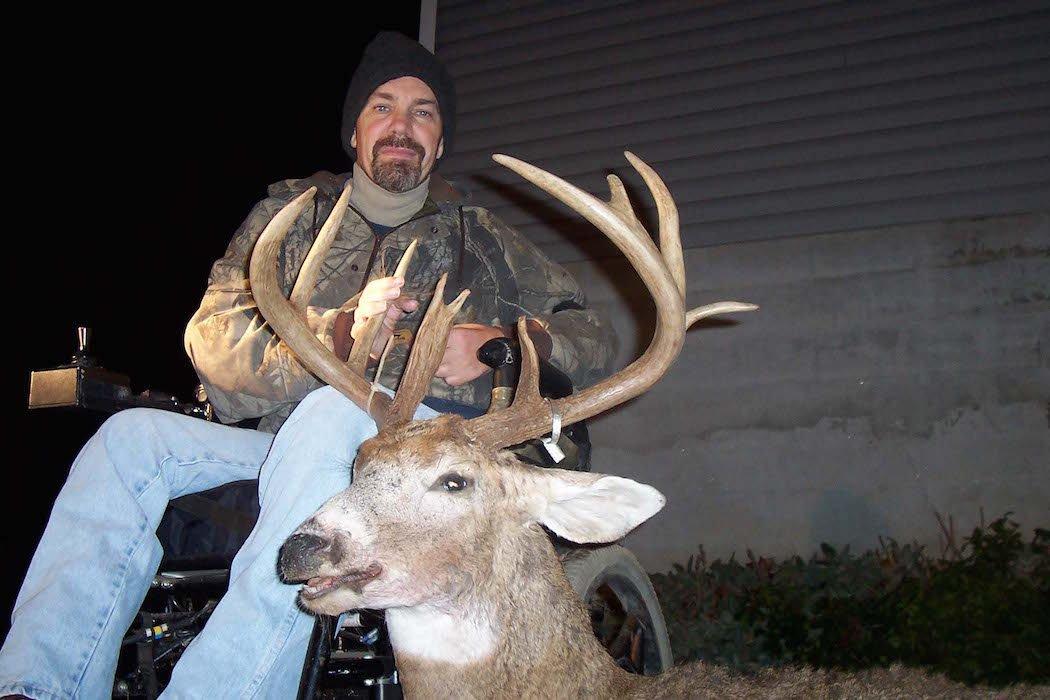 The year was 1993, his first season back in the woods after a car accident in 1991 changed his life. Turning his chair horizontally to make a level shot on the buck's vitals was going to be a bit of a gamble. "The chair isn't that fast, said George as we traded stories and good natured jokes for the better part of an evening. I made the move and by some miracle the buck stood still. I sucked on the firing tube and my arrow struck home. George Bolender is a C5 and C6 quadriplegic who resides on the flood plains of western New York. But he still hunts as hard — if not harder — than most despite the challenges.
Looking at the mount which was his first buck (post accident), I noted the glow in George's eyes. This buck has deep meaning to George simply because it represented a monumental victory to be able to get back in the woods and chase deer again. Since that victorious day in the fall of 1993, George has consistently tagged deer including multiple mature bucks any hunter would shoot.
But getting George back in the woods each year and into shooting position is a logistical puzzle which is tackled by a team of friends and family. When asked about the effort to get him in and out of the field, he looked me dead in the eyes and said, You find out who your friends really are. Friendship is a powerful layer of our complex beings. A commodity difficult to earn yet easy to destroy. George relies on his friends and family for nearly each aspect of the hunt from transportation, to tracking and cleaning game.
My wife has to not only dress me but drive me to my areas, Says George. Still using the same hunting suit he bought from Cabela's in 1993, the entire operation to get dressed and out the door takes over two hours. For morning hunts we wake up around 2:00 a.m. to be ready to leave by 4:00AM. I need all the time I can especially in the mornings to get to my spots. Going through the woods in my chair can be noisy so the more time we have the better. I don't have a track chair, just my everyday chair and sometimes where I want to hunt is blocked because of mud or fallen limbs.
George says mornings are becoming harder on both him and his wife especially as the season wears on. I've started to hunt more evenings, except during the rut. When the rut hits I'm still my old self. I'll tough it out all day even though it can be extremely painful. He smirked, [Dang] phantom pain, but hey, the rut is the rut, you still have to sacrifice for the best part of the year right? He laughed and it was evident the fire for deer hunting has never faded.
Adapting and overcoming has been the mantra since day one for George. Bob Haslet was one of the first people to help me get back in the woods. Says George. Haslet, a local man who knew George put in the time and effort to help George hunt. I never thought I'd hunt again but Bob was very giving of his time and effort in those early years through scouting easily accessible points for me and even building wooden platforms for blinds I could drive my chair onto. George says that he didn't always have the ability to adjust his bow or gun vertically. Bob's platforms helped overcome this disadvantage which has helped him take both deer and bear. There were even times Bob needed to come to his rescue and pull the chair from the mud or help him back into the chair after falling out. George laughed thinking about the various mishaps in the wild over the past two decades.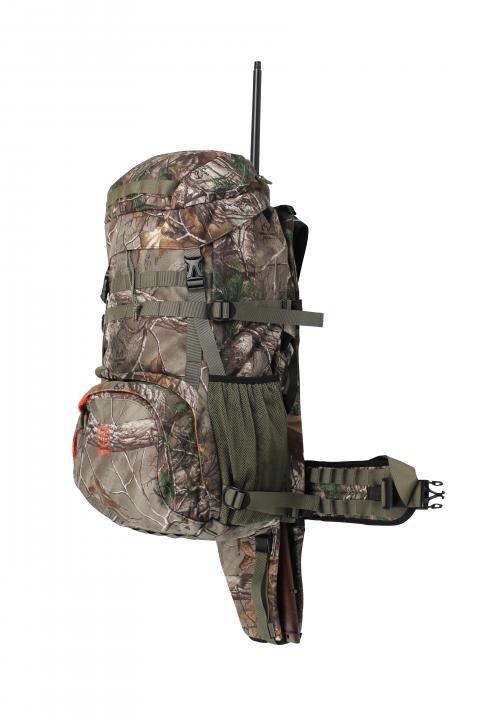 Vorn Deer 42-Liter Backpack in Realtree Xtra
As is with deer hunting, some of the best spots are the areas toughest to reach. George acknowledged he can't always reach the most prime parts of a funnel and often relies on cut lanes or paths like in apple orchards or hiking trails. I just get as close as I can and don't get frustrated with wishing I could be closer. I am simply thankful just to be there in the first place, George says. Strangely enough, this has helped me kill deer. He challenged me, How often do you move spots because you want to see what is just over the ridge and you talk yourself out of a good tree? I nodded and laughed. Since I can't always go see what is 50 yards away, I am forced to stay put. You'd be surprised how many deer I've killed because I can only go so far, George said.
Big bucks don't care who you are or how you got there. They care about staying alive and George focuses on three main points to achieve success. George still makes an effort to watch his different pieces of property via trail camera. And through cellular cameras, he can scout from home. Outside of scrutinizing the wind, cellular trail cameras help me make the most out of my season, Says George. Hunting mature bucks truly has become a game of efficiency for me and making the right choice on where to hunt takes maybe more consideration than it should in some cases. Having cellular cameras are expensive but are a key component to my season.
George also relies on calls. While many hunters may shy away from using calls, George makes them a pivotal point to his strategy. Maybe I use the calls a bit too much, but what choice do I really have? All I need to do is get one deer interested enough to come investigating, he says. George pairs the grunt tube and bleat call with rattling, and has notched tags throughout the country on mature animals because of it.
However, hunting isn't all about him anymore. Hunting is healing to George and he understands the power of providing the same opportunities to others. Through the infancy of the internet and by word of mouth, he began bringing people together to raise money and buy gear for others. In the late 1990's, George founded New York Outdoors Unlimited as a platform to help others. What started as a few people buying used gear has turned into an effective regional organization to give people the ability to enjoy the freedom of the wild once again. We have the ability to help multiple people each year and host a small bowhunting weekend in October. Many people have stepped up to help me over the years and this is my way of giving back, George says.
George Bolender is a man of grit, humbleness and enthusiasm for the outdoors. We can take a lesson from the quiet humbleness and passion of George to push ourselves to better our culture of hunting and to not complain when the weather turns cold. Because it always warms back up again.
Click here for more deer hunting articles and videos.
Check us out on Facebook.