Do You Use These Strategies?
Lightweight watercraft lend elegance to any outing, paddling silently and efficiently to access undisturbed bucks or penetrate country touched by few. You don't need a boat launch or even a sloping beach to deploy canoes or kayaks, though. They can be set afloat just about anywhere, including along steep or rocky river banks or water far from vehicle access. On the water, they're easy to handle and allow commando-style approaches into shallow, heavily vegetated waters that founder larger boats.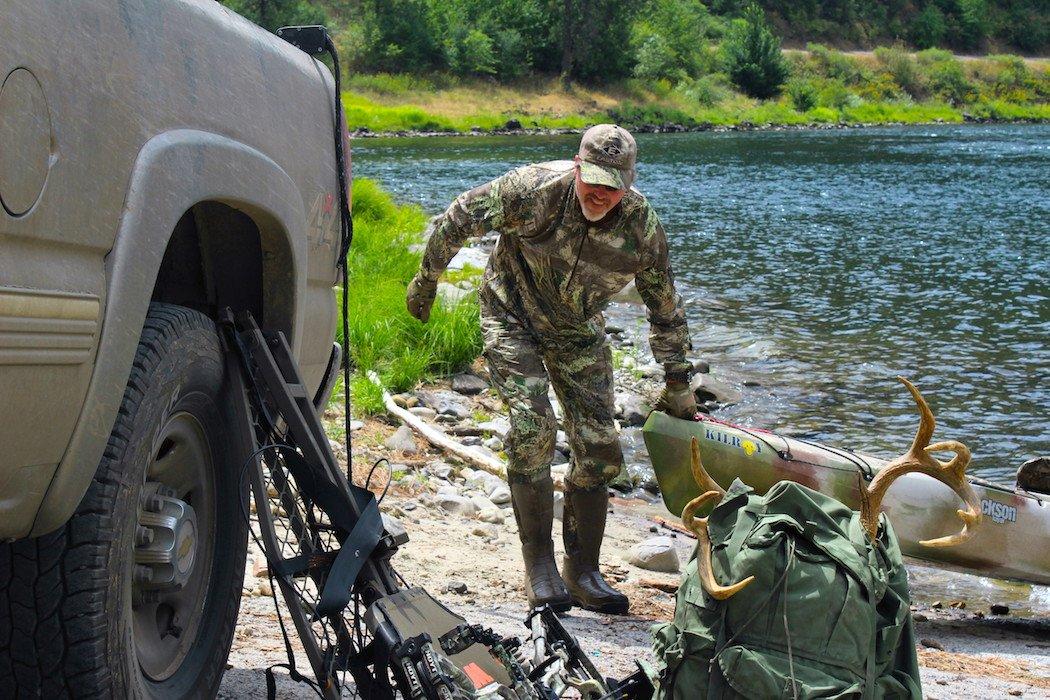 This opens a whole new world of whitetail-hunting possibilities, from nearly effortless access to riparian habitats (including private-land edges unavailable by land) to trekking deep into watery wilderness. Whether contemplating simple hopscotch stand access, longer day trips, or weekend forays, canoes and kayaks are valuable tools for increasing whitetail success.
Wilderness Adventure
Canoes and far-north wilderness are synonymous in my mind. Even in our ever-shrinking world there are still wild places where deer seldom see hunters. Upstate New York's Adirondack State Park comes to mind. The excursions we've made around the Adirondack's Long Lake and Paul Smith areas proved epic. I also think of places like Upper Priest Lake in northern Idaho. Leave Priest Lake behind by paddling across a mile of lake, up a few miles of river, and you enter a world of virgin forests and untapped whitetail habitat. It really makes you wonder about the unfathomable miles of remote shorelines surrounding the Great Lakes' 18.7-plus million surface acres.
Any large river, lake or reservoir with vast swatches of inaccessible ground serves here. Possibilities might include Arkansas/Missouri's 5.6-million-acre Bull Shoals Lake, Texas' 5.6-million-acre Amisted Reservoir, Montana's 19.1-million-acre Fort Peck Lake, Kentucky/Tennessee's 6.1-million-acre Kentucky Lake, South Dakota/North Dakota's 23.5-million-acre Lake Oahe, Missouri's 5.1-million-acre Truman Reservoir, Minnesota's 15.7-million-acre Lake of the Woods or Maine's 4.2-million-acre Moosehead Lake, just as some random examples. I've no way of knowing if all or any of these waters provide remote-access opportunity. Study maps and delve into the possibilities.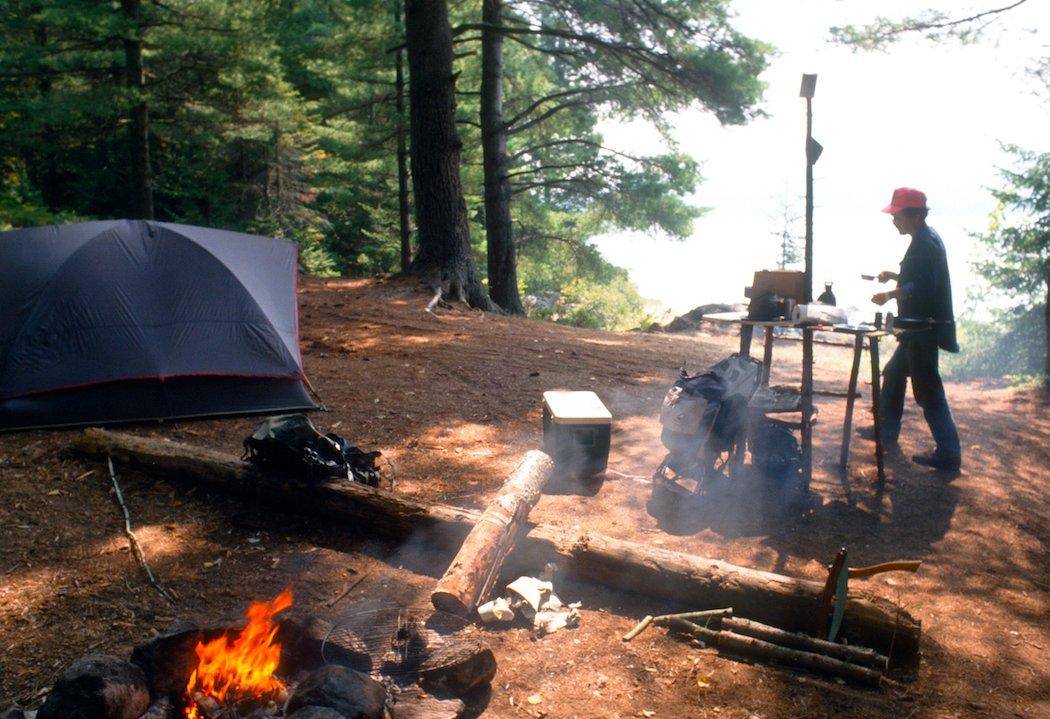 The actual trip requires no less planning. Even with a largish canoe involved, you can't pack the volume of gear afforded by pick-up trucks. While paddling kayaks, in particular, you pack with the care of a wilderness backpacker. In fact, backpacking gear is the answer to your canoe/kayak kit — miniature stoves, lanterns, nesting mess kits, watertight but feathery backpacking tents, sleeping bags and ground pads.
During those Adirondack adventures we generally toted a 50-quart cooler and luxuries such as steaks, eggs and bacon, and drinks, which we paid for dearly during longer trips. When hunting out of a more streamlined kayak, dehydrated food is best. A compact water-filtration system is mandatory, even on pristine waters. So-called beaver fever, or giardia, occurs even in cold, clean waters and is something best avoided. Everything is packed in rubberized dry bags to protect against paddle drip, spray and weather.
Don't Miss: 5 Reasons You Can't Kill a Public Land Buck
High Water Mark
In many states, the public is permitted to access the shores of large lakes and major rivers up to the high-water mark or easement margins provided by government entities, granted access is gained via public-access sites. States like Idaho and Montana, for instance, include such laws across the board. In Texas, only certain designated rivers and larger reservoirs permit such access, like the Colorado River in central Texas where we enjoyed hunting as college students.
High-water marks fluctuate greatly on man-made reservoirs, especially those used for agricultural irrigation. Rivers draining massive watersheds experience the wildest fluctuations and the widest high-water-mark margins. Prime hunting grounds include shelves just above normal water levels that flood during spring months, or wider Bureau of Reclamation, Corps of Engineers or state water resource authority margins. Large to small islands can also prove excellent, generally open to the floating public and regularly harboring deer, even smaller 2- to 5-acre islands found on mid-sized rivers.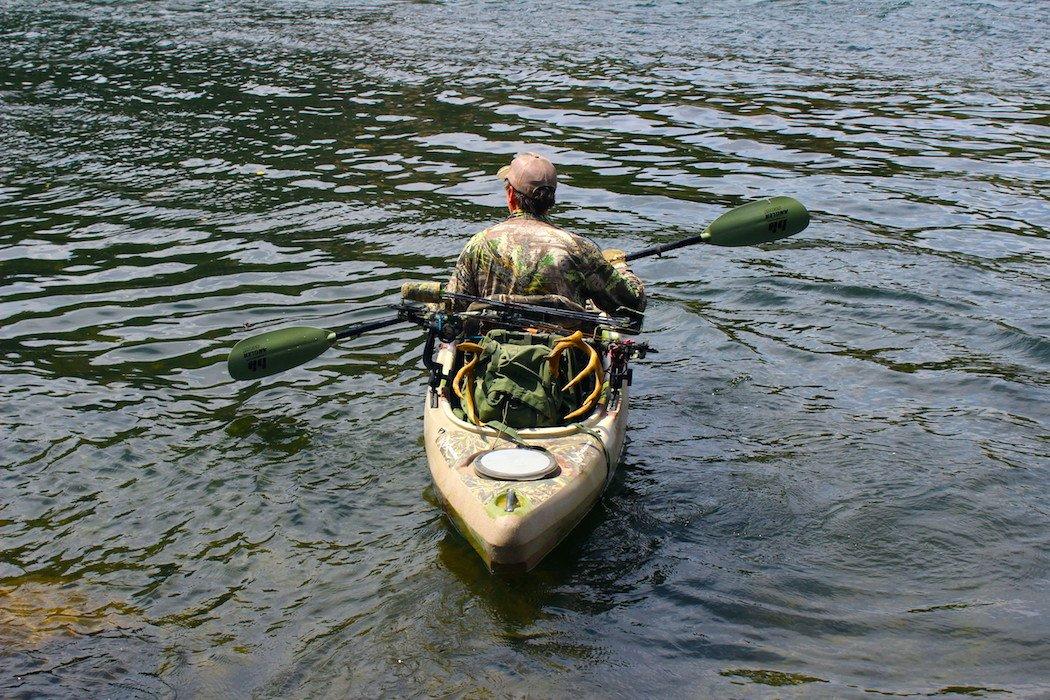 Riparian zones, with rich soil and abundant food, invariably harbor healthy deer populations. In northern Idaho, mentioned because of familiarity, feral fruit trees thrive on low-lying benches along major rivers. During early seasons most especially, but even into general rifle seasons, sweet-tooth deer gravitate to this bounty like kids to candy. These strips of prime deer habitat either require a long descent from public roads (and then the more tedious slog back up to the vehicle after hunting), or water access, sometimes to the edges of private lands otherwise off limits to the masses. Paddling across large ponds, along the shores of large lakes or floating major rivers gets you into this type of action, allowing extended or day-trip excursions with the use of a handy climbing stand, basic stump sitting or careful still-hunting.
I often install and leave hang-on stands at river-bank hotspots, putting in my Jackson Kayak Realtree Kilroy at a convenient vehicle pullout and arranging for my vehicle to be dropped off below. I float down to my stand for a morning or evening sit (or all day during the rut) and pull out at a lower takeout after the hunt. It's a dang good time.
Don't Miss: 5 Overlooked Public Land Deer Hunting Hotspots
Backdoor Approaches
Water is the ultimate human barrier. A raging creek or slough-like river might only prove a long stone's throw across, but few hunters are willing to go for a swim or even wade to reach the other side. I've encountered situations on public walk-in or wildlife management areas on several occasions in locations as varied as Kansas, Texas, Iowa or Nebraska where the public access/parking-lot side of a creek or river is hunted regularly, the opposite bank untouched due to difficult logistics (say, roping a kayak down steep banks to reach water) or a wader-flooding barrier.
Jackson Kayak Realtree Edition Kilroy Kayak

For instance, one public-access reservoir I hunted while attending college in Texas included public campgrounds or parking areas situated at the ends of long points. Using university recreation department canoes to shoot across wide sloughs got us into lightly-hunted spots in minutes of paddling instead of hours of hiking. I also recall some strip mine property in western Missouri. Coal was removed from long, deep veins, water encroaching once those veins played out. Those bottomless pits are only 80 to 100 yards across, but miles long. They're easily crossed by kayak, opening miles of undisturbed whitetail habitat beyond.
Good friend Keith Jabben, owner of Precision Designed Products, doesn't need public access to find great deer hunting, owning a few thousand acres of prime Kansas habitat. But he does use his lightweight canoe to make back-door approaches to prime stand sites. Putting in at a point he can drive to, he silently paddles up and downstream along a sluggish river to access ambush points without trailing scent into those sites. Jabben kills monster bucks each season with primitive equipment.
Using canoes and kayaks to reach prime deer habitat just makes sense. Deer frequent riparian areas for the easy cover and abundant food afforded, and the average human hunter just doesn't like to get their feet wet or put too much effort into skirting into remote areas. Canoes and kayaks help you access these areas, if not exactly effortlessly, at least efficiently.
Don't Miss: 13 Things Public Land Deer Hunters Despise You For
Are you a deer hunter wanting to learn how to accomplish your goals? Check out our stories, videos and hard-hitting how-to's on deer hunting.