Rack Report Details
Buck:
202 7/8-inch rough gross score
Time of Year:
September
Place:
Madison County, IA
Weapon:
Muzzleloader Muzzleloader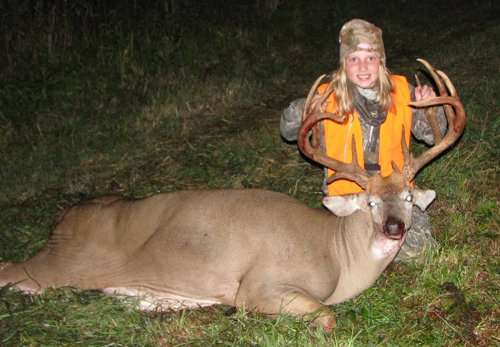 Life as a fireman and paramedic is stressful enough. But when you're just 12 hours into a 48-hour shift and get a text message stating that your 11-year-old daughter just shot a 150-inch buck and they're soon to take up the blood trail, well, time has a way of slowing down.
And when a text message comes in that says: Uh, it's not 150. It's way, way bigger, time comes to a standstill.
I was absolutely going crazy, said Gerrit Foreman, whose daughter Emma was hunting with his brother BJ on the opening evening of the Iowa youth season. And then I had a run to go on and couldn't get any more messages and texts. It was pretty agonizing.
Let's set the stage.
Emma Foreman is a veteran whitetail hunter, despite being just 11 years old. She killed her first buck at age 8 - a forkhorn - and followed that up with a 115-inch 8-pointer the following year. Last season, at age 10, she opted to hold out for a bigger buck and left her tag unfilled.
This season, she still had her heart set on something big; better than she'd killed before. But it's safe to say she had no idea just how much bigger her next buck would be.
Emma was anxious to hunt the opening evening of the youth season but her dad, Gerrit, was scheduled for a shift at the firehouse. So his brother, BJ, volunteered to take her out.
I was happy to do it. Gerrit had to work and couldn't get out. So her mom brought her over, we loaded up in the truck and met a friend of mine and his daughter who would be hunting with us, BJ Foreman said. We dropped them off in a stand at the bottom of the farm, and we went to a stand at the top of the farm.
BJ and Gerrit knew there were some great bucks in the area, including one that had shown up on trail cameras that they figured would tape about 180 inches.
But the evening didn't start as planned.
We're walking in and I saw the farmer had pushed a pile of brush up at the bottom of the tree and had burned it and it was still smoldering, BJ said. I thought 'Oh great, here we go.' But Emma really wanted to hunt so we decided to just climb up and see what happened.
Well, what happened was even more unusual than finding a pile of burning brush at the base of your tree.
I was sitting there and something dropped out of the tree onto my shoulder, BJ said. It was a kitten; Probably one from the farm house or something. I just grabbed it and handed it to Emma.
It was then that Gerrit got his first text message of the night - a picture of his daughter with the kitten with a note about her wanting to take the cat home with her. It was a request that Gerrit quickly declined.
BJ and Emma spent the next couple of hours chatting and sharing some Jolly Rancher candies.
Then I saw three does come in behind us, but they saw the burning brush and just kind of left, BJ said. I just happened to glance up and saw a big buck coming with another buck. They were sneaking down the creek.
When Gerrit first saw the buck, he knew it was a good one, but wasn't sure its course of travel would take it to the edge of the hay field they were hunting. But he grabbed the kitten from Emma and got her ready just in case.
The buck finally popped out in the field and started coming toward us. He just kept getting bigger and bigger, BJ said. He was about 80 yards away and headed right to us. I was nervous, she was nervous, and the buck was coming right to the trail that goes under the stand.
What transpired over the next few moments is a memory uncle and niece will likely never forget. But perhaps Emma tells it best.
When I first saw the buck I thought it was a smaller one, maybe a 10 point or something, she said. I was just telling myself in my head 'I can do this, I can do this.' But what I was saying with my voice is 'I don't think I can do this, I don't think I can do this.'
Gerrit just tried to keep his eyes off the antlers and convince his niece that she could make the shot.
I just kept asking her if she had the gun on her shoulder; that's what we really preach. Put it on their shoulder, he said. By now the buck was only about 50 yards and I asked her if she was ready. Then I cocked the gun. That's when she -- and I -- really got nervous.
But not so nervous that she couldn't make a great shot.
She's only shooting 75 grains of powder, BJ said. So I could pretty much see the bullet going. And it looked like a great shot. He whirled around and started crabbing like they do when they're hit hard. He got out of sight and she asked me if she hit it. I told her she did and she was immediately ready to get down and look for it. I told her we needed to wait - what I didn't tell her was we needed to wait because I was shaking so bad I couldn't stand up!
Thus we're back to beginning. Those tantalizing text messages to a dad at work.
I had no idea how big the buck really was. The first text just said she'd shot a 150. Then the next one said it was about a 180, Gerrit said. Then I got a photo, but it was pretty dark and hard to see. Then I got another one that was better, but was still hard to tell.
And then Gerrit got the text that really put him over the edge.
I got a text that said they had scored the buck at 202 7/8, he said. I didn't believe it. Then the next one said they were double-checking BJ's math. And I figured that was the problem - BJ was doing the math.
Then Gerrit got text messages with each measurement. Main beams: 28 inches. G2: 13 inches. G3: 13 inches. Inside spread: 21.5 inches. And they tallied 202 7/8 inches.
I couldn't believe it, Gerrit said. I didn't get to see the buck for another day and a half! But I called everyone I knew and was telling all my co-workers. I was just beside myself about it. I called my wife and Emma and just kept asking her if she realized what she had done. It was just amazing.
Emma seemed to be taking it all in stride.
After she killed her first buck, we talked about having her next one be bigger. And she killed that nice 8-point and so we talked about her next one being bigger, Gerrit said. So after she killed this buck, she just said 'Don't worry, I'll make sure my next one is bigger.'
Have a big-buck story you want to share? E-mail us at [email protected].

Watch all the latest video episodes