Rack Report Details
Buck:
192-inch non-typical
Time of Year:
December 2013
Place:
Lenore, WV
Weapon:
Bowtech Invasion Bowhunting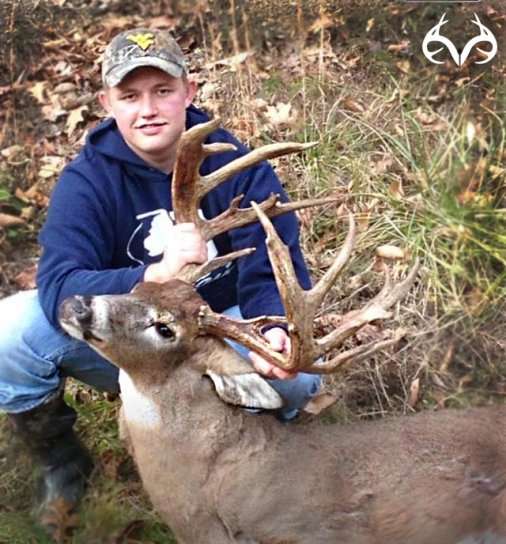 The terrain in southern West Virginia is so steep, people joke that the deer need two short legs and two long legs just to get around. This rough country has many areas that are difficult to access, but some of the best hunting is near the towns. Four counties in southern West Virginia are limited to bowhunting only for whitetails. Combine that with the rough terrain, and the area has the potential to produce some good bucks.
But a buck the size of the one Myran Copley shot on Dec. 3, 2013, is a once-in-a-lifetime bruiser that will surely land solidly in the top 10 all-time bowkills in the state when it's officially scored after the 60-day drying period.
I had heard people talk about this buck before, Copley says. But I had never seen him myself. All they would say is, 'wow,' when they would talk about him.
Copley had seen trail camera photos of the buck the previous year. But they were taken by a friend in another area. So it was a complete surprise when the buck showed up on Copley's family's property the Tuesday morning he went hunting.
I had overslept that morning, so it was after daylight before I got out to the area and set up my ground blind, he said. I had found a spot where there were five to six big scrapes and a lot of rubs and torn up bushes.
Copley placed his blind near one of the scrapes and sat there for a couple of hours before he decided it was time to pack it in.
About 9:45, I was gathering up my stuff to leave when a mature 8-point buck appeared and started to work the scrape," he said. "I got ready to draw my bow when I heard a loud grunt and the buck took off before I had a chance to shoot him.
Missing out on a chance to shoot that buck was fortuitous for Copley. A huge non-typical buck suddenly stepped into view at 12 yards. Copley's heart raced.
I drew when his head went behind a tree and held at full draw for what seemed like forever, he said.
The buck finally stepped up to the scrape and Copley made a perfect shot.
I could see the arrow sticking in the ground, covered with blood," he said. "The buck ran about 50 yards and fell down. When the buck dropped to his knees, I dropped to my knees!
When the shaking subsided, Copley walked up to the giant buck and stood in amazement at the sheer size of him. He really had no idea at the time what he was looking at, but his buck green-scored 192 2/8 inches as a non-typical, one of the largest ever taken in the state of West Virginia.
Copley said he feels blessed to have this buck and thanks God for the opportunity. He also is very grateful for a father who taught him how to hunt.
Have a big buck story you want to share? E-mail us at [email protected].
Watch all the latest video episodes