Rack Report Details
Buck:
215 3/8-inch non-typical
Time of Year:
December 2013
Place:
Decatur Co., IA
Weapon:
Muzzleloader w/ Nightforce scope Muzzleloader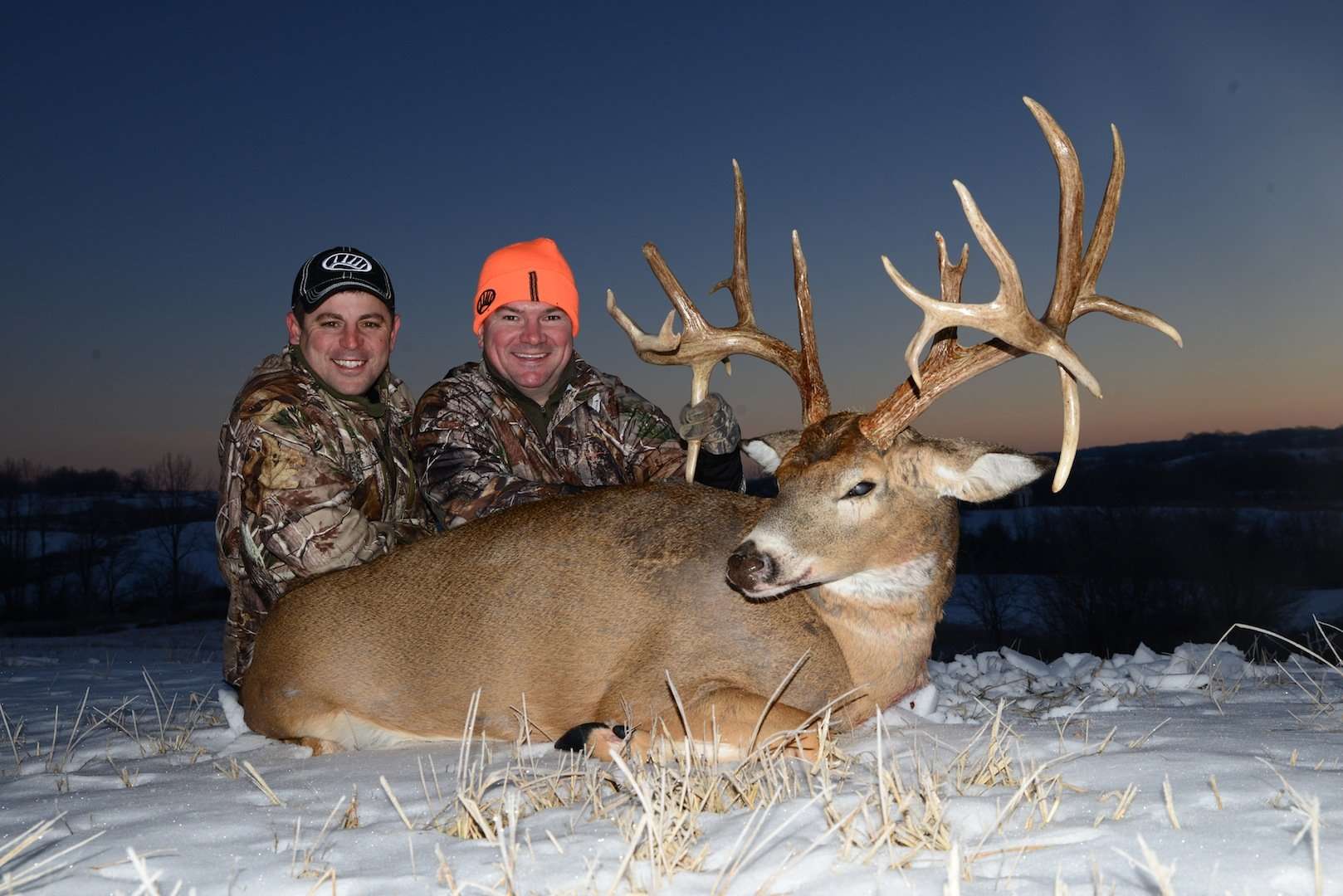 In 2010 a 130-inch 8-pointer began showing up on Gabe Adair's trail cameras. The buck was immediately nicknamed Baby 8 and marked as an up and comer."
Adair is a land specialist for Whitetail Properties, so he knows a thing or two about managing individual farms for big deer. A crucial step is working with neighbors. On this particular farm, Adair is a member of a QDM cooperative program with his neighbors, Mark and Teddy. Together, they agreed to give Baby 8 a pass for a few years to see what he would do.
"We could tell he was a 2-year-old buck based on his body size," Adair says, "but he had a much bigger rack than the other 2-year-olds he ran with. So we knew he had potential."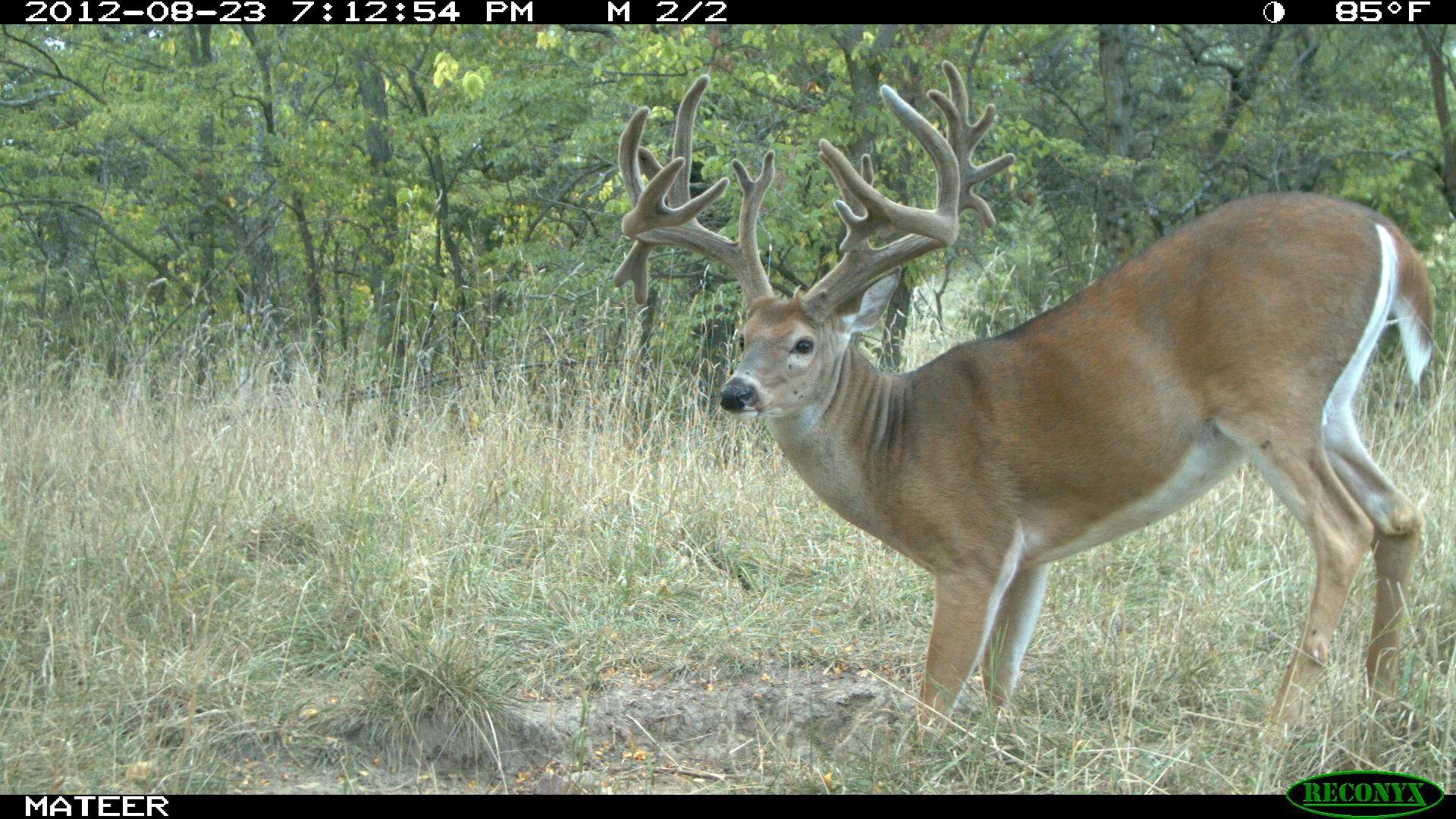 The next year, Baby 8 was no longer a baby. He blossomed into a healthy 3-year-old with more than 160 inches of antler, and he was quickly becoming harder to pass. But he survived another season.
At 4 years old, Baby 8 came into his own as a spectacular Boone and Crockett-class non-typical that would score around 200. But if you're in Decatur County, Iowa, and your job is managing for trophy bucks, 4-year-old-deer are not prime targets. So with amazing restraint, Adair, Mark and Teddy again held off from hunting Baby 8. They wanted him to live comfortably so they wouldn't bump him away from the 80- to 120-acre core area in which he spent 90 percent of his time.
"There were a couple other near-Booner bucks in the area," recalls Adair, "but we decided not to hunt them for fear of spooking him."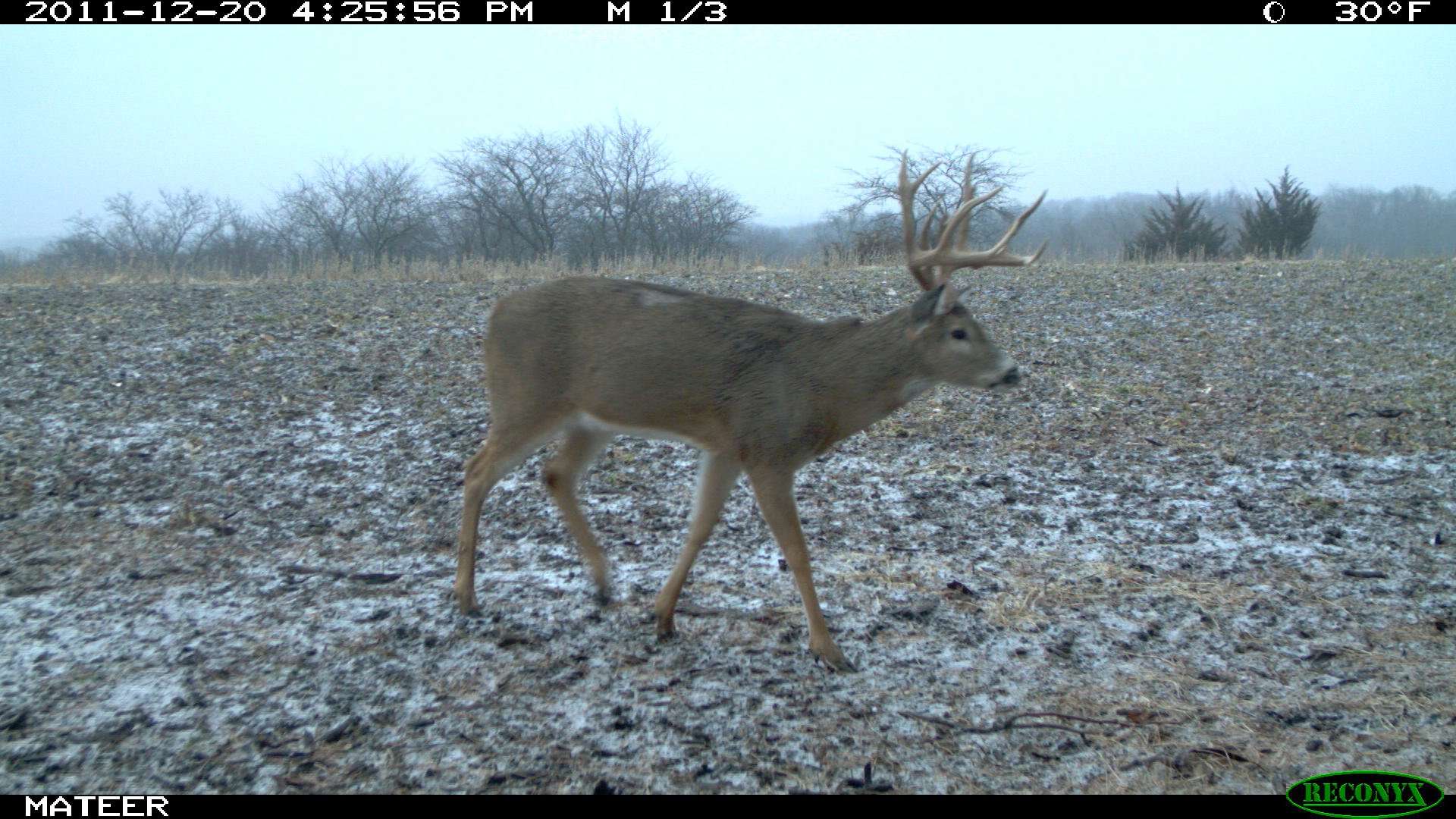 Their caution paid off in 2013 when, as a 5-year-old, Baby 8 finally reached his potential as a gargantuan Booner north of 220-inches. Just as in years past, he was a regular on Adair's cameras through the late summer and early fall.
Adair had spent the better part of three deer seasons patterning Baby 8 and narrowed his core area to a small block of timber. Once the cold air of October rolled around, Adair finally slipped into the buck's backyard and set up for several evening hunts, each of which resulted with encounters with Baby 8 … but none within bow range.
"Because I'd had him within 200 yards four nights in a row and he still wasn't on to me, I was confident Baby 8 would be mine," Adair said.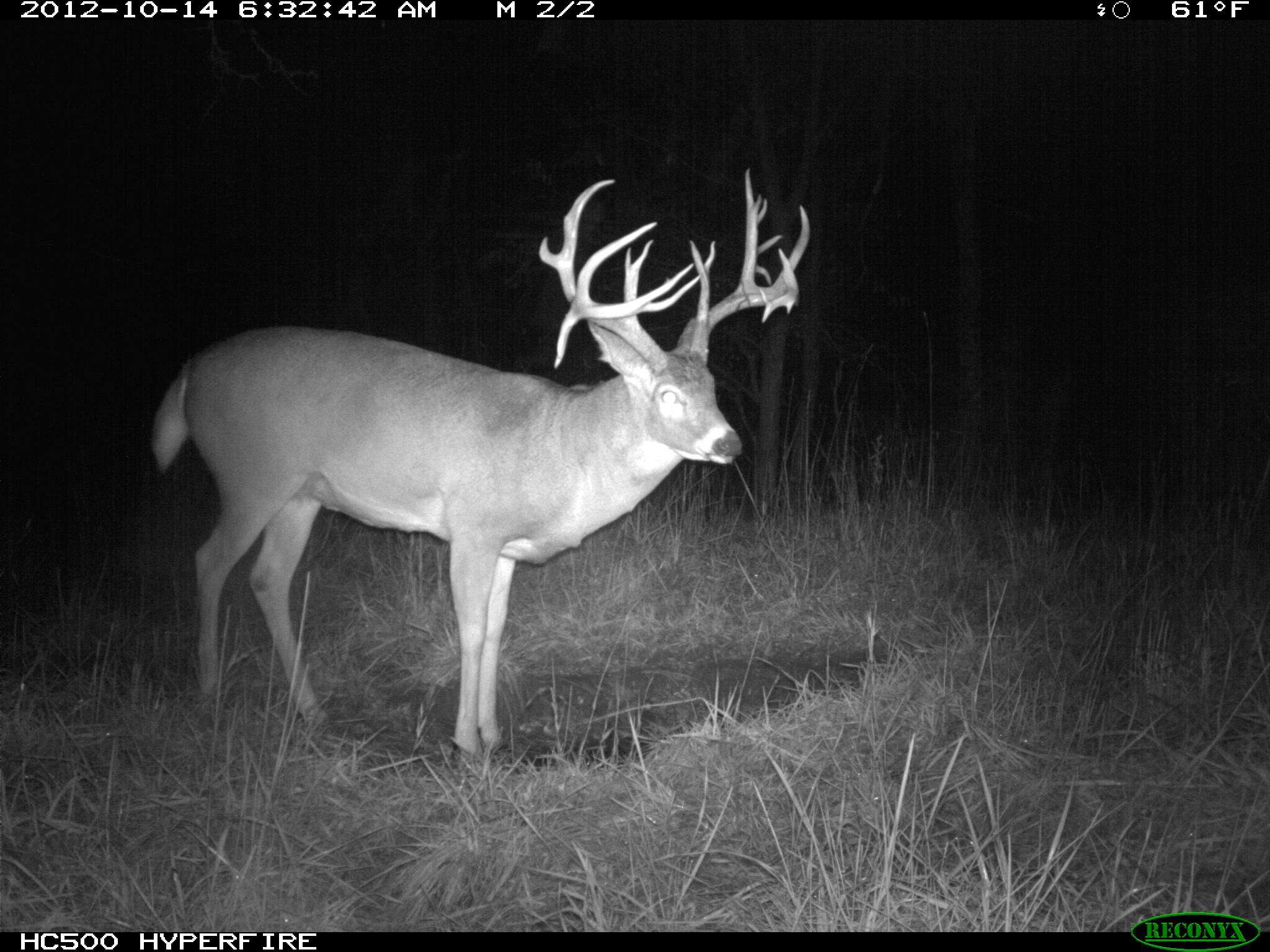 After moving a set of stands (for himself and a cameraman) at noon on Oct. 25, Adair slipped into a spot that Baby 8 had cruised the night before. As the sun lowered in the sky, Baby 8 appeared at the edge of timber and angled directly toward the obsessed hunter's tree! At 40 yards, Baby 8 stopped and spent several minutes thrashing a briar bush. But then, instead of slowly making his way down the trail beside Gabe's tree, Baby 8 broke into a trot. He ran the gauntlet past one shooting lane, then another, and this forced Adair to spin hard to his right for a seated shot with his bow at 10 yards.
He let his arrow go and hit Baby 8 low behind the shoulder. The deer bounded out into a cut cornfield 90 yards away and stopped. Blood ran steadily from between his front legs. Adair fully expected him to tip over at any second. After a few moments, however, Baby 8 wheeled and ran 200 yards, over a hill and out of sight.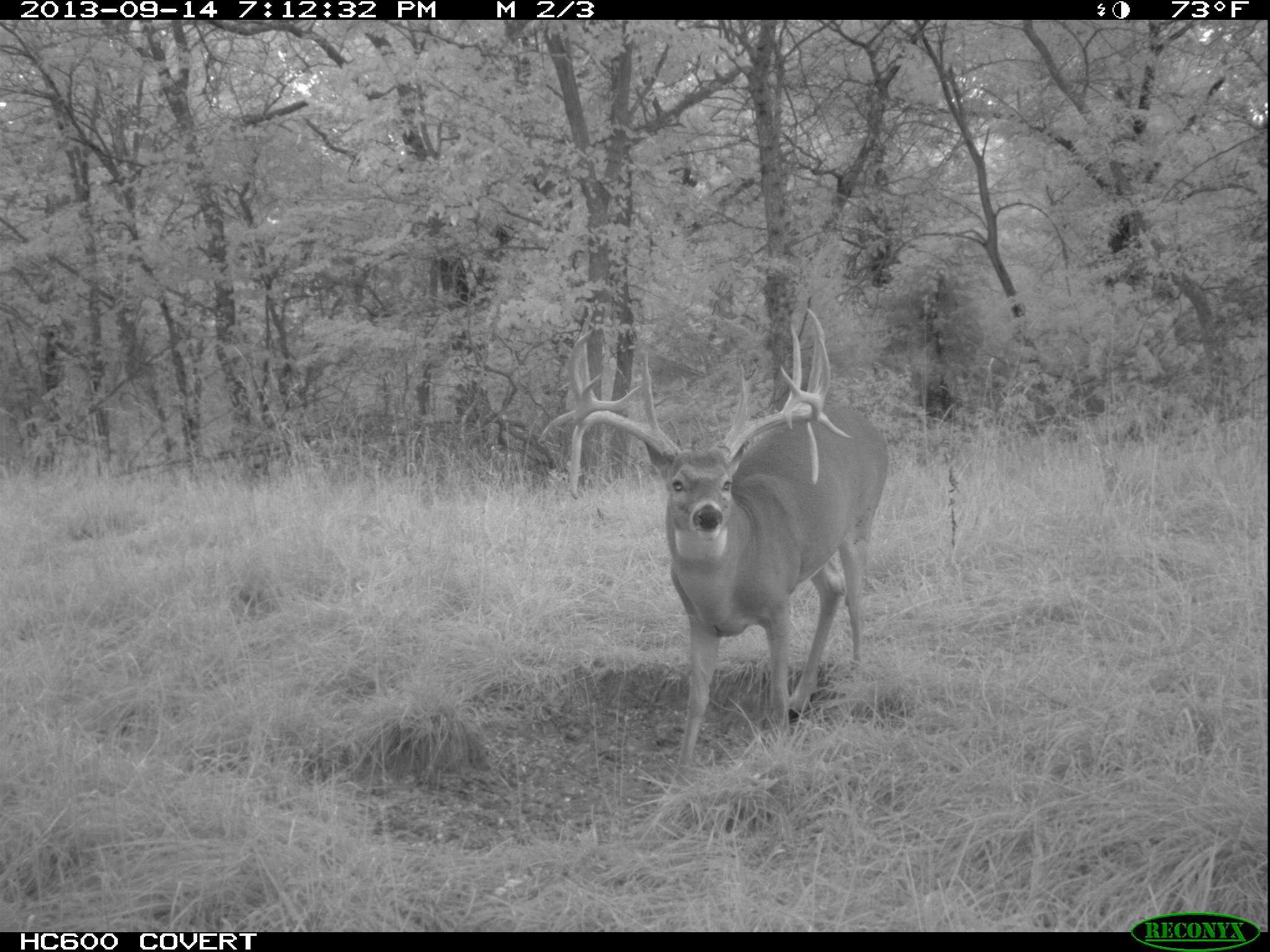 Adair decided to wait until the next morning to track him. After enlisting the help of a few friends, they trailed the buck for approximately 500 yards before jumping him. To everyone's surprise, the deer was very much alive, and he bounded steadily away from his pursuers, seemingly unfazed by his wound.
For exactly one month after that, throughout the rut, Adair received no trail camera photos of Baby 8.
"I felt awful," Adair recalls. "I was dissapointed in myself, and I felt bad for the deer. I didn't know whether he was dead, just being very wary, or simply rutting and away from his normal range."
Finally, on Nov. 25, Baby 8 appeared back on a trail camera. He was very much alive, but looking a bit thinner. Worried the wound could cost Baby 8 his life with a hard Iowa winter looming, Adair targeted the late muzzleloader season as a time Baby 8 would be most vulnerable.
"After seeing him back in his core area after the rut, I really believe he'd just been rutting during that month," Adair says. "When he showed back up, I knew he'd be hungry, and I had plenty of late-season food sources waiting."
A family man, Adair ruled out hunting on Christmas day, and so he circled the days just after the holiday as his best chance.
On Christmas Day, however, his phone rang. His friend and QDM partner, Teddy, was on the other end.
I got Baby 8, Teddy said.
"Honestly," recalls Adair, "my gut turned inside out! But it didn't take me long to recover. I quickly started thinking about how excited Teddy or Mark would have been for me if I'd have killed him. I remembered how fortunate I am to live in an area were these magnificent creatures live. I have seen grown men loose their minds over giant whitetails, and they can even tear families apart. I can promise you that will never happen to me. I was happy for Teddy."
And he should be. You see, Adair -- who's no stranger to killing huge deer -- is the real estate agent who sold the neighboring farm to Teddy, and that's where Teddy ultimately killed Baby 8. He even helped his neighbor recover the massive deer with the storied history. As a matter of fact, the two friends walked up to Baby 8 for the first time together, and noted that the magficient deer ... was no baby at all.
Have a big buck story you want to share? Email us at [email protected].
Watch all the latest video episodes