Rack Report Details
Buck:
188"
Time of Year:
Dec. 27, 2014
Place:
Cass County, Illinois
Weapon:
Elite Archery Spirit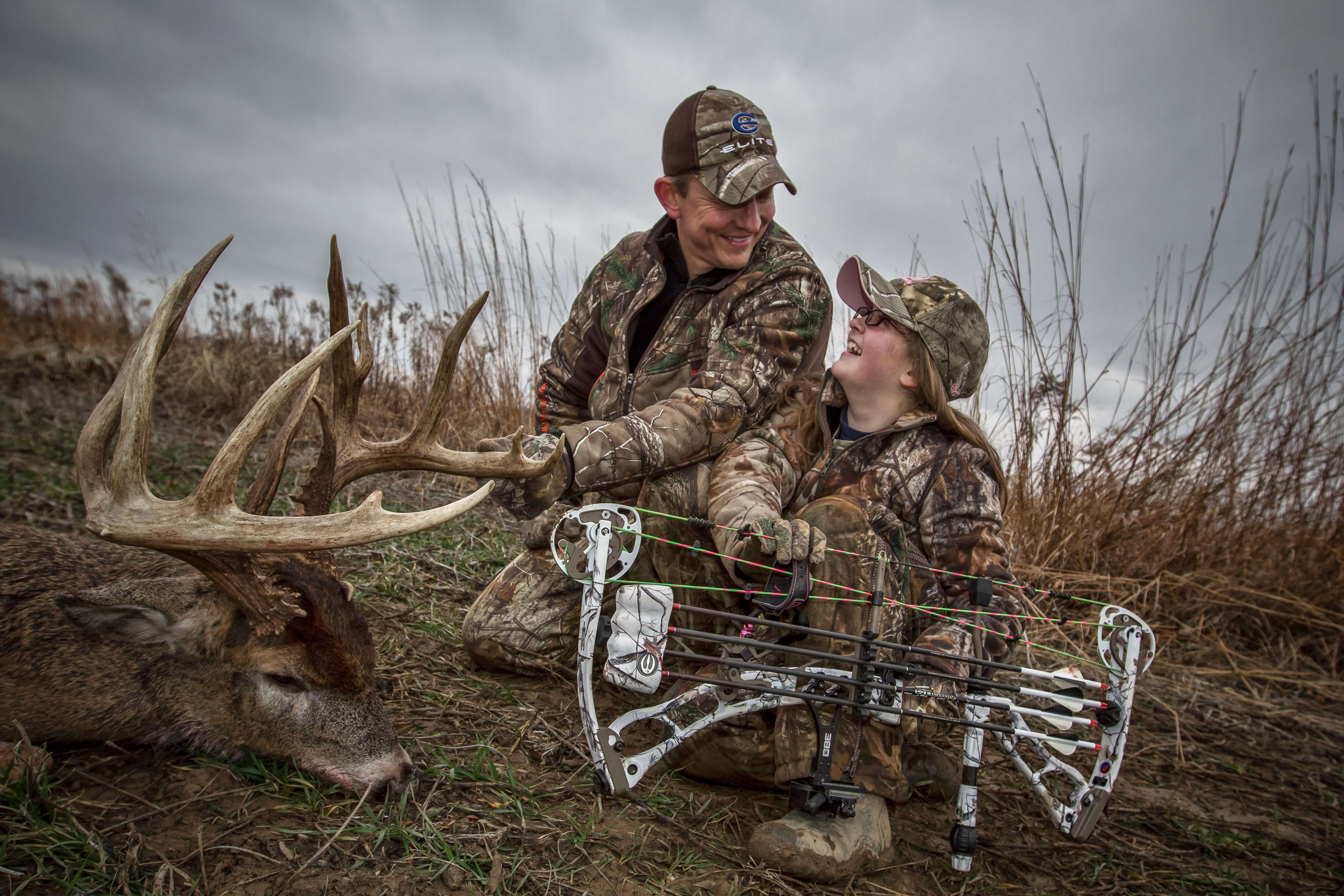 Hunt long enough and you'll eventually cross paths with a buck that just gets under your skin.
Kyle Wieter, host of Adrenaline Junkies on the Sportsman Channel, can tell you all about it.
It all began in 2011 when Kyle glassed a massive velvet 9-pointer feeding in a bean field. He posted a trail camera and waited. The first photo taken by that camera was of the buck from the bean field. Kyle estimated the buck to be 3 years old and elected to pass should a shot present itself that fall.
In 2012, the buck seemed to disappear. It resurfaced during the late season in 2013, but Kyle never could catch up with the buck.
Kyle's friend Dick McCormick picked up the buck's sheds in a food plot that winer. By then, the buck was worthy of a nickname: Holy Moly.
In 2014, the story seemed to repeat. The deer was nowhere to be found until late in the season.
The first in-the-field sighting of the buck came when Kyle took Shea Black, a born-to-be hunter battling Muscular Dystrophy, out for a late-season outing. Holy Moly stepped out, but Shea had no shot. The Illinois monarch lived to see another day.
After that, the buck showed up on Kyle's cameras a few more times, but didn't become a regular visitor until mid-December. That's when he knew it was time, and he knew his daughter, Jessie, would be behind the bow. The 11-year-old girl, known to most as Brownie, was about to embark on the hunt of her life. The kicker? Kyle didn't tell her that Holy Moly was frequenting the area.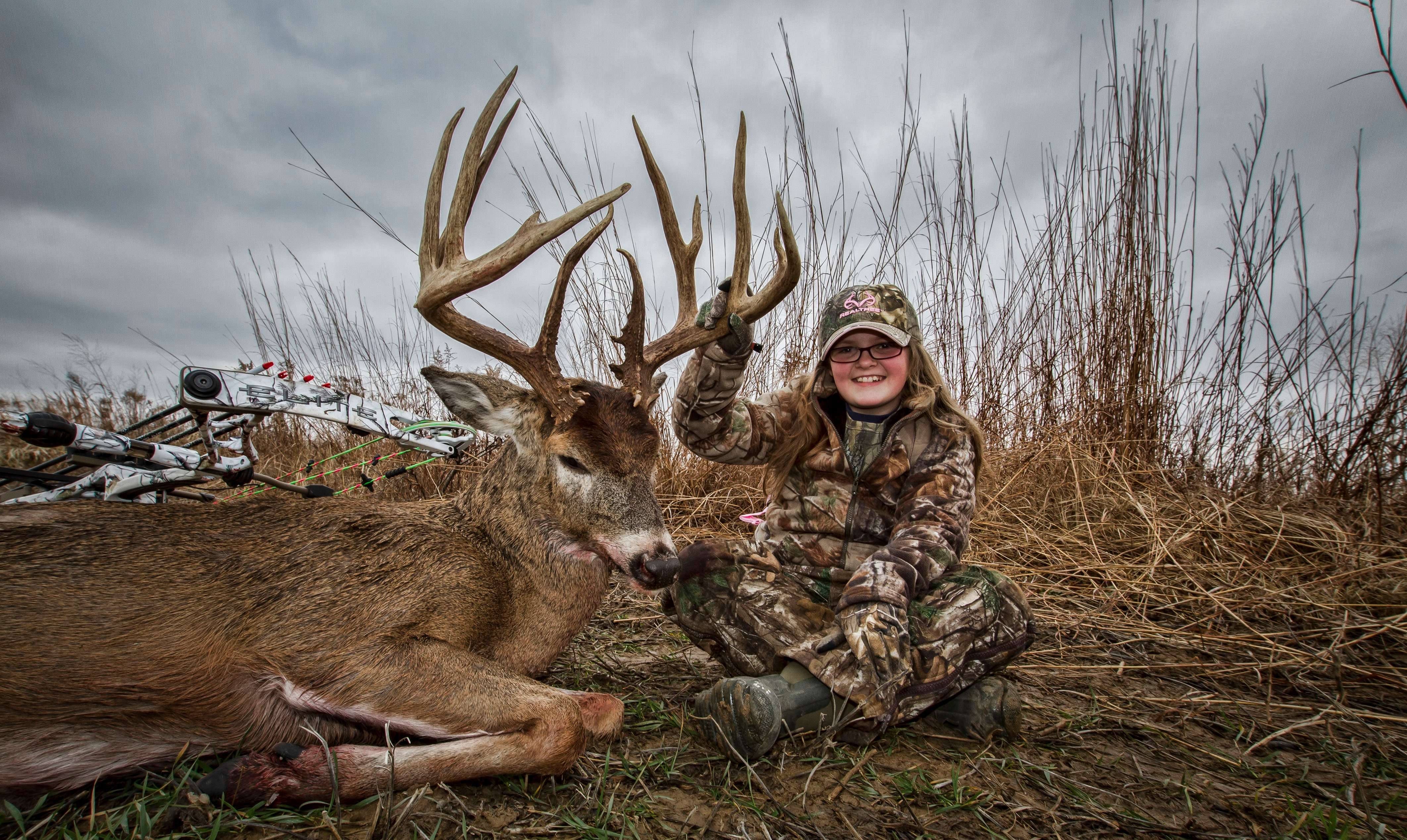 I told her we were going to a spot with a bunch of does, Kyle said. I didn't tell her Holy Moly was coming to the food plot. Shooting a deer has been a three-year quest for her. I didn't want her to get too nervous. She's missed a few deer and cried on my shoulder because of it.
They got into the 8-foot-by-8-foot elevated box blind around 2:30 on the afternoon of Dec. 27. Trail cameras showed the big deer entering the food plot between 4:00 and 4:30 p.m. Kyle hoped the front moving in would have him on his feet.
It was cloudy. The northwest wind was moving cold air as a front approached. The food plot and standing corn was the stage. All they needed was for the main character, Holy Moly, to read the script.
It wasn't long after they settled in that deer began to move. Several does entered the field in front of Kyle and Brownie. Then, minutes later, the stud stepped out. Kyle turned and looked at Brownie.
I don't know how to tell you this, but that's Holy Moly, Kyle said. Get ready and fix your release.
Brownie's response was, well, incredibly fitting.
Are you serious? Brownie asked. Holy moly.
A good case of the shakes set in as the buck started walking her way. Time slowed as the deer worked within range. Kyle shuffled his video camera around and tried to get back on the deer as it passed by one window of the blind and into view of another. The buck was in an awkward position to shoot and film. The top window ledge was in the way. Brownie squatted down for the shot. The buck faced them for several seconds before turning broadside.
Draw your bow, Brownie, Kyle said. Take your time.
She settled her 20-yard pin on the vitals and released the pink and green bow string. The arrow struck the buck in the spine, and it dropped where it stood.
Nock another arrow, Kyle said.
But Brownie couldn't do it. She was so nervous that she couldn't get her release clipped back onto the bow string. She finally calmed herself enough to send another arrow downrange. This one struck true.
It was the proudest walk I could ever do, Kyle said. It wasn't about the caliber of deer she shot. It was about the time spent. I was going to let her shoot a doe if that buck hadn't stepped out.
They quickly recovered the deer and starting lighting up everyone's phones with the good news. Brownie was on the board. In a big way.
Jessie's older brother, Logan, cooked her a celebratory supper and baked a cake in honor of Holy Moly. Kyle admitted there has been a heated, yet playful, rivalry between his two bowhunting kids since that afternoon.
The footage of Brownie's hunt for this 6 ½-year-old buck will air next fall on the Sportsman Channel.
Watch all the latest video episodes