Choosing the Right Days to Hunt Is Very Important
Rack Report Details
Buck:
165 3/8
Time of Year:
October 27, 2016
Place:
Henry County Iowa
Weapon:
Bear bow Bowhunting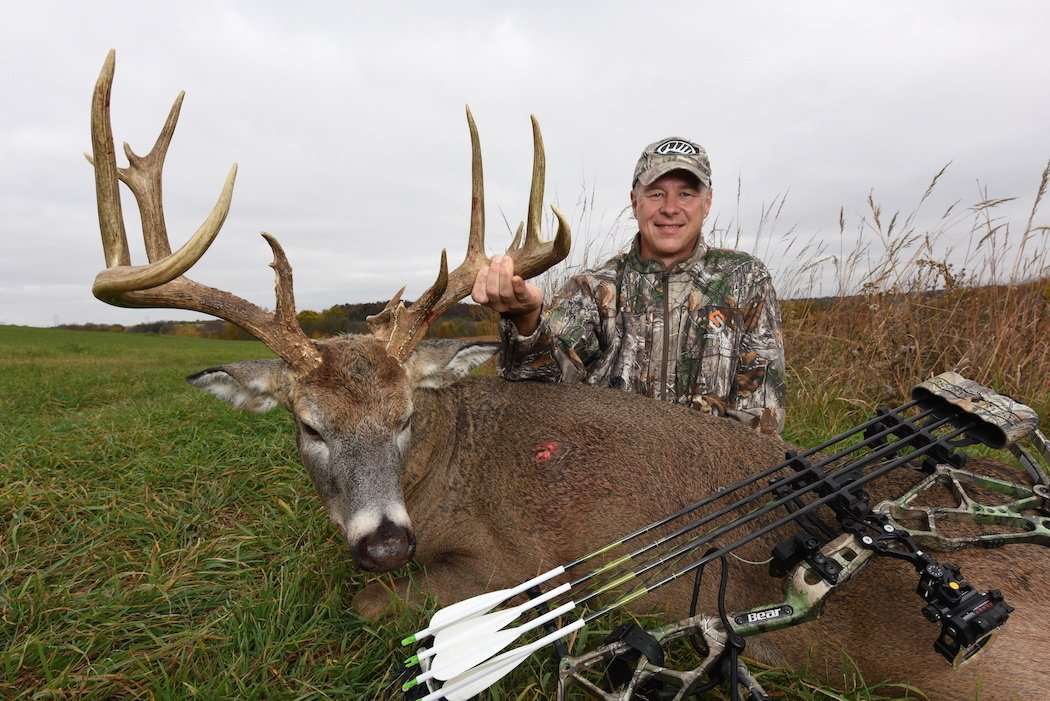 We all have that one buck that consumes our thoughts. Sometimes it's a buck that got away. Other times it's one we're still chasing. Regardless, whitetails seem to carry the uncanny ability to weave themselves into the very fabric of our mind. Along with fantastic meat for the table, it's part of what makes deer hunting so alluring to millions across the country.
Rich Baugh is a deer hunter who knows about this all too well. He's had his fair share of successes and failures in the deer woods. A resident of southeastern Iowa, he sees and hunts big deer on a regular basis. But few have intertwined themselves into the daily thoughts of Baugh.
Because of Baugh's passion for the outdoors, he chose to become a land agent for Whitetail Properties. He knew that was the path for him. His appreciation and desire to own land — and help others to do the same — was a driving force for him and only strengthened his love for chasing big whitetails in the Midwest. It led him down a road that would eventually lead to a buck he came to call Talon.
This buck was first targeted as a 5½-year-old during the 2014 season. Long story short, Baugh didn't catch up to the big buck. It was a similar story during the 2015 season. He just couldn't quite get close enough to the deer to wrap a tag around him. Things changed come October of 2016.
Now a huge 7½-year-old, the buck looked as good as ever and found itself on Baugh's radar once again. Like most big, mature bucks, Talon exhibited incredible character in its rack. The brows curved uniquely outward at the top. The left base had a lot of mass. And kickers came off both sides of the rack. A stud of a deer.
It was fair conditions on the day of the hunt. The temperature gauge read 45 degrees. The wind blew out of the NNW at 5 MPH. Partly cloudy skies shielded the landscape from the sun. All was shaping up to lead into a good hunt.
Baugh was positioned on the edge of a timbered sanctuary. Numerous trails intersected there, leading him to believe it was seeing plenty of action — and hopefully in daylight, too. Because of its whereabouts, Baugh refers to this stand location as The Junction.
It didn't take very long at all before the big deer stepped into view.
He came in on a steady walk, Baugh said. [I] first saw him 100 yards away and immediately knew he was a shooter. [I] had to stop him at 20 yards for the shot. [I] made a perfect double-lung shot and he only went about 125 yards. [It was] amazing to kill a buck 15 minutes into the first hunt of the year.
You heard that right. It was his first sit of the year. That's a perfect example of how it's very important to pick the right days to hunt, and not just hunting as many days as you can. The first time hunting a deer is your best shot at killing it. After that, you risk the deer detecting you and odds go down drastically. Choose high-odds days in quality locations and experience more successful hunts.
This wasn't the only big deer Baugh has killed during his hunting career. But the hunt for this deer definitely ranks high on his list. And he won't soon forget the hunt for Talon.
Click here for more deer hunting articles and videos.
Check us out on Facebook.
Watch all the latest video episodes