Have You Ever Deer Hunted Near Where This Buck was Killed?
Rack Report Details
Buck:
174-Inch Typical
Time of Year:
November 18, 2016
Place:
Logan County, West Virginia
Weapon:
Hoyt Spyder Compound Bow Bowhunting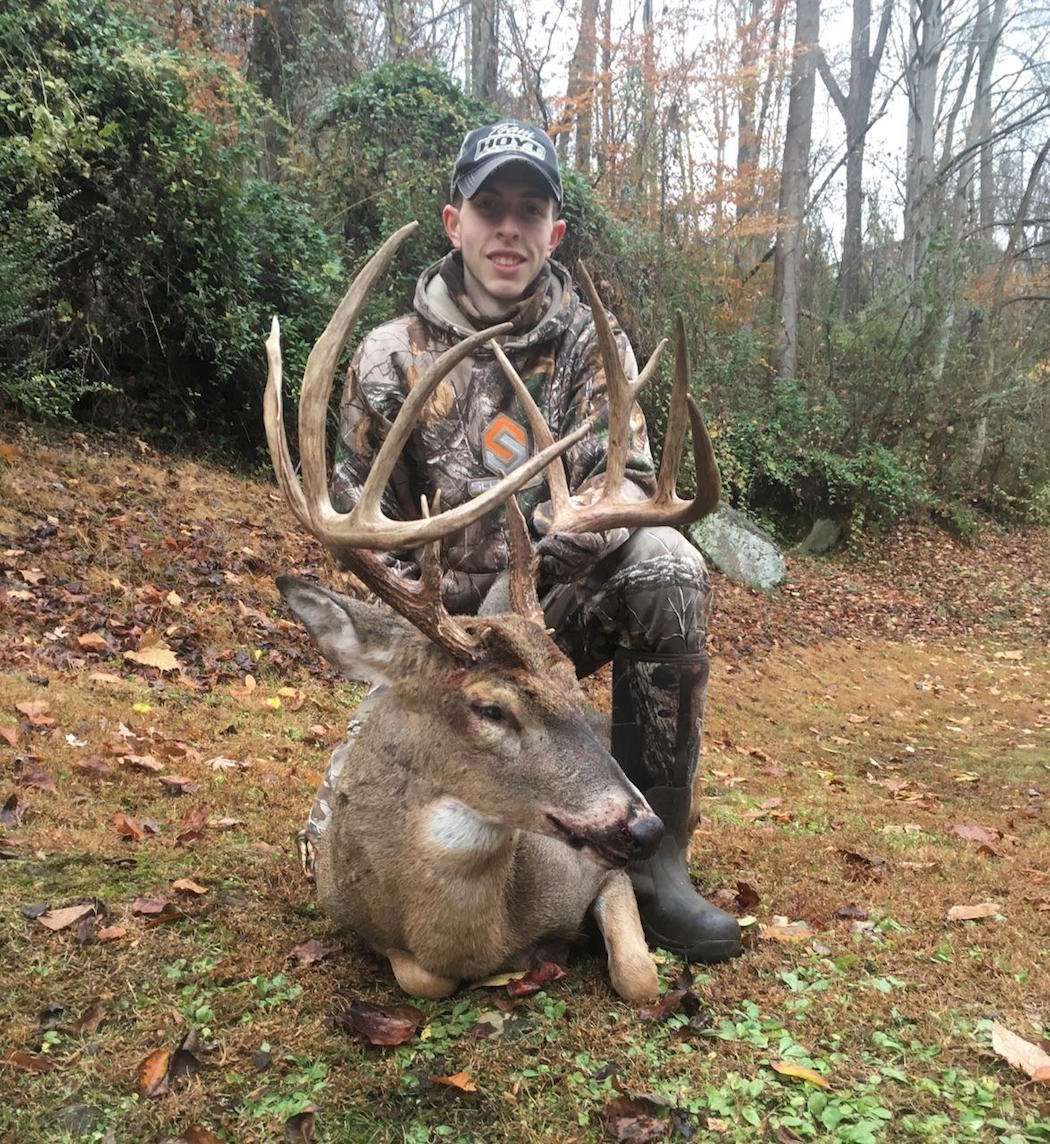 Growing up in rural West Virginia, 20-year-old Josh Mullins is no stranger to the outdoors. In fact, if you don't know your way around a rod and reel, have a gun rack in the back window of your pickup truck and own an assortment of Realtree camo that you consider some of your best duds, you may feel a little out of place in some regions of the Mountain State. For Josh, hunting and fishing are a way of life. If he's not in the woods or on some waterway experiencing the great outdoors, he's thinking about it.
With six bucks with a bow to his credit and the largest grossing 122-inches, Josh was eager for the season opener to kick start knowing that a particular buck was living in the mountainous region he bowhunts. His tall and heavy 10-point frame was enormous, and the kicker point coming from his left G3 made him unmistakable. However, like most mature whitetails, the West Virginia mountains seemed to swallow him up, but with two sightings last season, both occurring in November, he was hopeful that the buck he affectionally nicknamed Kicker would make an appearance.
Between college and work, Josh spent every moment possible in the oak-studded ridge in search of Kicker, but with warm temperatures throughout most of November, deer sightings in general seemed low. But like any diligent bowhunter, he kept at it, knowing that at any time an opportunity would present itself.
When November 18th rolled around, temperatures were once again soaring around 75 degrees and Josh had not seen a deer all afternoon. With the warm temperatures, Josh's mind began wondering about fishing more than bowhunting as he flipped through his smartphone looking at the latest fishing gear. As he scrolled through the photos dreaming of spring, a rustling of leaves caught his attention. When he looked up, Kicker was at 50 yards and closing, eating acorns along the way.
He was heading right for my 25-yard shooting lane and then stopped for about 10 minutes to feed, Josh said. But then, [the buck] suddenly changed its plans and started going in the opposite direction. I grabbed my grunt call and after a few grunts, it became very agitated. However, being blind in one eye (from a previous fight I suppose), I could tell it was getting frustrated trying to find what was grunting. It turned and started coming in my direction, making a rub and scrape along the way.
At 25 yards, it made it into my shooting lane, Josh continued. Shaking uncontrollably, I shot and surprisingly hit it while I was under the worst case of buck fever I had ever experienced. I didn't see [the buck] go down, but I heard the unmistakable sound of a giant whitetail hitting the ground as it ran over the ridge.
After a short track, Josh was finally able to find Kicker and put his hands on that massive rack.
I can't begin to explain how it felt in that moment, Josh said. But I feel beyond blessed that God allowed me to experience this truly incredible hunt.
Bonus Read: What Deer Eat | How to Deer Hunt
Click here for more deer hunting articles and videos.
Follow us on Facebook.
Watch all the latest video episodes