Rack Report Details
Buck:
183
Time of Year:
October 8, 2016
Place:
Jones County, Iowa
Weapon:
Bow Bowhunting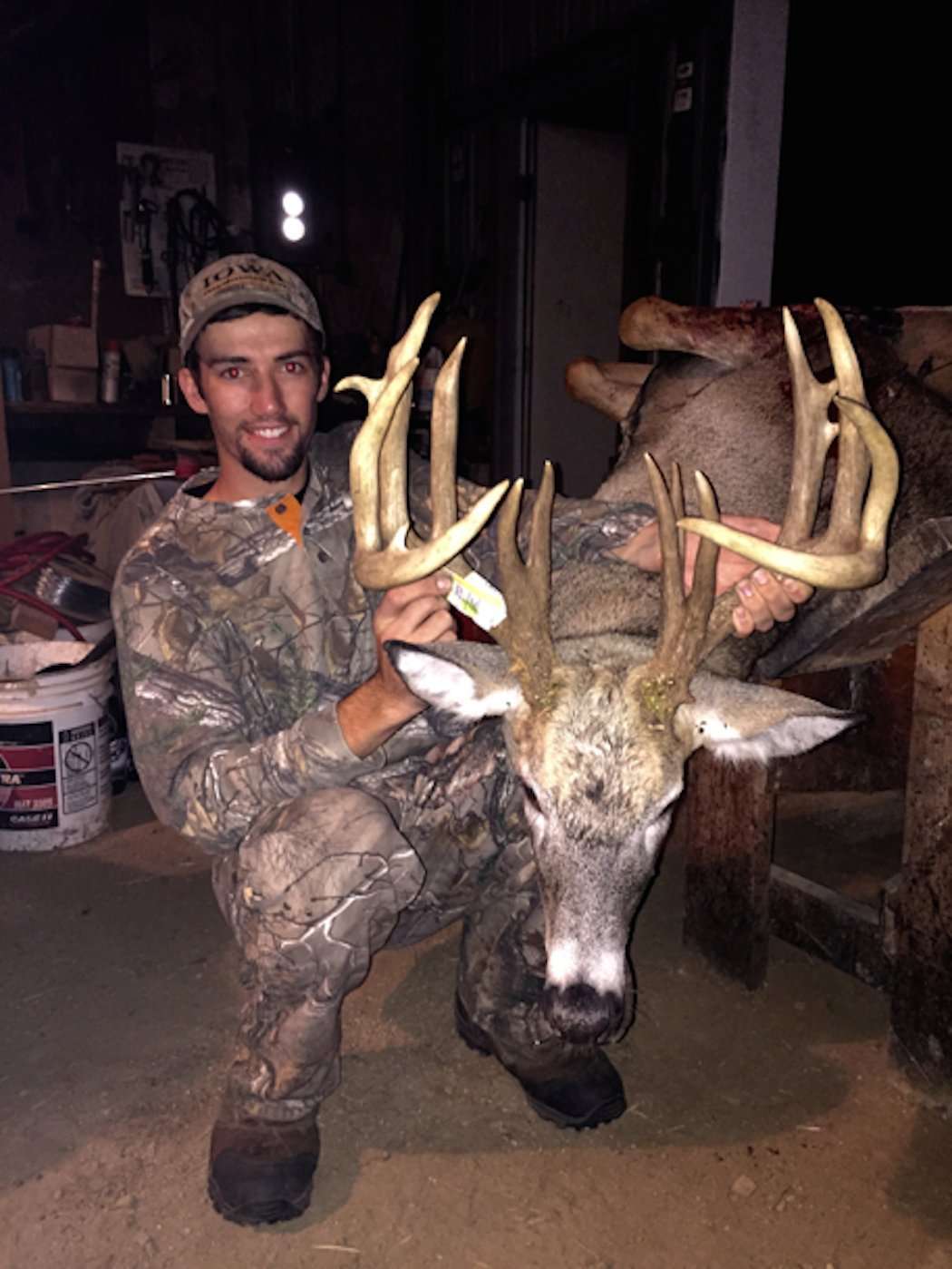 With no rifle season and only a short shotgun season, Dylan Flogel decided four years ago he was going to try his luck with the stick and string.
When I first started bowhunting, I [went] 20 to 25 times before I even seen a deer, Dylan said. Which is crazy because they are pretty thick near me. I am actually really blessed because, of the four best deer hunting counties in the state, I live in the middle of three of them. There is no lack of deer, that's for sure.
When Dylan heard about this bruiser cruising the Wapsipinicon River bottoms on his girlfriend's dad's farm, it didn't take long to decide to hunt it. His girlfriend and her father had seen the monster in a cornfield on a bordering property.
Although I don't have permission to go in there, I am still able to hunt right on the edge of it, he said.
There were still no pictures to be found of this specific buck. However, he was spotted not far from one of Dylan's trail cams.
On the second Sunday of October, Dylan and his girlfriend Michelle, headed out to the farm to see if he could fill his buck tag, or at least get a glimpse of this mysterious ghost Michelle's dad had been so sure of.
Staring into a cornfield with his back to the river bottoms, Dylan was content, whether he saw a deer or not. In only his fourth year of bowhunting, he was already looking to fill his fourth annual tag.
Minutes later, Dylan glanced over his left shoulder to see what he believed to be the mystery buck.
The craziest part of the hunt is that it came walking down the tree line [and when it] got to the tree where my trail camera was, the buck stopped to go out of its way to walk around that specific tree, Dylan said. How crazy is that? But it stopped at about 25 yards and I let it have it.
The deer cringed up and took off down the tree line. Dylan was worried about the arrow's penetration. His Lumenok dangled out of the buck's side as it ran off.
After waiting for what seemed like a decade, Dylan climbed down out of his old ladder stand and started blood trailing the deer.
I found a few drops of blood here and there, he said. [I] was really getting nervous until I saw the glow of my arrow sticking up, just inside the woods. I should have filmed my reaction. I was so happy.
After dragging out — five feet at a time — a buck that felt more like a cow, Dylan and his girlfriend celebrated with her father back at the truck. The ghost buck had slipped up.
Bonus Read: How to Hunt Property Lines
Bonus Read: You Shot a Deer. Here's How to Find It.
Click here for more deer hunting articles and videos.
Follow us on Facebook.
Watch all the latest video episodes