Have You Ever Seen a Buck This Big in This State?
Rack Report Details
Buck:
184 5/8 (Inches) Gross
Time of Year:
October 20, 2018
Place:
Boone County, Arkansas
Weapon:
Elite Ritual Bowhunting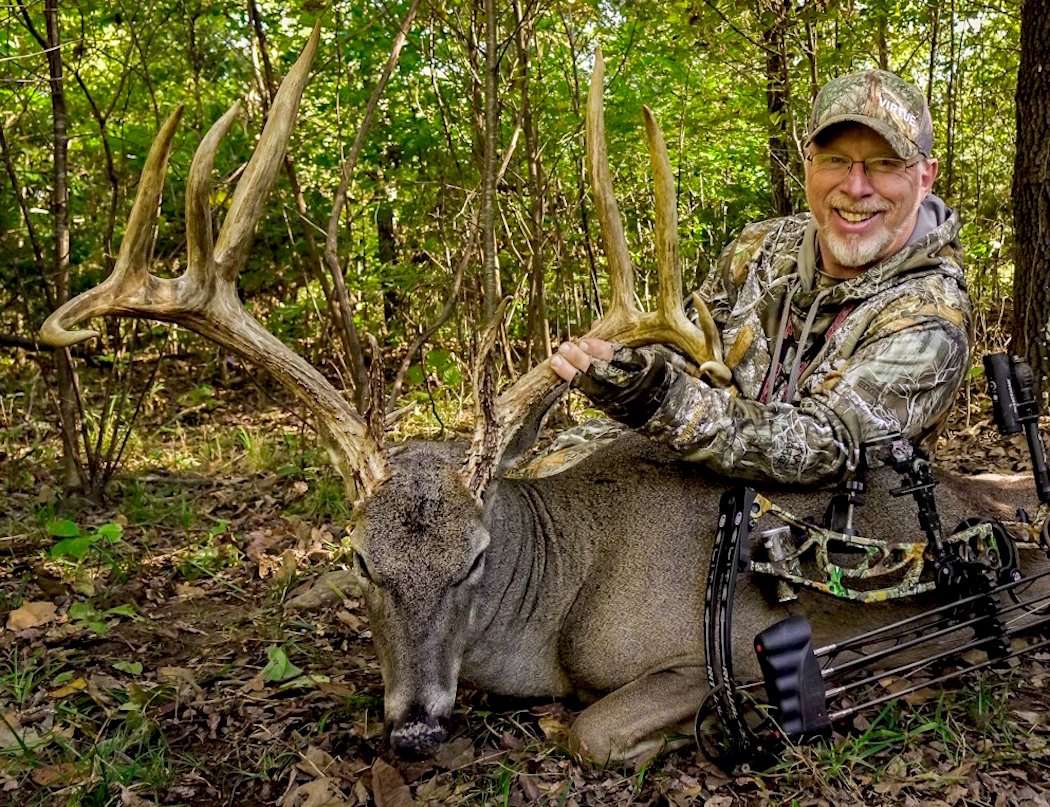 Deer hunting is about many different things. It's about the meat. The memories. The camaraderie. The list goes on. But part of it is, for lack of a better term, the relationships we build with the whitetails we pursue. Sometimes, we're blessed with an opportunity to hunt a specific deer for multiple years. Sometimes we get them. Most times we don't. But the time spent in the field hunting them is the real treasure.
The Virtue's Phillip Vanderpool recently experienced the final chapter of his own such story. And it was about a buck named Obsession.
I had a three-year history with him, Vanderpool said. I found his sheds from 2016 that grossed roughly 155 inches as a main frame 8-pointer. Also, I had a trail camera picture on October 6, 2016. He was 5 1/2 then, so he's about 7 ½ years old this year. His teeth were really worn down to his gums.
In 2017, I really started putting in a lot of time trying to figure out his pattern, Vanderpool continued. I got lucky and got him in the daylight for the first time [last year] on August 4, 2017. Still a main-frame 8-pointer but guessed him to be high 160s or close to 170 inches.
It was awhile before he received another photo of the giant buck. And as all hunters do, he worried the deer might have been killed.
The next time I got a picture was November 21, Vanderpool said. Rifle season was still going — it lasts almost a full month here in Arkansas. He made it through gun season, though. So, I tried to put some time in to figure him out as the trail cam pictures I had of him were about 3 miles apart.
He never caught up to the big deer by season's end, though. The deer shed its antlers and another season concluded with the Arkansas giant still roaming the countryside. But by late summer of this year, the buck was back on Vanderpool's radar.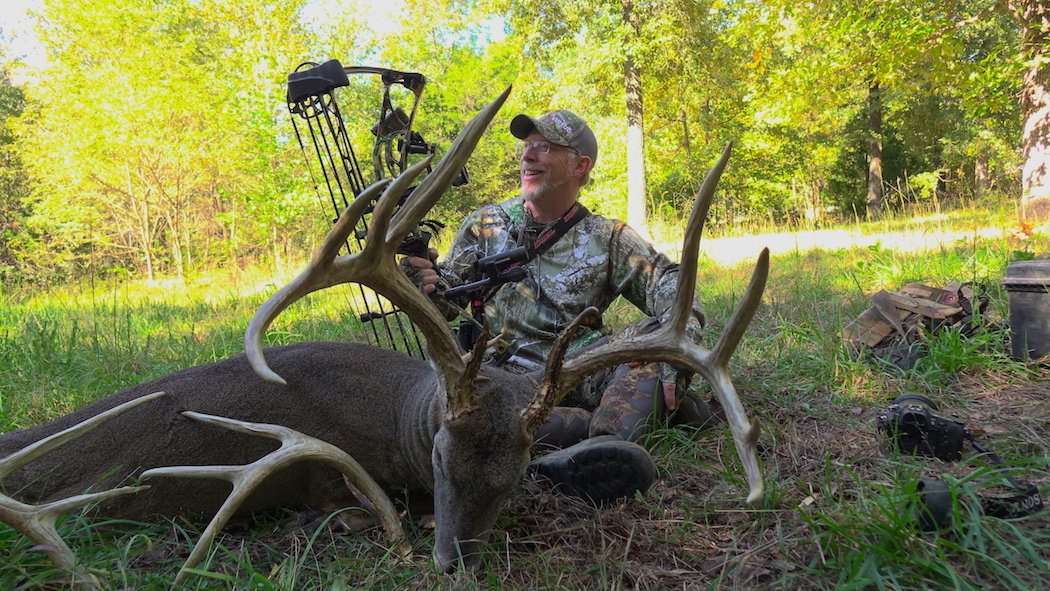 On July 22, I received one Covert trail camera picture, Vanderpool said. He was still alive. I planted a food plot in late August and my Covert cell camera went off on September 14 at 8:15 a.m. I couldn't believe the size of frame he had.
On October 18, Vanderpool decided to hunt a ground blind he had, and soon after settling in, he caught his first look at the buck on the hoof. He couldn't get the camera on the deer, though, and opted not to take the shot.
It rained all the next day. But at last light, Obsession walked right by one of Vanderpool's stands. The only problem — he wasn't there because the wind was wrong. He planned to be back in the tree the following morning.
Vanderpool eased into the area and quietly hung a treestand well before sunrise. The temps were in the 40s and a high-pressure system had conditions right. And although it was the first day of muzzleloader, he was staying loyal to his Elite bow.
He sat in a pinch-point overlooking his V-shaped food plot. A large hayfield was out in front of him and a massive thicket was behind him. Early on, the all-day sit produced four different smaller bucks and three does.
Then, as dusk neared, a shot rang out across the meadow. His heart sank.
I heard a shot above me, Vanderpool said. Then about a minute later a second and third shot. I had a sick feeling and said a little prayer. It wasn't 5 minutes later that Obsession stepped out. I could only see his antlers, and I tried ever so slowly to get my video cameras rolling.
He then walked out into the food plot and began eating, Vanderpool continued. This was my chance. He quartered away as I pulled back the arrow. I touched off the shot and he went down like a canon.
I've never hunted a buck that had a sixth sense like him, Vanderpool said. This buck has taught me more about unusual habits than any buck I've ever hunted one-on-one. What really made this even more special is he walked by the tree I shot my very first Pope & Young whitetail from back in 1990.
I want to say a special thank you to Rhonda (the love of my life for 38 years) for helping with this journey, Vanderpool said. And last but not least, I give all the glory to God and His Son Jesus for giving me the opportunity."
The Virtue Prayer: Dear Lord, guide my spirit straight and true, so that I may give all the glory to You. In Jesus name, amen.
Don't Miss: 20 Deer Hunting Lies Your Granddaddy Told You
Are you a deer hunter wanting to learn how to accomplish your goals? Check out our stories, videos and hard-hitting how-to's on deer hunting.
Watch all the latest video episodes