Ever Thought You Missed a Buck and Found It Right Before Giving Up?
Rack Report Details
Buck:
231 7/8 Inches
Time of Year:
November 16, 2018
Place:
Pike County, Illinois
Weapon:
Savage 20-gauge shotgun Shotgun
If you hunt long enough, you'll eventually face a perplexing tracking job. It's a sinking feeling until closure comes. Now, imagine if the deer in question is a 231 7/8-inch gross-scoring giant you've been chasing for three seasons.
I almost gave up on looking for the deer after scouring the area and finding no signs of a hit, Dan Odom said of his 2018 Illinois shotgun buck. I was literally seconds from calling it a clean miss when I spotted what appeared to be a bedded deer.
Let's rewind. The giant buck had been encountered and photographed since 2016. That year, Odom believes the deer would've grossed in the 160s.
In 2017, the buck added another 20-25 inches. A friend found those 180-class antlers last spring.
Odom's hunting property — 800 acres owned by his best friend, Todd, and 300 acres that the two friends lease together — is located in prime whitetail country.
I live in Georgia and run a real-estate company, Dan Odom & Associates, in Peachtree City, Odom said. Our Pike County, Illinois, hunting property came about after Todd and I hunted with Carter Outdoors in the early 2000s. The Carter family also owns a real-estate business. Todd purchased 300 acres from them, and the Carters also helped us lease adjacent property. This year, Todd purchased an additional 500 acres, so we now have about 1,100 contiguous acres to hunt.
Odom and Todd travel to their hunting property each summer to hang 25 trail cameras. The Moultrie S-50i in Realtree Original camo is a great choice. But as summer 2018 progressed, though, Odom became concerned the buck had moved or met his fate since it hadn't been seen or photographed all summer. A major highway borders the property, which triggered worse concerns.
Finally, we got some trail camera pictures of the buck in October, Odom said.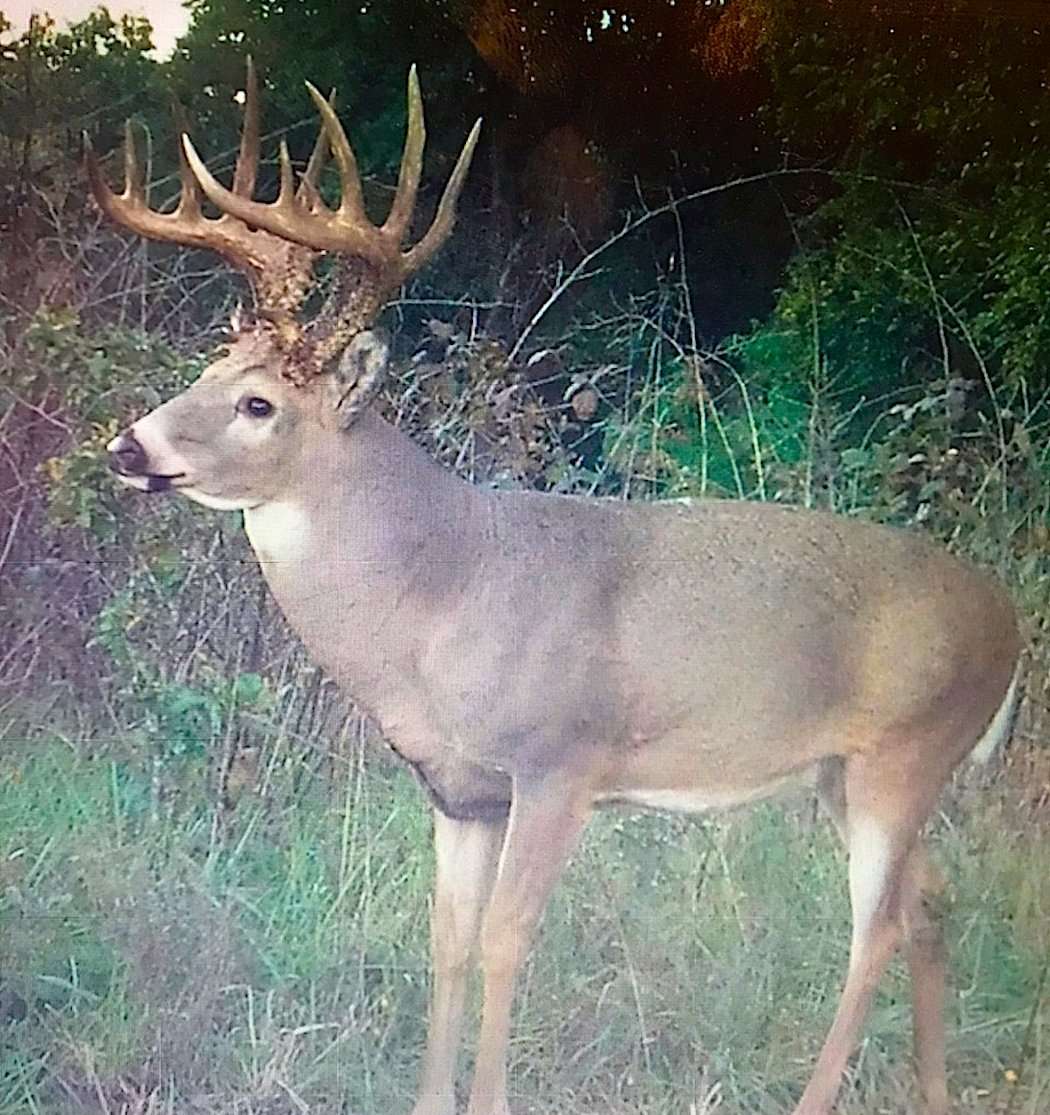 Todd's father, who was hunting with a crossbow on November 12, was first to encounter the buck in 2018, but was unable to get a shot. Todd saw him later that same morning tending does not far away.
Todd's father really can't hunt all day anymore, Odom said. When he got out of his stand, I got into it. I just had a feeling the buck would return.
I'd merely stepped onto the platform when a doe snorted nearby, he continued. I looked to my left, and the buck was 40 yards away. He left the area, but both Todd and I encountered him again that evening. He came within 40 yards of me but offered no shot."
Shotgun season was just a few days away. And while the stand where Odom encountered the buck on November 12 is ideal bowhunting, he hunted there opening day of shotgun season. All of the encounters flashed through his mind as he slipped on his Browning Hell's Canyon hunting suit and gathered his gear for the day's hunt.
I had a feeling I'd at least see the buck that day, Odom said. At about 6:43 a.m., I spotted him coming down the ridge to my left. I immediately identified an opening and prepared to shoot.
Adrenaline had no time to kick in, but I didn't consider stopping the buck with a grunt, Odom continued. I squeezed off the shot, and I instantly felt that my crosshairs had been farther behind his shoulder than intended.
An hour passed, and Odom climbed down to investigate. He found and followed the buck's tracks in the fresh snow, but found no signs of a hit. Later, he zigzagged down the ridge. Nothing. Seconds from calling it a miss, Odom spotted a deer downhill.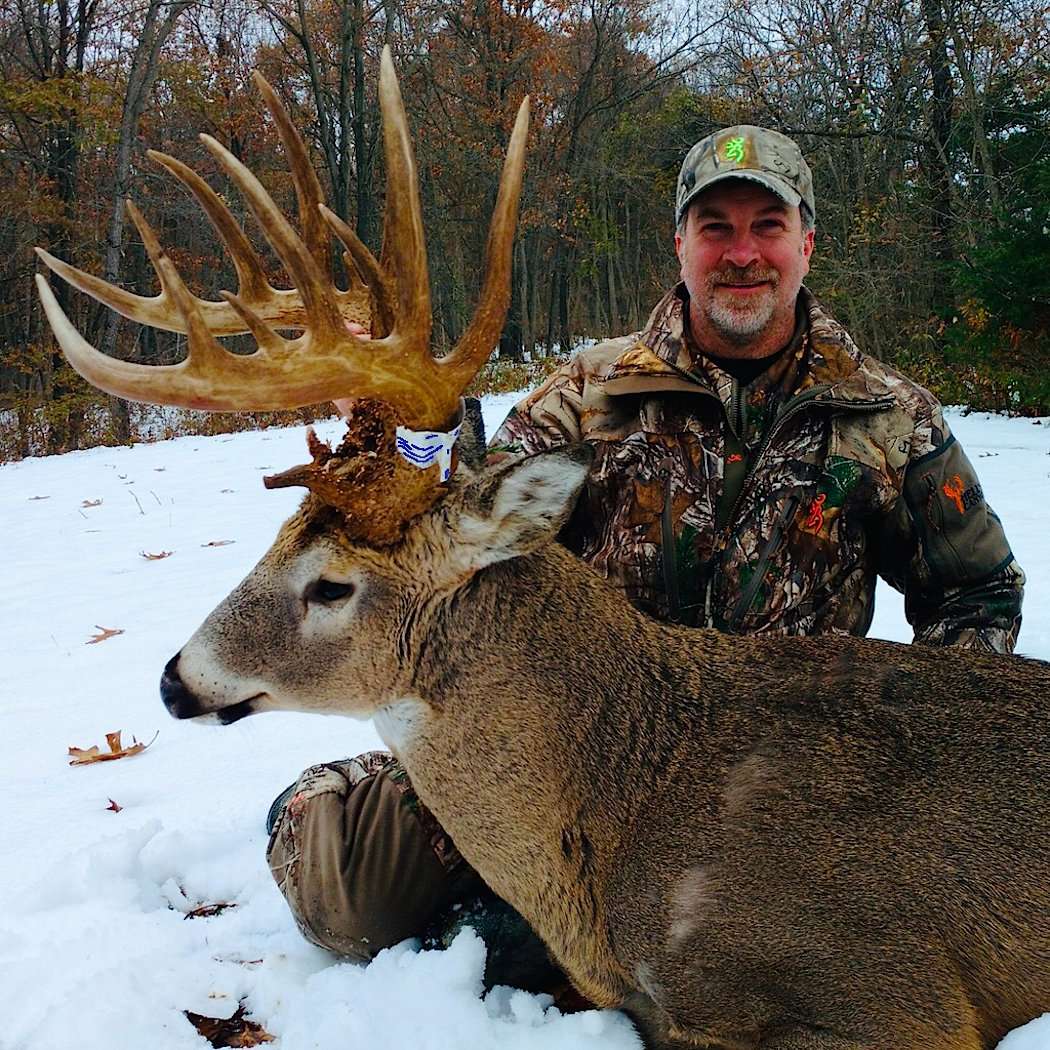 Now, we'll resume where we left off earlier.
I confirmed with my binoculars that it was a deer, he said. After sidestepping to the left, I saw the gigantic rack and knew it was him. Oddly, he hadn't bled externally until about 20 yards from where he fell.
After the fact, Odom continued, I learned that the buck had crossed the major highway multiple times the week I killed him, because landowners across the highway had pictures of him over there even the day before I killed it.
I want to thank Dale Carter and his nephew, Nathan, of Carter Network Realty, he continued. I can't say enough about them. They've given us so much guidance over the years in managing our hunting property. They're genuine friends, and I could not have killed this buck without their help.
Additionally, Odom credits his father for introducing him to hunting at a very early age, his lifelong friend, Todd, for being the best hunting partner in the world, and the Good Lord for His blessings and the ability to harvest this magnificent animal.
Don't Miss: 20 Tips for Blood Trailing Deer
Are you a deer hunter wanting to learn how to accomplish your goals? Check out our stories, videos and hard-hitting how-to's on deer hunting.
Watch all the latest video episodes