Hunter's Grandfather Passes Away as Bowhunter Takes Giant Deer
Rack Report Details
Buck:
204 Inches
Time of Year:
November 18, 2018
Place:
Winneshiek County, Iowa
Weapon:
Xpedition bow Bowhunting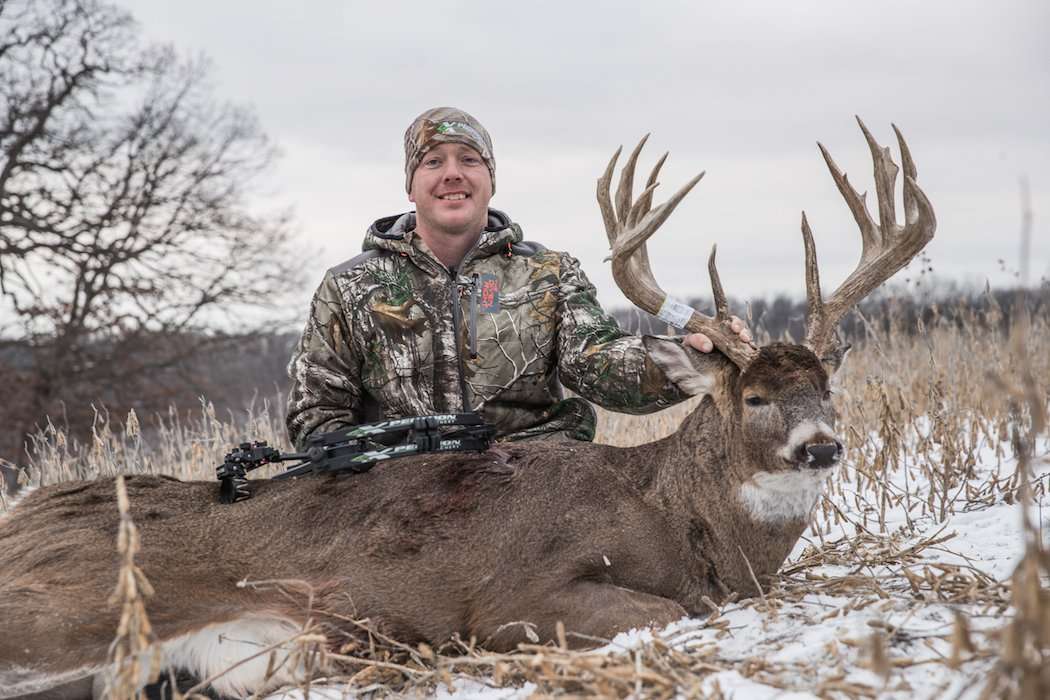 Marc Anthony's quote, Do what you love, and you'll never work a day in your life, is quite true. However, while Chris Van Gerpen, Xpedition Archery's operations manager and land manager/consultant, loves his job, he's so immersed in the outdoor lifestyle that his hunting time is limited.
I've been helping folks target big bucks for four years, and I've been associated with some monster-buck kills, Van Gerpen said. Consequently, I've had very little time to hunt for myself.
Still, Van Gerpen made good use of his 2018 treestand time.
A few friends and I knew about a specific buck for two years, Van Gerpen said. In 2017, one friend shot at the buck during shotgun season, but his bullet struck a vine. He knocked the buck down with shrapnel, but the 170-class buck got up and disappeared.
This year, my friends who hunt the property were getting trail cam pictures of that same buck in velvet, Van Gerpen continued. They'd told me a big buck was roaming around that had been on the property in 2017, but I didn't find out what deer it was right away.
About three weeks before Van Gerpen shot his buck, his friends showed him pictures and said the buck was still on the property.
They were nice enough to say, 'Hey, this deer is out there, and one of us needs to kill him,' he said.
Two friends who hunt the property agreed the best ambush location was a particular ridge bordering a cornfield. Meanwhile, Van Gerpen was hunting in Kansas.
When I returned from Kansas, my wife and I went hunting together near the cornfield, Van Gerpen said. Another nice buck was in the area, but if the 200-incher appeared, I'd be shooting because she hasn't killed very many deer. She got cold, and we left about 45 minutes before dark.
Van Gerpen intended to hunt the following morning, but his alarm didn't sound.
My wife nudged me at about 6 a.m. and said, 'Hey, I thought you were going hunting,' he said. I thought about it and elected to wait for the afternoon hunt.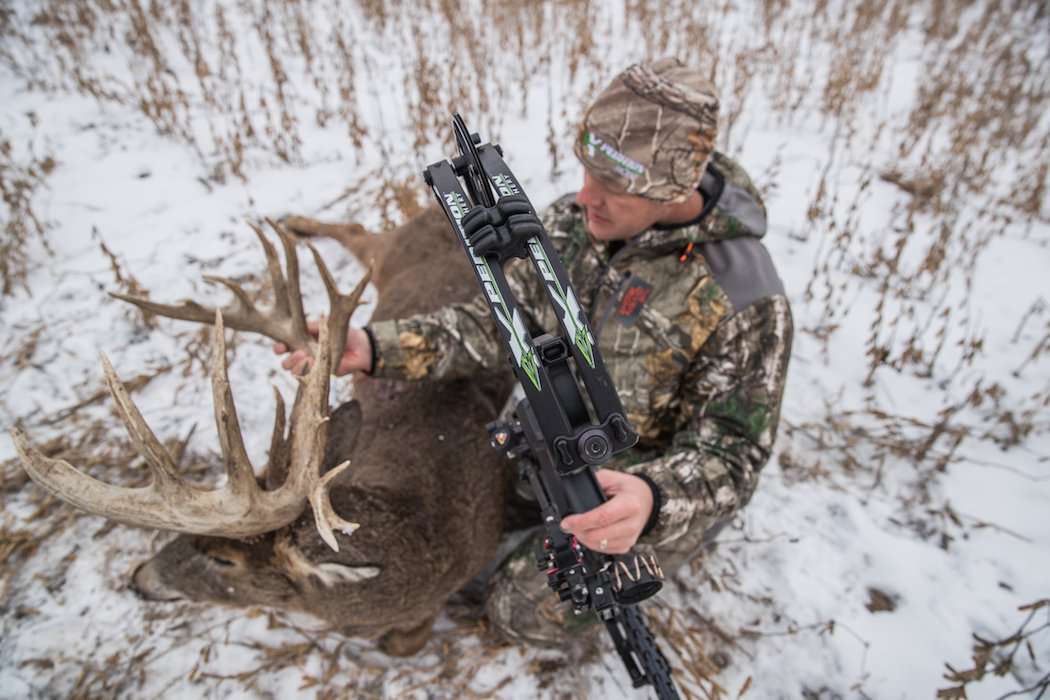 When I reached the area I wanted to hunt, I saw a huge fresh bed nearby and began looking for potential stand trees, he said. I picked one out and hung my sticks and stand, but I realized my shooting opportunities were obstructed. I climbed down and sawed down three 4-inch-diameter trees.
While cutting, a doe snorted in the distance. Slightly upset that he'd alarmed deer, he climbed back into the stand and began hunting.
I was facing northward down the ridge, and about an hour and a half later, I heard something behind me, Van Gerpen said. I looked over my shoulder and spotted a doe. I glanced behind her and saw tines, but since I was looking toward the sun, I couldn't confirm which buck it was.
Van Gerpen was so preoccupied with trying to ID the buck that he hadn't grabbed his bow. Meanwhile, he determined it was a shooter buck.
When he got to 40 yards, I called myself an idiot for not grabbing my bow, Van Gerpen remembered. I got buck fever, and I was shaking as I grabbed my bow. My bow limb hit the bow hanger and made a 'ping.' I closed my eyes and called myself an idiot again. I thought it was over.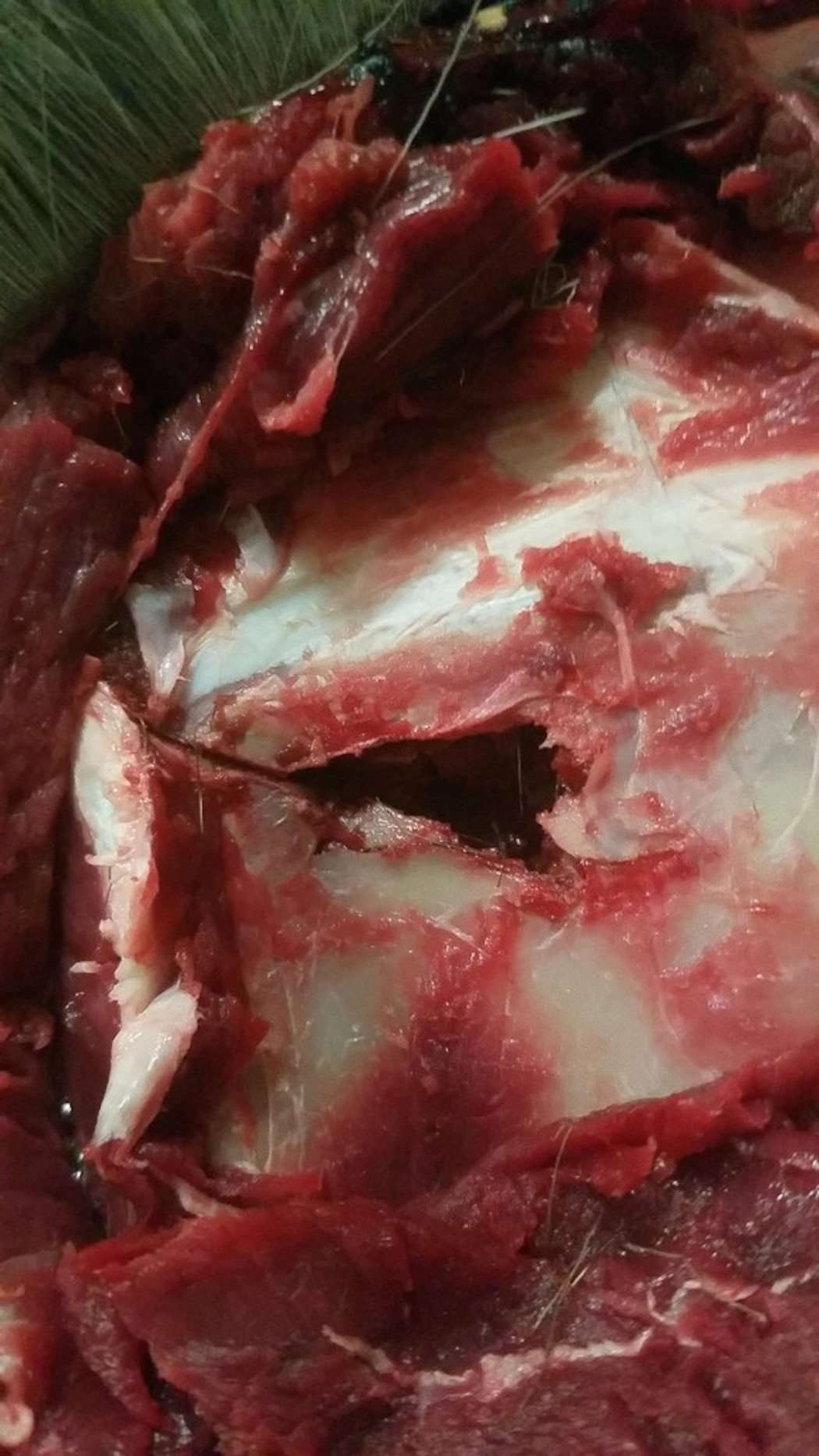 Fortunately, the doe and buck remained oblivious.
I connected my release when the buck was at 25 yards and about to enter a shooting lane, he continued. But, he stopped behind a cedar tree and started nosing the wind. In retrospect, I believe he was smelling the doe, but in the moment, I was worried he was smelling me.
I panicked and started looking for a shooting window, Van Gerpen added. Then, the buck moved into the open. I took my shot, and he dropped instantly. I nocked another arrow and shot him again.
I called the landowner to tell him that I'd killed the buck, Van Gerpen said. He didn't believe me at first. I told him that I was too nervous to climb down because I was shaking so badly. I eventually calmed down and was able to climb down and recover the buck. It turned out that I'd shot him through both shoulders and not the spine.
Shortly after, the landowner and another of Van Gerpen's friends arrived to celebrate the moment and retrieve the once-in-a-lifetime buck.
In conclusion, Van Gerpen said, It's awesome to put other people on big deer, but to get the chance to kill one of this magnitude myself is unexplainable.
Unfortunately, Van Gerpen's grandfather passed away while photos were being taken of the buck.
It was difficult to swallow, especially after experiencing the emotional high of killing my largest buck, he said. But, I won't forget all of the fond memories I have of hunting with my grandpa.
Don't Miss: 20 Deer Hunting Lies Your Granddaddy Told You
Are you a deer hunter wanting to learn how to accomplish your goals? Check out our stories, videos and hard-hitting how-to's on deer hunting.
Watch all the latest video episodes