Has a Dawn-to-Dusk Sit Ever Paid Off for You?
Rack Report Details
Buck:
163 2/8 Inches
Time of Year:
November 7, 2018
Place:
Decatur County, Iowa
Weapon:
Hoyt bow Bowhunting
It's not every day that you get to deer hunt in Iowa. And it isn't every day you get to chase a 6 ½-year-old buck. But that's exactly what Realtree's own Phillip Culpepper did this November — on both counts.
I was fortunate enough to have my buddy, Drake Lamb of Midwest Whitetail, filming me the entire week I was in Iowa, Culpepper said. Not only was it great because it was awesome spending time in a tree with a good buddy but he also knew the farm we were hunting well and had actually hung three or four stand sets by the time I arrived. He definitely did all the hard work before I got there. I had the luxury of coming in to Iowa ready to hunt.
Now, this wasn't your typical chase-a-known-buck hunt. This was a find-hot-sign-and-make-it-happen type deal.
The first trail cam pictures of this deer were of him hitting a scrape the night before we killed him, Culpepper said.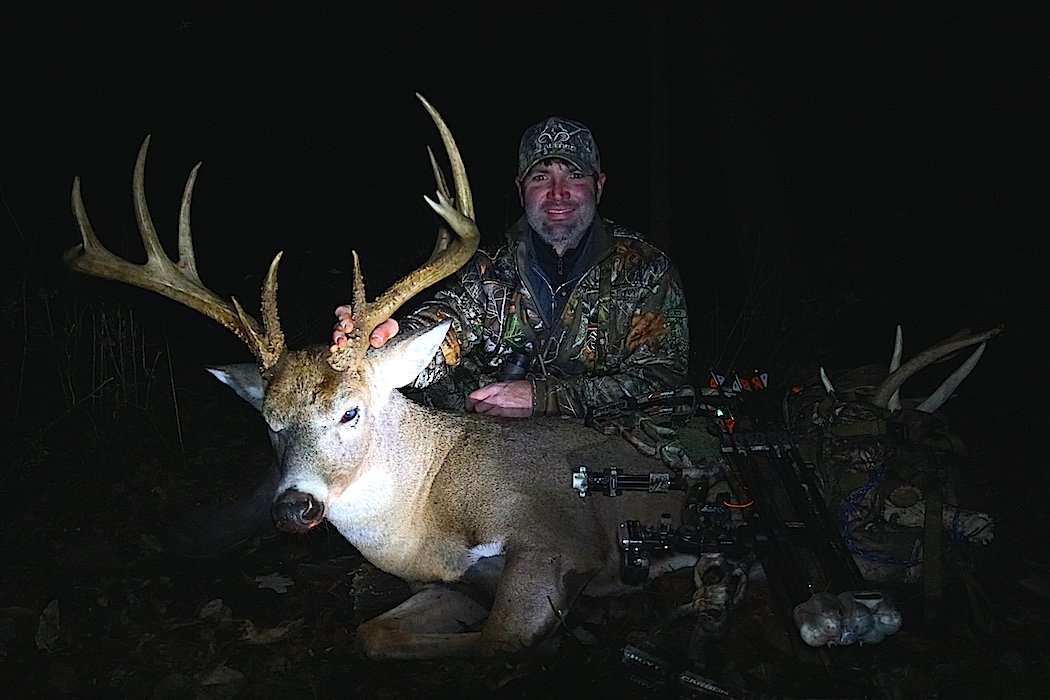 The next morning, they moved in to hunt the big deer.
The low that morning was in the upper teens with a high of 37 and 10 to 15 mph winds, Culpepper said. We were hunting rolling hardwood hills with a mixture of cornfields, food plots and pasture.
The morning of November 7 found the duo in a pretty cool spot.
We saw decent movement early, Culpepper said. We rattled in a shooter, but the wind was starting to swirl bad in the bottom we were in. I checked my Spartan camera that was in the food plot and one of our shooters had walked by that morning during daylight, so by 10:30 a.m., with a swirling wind in the bottom, we decided to go to the hilltop where the food plot was and hopefully catch a more consistent wind. We made the move and were settled in by 11:15 a.m. and ready to ride it out until dark.
Culpepper had a heck of a view from his new stand location.
Out in front of us was a food plot, Culpepper said. Behind us was thick hardwoods that the deer were bedding in. The stand was set on a line of hardwoods that met the food plot edge where we had several pictures and videos of different bucks cruising for does and checking scrapes.
The buck we rattled in earlier that day had pushed a doe out in some CRP about 400 yards from us, Culpepper said. We had our eyes on them when a doe came out of the hardwoods 80 yards down the food plot. As we were both watching the other buck, something caught my eye behind the doe — it was one of our shooters. He came into the food plot like he owned it. We watched him for about two to three minutes before he made the move to push some does out in front of us and gave me a 35-yard, quartering-away shot. The arrow buried up to the fletch in the offside shoulder.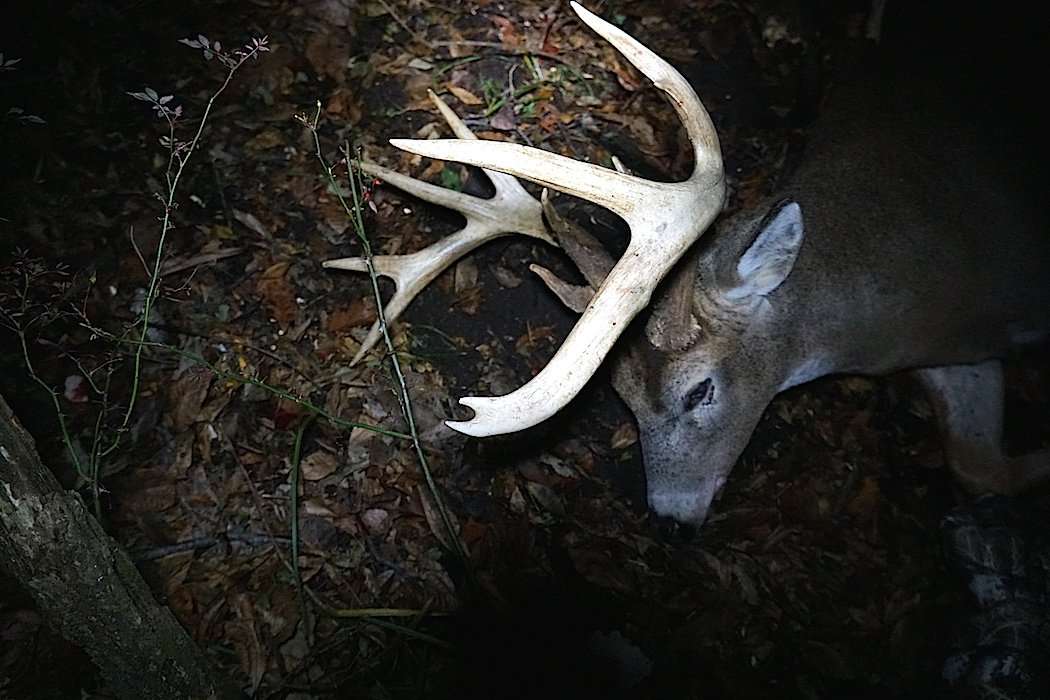 Culpepper and Lamb gave the deer a good bit of time before taking up the blood trail. But it didn't take long for them to recover the behemoth. They found the giant at the end of a pretty good blood trail. Culpepper finally had an Iowa buck tag wrapped around the deer of a lifetime.
The days hunting Iowa from November 1-7 were no doubt some of the best days of hunting I have ever personally had, Culpepper said. Drake and I hunted very hard, but we also tried to hunt as smart as we could. Four of the days we hunted, it rained on us. Three of the last four days we hunted daylight to dark. The amount of effort and strategy it took to get his deer is truly what makes him a trophy in my book. I was fortunate enough to pull the trigger on him, but this deer is just as much Drake's as he is mine. Having him there filming and us both executing our job when we finally got the opportunity is what was so rewarding. The entire trip was a complete team effort, no doubt.
Don't Miss: 20 Deer Hunting Lies Your Granddaddy Told You
Are you a deer hunter wanting to learn how to accomplish your goals? Check out our stories, videos and hard-hitting how-to's on deer hunting.
Watch all the latest video episodes