Snowfall and Picked Soybeans Produce Giant Whitetail
Rack Report Details
Buck:
180 Inches
Time of Year:
December 5, 2018
Place:
Valley County, Nebraska
Weapon:
Thompson/Center Encore .50-Caliber Muzzleloader Muzzleloader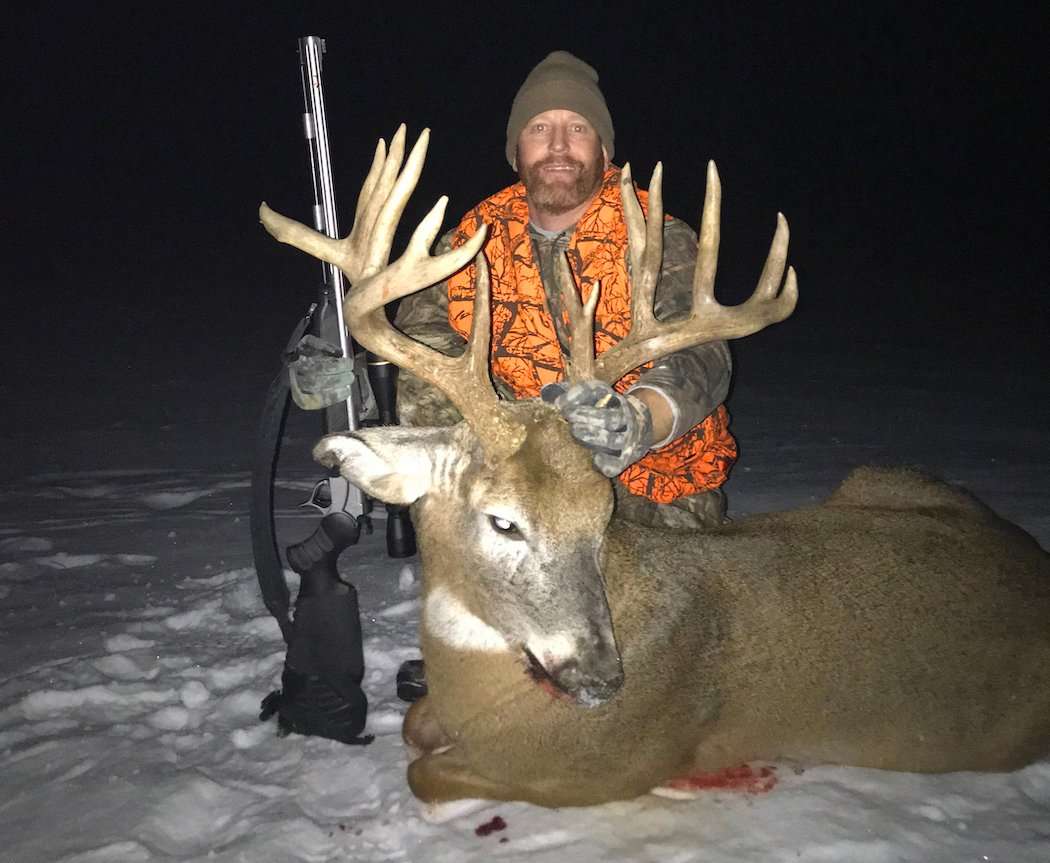 Nebraska deer hunter Tyler Collier had to stop by a convenience store midday on December 5. There, he happened to stumble upon a single penny laying heads-up.
I've always heard that it's good luck to find a penny laying heads-up, Collier said. I hoped it was a sign that the afternoon hunt would end with the buck I'd been hunting for the previous few days.
A family member recently acquired a new property, and while Collier normally runs a strict trail-camera program on the properties he hunts, he hadn't hung any on this new parcel. Still, he hunted it a few times.
We'd seen this particular buck in November, he said. We knew he was in the area. I later confirmed that he'd survived the November firearms season, which meant that the December muzzleloader season would be my opportunity to get serious about hunting him.
The part of Nebraska where Collier hunts was hit with a blizzard that commenced December 1 and lasted through December 2. Meanwhile, he'd been patterning a picked soybean field on the property where 50-plus deer were regularly feeding.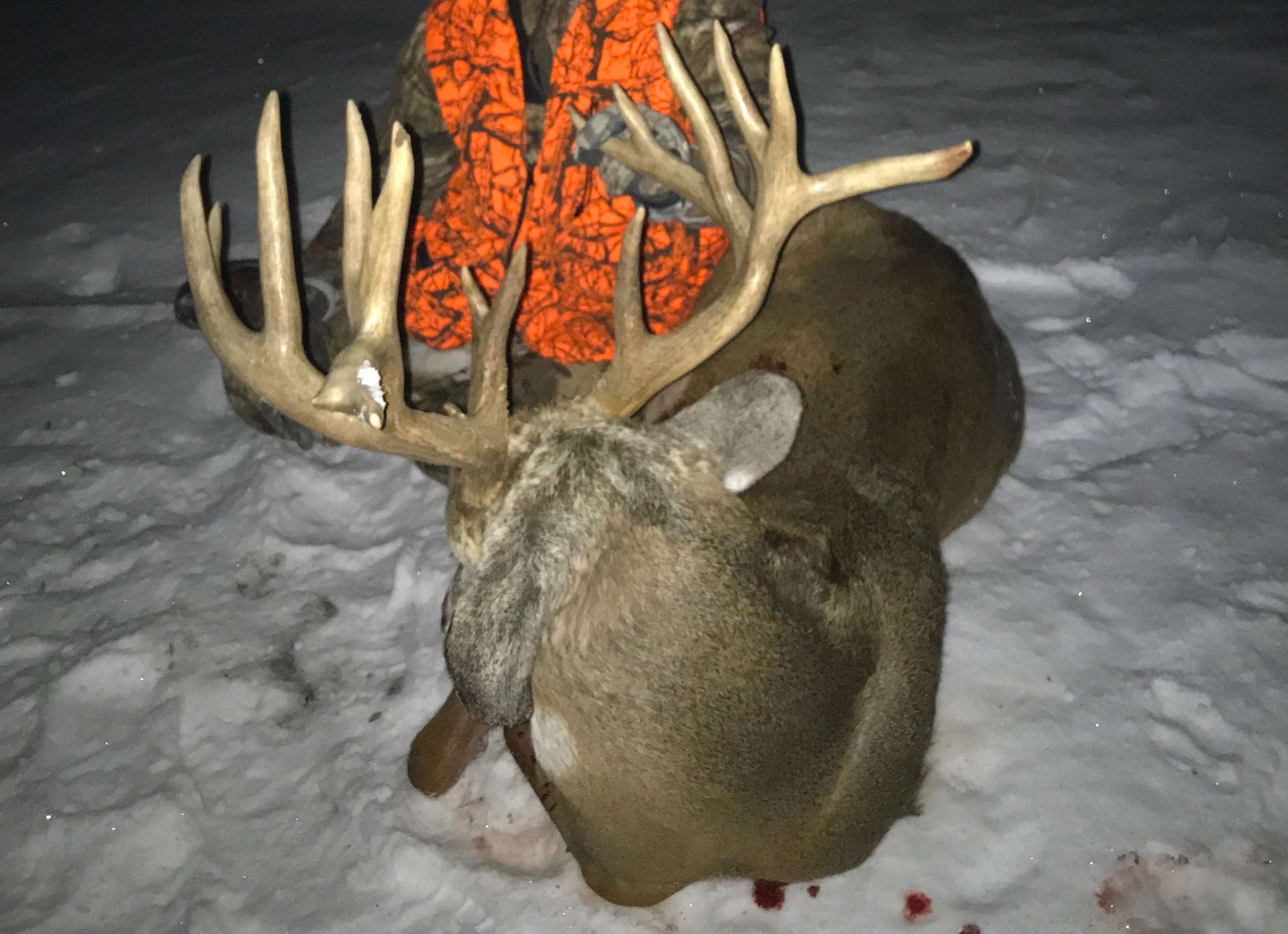 I'd made a little grass blind along a fence line that I could sneak in to and out of without alerting deer, Collier said. I hunted from first light until 9 or 10 a.m. in the mornings, but most of the activity transpired from 3 p.m. until dark. The afternoons were very productive.
Collier believes he encountered his target buck on the first afternoon but couldn't confirm it due to fading light. The buck was a no-show during his next few sits.
After finding the penny at the convenience store on December 5, I had fairly high hopes that the buck would come to the field to feed, he said. I saw lots of deer that afternoon, but it wasn't until the final 15 minutes of shooting light that the buck appeared about 300 yards away and began working my way.
I got really excited, so I just focused on the other deer in front of me in order to stay cool as he approached, he continued. He started bumping does around the field, but none appeared to be hot, so he lowered his head and started feeding.
At 130 yards away, the buck was well within muzzleloader range, so Collier leveled the crosshairs just behind the brute's shoulder. With a few minutes of shooting light remaining, the scene went up in smoke.
I immediately heard the report and believed I'd made a solid hit, he said. The deer went down about 30 yards from where he'd been standing, confirming I'd indeed made a great shot. I was so excited, and my heart was pumping away. I waited about 10 minutes before I walked out to recover the buck.
Now that the new property produced such an incredible buck during Collier's first season hunting it, he plans to employ his normal trail-camera program on it starting in summer. Who can blame him for that?
Don't Miss: How to Hunt Big, Old, Mature Bucks
Are you a deer hunter wanting to learn how to accomplish your goals? Check out our stories, videos and hard-hitting how-to's on deer hunting.
Watch all the latest video episodes