Sometimes, picking the right wind and just going hunting is the best plan
Rack Report Details
Buck:
180 inches
Time of Year:
October 23, 2019
Place:
Iowa
Weapon:
Hoyt Bow Bowhunting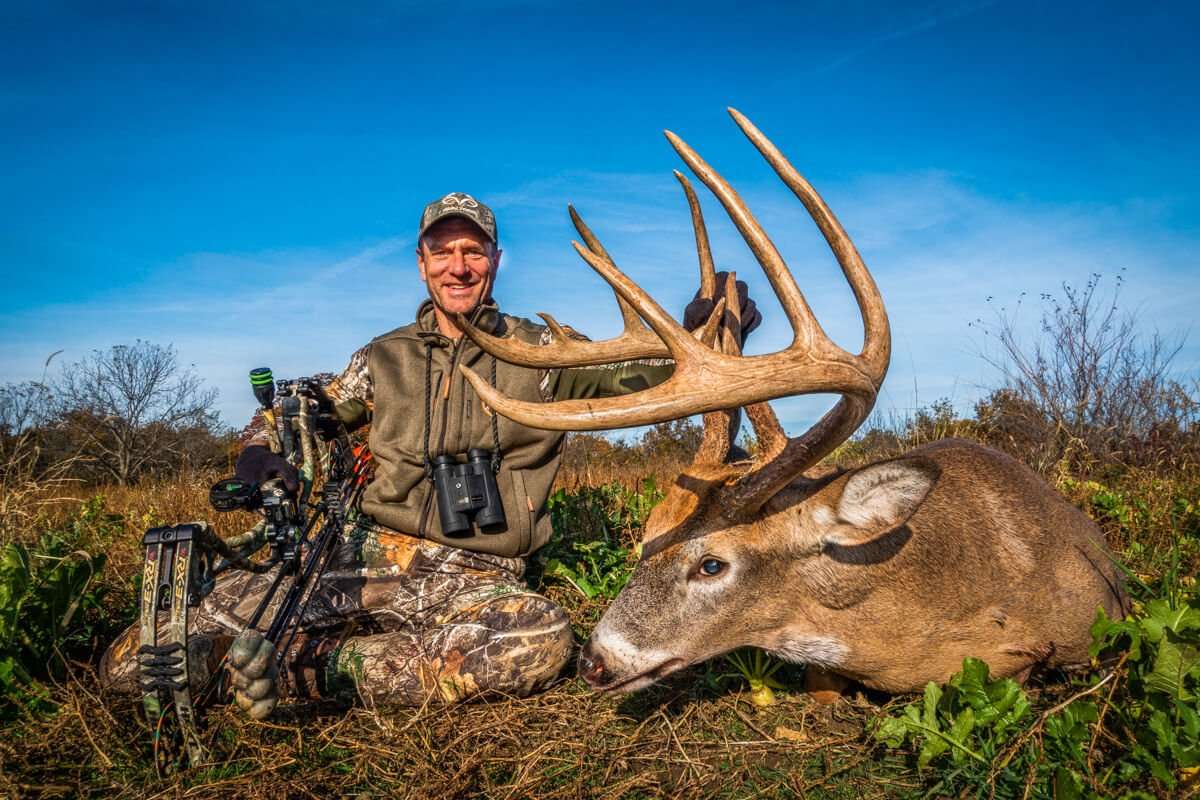 This story begins on a frosty morning in the fall of 2018. Midwest Whitetail's Bill Winke had climbed out of his stand at the end of a morning hunt, and he decided to ease over to another area of the farm to check out a standing beanfield. He spotted a good buck in the field with several does. He decided not to hunt the deer last season, hoping it would make it through to 2019.
Trouble was, the buck seemed to disappear. Winke worked diligently to find him over the summer, but he never did. He instead shifted his focus to some other target bucks.
But on October 23, the wind direction was bad to hunt any of his core stand locations for those other deer. Winke's southern Iowa farm is rolling timberland that's full of draws and hardwood ridges, and so the wind can oftentimes be tricky. The wind was really shifting, so I elected to hunt a Redneck Blind because you can close most, or all, of the windows to contain odor, Winke said.
Winke got into the blind, which overlooks a 1-acre food plot, without bumping anything. That plot usually brings the deer out, he said. The blind is situated very conservatively on the far east end of the plot in a row of thick cedar trees. It's on the opposite side from where most of the deer come out. That way I can play a west, northwest or southwest wind, and the deer never know I'm there. It's my best stand or blind on the farm.
Not all bucks are going to be on your trail cameras, Winke said. That gives hope when the season otherwise might not look as promising.
After settling in, a dozen turkeys picked through the field. Then, a 1 ½-year-old buck popped out and fed on the turnips. A doe and two fawns entered the open and took a spot at the salad bar, too. Winke and his cameraman, Drake Lamb, enjoyed the show. I would have shot the doe if she had come faster, Winke said.
It's a good thing she didn't. Minutes later, the big buck stepped out of the cedars to the left of the blind at 35 yards. It slowly meandered around the plot before walking toward the blind.
I knew the deer almost immediately, but the shot angle from the blind was a problem, Winke said. I had to wait a while for him to offer a better shot. He crossed in front of the blind at 35 yards. I wasn't going to shoot because it can be really hard to stop them and then deal with the prospect of string jumping at that distance.
But the buck came closer, stopped, and looked straight at them for several minutes. Then, he turned for a 25-yard broadside opportunity. Winke launched an arrow and it struck true. The buck bolted across the food plot and tipped over in the edge of the timber.
Winke walked up and put his hands on the 180-inch, 5-year-old buck. It was a deer to admire. Winke said the buck had such a large body that it actually looks bigger in person than on video, which is rare. He admits this buck highlights several lessons, but the biggest one is that surprise bucks do exist. He never captured a trail camera photo of the buck in 2019. Not all bucks are going to be on your trail cameras, Winke said. That gives hope when the season otherwise might not look as promising.
And thank the man upstairs for bad winds. I was definitely lucky for that shifting wind or I never would have been there, Winke said.
It ranks as one of my favorites because the buck was a surprise, Winke continued. He'd been in this area the year before, but I thought he was either dead or had moved off. To get this deer was really a blast after thinking he was gone.
Sometimes it's good to enjoy an old-fashioned surprise buck hunt. It puts a little mystery back into deer hunting.
Check out this entire hunt on realtree365.com.
Check out more stories, videos and educational how-to's on deer hunting.
Watch all the latest video episodes