A hang-and-hunt helped fill a tag on this 200-plus-inch buck
Rack Report Details
Buck:
223 5/8 inches
Time of Year:
November 1, 2019
Place:
South Central Kentucky
Weapon:
Crossbow Crossbow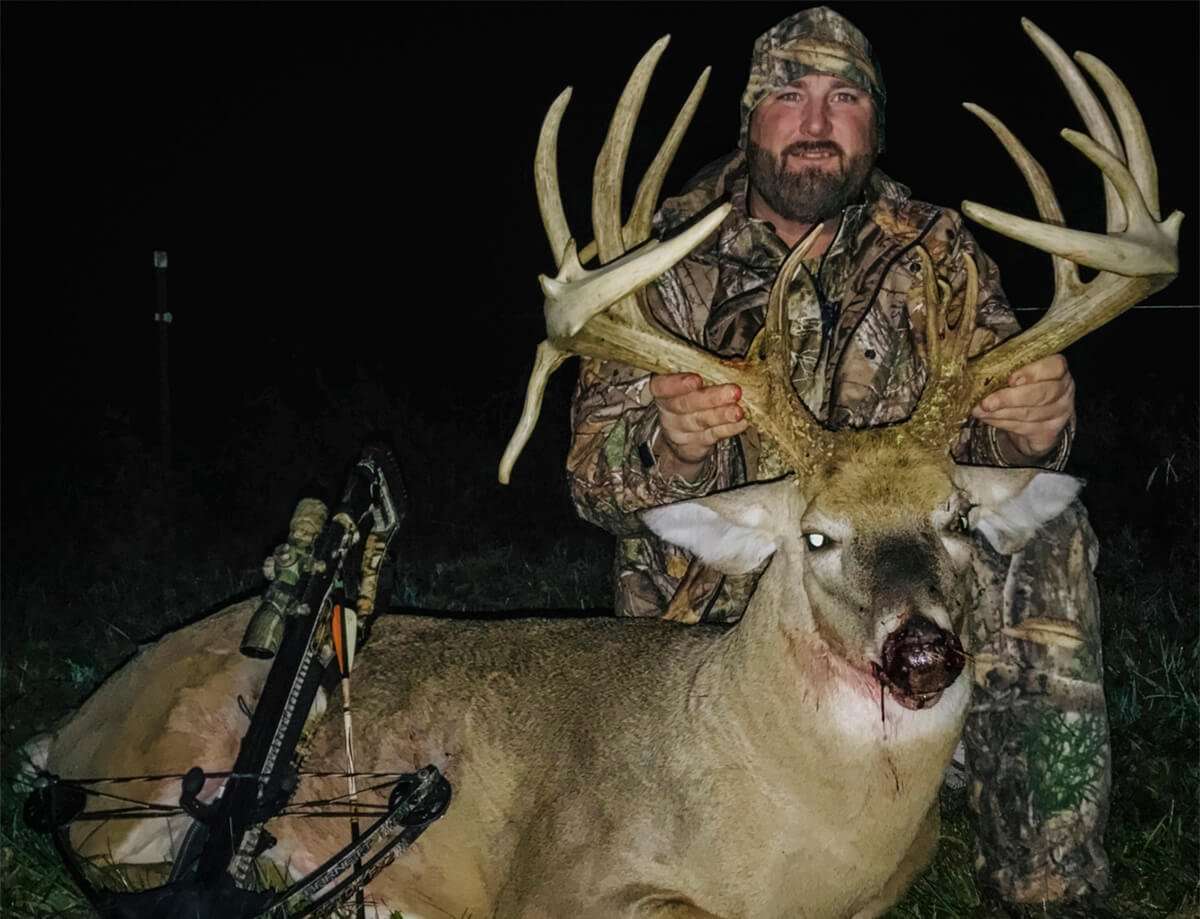 Kentuckian John Doan was worried. He'd blanketed his farm with cameras since July, but the giant he'd watched the previous season had yet to return.
Doan's history with the buck started with a phone call in 2017. He was in the stand one evening when his wife called to ask that he come home to help with something. Reluctantly, Doan drove his ATV back to the truck. Upon returning to the parking area, Doan looked across the open field to see a very nice non-typical buck standing on a hillside studded with thick saplings. He eventually captured trail-camera photos, but never saw him in person.
Fast forward to the summer of 2018. The buck frequented John's trail cameras on a fairly regular basis. But Doan wasn't the only person to notice the deer. His teenage daughter also took a liking to the buck and asked her father if she could hunt it. Doan agreed immediately and made plans to spend the season with his daughter in search of the buck.
That season, Doan had an opportunity to take a mature buck he'd been watching for years. His tag now filled; Doan dedicated the remainder of the season to his daughter's goal of tagging the brute.
Unfortunately, her thoughts soon turned to a young buck of a different kind, and time with the new boyfriend took precedence over time in the treestand. The big deer survived another season.
That brings us to October of this year. Doan had yet to get a photo of the buck despite his many trail cameras. Finally, on October 12, he obtained photographic proof that the buck was still around. The deer grew exponentially, too.
I knew it was him, Doan said. But he was way bigger, had a drop tine, and a kicker. I thought he would probably score 180, or even a little bigger.
Doan didn't know where the deer spent it's time. I had cameras all over the farm and he just wasn't showing up regularly, Doan said.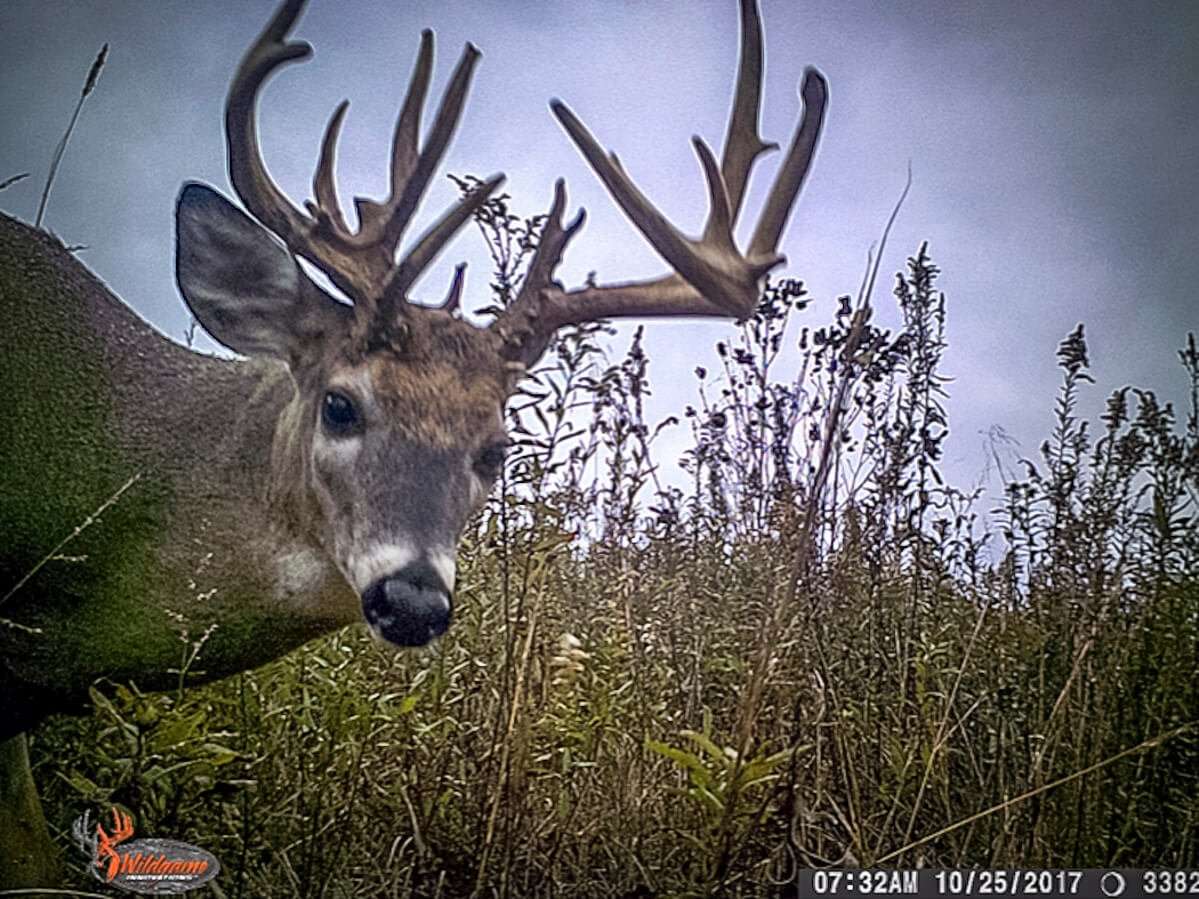 He didn't capture photos again until Kentucky's two-day early muzzleloading season. I hunted a spot I thought the buck might be hanging around, Doan said. I stayed put right up until the last second of legal shooting light, but he never showed. I left the stand and started back to my truck. Just as I reached the truck, my phone buzzed with an alert from one of my cell cams. Sure enough, there stood the buck right in front of the shooting house I'd just left.
That picture reignited the fire in Doan. I told my wife that the buck had to be holed up somewhere on the farm where there wasn't any pressure, Doan said. I poured over maps and finally settled on one small spot of heavy cover I'd never hunted. The area was near a home, and I'd never given much thought to hunting there, but I decided to go take a look just in case.
Doan had purchased a new treestand and decided to go take a look at the new spot. Frustrated because he couldn't find the small chainsaw he normally used to clear shooting lanes, Doan grabbed the stand and a small handsaw and headed out.
What he found around the small cover spot excited the hunter. Big, fresh scrapes littered the area. Doan quickly hung the stand and used the handsaw to clear a few shooting lanes. Doan rushed home to quickly shower and get ready.
He hurried back to the stand. I was texting back and forth with my hunting buddies, just goofing off, when I looked up to see antler tips along the edge of the beans. Doan knew there was another 10-pointer in the area and thought at first it might be him. The buck angled his way along the edge of the field, staying just out of full view. Finally, the buck hit a small cedar and turned a bit out into the field.
I knew instantly it was him, Doan said. There was no mistaking those antlers and that flyer off the back of the main beam. I had to turn away. I couldn't even look at him. I told myself to calm down.
The buck was in view for nearly 45 minutes. Doan started to worry it would never turn and come into crossbow range. Then, it happened. The buck turned for no obvious reason and walked straight toward the scrapes below his stand.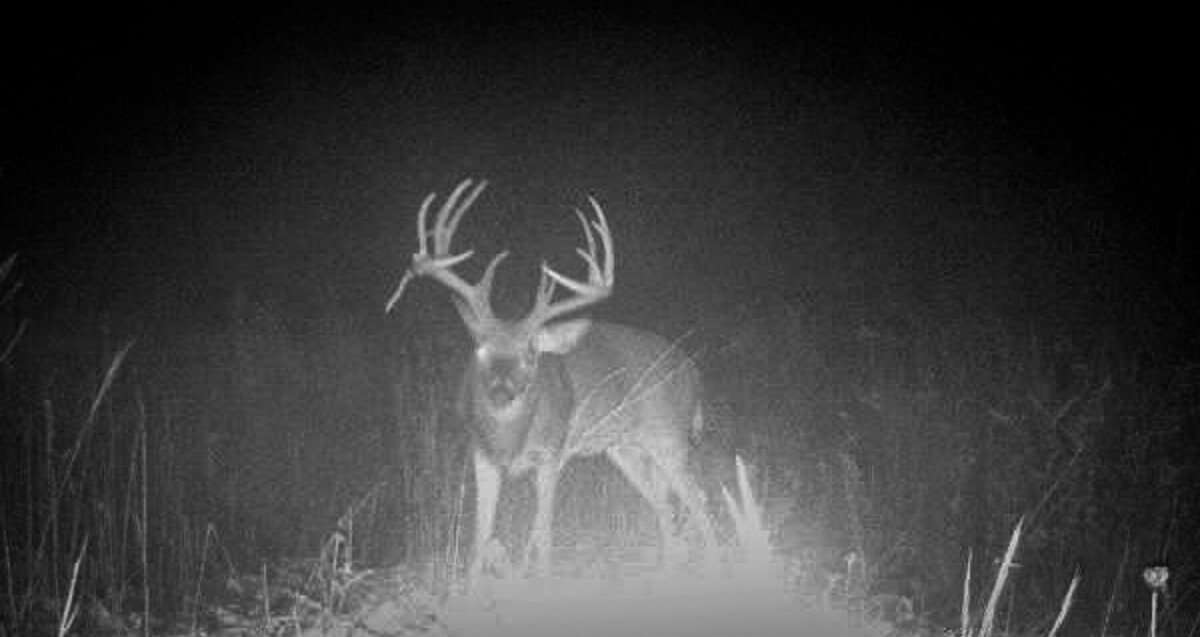 He was confident in his crossbow to 50 yards, but he wanted a closer shot. Doan ranged the buck at 48 yards. It continued walking toward him. It stopped to give him a broadside 42 yards away. I settled the crosshairs and it felt really good, Doan said.
He squeezed the trigger. The buck mule kicked. The shot looked good.
Instead of taking off on a dead run, the big buck just walked toward heavy cover. I saw his head start to sway from side to side, Doan said. Then, it just disappeared into the thick cover. That's when I got really shook up. I think the entire tree was shaking.
Doan quickly called a couple of his buddies to tell them what had happened. They came to help retrieve the deer. When they walked up to it, the antlers just kept getting bigger. I was in shock when I put my hands on him, Doan said. You can see it on my face in the photo.
Doan believed pressure kept bumping the deer. I feel like this buck had been patterning me the entire time I was attempting to pattern it, Doan said. Each time I moved, he moved. I really feel like if I hadn't hunted him on the first day I'd hung the stand, the new shooting lanes and stand would have tipped him off and he would have moved again.
The buck sported 18 scorable points, had lots of mass, and sported 28 ½-inch main beams. Doan's taxidermist scored the buck at 223 5/8 inches. A nearby sporting goods store scored it at 216 ¾. It was easily Doan's biggest buck.
Don't Miss: A Second Chance Kansas Buck
Check out more stories, videos and educational how-to's on deer hunting.
Watch all the latest video episodes