Brady Snyder arrowed a suburban stud in September, and then followed it up with a giant named Buster in November
Rack Report Details
Buck:
173 inches / 190 1/8 inches
Time of Year:
September 19, 2019 / November 2, 2019
Place:
Central Iowa / Northeastern Iowa
Weapon:
Mathews Vertix Bowhunting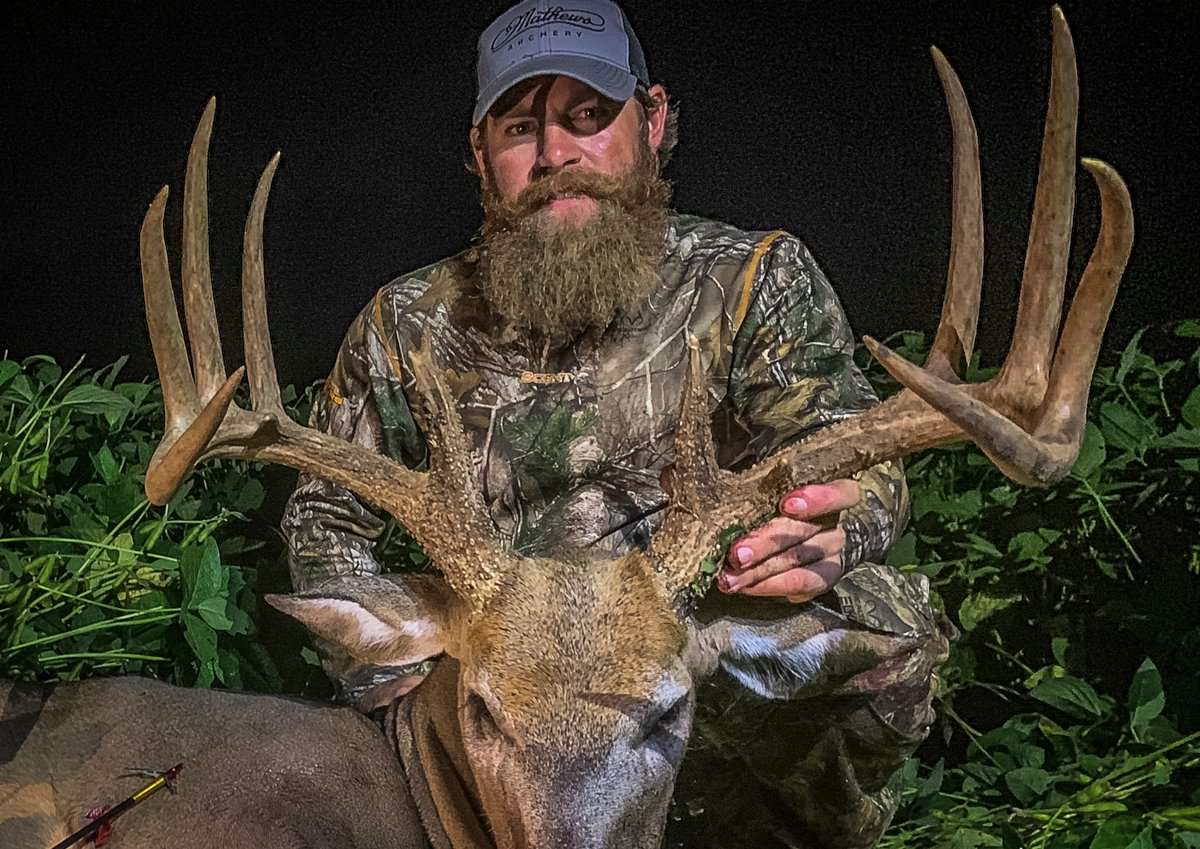 During his 20 years of hunting, 33-year-old Brady Snyder has only taken six bucks with a bow. Like most bowhunters, he's made plenty of mistakes. But once things clicked, he started stacking mature deer, and this past season was his best yet.
Snyder pulled a coveted buck tag for the 2019 Des Moines urban bowhunt, held in September. He lives in the city, but typically hunts in northeastern Iowa. So instead of hanging trail cameras on the usual farm, Snyder hung them in Des Moines.
By the time his urban bowhunt opened, Snyder had seven trail cameras placed to monitor one particular buck. It was a tremendous deer, and Snyder tagged him on September 19. The buck grossed 173 inches.
With the deer down, Snyder says, I immediately pulled all my cameras and moved them to the northeast Iowa property.
Even with the excitement of his urban hunt, Snyder was still thinking about a buck back up on the farm. That deer first appeared in a poor-quality trail camera picture in early fall 2018. After shotgun season, he captured two more pictures of the buck. It was the same one his brother had seen, just once, from his stand. Due to the buck's broken rack, they ended up naming him Buster.
In 2019, Snyder's brother checked the cameras for him on October 14, and reported that there were two possible shooters on a camera he'd hung in a bottom.
He didn't seem too excited, so I asked him to send me the pictures at his convenience. Snyder says.
"I realized Buster had traveled that same trail in my last photo of him. My heart started pumping harder because I felt like it was going to happen."
Two days later, his brother e-mailed him. When I saw the first picture, I knew it was Buster. I called him and said sarcastically, 'There are two possible shooters?' I then told him that I'd bet money the deer would gross 190 inches, and that the other buck was at least 170. He disagreed at first, but eventually came around. I told him I was going to hunt Buster exclusively down in the bottom.
Snyder explained his plan to his wife, too.
I told her, 'It's going to suck, but I'm going to hunt that buck all day for both days each weekend,' Snyder says. I knew if I put my time in that I could get my chance. She agreed.
Snyder hunted the morning of October 26, but received a text from a friend who'd shot a deer and needed help. The recovery took longer than expected, and Snyder missed his evening hunt.
The following day, I was excited to go hunt the bottom stand, and I also pulled the card from the camera, he says. Unfortunately, the camera gave a card-reader error and hadn't snapped any photos that entire week. I saw very little movement.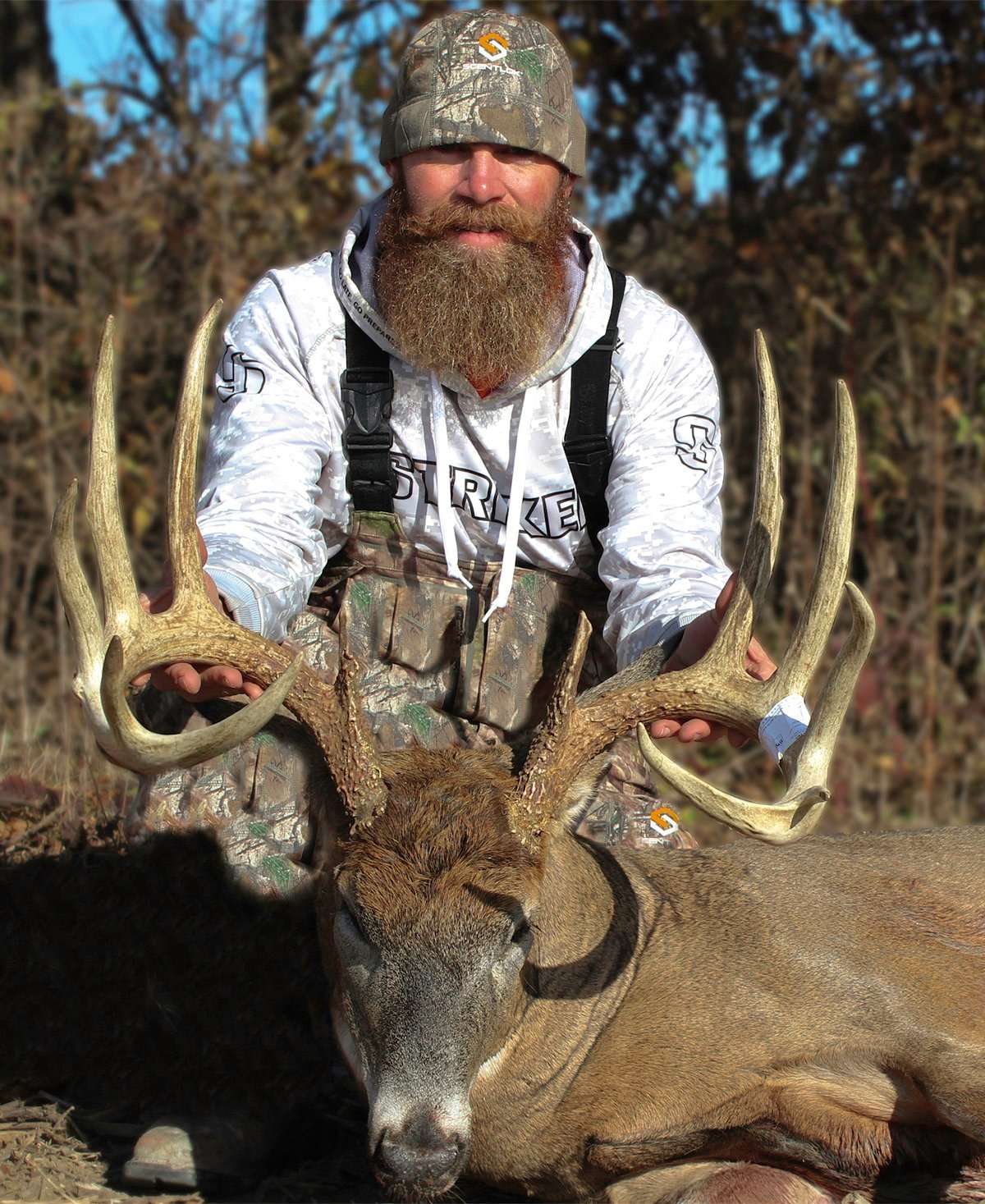 On the way out of his stand Snyder swapped cards from a camera in another location. There were several pictures of Buster on it, but all were between 2 and 3 a.m. Even so, those pictures confirmed his hunch about where the buck was bedding.
Snyder returned the following weekend only to find that the camera in the bottom displayed the same error message.
That really frustrated me, he says. I jumped in the stand, and that morning, I saw a really weird buck with three long spikes protruding from his left base. The other side was very nice, maybe 60 to 70 inches. I grunted to see if I could pull him closer for a better look, but he turned and walked away. I figured something larger was in the general area.
By 10:45, he'd seen one doe and two more small bucks. Movement slowed, and Snyder eventually climbed down and considered his options. He knew a farmer nearby was combining his cornfield that day. On a hunch, he pulled the entire set down and walked west, heading closer to where he had received the last pictures of Buster a week earlier.
After positioning my stand, I checked the camera and Buster had been on it three times within the previous two days, Snyder says. He almost made daylight on November 1. I was really excited about that. Plus, the buck my brother was after was on there at 10 that same day. My only concern was the wind blowing from the northwest. I figured he was bedding southeast of me, but down in the bottom that morning, I felt the wind blowing from the south due to the topography. I figured I'd be OK.
Snyder hunted until 4:40 p.m. before spotting movement, which turned out to be a 130-inch buck. About 20 minutes later, several does walked into the open and milled around 85 yards to his left.
They took a trail I didn't know existed, and as I thought about that, I realized Buster had traveled that same trail in my last photo of him, Snyder says. My heart started pumping harder because I felt like it was going to happen. About 10 minutes later, more does appeared in the same spot, but they fed away from me. Meanwhile, the farmer was still combining, but the deer paid no attention.
Another doe stepped out near where the others had emerged. When she turned and started walking, he saw Buster's left antler coming out of the woods. Snyder snort-wheezed at him, and the buck immediately snort-wheezed back. Snyder snort-wheezed again. Buster came 15 yards closer and raked brush for five minutes. Then he made a scrape. Snyder snort-wheezed a third time, and the buck snapped to attention before raking more brush.
About 15 seconds later, he walked right to me, Snyder says. At 22 yards, I started drawing back and my arrow rest squeaked. I almost stopped because I thought something might be wrong, but the buck didn't skip a beat. I finished drawing and grunted to stop him. He looked up and I let my arrow fly. The hit sounded good.
The buck ran about 65 yards straight away and stopped in the picked corn. His tail started flickering and 20 seconds later, he tipped over.
I was so wound up that I couldn't climb down, Snyder says. My friend arrived about 30 minutes later. He called me and asked where I was. I told him I was still in the tree and couldn't get down. I needed a minute. I finally climbed down and we found the arrow. It was broken and both pieces were laying side by side, which was kind of odd.
Once my brother joined us, we followed the blood to the buck. I was speechless. I was so blessed to hunt that deer and even more blessed to harvest him - Buster was truly a gift from God.
It's not often a hunter tags two gross Booners in one season, but Brady Snyder did, and he's adding two new bucks to the wall ­- 173- and 190 1/8-inches respectively - to prove it.
Don't Miss: Is This the Largest Buck of the 2019 Deer Season?
Check out more stories, videos and educational how-to's on deer hunting.
Watch all the latest video episodes