Kyle Maahs got a shot at this huge buck during the October bow season, but that was only the beginning of the story
Rack Report Details
Buck:
186 2/8 inches
Time of Year:
November 23, 2019
Place:
Southwest Wisconsin
Weapon:
.30-06 Rifle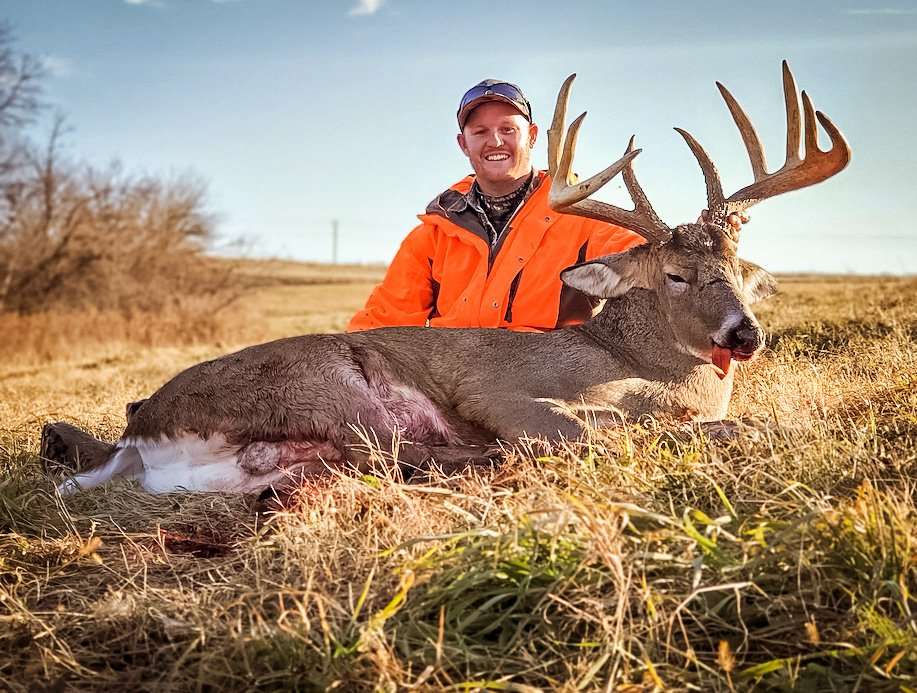 Wisconsin hunter Kyle Maahs wasn't sure what to think when he first captured trail camera photos of a Wisconsin hill-country giant in December 2018. Maybe the buck was passing through, or maybe the deer lived on the property. He began the summer of 2019 with high hopes of photographing the deer again.
I ran trail cameras all summer near the core of where I thought this deer was living," Maahs says, but I didn't get any photos of him.
Maahs also hunted the early bow season without spotting the buck. However, he wasn't going to let a cool, frosty mid-October morning pass by. With a high barometric pressure and the first cold weather of autumn, Maahs settled into a hang-on stand high in a large, ridge-top oak tree. He had a good view of a large cornfield not far away, and also had a great view of the timber and intersection of trails in front of him, where deer tended to materialize.
Just after daybreak, he spied a pair of good bucks, already in bow range as they snuck in from the timber. Right at dawn, I turned and saw a shooter, he says. There were two deer, and then this guy lifted his head up. The big buck had actually returned. Maahs believes he and the other buck had snuck up on him from below. They seemed to be working their way back onto the ridgetop to bed.
But things went terribly wrong. The smaller deer was going to take off, Maahs says. He smelled me. The bigger buck was at 22 yards, and I took the shot. The arrow hit him hard. He took off but then stopped after 15 yards and the arrow fell out of his shoulder. I was completely shocked.
Maahs backed out and returned a few hours later. He found the arrow and, with only 3 inches of penetration into the shoulder, felt like there was a very good chance the deer would survive. He followed the trail 400 yards until it dried up.
Maahs didn't hunt again for a few weeks. On October 25, he went but didn't see anything. On the way out, however, he came across a scrape and hung a cell camera over it. That night, he got a picture of the buck he'd hit the morning of October 12. The wound in its shoulder was still visible.
On November 10, Maahs set up in a new area he thought had potential and spotted 15 deer. But the buck didn't show, and work kept him out of the woods until the opening morning of rifle season on November 23.
The first hours of gun season yielded slow deer movement. Maahs was located in a tall walnut tree in a huge valley where deer liked to travel. Many trails converged near his stand, and he had great visibility of a large area. It was the perfect location for rifle hunting.
He planned to get down around 10:15 for a break. Just as he began packing up, movement in the brush caught his eye. I pulled my binoculars up, and sure enough, it was him, Maahs says. He stopped behind some trees for about two minutes, which felt like two days.
The buck finally turned and exposed his vitals. Shaking badly, Maahs calmed his nerves, settled the crosshairs, and squeezed the trigger. The buck ran about 50 yards and disappeared in the brush.
Maahs gave the deer a few minutes before picking up the trail. Much to his horror, he jumped the buck as soon as he began tracking it. The deer had been gut shot. It ran 100 yards and stopped to look back. This gave Maahs a chance to take two quick, free-handed shots, but he missed both times. The buck ran off again.
This time Maahs backed out, and a friend joined him several hours later to pick up the blood trail. After tracking for about 500 yards up and down steep hill country, we eventually went down into another deep valley, Maahs said. My friend took one side and I took the other. We were walking both sides of the valley, and I heard my friend say, 'Here he comes!'
Maahs' buddy was 10 feet from the huge deer when it jumped. The buck ran up out of the ravine and into the field where Maahs finally fired the final shots - two to the lungs.
This deer means so much to me, he says. It's a hunt I won't forget.
Talk about one tough buck. Interestingly, Maahs asked his taxidermist to preserve the broadhead wound in his cape because he felt it was a significant part of the hunt. And at 186 2/8 total inches of antler, the buck's score was also significant. He carries 6 inches of mass measurements past the G4s, and is truly a world-class whitetail.
Don't Miss: Is This the Largest Buck of the 2019 Deer Season?
Check out more stories, videos and educational how-to's on deer hunting.
Watch all the latest video episodes