Rack Report Details
Buck:
192-inch Non-Typical
Time of Year:
October 1
Place:
St. Genevieve County, Missouri
Weapon:
Mathews Triax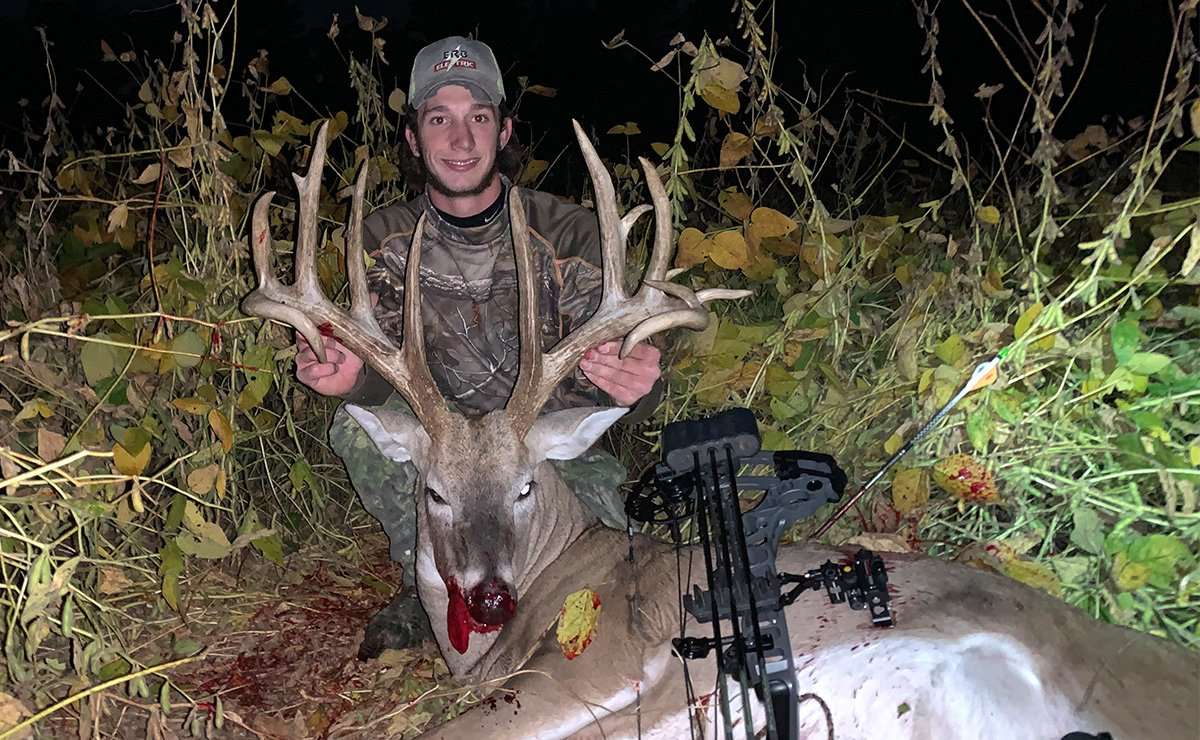 Year after year, I interview successful hunters for Realtree's Rack Report who prove that giant bucks can come from tiny properties. Trenton Linderer's monster Missouri buck, taken this October on a 12-acre tract, is one great example.
The Linderer family belongs to a co-op on 412 acres, and while that farm has great deer hunting, Trenton's focus during the opening weeks of Missouri's archery season was on his family's 12-acre home property, and for good reason. The property consists of a field with a 4-acre heavily timbered hillside. Trenton has a food plot right behind the house, but he primarily hunts the fringe along a field on which he has the neighbor's permission to hunt. His history with his target deer dated back to four years ago when some neighbors captured it on their trail cameras.
They gave me the pictures, and he was just a main-frame 8-pointer, Linderer remembered. The following year, they had him on camera again. Since then, his right eye has been out and his right ear notched. Looking back, I believe he was around our property during those seasons, but I didn't have cameras out, so I can't be certain.
Last year, Trenton's buddy had captured the monster on a camera nearby, so Trenton decided to put a camera on the field behind his house. Soon he had photos of the buck.
He was there a lot, Linderer shared. In fact, he lived right in the area. I got pictures of him all throughout the summer, but the week before archery season opened, he vanished. He apparently traveled about 2 miles and was living on the neighbor's property. They had pictures of him, but only one during daylight during the 2019 season. One neighboring hunter believes he saw the buck but couldn't get a shot. That's all there is to report for 2019.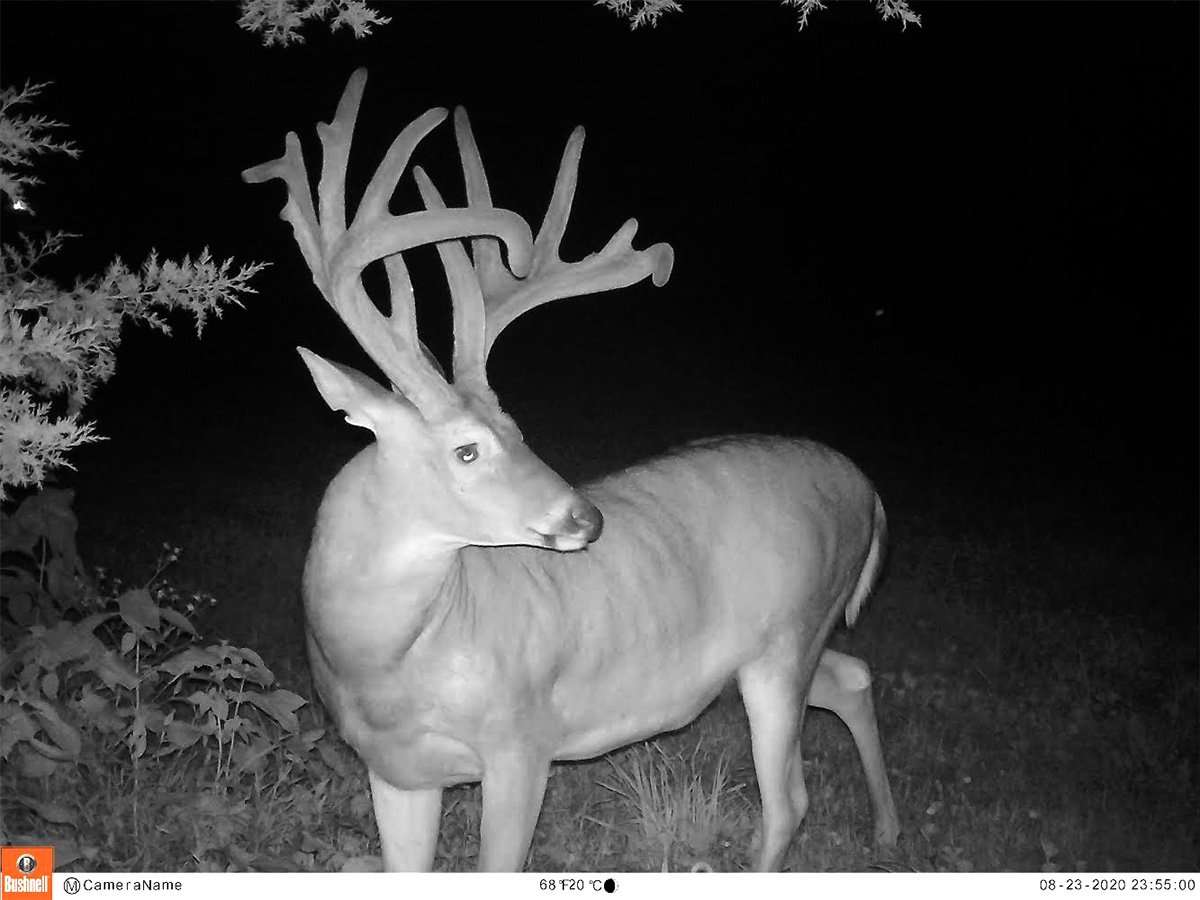 Anticipation was high for everyone in the neighborhood where the giant roamed leading up to the 2020 archery season. I kept my camera out all year, Linderer said, and he showed up in April. I knew it was him because of his right eye and ear. He lived right behind the house, and I got lots of pictures of him all summer long.
Almost inevitably, the buck vanished once again on Aug. 30.
He was gone until Sept. 14 right at dark, Linderer said. I got one set of photos, and then he left again for about two weeks. When he disappeared, the neighbors started getting pictures of him. He showed up on my camera four days before I killed him, and again two days before I killed him. That night, I'd been hunting the 412-acre farm trying to shoot a doe, and my cell camera sent me a picture of him in daylight.
Linderer recognized the buck's pattern, and with a cold front moving in, he knew it was time. He reached his stand at 3:09 p.m. on Oct. 1.
I was hunting at the top of our woods along the neighbor's bean field, Linderer shared. At about 5:58 p.m., the buck stood up in a shooting lane about 80 yards away in the bean field. He apparently had been bedded in the beans. He moseyed around for a bit, then bedded back down.
Half an hour later, he stood once again, Linderer continued. Then, he moved out to about 100 yards. He fed in a little green patch of beans, and then he came in my direction. I was grunting at him the whole time trying to get his attention since I was running out of daylight, but it was so windy that he couldn't hear me.
Finally, he worked all the way down to our property line and through a shooting lane at 45 yards, but his body was obstructed by beans. He went behind a cedar tree, and I blew a couple of doe bleats, but nothing happened. Then, I heard a stick crack and saw that he was coming right toward my tree.
He ate on some brush right beneath me, and then he turned and walked at a quartering-away angle out into the beans. I mouth-grunted to stop him at 11 yards and shot him. He ran only about 50 yards and dropped.
It was an unbelievable hunt, Linderer concluded. On one hand, it's sad that I won't be looking forward to seeing him on my trail camera anymore, but it's great to have closure and a great ending to an incredible story with what I believe is a 6 1/2-year-old buck.
Check out more early season buck stories including Hannah Barron's biggest buck yet and a giant crossbow buck nicknamed 13.
Watch all the latest video episodes