Rack Report Details
Buck:
160 5/8 inches
Time of Year:
Sept. 25, 2020
Place:
Troup County, Georgia
Weapon:
Hoyt Axius Ultra Bowhunting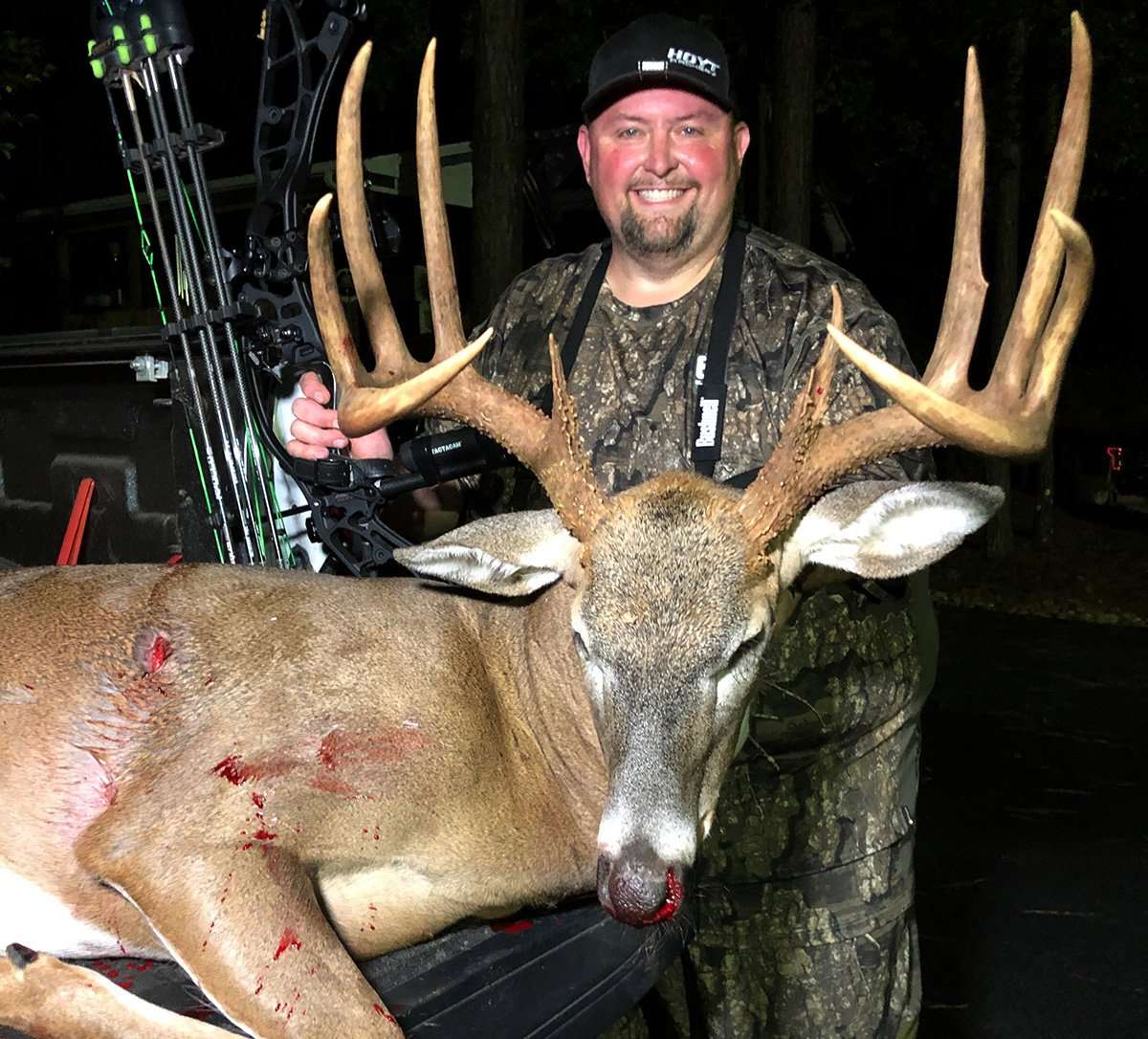 Bone Collector co-host Travis T-Bone Turner has killed big deer in many places, but none have a better name than The Pimple, the spot where Bone took his first Georgia buck of the 2020 deer season. This year, The Pimple be poppin.'
The hill is on the farm beside Turner's house, and it has cranked out some solid whitetails, including a 115-inch buck T-Bone killed with his recurve. Basically, it's just the top of the hill with a 3/4-acre food plot. It's one of the highest points in Troup County, Georgia.
I've been hunting this property for 21 years, Turner says. I put in this food plot 18 years ago. This was before I had a tractor. I hand-cut every tree out of there and drug it off with a four-wheeler. The 20 years of sweat equity just makes the pride factor that much sweeter.

When a 5 1/2- to 6 1/2-year-old buck that he knew pretty well reappeared this summer, his excitement skyrocketed. The buck had a reputation for roaming, though. Turner had to kill him before he left the property.
He had a big travel route, Turner says. On July 4, I actually saw him through my Phone Skope close to a mile away from where I killed him.
On Sept. 25, the right wind blew, and Turner headed to the famous spot. He has a lock-on and a Redneck blind both set on the plot, but he decided to sit in the blind to help control the scent.
(Don't Miss: A Giant Bow Buck on 12 Acres)
I tucked (the Redneck) into the woods there because these Southeastern bucks seem to be a lot leerier, and when the winds are really light, like 1 to 2 mph, it seems the thermals take over, Turner says. So, in the evenings, you can have the wind you want, but because of the thermals, it just kind of seeps all over the hillside. I thought with this Redneck blind, we would get away with a little bit more wind.
Turner was self-filming, too, and doing so from a blind is a little easier. With the tripod set up, and Hoyt in hand, he was ready for battle on Pimple Hill.
The heat was on, and with all of the windows shut, he was sweating profusely. The only current came from his Ozonics unit, pulling air through the blind and out the back. He didn't focus on that, though. Instead, he started scanning for the big one.
With the tripod set up, and Hoyt in hand, he was ready for battle on Pimple Hill.
He observed the edges along the thick timber around him. To the right, two big water oaks rained acorns. Twenty-five yards to the left, a persimmon tree dropped fruit, which Turner refers to as magic. He made it all the more magical with a little bait pile, too — legal in South Georgia. The remainder of his view included a plowed food plot, but there was no seed out yet. Between travel and rain, Turner hadn't had a chance to plant. Plus, this far south, he prefers to sow plots at the end of September.
The sun kept reaching for the horizon, and Turner wondered when deer would begin moving. He didn't wait long, though. The giant was the first deer out.
He came out an hour before dark, which is unheard of down here, Turner says. They're usually vampires and unicorns — they don't come out until the last five minutes. But I'd been getting pictures of him right at dark, or just a little bit before. I knew as long as I kept the pressure off, kept the feed there, and everything was good, I needed to try to capitalize.
Turner filmed the buck for 30 minutes, but the deer wouldn't come within bow range. The entire time, the deer was acting pretty nervous. Meanwhile, seven or eight does poured into the area and milled around.
He'd come up there but wouldn't commit to the corn pile, Turner says. He'd walk off, go down and get a few water oak acorns, and then come all the way back up. He'd almost commit to where I could open the window, and then wouldn't, then go back down to the water oak.
Finally, two does walked to the corn pile and ate their fill. As if their presence had given him an all-clear signal, the buck marched right in and pushed them out. But all the while, Turner had been slowly opening the window. (He'd lubed the hinges with vegetable oil so they wouldn't squeak.)
A few minutes later, the buck turned, quartered slightly away, and Turner took the 22-yard shot. The deer took off and ran about 50 yards, bulldozing through thick brush as he went.
I called our producer, Cohen Stone, Turner says. He came up from Columbus and filmed the recovery, took pictures, and everything. I waited an hour and a half for him to get there.
They recovered the buck easily, recapped the hunt, and then celebrated a truly incredible Southern adventure. Attributing his success to low pressure, effective use of cellular cameras, and more, Turner couldn't be happier with the outcome.
I feel blessed to have had the opportunity, Turner says. My son came with me on the recovery, and it was his birthday. He blood-trailed it. I've talked about pride factor for years, and every deer is special no matter where you kill them. But to kill them on your home ground, something that you purchased for deer hunting, the sweat equity makes it extremely special.
Watch all the latest video episodes