Travis Turner arrows a big buck on his own piece of Sunflower State dirt
Rack Report Details
Buck:
180 5/8 inches (green gross score)
Time of Year:
Sept. 16, 2020
Place:
Southwestern Kansas
Weapon:
Hoyt Axius Ultra Bowhunting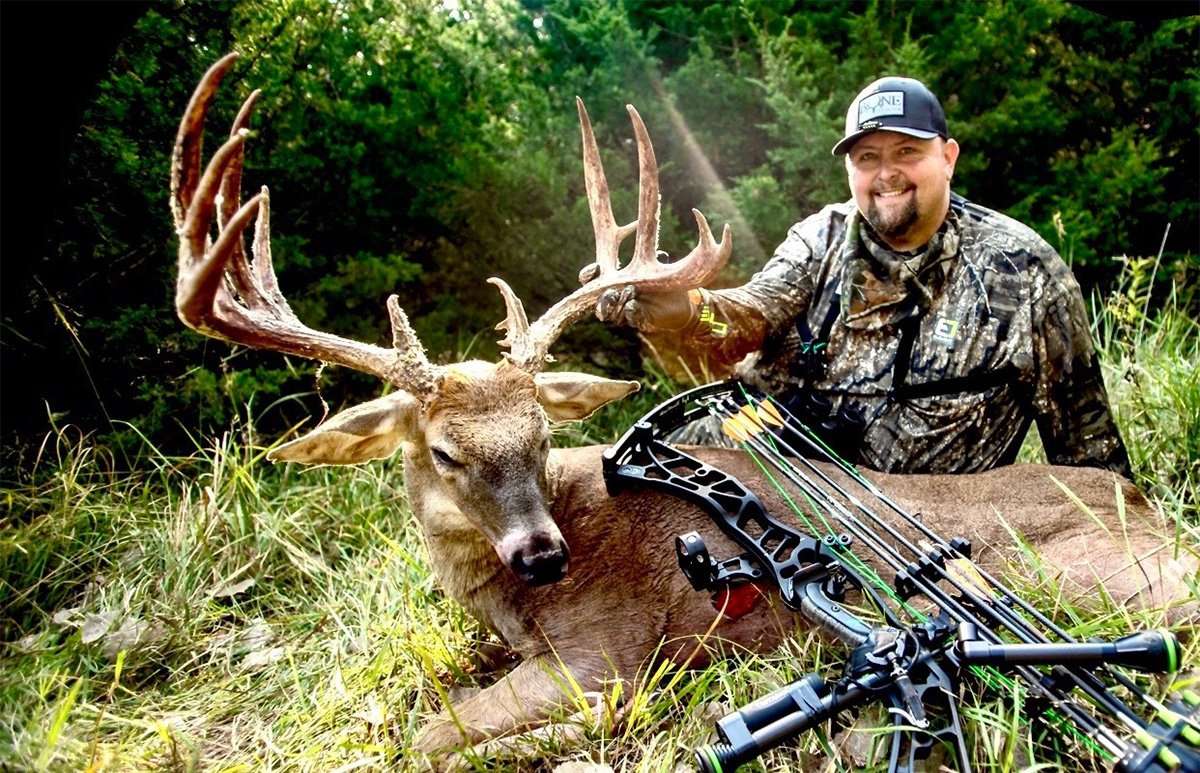 The open prairies and timbered creek bottoms of southwestern Kansas can at first seem void of wildlife. But these whitetail-rich pockets of habitat offer world-class hunting opportunities, and the Bone Collectors come here every year.
The units are 15 and 16, and 90% of our Kansas hunting (me, Michael Waddell, and Nick Mundt) is done in those areas, says Bone Collector co-host Travis T-Bone Turner.
In February, Turner finally bought a piece of it for himself. He was already familiar with the location and knew it'd make for a fine hunting spot. He even knew some of the bucks that roamed the nearby landscape. A friend of his who owns the adjacent property had history with a giant 6 1/2-year-old buck. Lucky for Turner, that deer also frequented the tract he purchased, and he made plans to target him.
It all started back in spring. Turner designed a game plan to set up his property for success. T-Bone has always been the type to prepare for deer hunts 12 months out of the year and this year, due to COVID, he had even more time.
I've planted more food plots this year than I ever have, Turner says. This year, setting the table sure did pay off. Having stands set, getting trail-camera pictures, and just backing off so deer got comfortable was big. If you get deer comfortable with low pressure, and bait them from July on, you're training these deer to do what you want them to. It sure makes those first few hunts a lot easier, rather than throwing some corn on the ground and hoping to kill one three days later.
In August, he went out to his farm for a week. Because of COVID, we were able to go out there for a week and scout, hang stands, and put up blinds, Turner says. We tucked one right up under a cottonwood. We were right on the base of it with the overhanging limbs — a great setup.
More than a month later, he returned and mapped out a plan to kill a wide deer he'd been watching all summer. Normally, he doesn't go to Kansas until November, but this deer was hitting trail cameras in daylight, almost daily.
In the Sunflower State, archery and muzzleloader seasons open simultaneously on Sept. 14. So, even though Turner had the bow in hand, he dressed up in blaze orange for the hunt and headed to the blind.
On opening afternoon, he didn't see the target buck, but he did pass on a mid-150s 9-pointer, which Turner says he almost never does. Because of this deer being so visible, it was either the big deer, or nothing.
The next day, the giant deer came in three minutes after camera light. I wasn't able to shoot, Turner says. I watched him feed at 20 yards for 35 minutes. Because we couldn't film it, we just had to watch him.
On Sept. 16, the third day, they settled into the blind for yet another afternoon sit. It was partly cloudy with a high barometric pressure, optimal conditions for deer movement. Turner patiently scanned the landscape, hoping to catch a glimpse of the giant. Looking out the front of the blind, he glassed a small cove of alfalfa. In the distance, a brushy bottom funneled up to a point right in front of them. Turner had a great view from the lone cottonwood he was camped out under — the tallest tree in the area. Such landmarks often become focal points for deer activity.
We were facing a wooded tamarack creek bottom, which is the bedding area, Turner says. They were coming to the alfalfa field, and of course we had our bait station as the appetizer before the alfalfa feast.
Eventually, deer began moving. The action started with yearling bucks, then about 10 does and fawns. But a couple of older ones acted really nervous during their approach.
The mature does are always cautious, Turner says. You can be totally hidden and watching from 1,000 yards away, and they'll come in just as cautious as can be. But once they settle down, and the alpha doe is comfortable, everything else throws caution to the wind. That's what happened.
Then, about an hour before dark, all of the deer acted nervous again. Watching the young bucks' and does' body language told him something big was coming.
They're going to let you know what's coming long before you even see it, Turner says. I knew something of size, age, or dominance was near. Their whole demeanor changed.
Seconds later, his target buck stepped into view. He came from a completely different direction than expected, though — straight from the large alfalfa field behind them.
Because he was a mature deer, they just kind of backed off, parted the seas, and let him come eat as he wanted to, Turner says. They all came back together, of course. But they bowed down to the king and were like, 'Yes, your majesty, come in and sample these great carbs.'
After Turner watched for several minutes, the buck finally turned broadside and offered a 23-yard, slightly quartering-away shot opportunity. Turner sent an arrow through both lungs.
The deer ran about 60 to 70 yards and piled up just over a little knoll in the CRP. They didn't see him fall, but a short time later, he and several friends recovered the buck. The Kansas giant scored a whopping 180 5/8 inches.
Don't Miss: Travis T-Bone Turner's Non-Typical Georgia Giant
Watch all the latest video episodes