Randy Birdsong tags his biggest buck ever in the Sunflower State
Rack Report Details
Buck:
170 7/8 inches (green gross score)
Time of Year:
Oct. 12, 2020
Place:
Kansas
Weapon:
Mathews VXR Bowhunting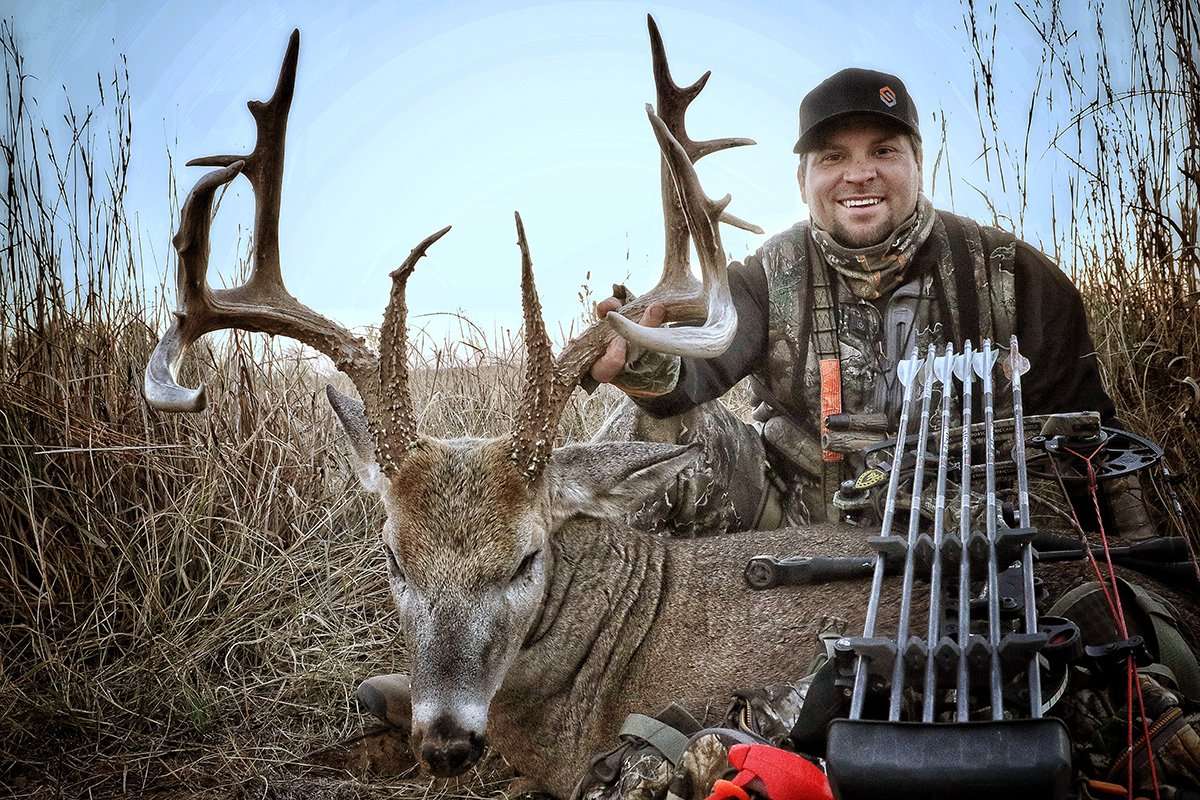 HeadHunters TV co-host Randy Birdsong is no stranger to big bucks. He knows his way around a bow, and once he locks on, deer are in trouble.
That's why this season, he greatly anticipated his trip to Kansas. He'd never hunted the area before, but his friends have, and they knew of a giant, 5 1/2-year-old, main-frame 8-pointer with kickers that lived there. His name? Cactus Jack.
It was a weird deal, Birdsong says. He was jacked up the year before. It was all messed up, goofy and small. He came out of it this year and blew back up. He threw all of those stickers.
On Oct. 11, they didn't see that deer but had an encounter with a whitetail that was close to Booner status. They didn't seal the deal, though, and it escaped unharmed.
That night, a weather front pushed through. It went from 80 degrees to 40. Temperatures dropped, and we'd been waiting for that front to come in and the wind [direction] to switch. When it did, we went in after Cactus Jack.
The area is challenging to bowhunt. It's pretty flat, with a lot of CRP and row crops around it. Fortunately, they planned to hunt from an elevated blind, which would give them a decent view overlooking the area. They were totally surrounded by a giant CRP field. Some tree rows angled and connected to a grain field in front of them and a wheat field behind them.
It was very slow when we got in there, Birdsong says. We were very discouraged, because we had a ton of cows around us. They kept rubbing the blind. We were pretty uncertain of what deer movement we were going to see.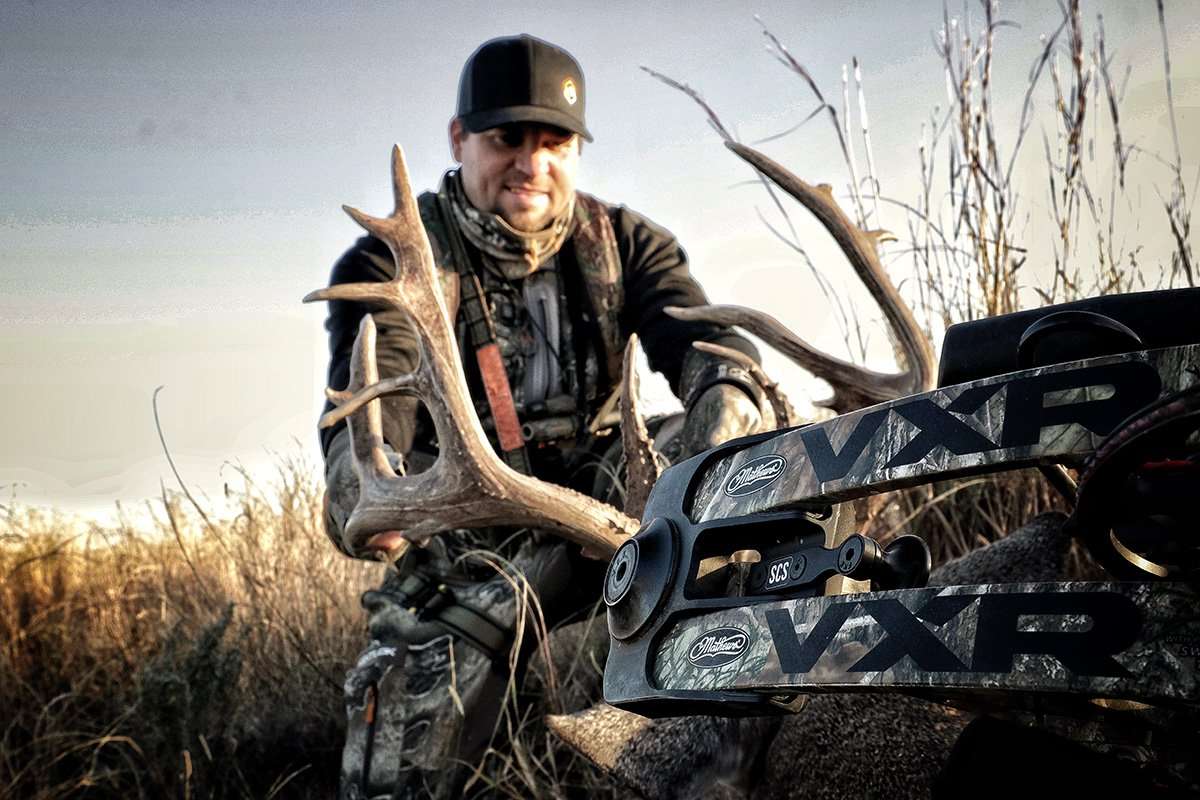 They worried for nothing, though. Most of the cows cleared out, and sure enough, deer started moving. Four bucks walked into the open, including Cactus Jack. They were almost within bow range when another calf walked in and bumped the deer back.
We didn't know if it was going to be over or not, Birdsong says. All of a sudden, the calf went on, and they came back in.
The giant stopped in a shooting lane. Birdsong ranged the spot at 23 yards. He drew back, the deer turned broadside, and he let the arrow fly. It struck true.
The buck ran about 60 yards and expired within seconds. They watched him fall from the blind. Then, they descended from their perch and went to admire the buck.
I was pleasantly surprised at how big he was, Birdsong says. He's one of those rare deer that grew a little bit [upon recovery]. I know he was a special deer with all of the kickers and stuff. But whenever I finally got to him and got my hands on him, it was pretty cool. We got him the first time we really went after him. I was stoked.
He attributes the successful hunt to patience, and timing these high-odds October cold fronts.
A lot of people overlook it, especially the middle part, Birdsong says. People associate that time frame with the October lull. But you can take an October like we had this year, and you wouldn't know what an October lull was. We had so many different fronts that came through. It was one of the best Octobers that I can remember.
As a result, he tagged his second gross Booner. Interestingly, both were main-frame 8-pointers, and the latest one stretched the tape to 170 7/8 inches. That's pretty crazy.
Watch all the latest video episodes