This Small Town Hunting crew member tagged his best buck to date … in Mississippi
Rack Report Details
Buck:
183 inches
Time of Year:
Dec. 15, 2020
Place:
Yazoo County, Mississippi
Weapon:
CVA muzzleloader (New prototype) Muzzleloader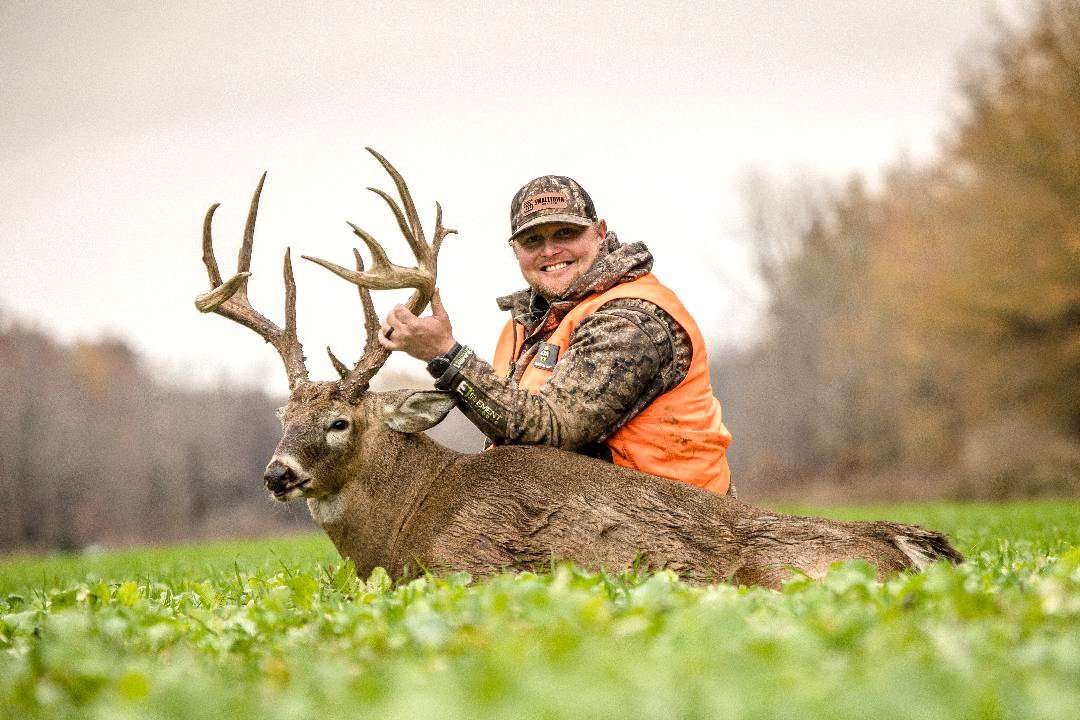 While 2020 does not evoke fond memories for many of us, it was the year of big deer for Small Town Hunting co-host Cody Kelley. He tagged several brutes, including this giant Mississippi whitetail.
It all unfolded at the Backwoods Attraction testing grounds in Yazoo County. Kelley and several others went in on a lease with the large food plot company, and they set the farm up for optimal hunting. They collaborated on blends, food plot selections, and even stand locations. In all, the place was loaded up with 35 food plots, 21 Boss Buck feeders (gravity or spin-cast feeders are legal here), and a lot of treestands.
We started taking inventory, Kelley says. The place is really good, and we have a lot of mature deer. It's probably the best I've ever seen for the state of Mississippi.
The deer he ended up shooting was nicknamed Stickers. On Oct. 2, the buck showed up in a trail-camera photo.
That was the first picture we ever had of Stickers, Kelley says. For whatever reason, I kind of became obsessed with him. He was the least regular of the mature deer. He was sketchy, showing up for two nights and then gone for five days. He'd be there for a week, and then gone for a week.
(Don't Miss: Rattling Sequence Pulls in a Texas Monster with Coke Can Bases)
Kelley kept moving cameras around in hopes of identifying a pattern. It quickly evolved into a classic game of cat and mouse. At last, he noticed a slight trend. The buck's core area seemed to center around a stand location they call 4x4. It'd show up in food plots to the east and west, too.
But I started figuring out that, whenever he'd show up in the food plot to the east, I'd get him at 4x4, Kelley says. I put it together that Stickers was living in a 200-acre block of WRP [wetland reserve program land]. He was coming out of there and hitting two different food plots.
Other hunters were targeting the giant, too, though. Again, the property is leased with Backwoods Attraction, and they planned to bring numerous people in to hunt.
Kelley's trip was scheduled for Dec. 15-21, but he never believed Stickers would last until then.
I thought that, once the rut hit, he'd show up in front of somebody and get shot — which would be great, Kelley says. We were wanting to bring people in and them have great hunts.
That they did. People kept arriving at camp and kept leaving with big antlers and venison. But Stickers wasn't among them. It sort of became a weekly joke, according to Kelley. Everyone always asked, Did Stickers make it?
He continued to receive a steady flow of photos of the deer. From Dec. 7-11, the giant was as regular as any Kelley had ever seen. Then, on Dec. 11, that changed.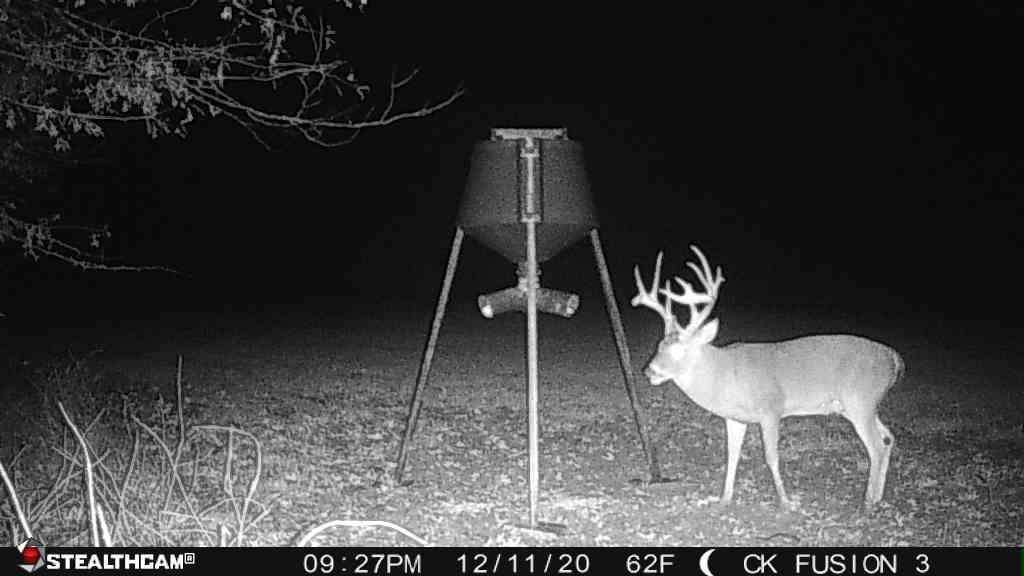 The last picture I had of him was on Dec. 11, Kelley says. He disappeared. We border some public land there, and it is a draw-only muzzleloader hunt. He wasn't far from that. In my head, I was like, Stickers is dead. He was regular. He must have gone across onto the public land and got shot.
On Dec. 14, they checked every trail camera on the property, but to no avail. Stickers wasn't on any of them. Still, they readied for the following day.
On the morning of Dec. 15, everyone was sitting around and talking about game plans. That's when Chris Ashley looked at Kelley and asked, Where are you going to hunt?
He's probably dead, but I have to go give 4x4 a chance, Kelley replies. That's where I've had the most pictures of Stickers. Maybe he's been locked down with a doe. I'll take my chances there.
Kelley and his cameraman headed afield in the pre-dawn darkness. Halfway to the treestand, he received a Stealth Camera photo. He checked it, and it was none other than Stickers standing in the food plot 400 yards to the east.
(Don't Miss: Oklahoma Monster Has Triple Main Beams)
Knowing the buck had a tendency to pass by the 4x4 stand on its way back to bed, they hurried ahead to get in position. Both parties hoped the buck hadn't already gotten by them.
We hadn't even shot an opening interview yet, and I caught a glimpse of a rack in the WRP behind us, Kelley says. I grabbed a grunt call, hit it a few times, and set it down. I looked to my left, and there he was.
The buck walked into the Backwoods Attraction Big River Blend food plot. After a few long seconds, it turned and offered a broadside, 140-yard shot opportunity.
The blast rang out, and smoke went everywhere. They played the footage back and couldn't tell much about the shot. Kelley felt good about it, but after a while, he started second-guessing himself. After giving the buck some time, they walked to where it had been standing and saw blood everywhere. The buck had only run 30 yards, tipping over right along the edge of the WRP.
When I picked him up, I knew it was the biggest deer I'd ever killed, Kelley says. His first mass measurement was 7 1/8 inches. You just can't tell that from trail-camera photos. Then, he had 12-inch G2s. They didn't look that tall. Plus, he had trash everywhere. I never thought I'd see a deer like that in Mississippi.