9-Year-Old's First Bow Buck is an 8-Point Stud
Rack Report Details
Buck:
140"
Time of Year:
September 13, 2021
Place:
Spencer County, KY
Weapon:
Hoyt Fireshot Bowhunting
Nine-year-old Drake Kelty has the deer hunting bug, bad. His dad, Ryan, says Drake killed his first deer at age 5 with a .223. In the years that followed, Drake took several more deer with a rifle, and last season, he decided to take up bowhunting. He ended up getting a doe, his first archery kill.
But something else happened late last season. Drake had a run in with a big buck on the property behind their house, after he'd already killed a buck with his rifle. Since Kentucky is a one buck state, the young hunter could only watch the big deer, but he made a vow then and there that he would hunt only that buck the next season if the deer survived the following winter and summer.
When this kid sets his mind to something, he goes all out, says Ryan Kelty. When people ask how many pounds he is shooting on his bow, I tell them it's a 40-pound bow backed up by 4,000 pounds of determination.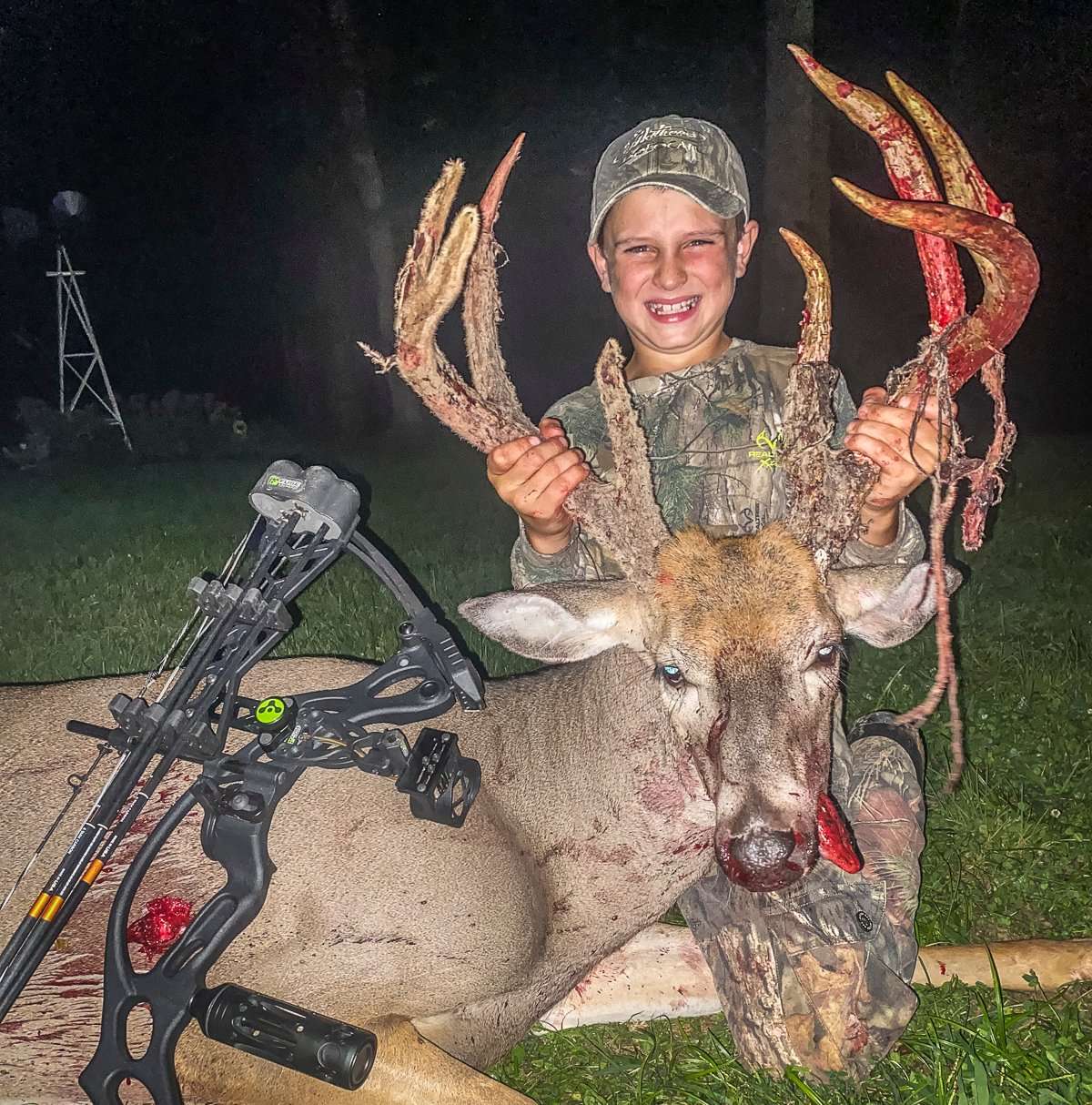 When the big buck showed up again on the family's trail cameras, Drake began to get serious about the hunt. He would get up early and shoot his bow before school, then he would shoot again each evening, Ryan says.
Once season came in, Drake was ready — and he had an encounter right away. The buck came in and was in range, but it was just a little too dark to see my pins, Drake says. I just watched him till he finally walked away.
(Don't Miss: 10 Things You Didn't Know About Velvet Bucks)
The buck came back in a night or two later. This time, he came in behind me. He got to 15 yards from my stand, but he never came around to where I could get a shot, Drake says. I was shaking so hard by the time he walked away.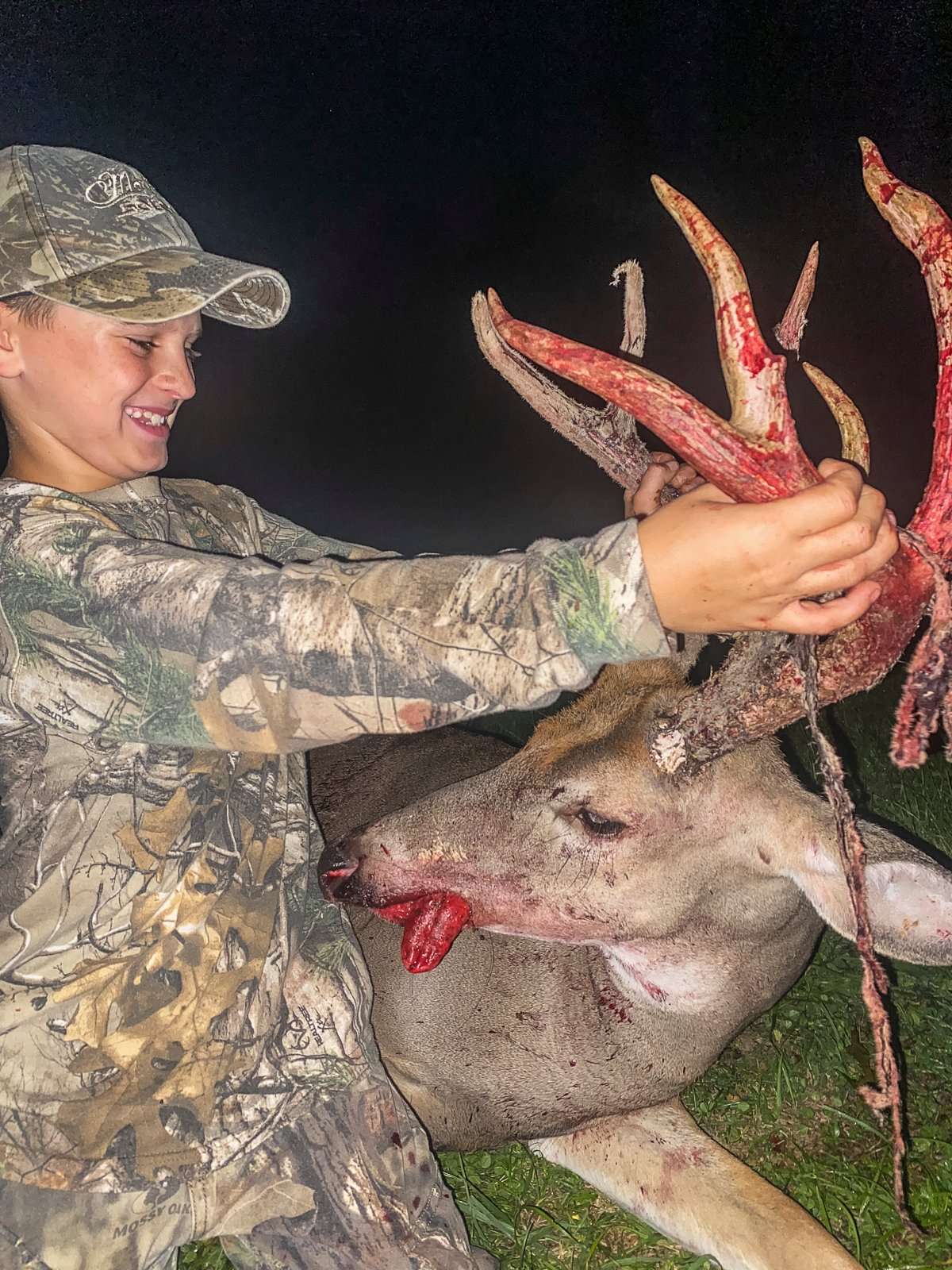 Drake's third encounter with the deer was even closer. This time, the buck came into bow range and was in front of Drake, but stayed facing him the entire time.
Dad always tells me to only shoot when the deer is broadside and to never shoot at a bad angle, so all I could do was stand there and wait, Drake says. The buck eventually turned and walked away, never giving the kid a shot.
(Cool Weather is Coming: Realtree Camo Pro Staff Performance Hoodie)
After three close calls, Drake was more determined than ever. It was a Monday evening and he had homework to do, but he decided to go hunting and use his phone to complete his studies.
I had just finished my assignment, and I looked up to the see the buck standing in a creek just 22 yards away.
I had just finished my assignment, and I looked up to the see the buck standing in a creek just 22 yards away. He was looking straight at me, so I couldn't move. I just froze and sat there, Drake says. Eventually, the buck decided things were safe and started to move.
The buck circled me, then went behind a big tree. I stood up and came to full draw. When the buck came back out, he stopped broadside at 15 yards. I settled my pin and shot. The buck took off at a full run. I watched him fall 60 yards from my stand. I was really shaking by then. I called my Papaw to tell him I'd shot the buck and was pretty sure he was down. I was happy, crying just a little, and shaking so hard that I had a hard time talking to him, Drake says.
Ryan hadn't been able to see the buck go down, so he and Drake decided to wait a bit until Drake's grandfather arrived and the three of them could go look together. They headed back up to the house to wait, a short trip since Drake's stand was visible from the family's kitchen window.
When we got back to the stand, I climbed up and told Dad and Papaw where I thought I saw the buck go down. Dad went just a few yards and yelled out. I knew right then that he had found my buck, Drake says.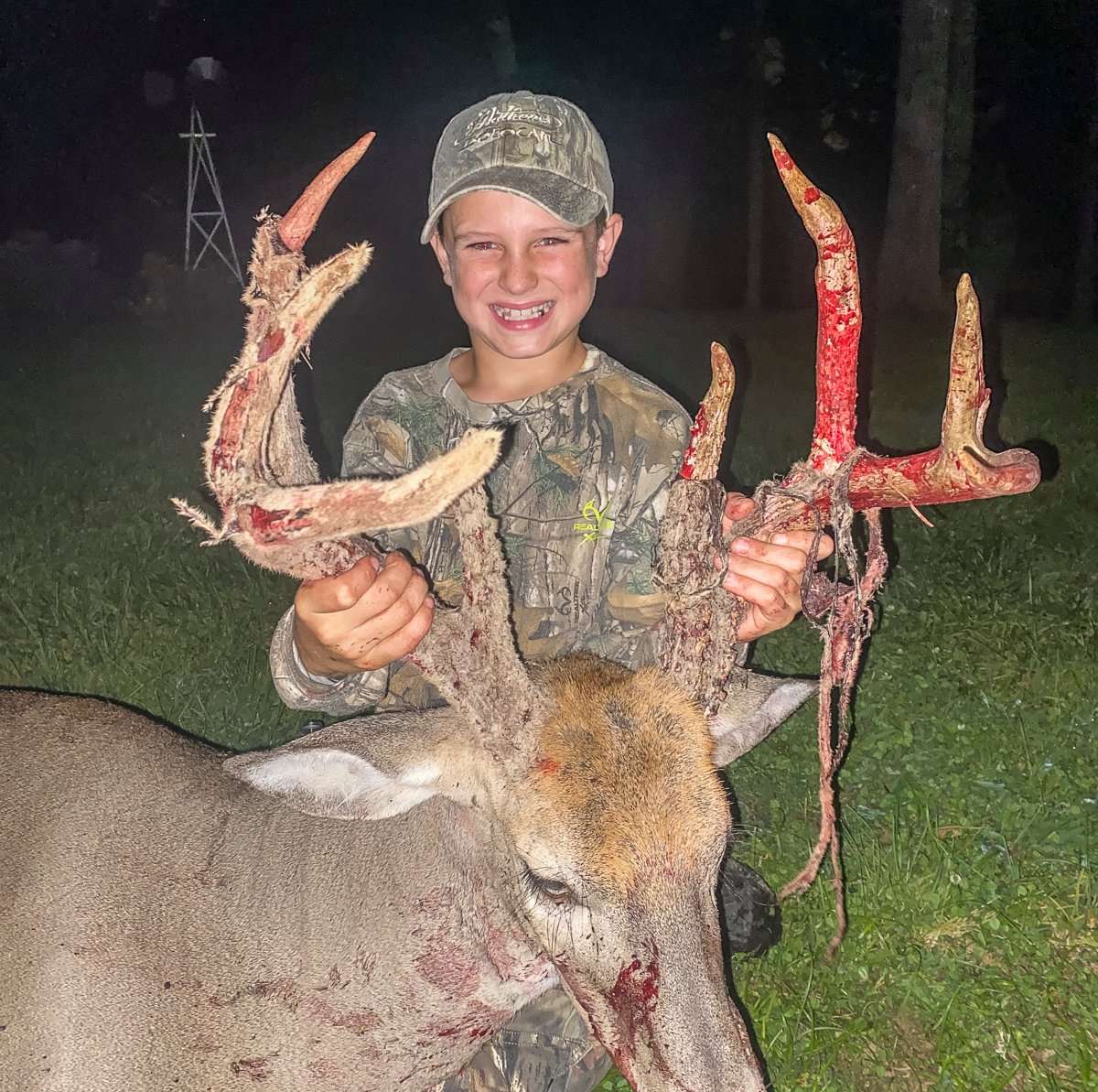 Drake's buck was a massive 8 with great mass and long G2s. The deer had just started shedding his velvet. A true trophy whitetail by any hunter's standards, this was the buck of a lifetime for young Drake— at least so far.
When I asked Drake what he was going to do the rest of the season now that he had filled his only buck tag so early, he had this reply. I'm going to bow hunt does the rest of the season. I just love being out there and the feeling I get when a deer gets close to me. I love it when I shake all over, and I can't wait to get that feeling again, he said.
Watch all the latest video episodes