Red Rising TV's Chris Ward shoots his first record-book buck
Rack Report Details
Buck:
180 7/8 inches
Time of Year:
Oct. 27, 2021
Place:
Kansas
Weapon:
Axe Crossbow Crossbow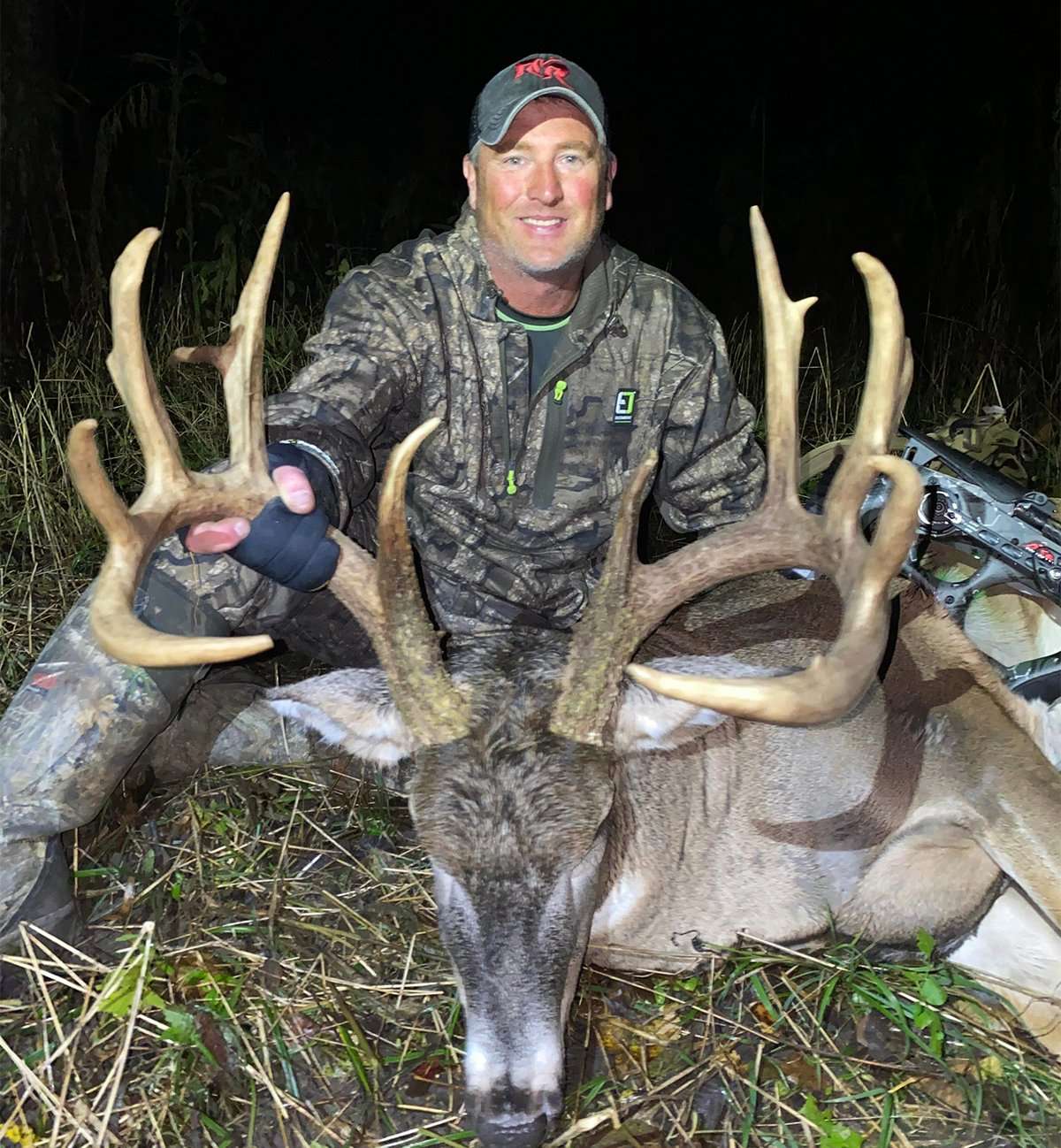 Chris Ward of the Red Rising hunting show lives and hunts in the East, but he leases some land in Kansas with his friend and co-host, Eric Hale, who also is known for shooting big whitetails. Their friend, Jason Bowers, is now on the lease, too.
They've leased this particular property for almost 20 years, and they've taken some giants there. Hale has tagged several Boone & Crockett bucks off this property, and Bowers has taken one that scored over 180.
This season, a 6 1/2-year-old giant called the place home. We have three years of history with this deer, Ward said. We have his sheds from the 2019 season, and all three of us have had previous encounters with him. We filmed him at 100 yards last year while Jason was hunting with a bow. We have numerous trail-cam pics of him over the years.
Oct. 27 was the day Ward finally crossed paths with the monster. Temperatures were in the mid-50s, and a northeast wind carried in waves of rain throughout the day. Fortunately, they had a two-hour window without any precipitation, and they knew the deer would start moving once the rain stopped.
With damp, quiet ground to work with, they walked along a low-impact entry route to the blind, then climbed in and prepared for what they hoped would be an action-packed sit. Once settled, they started scanning their surroundings, hoping to catch a glimpse of the giant deer. They glassed the timber, which was surrounded by open crop fields of wheat and standing soybeans. They also overlooked a clover field with mowed CRP.

The special thing about this lease is the landowner leaves half of the property wooded for the deer and turkey, which makes it the most timber around for miles, Ward said. The bucks pour into this property just prior to the rut, knowing where the majority of the does will be.
Their blind was attached to an old hay wagon, and it was positioned right where they expected to intercept the buck. We had done our homework on this one, Ward said. We knew by our cell cam pics that he was going into this field about every two days during light. We also knew that the deer would be moving everywhere between the rain.
Jason and Eric learned a lot hunting this deer last year, Ward continued. We know this deer like the back of our hand but still pulled up aerials, constantly trying to figure out his exact bedding location. We finally realized the exact location needed, as well as the wind you could get him on. We relied heavily on our cell cams, as we were on the East Coast trying to pattern a deer in the Midwest.
The afternoon started off with numerous does and small bucks. Then, a great 4-year-old 10-pointer walked into the field. Afterward, a giant 7-year-old 6-pointer walked into the open, too. Then, more does.
Around 6 p.m., and about three hours into the hunt for this buck, the giant appeared. I remember looking up and to my right to the upper end of the field and seeing a large-bodied deer with a big rack, Ward said. I knew immediately that it was my target deer. It entered at the head of the field out of the timber and walked the length of [it]. I pretty much blocked out everything except the shot.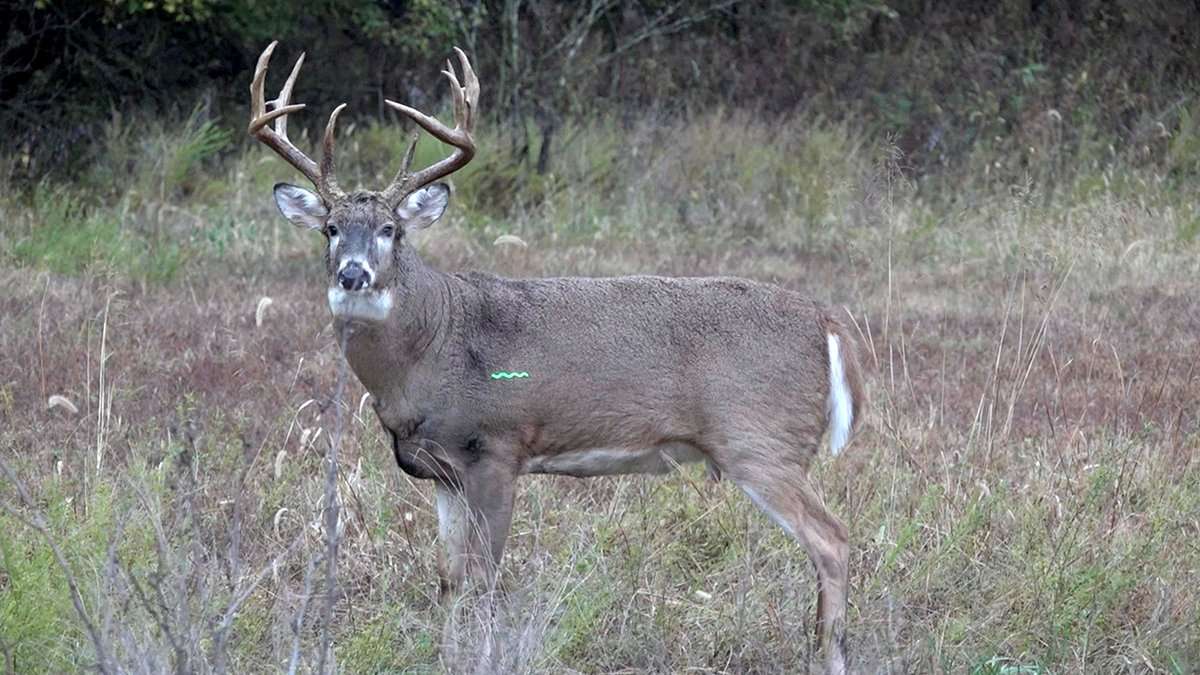 Finally, the deer walked across the 2-acre opening to their location. As Ward put it, the buck parted the other deer like Moses parting the Red Sea. While it seemed as if an hour passed during the approach, it only lasted three minutes.
It wasn't long before the deer offered a shot, and Ward made good on the 12-yard, broadside opportunity. The deer ran about 70 yards to the edge of the field and toppled over. It was all over within 20 seconds.
Eric was extremely happy for me, Ward said. I have filmed him kill several record deer and he was glad I finally got my opportunity. It was a team effort for sure. I know I am supposed to act like I have been here before, but I can't because I have never been here before. I knew it was a giant deer, and I was just over the moon excited. I immediately called my dad and son back home in Virginia. Words can't describe it. I know a lot of hunters across the country harvest a lot of big deer, but to actually have the opportunity to even hunt a deer of this caliber makes me very fortunate and blessed.
The Kansas giant scored a whopping 180 7/8 inches. Ward had finally breached the coveted 180-inch benchmark. And to him, it's the buck he's been hoping for.
It's the kind of deer I have laid in bed dreaming about since I was a 7-year-old boy, Ward said. I have hunted my entire life and have never taken a deer over 170. To get one over 180 was a dream come true. And to have such a history, along with sheds, made it more special.
(Don't Miss: 21 Sits and 10,000 Miles for a Kansas Monster)
Watch all the latest video episodes