Justin Kamps rattled the buck to within chip-shot range during an all-day sit on November 4
Rack Report Details
Buck:
170 6/8 (typical)
Time of Year:
November 4, 2021
Place:
Northwest Illinois
Weapon:
Hoyt Carbon RX-1 Bowhunting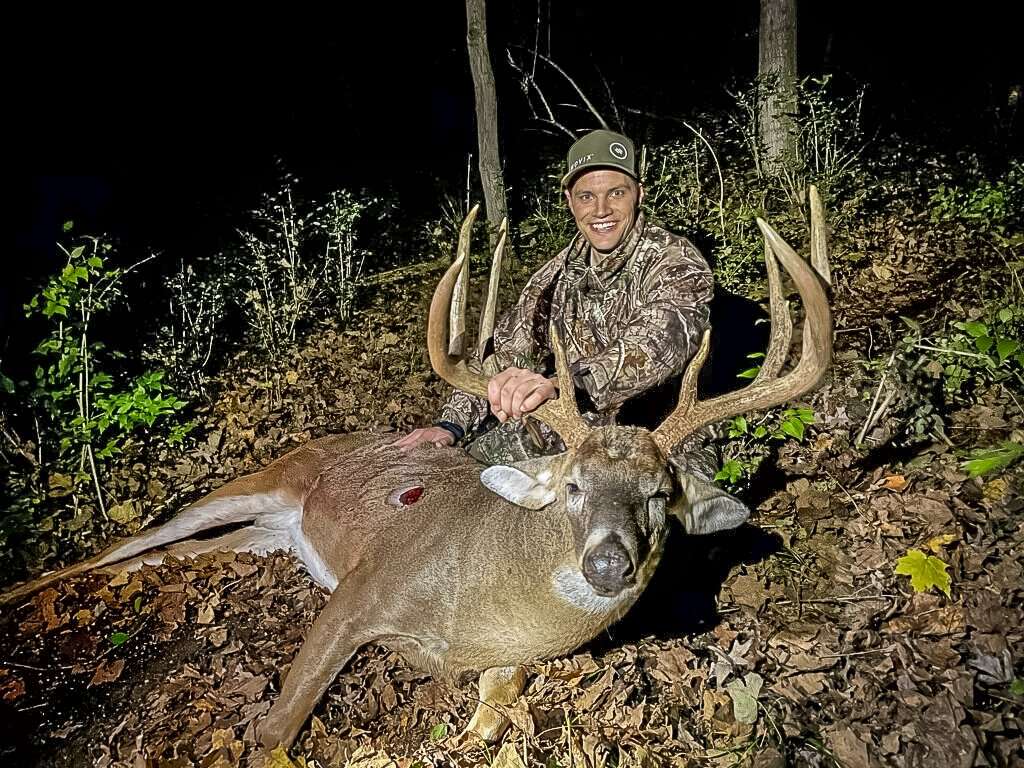 Justin Kamps loves passing on young bucks with great potential to become giants, and then seeing them again once they're fully mature. I love that concept, says Kamps, who's been filming for Midwest Whitetail since 2009. I have access to some incredible property that several others and I manage closely. We also communicate with neighboring landowners, and some are on board with shooting only bucks that are 5 years old or older. Each year, we have several deer to target in that age class. It's rewarding to watch a buck with good genetics go from 3 to 4 to 5 years old and see him reach his antler potential.
That's how the story played out with the buck Kamps arrowed on November 4, 2021.
In 2019, we had some trail camera pictures of him, Kamps explains, and my father encountered him a handful of times. He was a nice 8-pointer that year — in the mid-130-inch range, I'd say. Nothing too spectacular.
The dance continued in 2020.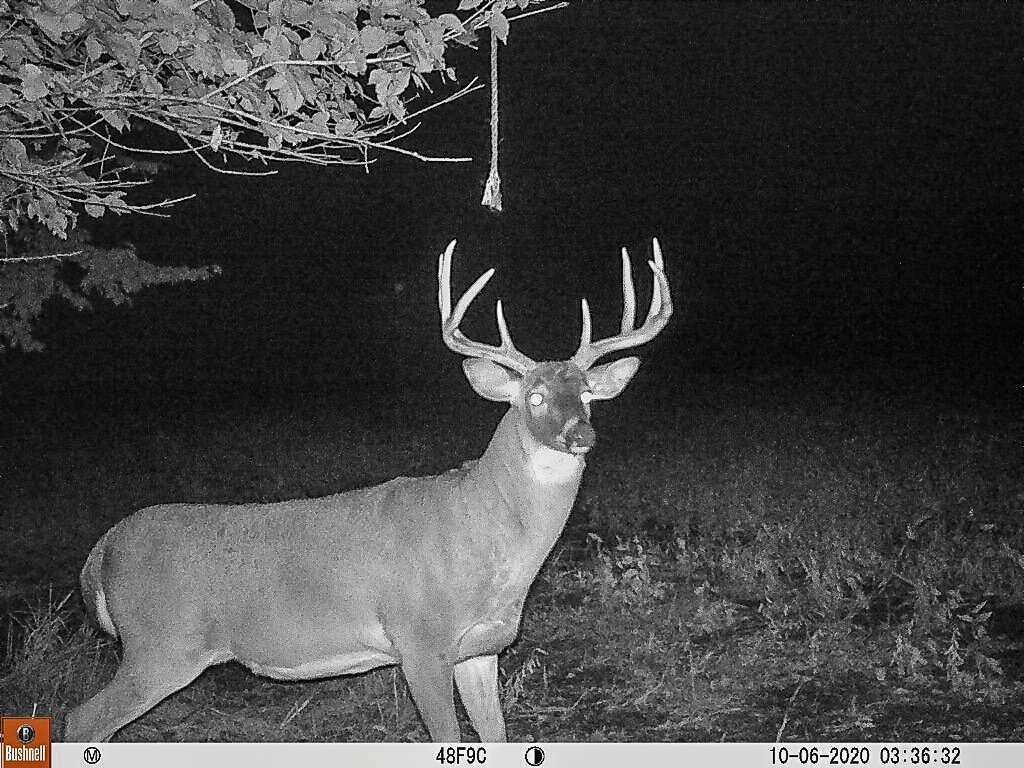 He was a really pretty buck last year with a nice big frame, Kamps remembers. My father saw him at least six times in 2020, and I saw him once. On one occasion, Dad actually watched the buck pin another 8-pointer to the ground during a fight in early October. We weren't sure if he was 4 or 5 years old, but we were focused on other bucks and decided that we'd pass him. Still, he was one to watch.
Kamps scooped up the buck's sheds in spring of 2021.
They definitely exceeded my expectations, he says. With an assumed spread, the antlers scored 148 inches. We were excited to see what he'd become in the fall.
Interestingly, the buck didn't frequent the same area that he had during the previous two seasons.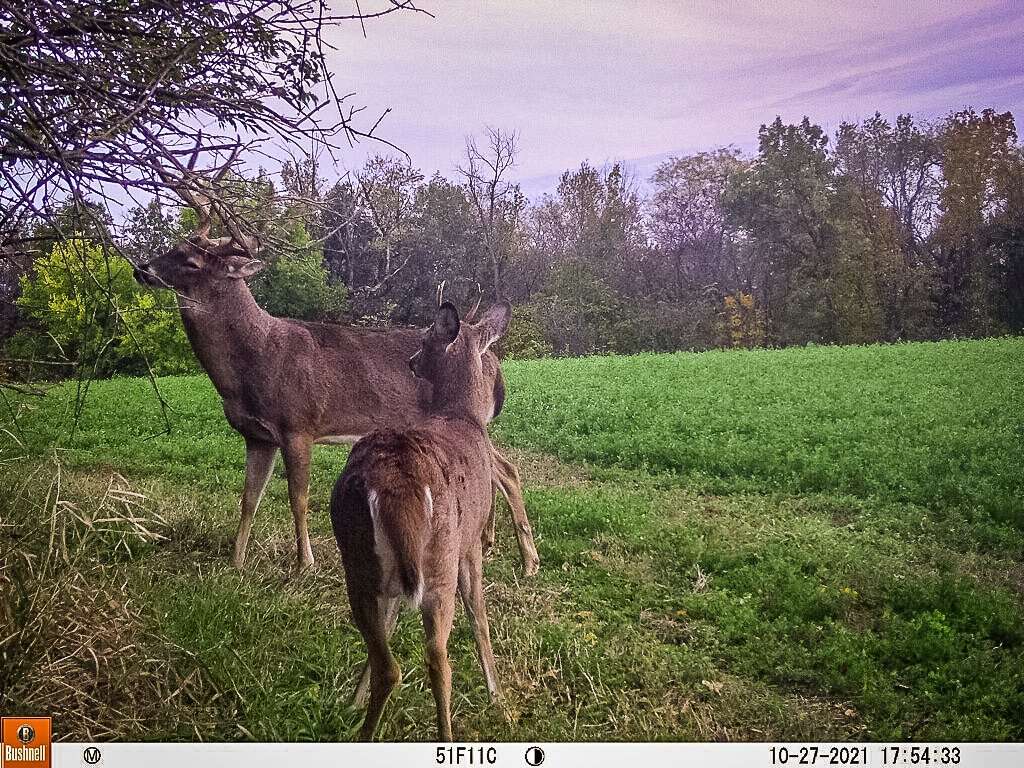 He just wasn't around very much, Kamps says. We only captured one picture of him during the summer. We knew he was really big, but we don't really know where he hung out during September and the first half of October. He wasn't high on our list because we didn't know if he'd be around. Then, I finally got a picture of him on October 18, and by the end of October, he was everywhere. Another buck I'd been hunting was in the same area, but once this big 8-pointer we named 'Buster Douglas' showed up, that other buck disappeared from the trail cameras.
On November 1, Kamps' brother, Mitchell, filmed the buck in an alfalfa field for about 10 minutes, from 150 yards away. The Kamps crew knew the buck would push 160 inches, but upon watching the video footage, they felt that the buck might even break 170.
On November 2, my oldest brother sat that same alfalfa field, he says. The buck came out with some does. While the does fed within 20 yards, the buck stayed at 43. My brother waited, thinking he'd follow the does and offer a 20-yard chip shot. Unfortunately for my brother, one of the does peeled away, and the buck followed her.
Meanwhile, I was hunting about 250 yards away, Kamps says. About one hour later, the buck came out 50 yards away at the end of shooting light. That's just too far at last light. By then the buck was at the top of the list, given his active movement schedule.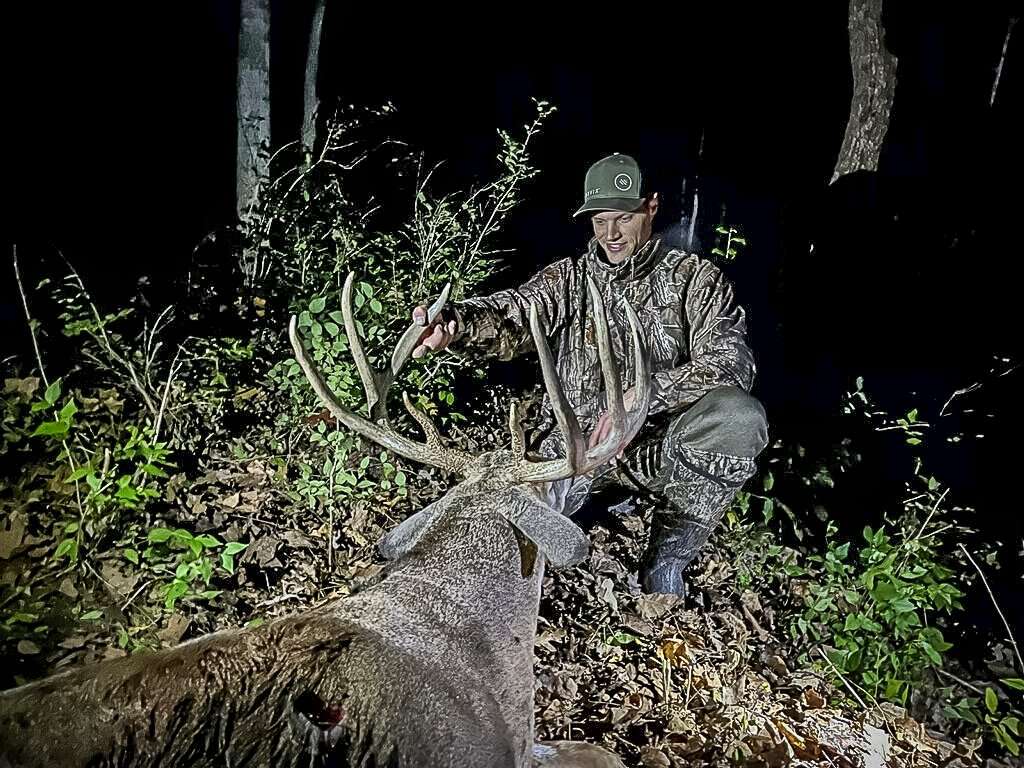 Winds of change came on November 4, allowing Kamps to hunt a stand he'd been waiting to climb into.
Earlier in the week, I'd studied the forecast and knew that I'd finally be able to hunt a stand we have hung right in the middle of a bedding area on November 4. Until then, I'd only been hunting the fringes, so I was excited to put myself right where I wanted to be.
My cameraman, David, and I prepared for an all-day hunt, Kamps continues. The stand is excellent for rattling, and usually it provides action throughout the day in November. The day started out slow, however. I rattled a few different times throughout the day, usually pausing for two hours between sequences. Three of the sequences brought in bucks. Two were young, and one was a nice 4-year-old buck.
Kamps' final rattling sequence was at about 5 p.m.

About 20 minutes later, a doe came flying up the ravine, followed by a fork buck, he says. David said that he heard something else walking down in the bottom and to grab my bow. We were waiting and looking, and sure enough, it was Buster Douglas. I watched him approach through my binoculars to confirm which deer it was. I saw the bent brow tine and knew it was him.
I got ready and turned on my GoPro, remembers Kamps. He followed a trail that runs behind my stand. At 20 yards, I tried stopping him in my first opening, but he continued on. Another 5 yards ahead is another opening, and I stopped him there and made a great shot. The celebration ensued!
Click here to watch Justin Kamps' incredible hunt for the giant 8-pointer on Midwest Whitetail's YouTube channel.
(Don't Miss: A 180-Inch Kansas Crossbow Typical)
Watch all the latest video episodes