Mitch DeMoss planned his first sit in November around a snowy weather event, and it paid off with a surprise encounter with a buck he'd never seen
Rack Report Details
Buck:
180 3/8 (typical)
Time of Year:
November 1, 2021
Place:
Pierce County, Wisconsin
Weapon:
Mathews V3 31 bow Bowhunting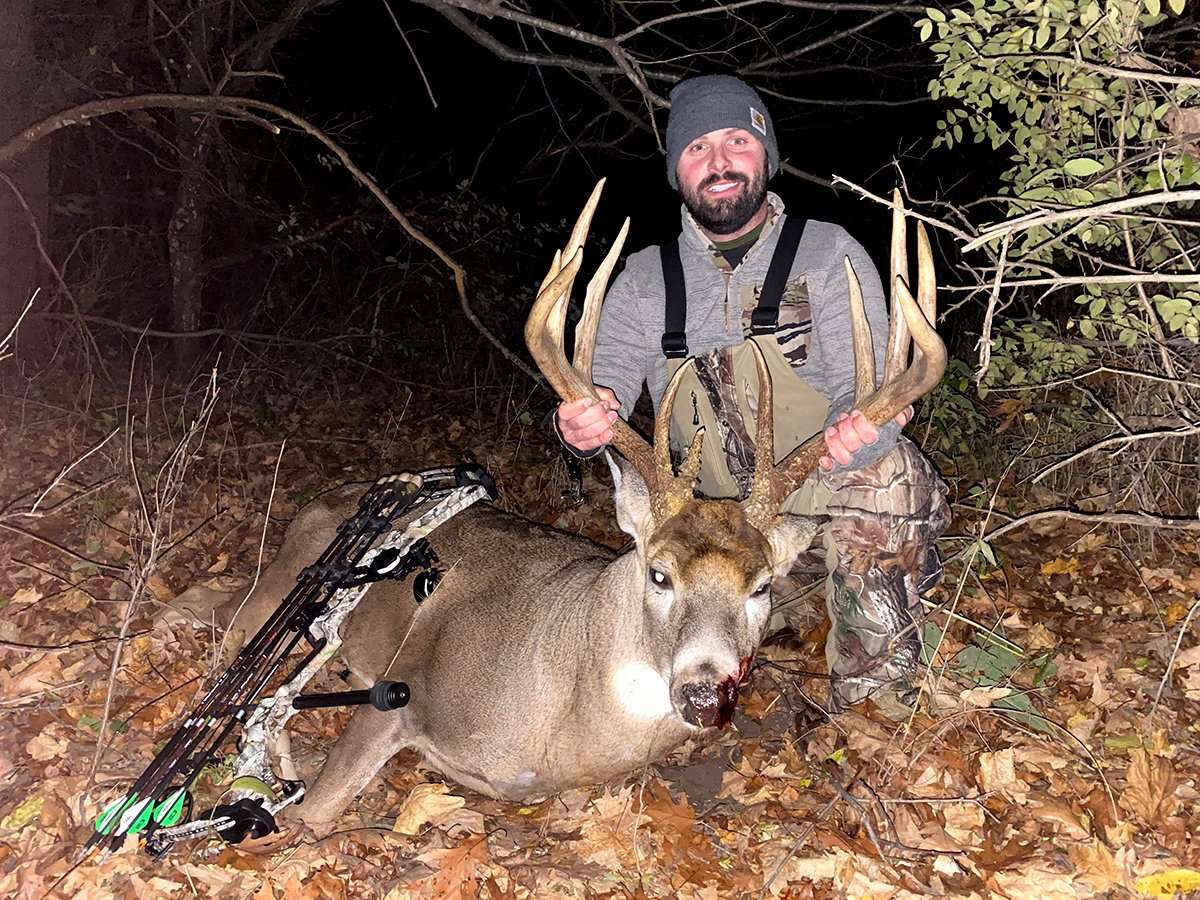 Wisconsin bowhunter Mitch DeMoss was tight on time. He had a shoulder surgery scheduled for November 5, but the forecast in the days ahead of that was shaping up nicely for deer hunting. DeMoss noticed it was calling for a chance of snow on Monday, Nov. 1. Fierce winds and some snowfall would last most of the day, then subside at around 3 p.m. He believed that the conclusion of the weather event would put bucks on their feet on a property where he had acquired permission to hunt just this year.
I know there are big bucks in the area, but up until that day, I hadn't seen much while hunting, DeMoss says. My buddy and I had scouted prior to the season and into September. We had a couple of shooter bucks and a good number of mature does living on the property. One of the shooters was a tall 8-pointer that soon became our target buck.
DeMoss last hunted the place late in September, but had been hunting elsewhere throughout October. No doubt he was anxious to get back onto the property and see what the beginning of November would bring.
As I was walking to my stand on the afternoon of November 1, I immediately was shocked with all of the fresh rubs and scrapes I was seeing, he says. The amount of mature-buck sign compared to when I'd last hunted this property was insane. It was clear that we had a dominate buck on the property, and I assumed that it was the tall 8-pointer, our target buck.
With some wind for coverage, DeMoss crept through the timber and reached his stand undetected. He was all positioned by around 3 p.m., and at 3:30, some snow began falling again, though it didn't accumulate.
Just as the forecast had shown, the snow stopped, and the wind died down to nothing, DeMoss says. I rattled once everything was calm, and I heard something coming down a trail in the woods. Whatever it was held up back in the woods and did not enter the food plot in front of me. I waited for about 15 minutes and then rattled again.

I heard a deer coming from behind me in the timber, DeMoss remembers. The deer came stomping in, and based on its pace, I was certain that it was a buck. However, it was too thick to see which buck it was. Eventually, he moved into an opening in the woods at about 20 yards, which is where I got my first look at him. The buck was a giant that DeMoss had never seen before. He was staring right at me and I at him, the hunter says. I had my bow in my hand and kept thinking that he was going to bust me. It was pretty intense for a few moments. Finally, the huge deer moved out into the food plot, offering DeMoss a 30-yard shot.
My arrow passed clean through both lungs, he recalls, and he went 80 yards and bedded down. I gave the buck 10 minutes before climbing down and checking my arrow, which was covered in pink, frothy blood. I backed out for a little while before returning and laying my hands on the biggest buck I've ever encountered in the woods.
With long tines, sweeping beams, and excellent mass, the rack green scored a smidge over 180 inches. And Mitch DeMoss was tagged out with a little time to spare ahead of his Nov. 5 shoulder surgery.
(Don't Miss: Mother and Son Shoot Big Locked-Up Bucks)
Watch all the latest video episodes