Neal Cannon wasn't sure whether he'd get to arrow the big deer he had on trail camera, but he sure hoped so
Rack Report Details
Buck:
180 4/8 inches
Time of Year:
Nov. 14, 2021
Place:
Southern Illinois
Weapon:
Mathews VXR Bowhunting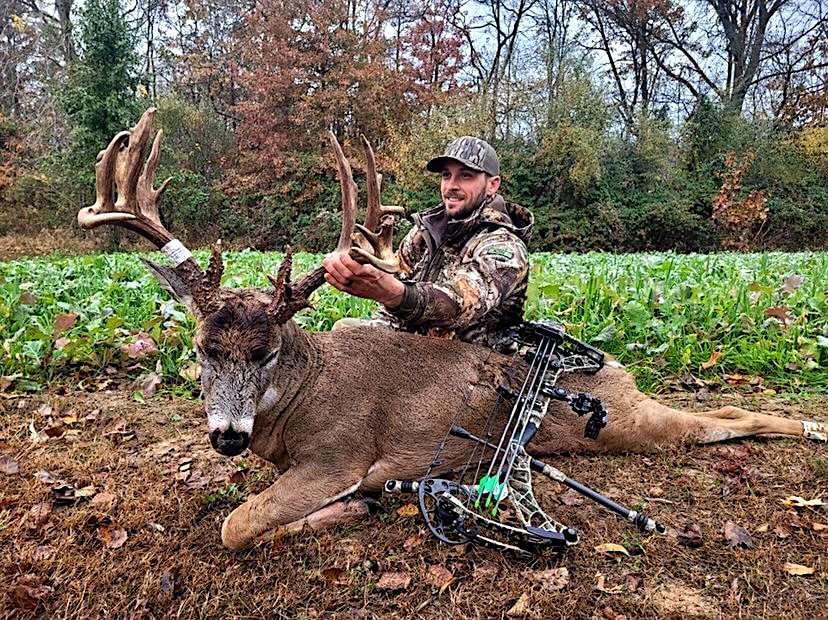 Three trail-camera photos during the 2020 deer season were all Neal Cannon had to cue him into the whereabouts of a monster Illinois buck. No sightings. No long history. Just three photos of a traveler buck to keep him wondering if the deer would ever call his place home.
In 2021, it did. He showed up on our trail cameras in July of this year and we were amazed at how much bigger he had gotten, Cannon said. He immediately became our target buck for the season, and we named him 'Stickers.'
Cannon and two others lease the property together, and they all decided to target the deer. Despite the little history they had to go on, the buck appeared to be fully mature, 5 ½ to 6 ½ years old. One of the lease members encountered the deer in early November, and even got a shot.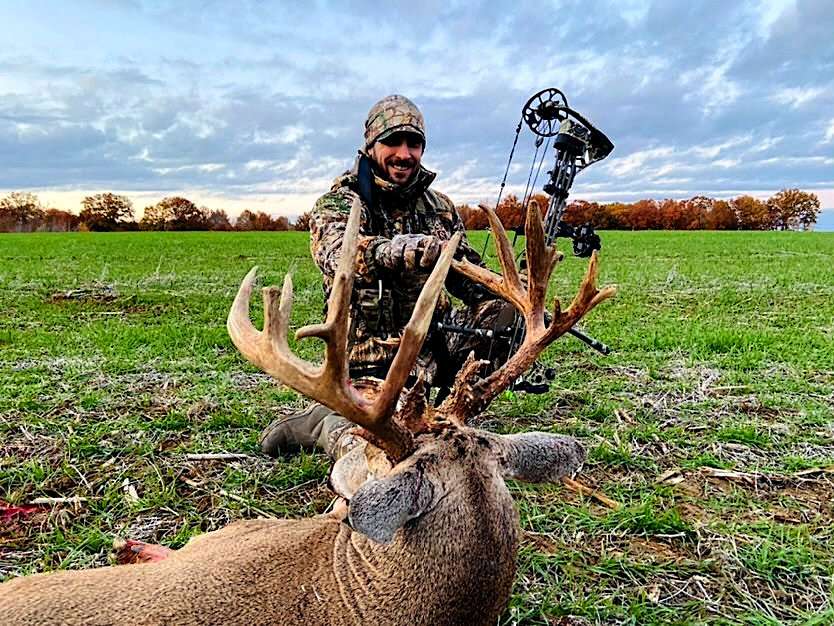 We're pretty sure that our buddy, Kyle, shot right under him, grazing his leg and chest while he was chasing a doe the first week of November, Cannon said. [It] was the only other sighting of him from a treestand.
On Nov. 14, Cannon hoped he'd have an encounter of his own. The entry route to his stand location carried him through rolling hills and hardwood ridges, which were bordered by agricultural fields. His destination was a small finger of timber running north to south through a big soybean and wheat field. With a large bedding area to the north and another to the south, it was a perfect pinch point and rut funnel for cruising bucks.
We sat in the rain that morning, and then the winds picked up big time out of the west-northwest, Cannon said. The afternoon hunt turned into a cold and really windy sit. But the winds allowed me to get in quietly and hang my Lone Wolf stand for the afternoon without spooking any deer.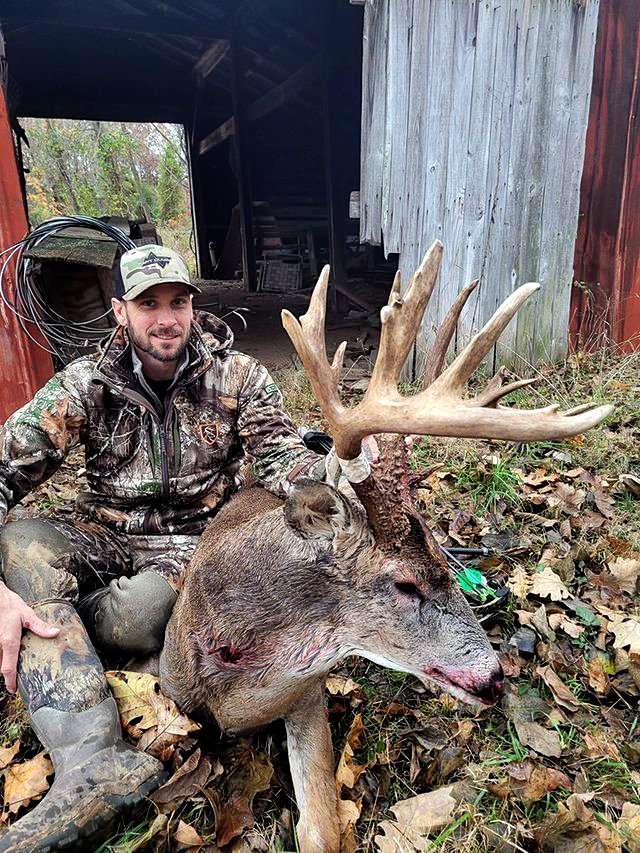 Soon after Cannon got settled, a small buck walked into the open and sniffed around the stand. Then, around 4 o'clock, a few does and fawns fed out into the wheat field. Fifteen minutes later, Stickers stepped out along the northern edge of the wheat field. He immediately dialed in on the does, which were to his west, but then decided to feed on the lush, green wheat instead.
For several minutes, Cannon watched the buck. Then he decided to call to him, hoping to lure the huge deer to within bow range. The deer didn't hear the first volley of grunts. Cannon kicked up the volume and tried it a second time. The buck sprung to attention that time, and immediately marched straight toward the treestand.
Cannon lost sight of the deer as it crossed a ditch that runs through the finger of timber. When he reappeared, just 40 yards separated them, and each step brought him even closer. Cannon carefully drew his bow and waited for an opportunity. Unfortunately, the buck only offered a quartering-to shot opportunity.
I don't like taking that kind of shot angle, but at 25 yards, and feeling confident in my setup, I shot him, Cannon said. The arrow buried deep into his vitals.

Upon impact, the buck fell, got back up, and ran out into the wheat field. It only covered 75 yards before tipping over. Cannon immediately called his hunting partner and friend, Ty White, who was hunting nearby. What I would do to have a recording of that conversation, Cannon said. As is tradition when he fills a tag, he also called his wife, father, and brother.
Cannon and White celebrated the success, and they went and showed the buck off to more of their friends. Even people they didn't know wanted to see it, and they were happy to oblige. Cannon says he's gotten to know some great people in the area because of the deer, and he's been amazed by their kindness.
I still can't believe that I was able to harvest such an incredible whitetail, Cannon said. I've dreamed about taking a buck of this caliber most of my life but never thought it would actually happen. I still get chill bumps just talking about that hunt and probably always will. I love the challenge of chasing these giants with a bow and the feeling you get when the pieces all come together. I'm blessed. God is good.
Cannon's monster southern Illinois whitetail scored 180 4/8 inches.
(Don't Miss: Mother and Son Shoot Big Locked-Up Bucks)
Watch all the latest video episodes