A creek-bottom food plot produces a massive 7-1/2-year-old buck
Rack Report Details
Buck:
193 4/8 inches
Time of Year:
Nov. 28, 2022
Place:
Hocking County, Ohio
Weapon:
Knight KP1 .45-70 Rifle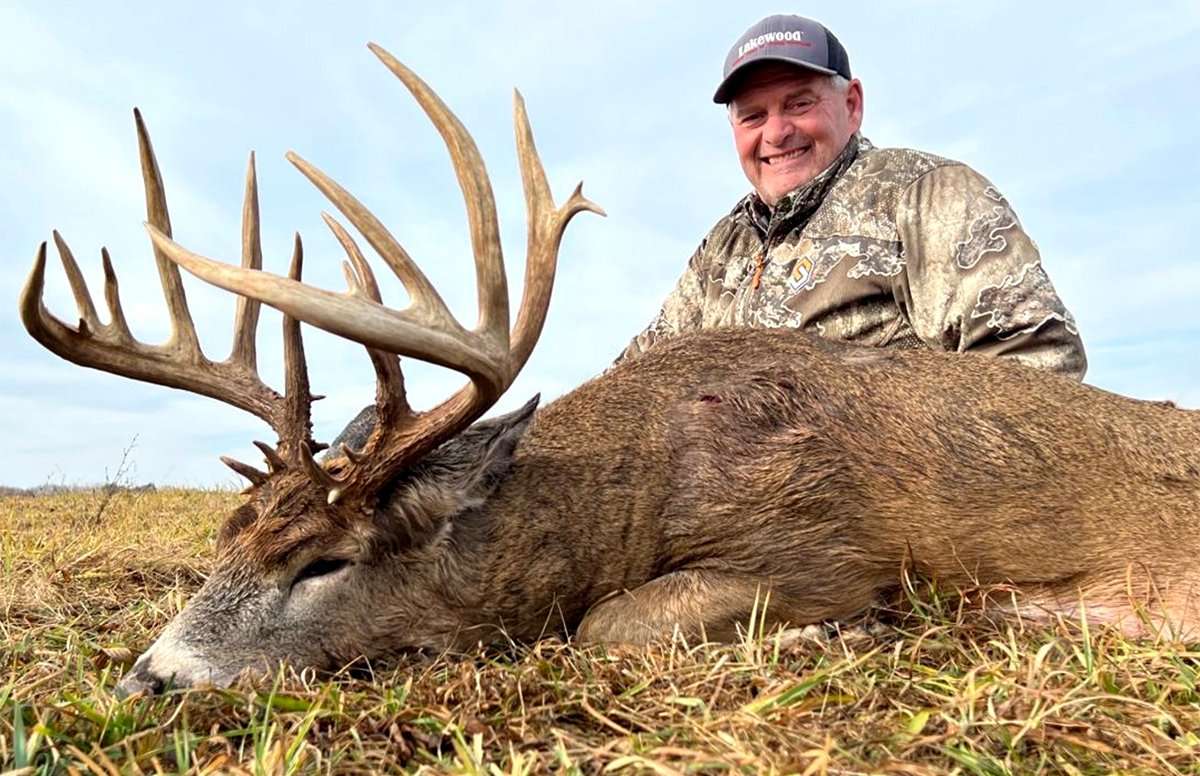 Jack Coad has hunted whitetails since 1974. He's been bowhunting since 1992. Hailing from the Buffalo, New York, area, he's part of a rich hunting heritage. But Coad had a stressful career, and hunting has always been a way for him to overcome that. Today, understanding the power of the outdoors, he frequently volunteers.
Hunting gave so much to me spiritually, he said. My way to give back to hunting is to volunteer as a hunter safety instructor and bowhunting instructor for New York state. I specialize in teaching kids and beginners.
He still hunts for himself, too.
I hunt with a bow 90% of the time, he said. However, I'm heading into my fourth shoulder surgery. I'm scheduled for a shoulder replacement in a couple of weeks.
Because of that, and because it was a trip no hunter should turn down, Coad started going on an annual gun hunt in Hocking County, Ohio, with good friends Troy Westenbarger and Anthony Ferrone at T&K Outfitters. He's been going for eight years, and this season, he killed a huge whitetail.
We work hard preparing the property to improve the quality of deer in this area, Coad said. Troy and the rest of the team have planted food plots, prepared entry and exit points, and erected stands in high-traffic areas. I'm honored to have been lucky enough to benefit from our hard work. This opportunity was very surreal. I never expected to take a deer of this caliber, but I am truly humbled with the opportunity.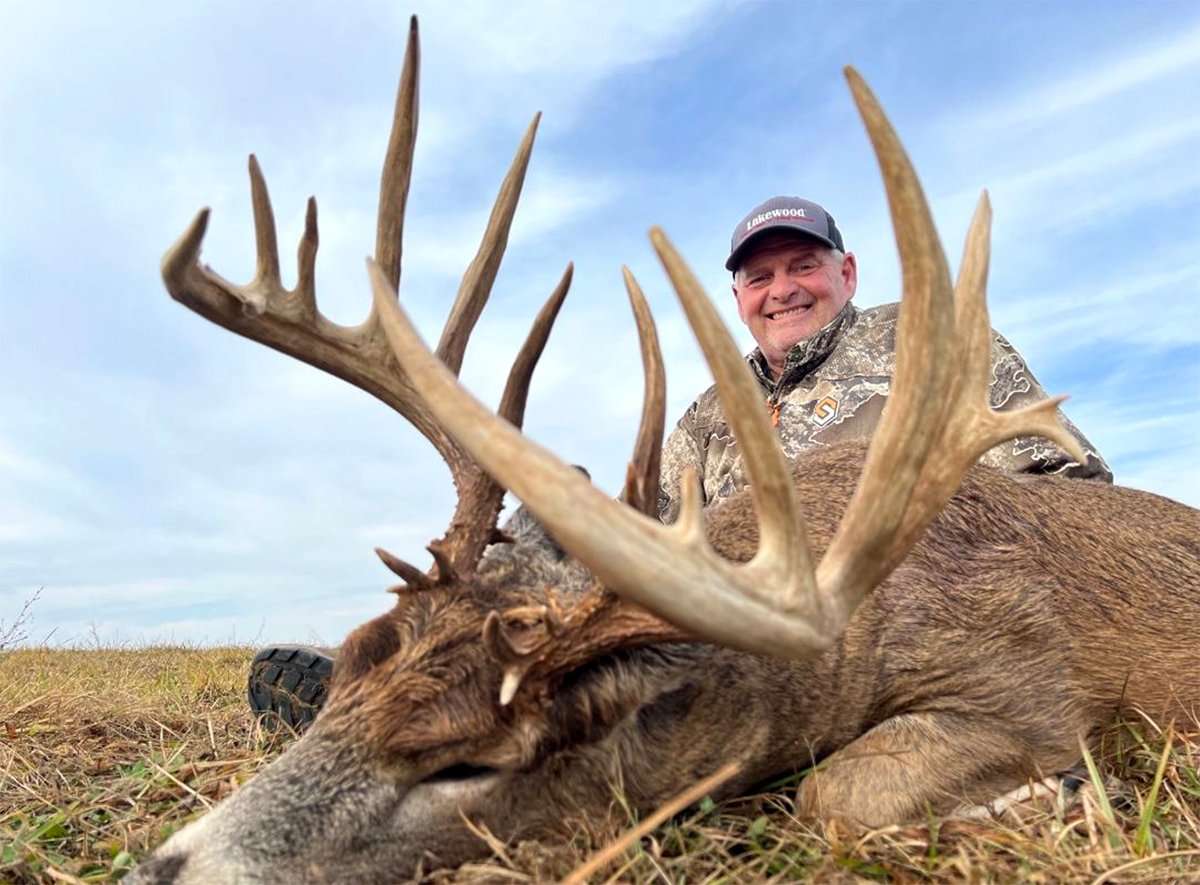 The guys had three years of history with the buck. On Nov. 26, the deer hit a trail camera overlooking a food plot. So, on Nov. 28, Coad moved in. A cold front with heavy rain was on the way, and he hoped the buck would move before dark and the front's arrival.
Coad settled in, and a cool, misting fog drifted around him. A light breeze chilled the air even more. The area he hunts is known as Hocking Hills, and it's full of steep terrain. The hills are bordered by creeks and agriculture.
I was hunting the creek bottoms, hoping to catch deer transitioning from bedding areas to larger fields, Coad said. The food plot was designed to be a staging area for deer traveling from bedding to feeding areas.
The ¼-acre food plot was full of clover and turnips. With the wind out of the southwest, the situation was ideal for staying off the radar of deer traveling through the spot. And soon after Coad settled in for the afternoon hunt, the action started.
It was very quiet with the wet vegetation, but I heard two does walking in the turnips, Coad said.
They milled around for a while before leaving. Sitting in silence, Coad reflected on previous hunts this season. He'd spent 10 days there in September and October but only encountered small bucks and does. He'd also passed a 140-inch buck in hopes of seeing something bigger.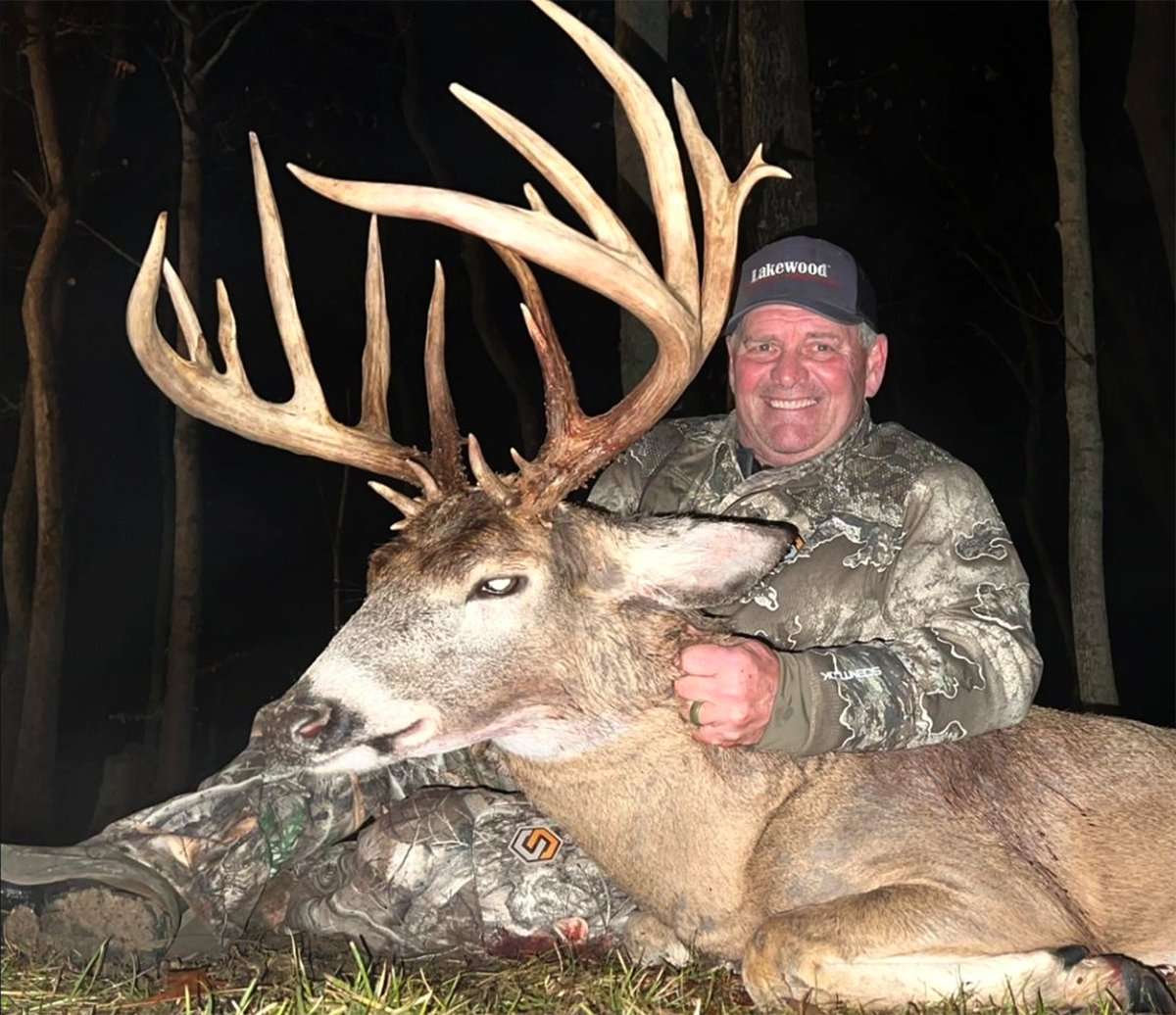 Just as he was contemplating that decision, at about 4:15 p.m., a small doe entered the food plot. Then, Coad watched eight deer walk up a hillside in the distance. About 30 minutes later, another doe entered the food plot from the creek and started feeding.
After gorging on greens, she left. Just as Coad was looking to see where she went, he spotted the big buck at 60 yards.
I was completely surprised, he said. He started feeding, watching the does and moving through the food plot. I was trying to remain calm and not make any sounds to spook him and lose the opportunity.
Coad slowly eased his Knight KP1 4570 up and got ready for the shot. The buck turned broadside, offering a clear 70-yard opportunity. Coad settled in and squeezed the trigger. The massive whitetail dropped in its tracks. Coad made sure the buck was down, and then called Troy.
I consider myself lucky that I was in the right place at the right time, Coad said. All we can do as hunters is to put ourselves in the best situation. Being prepared, having a plan and executing the plan is the reason for my success. Everyone was happy because it was a team effort. I was just the lucky one to pull the trigger. I still haven't come to terms with it. I feel so honored.
The 7-½-year-old buck scored 193-4/8 inches.
(Don't Miss: A 200-Class Typical Buck with a .30-30)

Watch all the latest video episodes