Zach Mixer's season had included trespassers, cattle, and even running over his own bow. But his season turned around in a few moments when this giant buck marched down the trail
Rack Report Details
Buck:
204 6/8 inches
Time of Year:
November 12, 2021
Place:
Lee County, Iowa
Weapon:
Mission Switch Bowhunting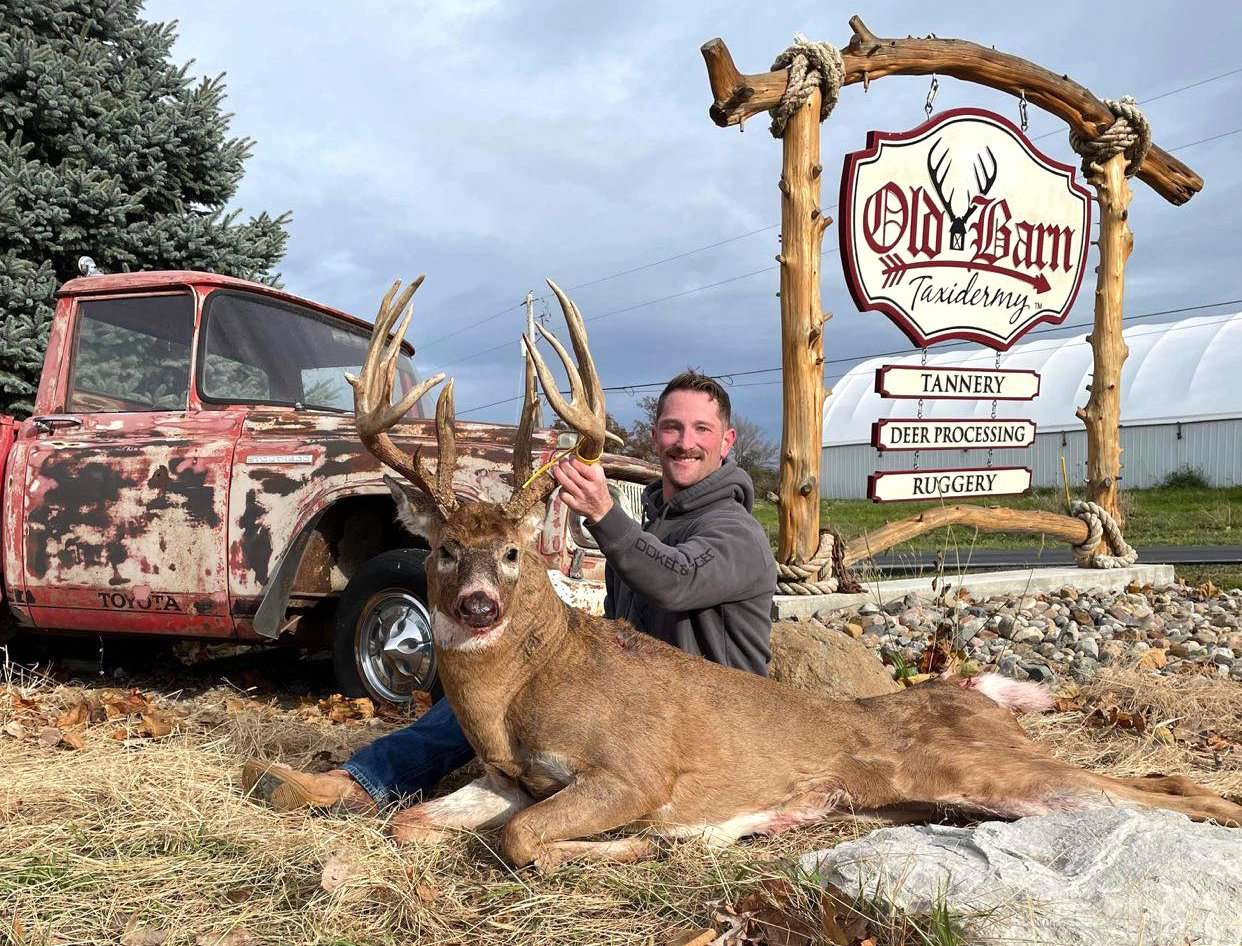 In an age where just about everyone uses trail cameras, it's hard for big whitetails to go unnoticed. But if it can happen anywhere, it's in the Hawkeye State. This season, Zach Mixer had the opportunity to hunt a 5 ½-year-old buck of a lifetime that he didn't know existed until a few moments before shooting it. This deer was a complete surprise, Mixer said. I had no trail camera photos or previous sightings of him.
It was a big streak of good luck in what had been an otherwise tough season full of mishaps. Mixer had dealt with issues with cattle, trespassers, and at one point, had even run over his own bow. On November 10 and 11, during what should have been the peak point of the season, he'd hunted hard without seeing a single deer. On the 12th, he opted to sleep in and skip the morning hunt altogether.
That's when his fortune changed.
Around midday, he went out for the afternoon sit. It was overcast and spitting snow with 20-mph winds out of the north-northwest. He knew some good deer were in the area, and he hoped the cool fall winds and rut would spark some movement. He decided to hunt a transition line between timber and soybeans. The wooded area was full of oak and hickory trees and intermittent dense cover. Deep valleys extended to the east and west.
I had one trail to my left at 5 yards, and another at 20 yards, Mixer said. In between those two trails was a community scrape. I had a trail camera on that scrape and had six bucks frequenting it often.
The hunt kicked off much like those before it — extremely boring with no deer movement. But around 2:40 p.m., everything changed. Mixer looked up and spotted a deer cruising along a trail with its head down. It was about 60 yards away, working east to west.
The trail the buck was on led across the west valley to an adjacent oak flat I knew was used as doe bedding, Mixer said. I could see a big frame and grunted at the buck twice. The buck stopped behind a honeysuckle bush. I could not see his head but could tell it turned and looked toward my grunting.
After a few tense seconds, the deer ran down into the western valley, and Mixer could then tell it was a very big one. He worried his grunts had spooked the buck. But after initially turning away, the deer reappeared and worked down along a trail that led into the cut soybeans. Eventually, it breached the 30-yard mark and started feeding on browse. Mixer couldn't shoot due to thick cover, though. Realizing the buck wasn't going to make it into the open, he emitted a very soft bleat, but the deer didn't even raise its head. Then, he softly grunted three times, but the buck didn't pay any attention to those sounds, either.

After a few long minutes, the deer turned and started working westward again. It disappeared behind some honeysuckle, and that's when Mixer went for broke. After seeing the size of this buck, I made the decision to be aggressive, Mixer said. I let out two growls and a long snort-wheeze.
Seconds later, the deer popped out of the timber, walked into the bean field, and started stomping its hoof. Looking for the source of the sound, it couldn't find it, and that didn't suit well. The buck slowly crept forward, head on a swivel, and eventually stopped just 10 yards from Mixer's treestand, offering a quartering-away shot. Already at full draw, the hunter released the arrow and watched it pass through the vitals and bury up in the buck's off-side shoulder. It ran back into the timber and disappeared.
Mixer gave the deer plenty of time to expire. Then, once his father, Brian, arrived, they started looking for the deer. However, with a high entry and no exit wound, there wasn't much blood.
Once inside the timber, the trail the buck took split and went in different directions. So, the two men split up and went opposite ways. Mixer went another 20 yards and spotted the buck across the valley. He met up with his father, and they both walked over to the deer.
We both stood speechless for a few moments, taking in the size of the deer, Mixer said. It was a humbling experience. I hoped I would have the chance just to see a buck of that caliber, let alone get a shot at one. The hunt was perfect. It was the perfect, climactic ending to an almost disastrous season. It was even better that I got to share it with my dad.
Of course, everyone was impressed by the buck, which scored 204 6/8 inches. I'm elated to have harvested a buck of this caliber, Mixer said. I think it's common for a lot of bowhunters to get frustrated when they aren't seeing any deer. It's slow days such as the ones I had the entire week prior that make a successful harvest even sweeter.
Interestingly, nine days later, his father killed a wide 10-pointer as it strolled down the same trail.
(Don't Miss: Rancher Stalks Monster Buck in a Cattle Working Pen)
Watch all the latest video episodes