The peak rut can be a difficult time to hunt mature bucks, especially on 70-degree days, but persistence paid off for Whitney Reed
Rack Report Details
Buck:
166 7/8 inches
Time of Year:
Nov. 23, 2021
Place:
Garvin County, Oklahoma
Weapon:
CVA Cascade .308 Rifle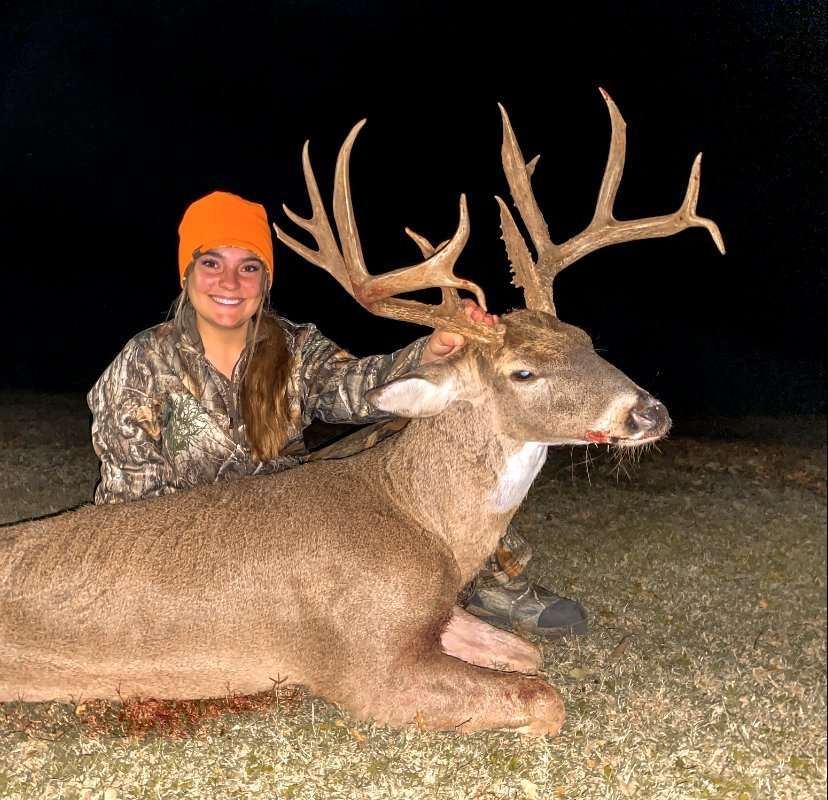 Whitney Reed and her husband, Cody, spend a lot of time hunting big Oklahoma bucks. As part of the Buckventures field staff, they understand whitetails. So it's no surprise that this 5½-year-old deer fell to a Reed.
We got permission on a new property in early July of 2021, and that's the first time we got him on camera, she said. We called the buck 'Spider Man' because we had hundreds of velvet pictures of him with a spiderweb in front of the camera.
After about two months, we were no longer able to hunt this property due to no fault of our own, she continued. Luckily, we got one nighttime picture of him about three-quarters of a mile away on a different property. After that, we didn't get him back on camera until Nov. 1. Then, he stayed consistent on our property.
They monitored the buck for several weeks, and hunted some, but had no luck. On Nov. 23, they decided to move in. It was very warm for November, upward of 70 degrees with a southeasterly wind. Still, they thought they had a good chance of seeing Spider Man up and on the hoof.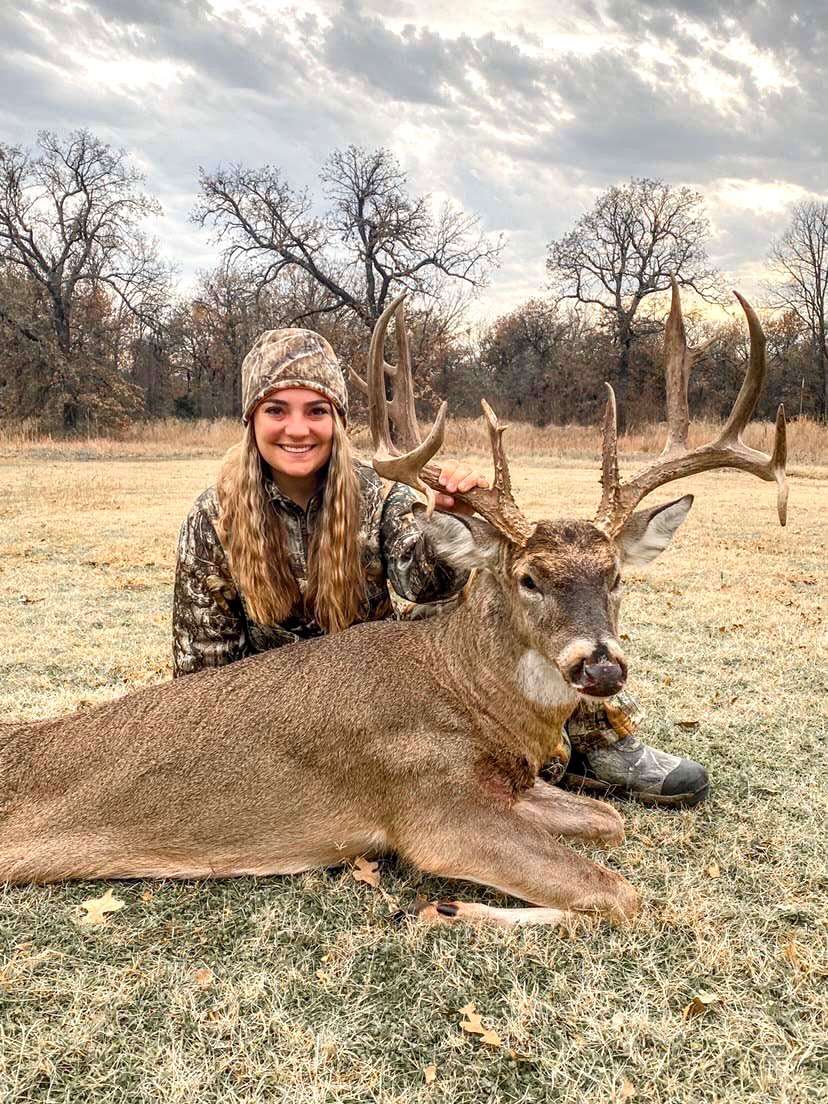 It was the peak of the rut for our area, Reed said. I had been hunting in that spot for five days straight, and bucks were chasing does like crazy. That morning, I sat in the stand and saw two bucks chasing a hot doe. Later that evening, the wind switched, so we sat on the ground below a pecan tree about 30 yards from the stand.
The duo was hunting in timber and pasture fields, and there was plenty of ground to glass. To the right and left of their location were two large funnels where deer pinched down. To the north was a small patch of timber full of oak and pecan trees. Directly to the south, a small pond shone at the end of a finger of timber with more oaks and pecans.
Most of the deer that we see, including the deer I shot, come from the north and funnel down that 3-acre patch of timber, Reed said. The south end of that timber creates a pinch point between the two funnels on my right and left.
About an hour into the afternoon hunt, a doe appeared about 100 yards away and walked down through the finger of trees. The big buck was right behind her.
She came in and started eating, but he caught our wind, Reed said. He stood behind a big pecan tree for about five minutes. He went ahead and came in to stay with his doe, and I got the shot off quickly.

With her CVA Cascade chambered in .308, she had the buck well within range. When it walked into the open, she touched off the 75-yard shot. It ran about 50 yards and expired in the middle of the open field.
We weren't expecting to see much because it was so warm out, Reed said. Just goes to show that consistency is key. I am so blessed that I was able to chase a deer like that. The good Lord blessed us for sure.
While the buck scored 166 7/8 inches, it was the character of the rack that impressed her and others so much. Rarely do you see a buck grow a drop tine, let alone two of them.
This deer means so much, Reed said. I absolutely worked my tail off to get an opportunity at this buck. I have been putting food plots in, hunting hard, and so much more for years, and it finally came together. He is my biggest to date. People couldn't believe he has drop tines coming off his main beams.
(Don't Miss: Willie Robertson Shoots Giant Arkansas Swamp Buck)
Watch all the latest video episodes