Chris Dussold knows big whitetails and has been tagging them for decades, but this one was just a little more special
Rack Report Details
Buck:
194 inches
Time of Year:
Nov. 20, 2021
Place:
Bond County, Illinois
Weapon:
20-gauge slug gun (Savage 220) Shotgun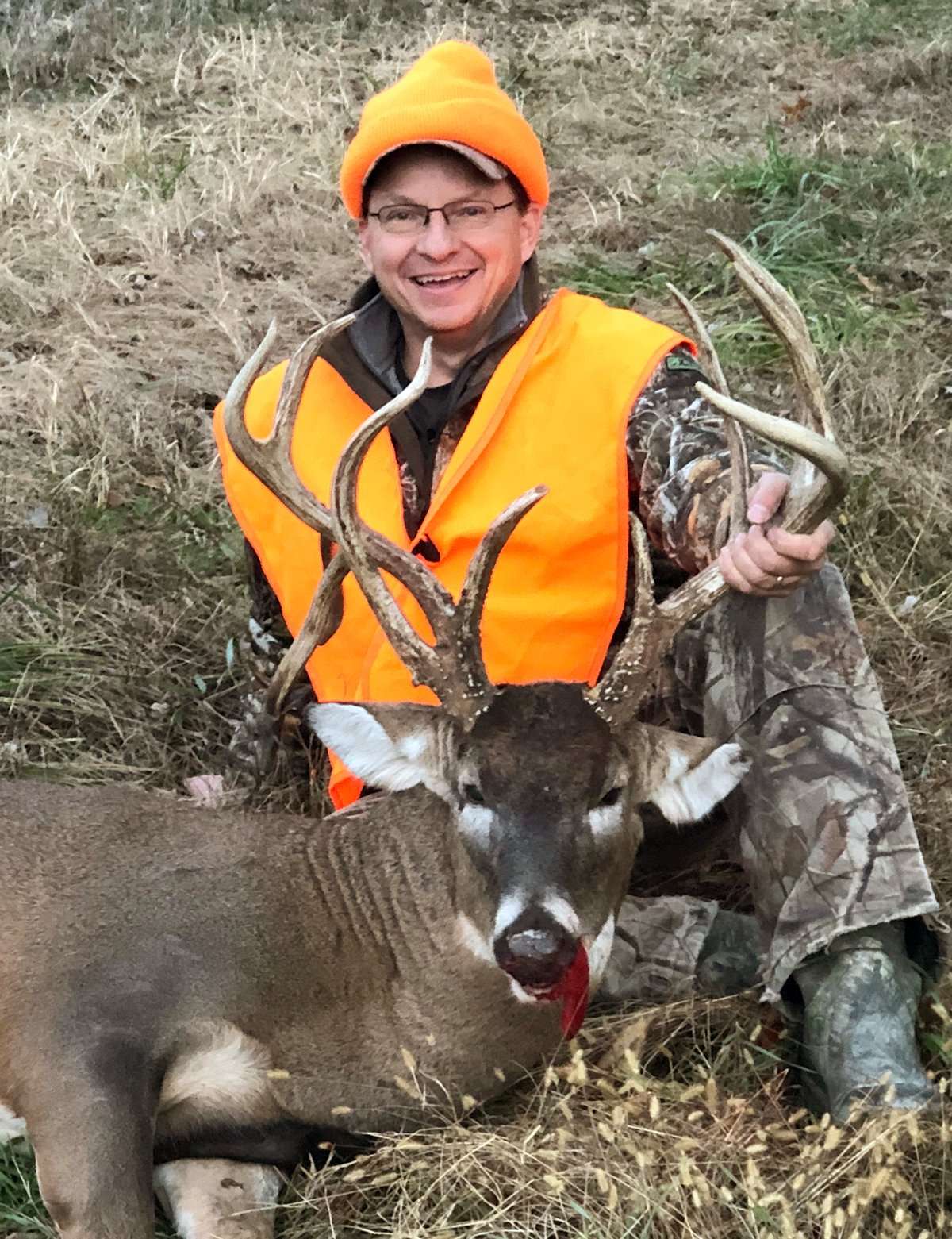 Chris Dussold is one of many Midwest Whitetail field staffers who produce quality hunts each year. This season was no different, and he connected on a huge deer he'd been hunting for multiple seasons.
Deer hunting is my absolute favorite thing to do, Dussold said. It's about much more than harvesting an animal. It's about spending time with friends and family in the outdoors. It's about learning from the successes and failures and developing plans to maneuver the relevant variables to increase the odds of success. The most important thing isn't a successful hunt — it's growing and learning as a hunter and steward of the land, as well as improving the habitat of the wildlife that reside on it.
He grew up chasing whitetails, has a long hunting career, and has hunted on the farm he owns now for the past 20 years. When this deer nicknamed Droppy showed up, Dussold was all in.
The buck was always big and had a massive rack even last year, but it was just as big or bigger this season as a 6½-year-old deer. I had a solid three years of history with this deer, each year arriving earlier in the season, he said.
This time around, it all boiled down to Nov. 20, with an encounter he'll never forget. It was partly sunny with a mild southerly breeze, and temperatures in the mid-40s. His hunting location was a Redneck blind on a 10-foot tower positioned at a crossroads between two adjoining fields. Standing beans were on all four sides, and about 100 yards to the south was a clover plot.
As he sat there waiting for deer to begin moving, he couldn't help but think about the 31 deer he'd seen the day before, and a sighting of Droppy out in the soybeans to the east.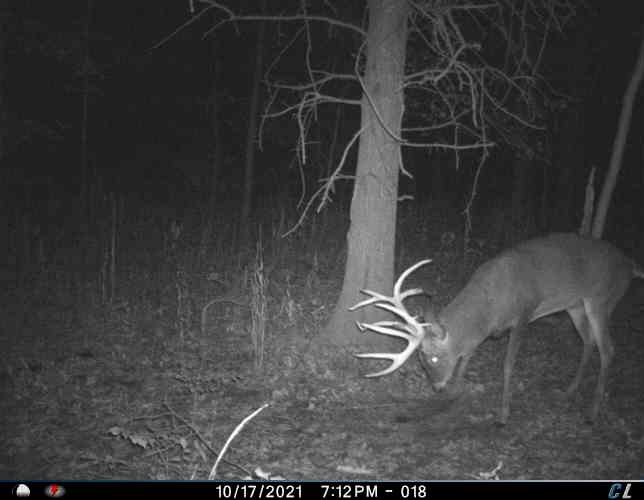 We hadn't heard much shooting the previous day, Dussold said. We knew the target buck was in the area from some recent Cuddeback photos. I prefer to let MRI [most recent information] dictate when and where I hunt on the farm. I had hunted the deer dozens of times over the course of three seasons. I had numerous encounters as well as plenty of trail-cam photos and footage.
His plan worked out. Two does entered the field first. With the rut still rocking, he thought a buck might be behind them. He was right. Less than a minute later, Droppy materialized in the timber and walked toward the does out in the soybeans.
He chased them around just out of range for a while. Then, one of the does turned and ran toward the blind. Within seconds, the buck was within 200 yards, and in reach of Dussold's slug gun. He'd been watching the deer long enough that he was ready and waiting for an opportunity. Once the buck stopped, he settled the crosshairs and squeezed the trigger. The shot rang out, and the buck buckled. Droppy ran about 30 yards and fell in the field.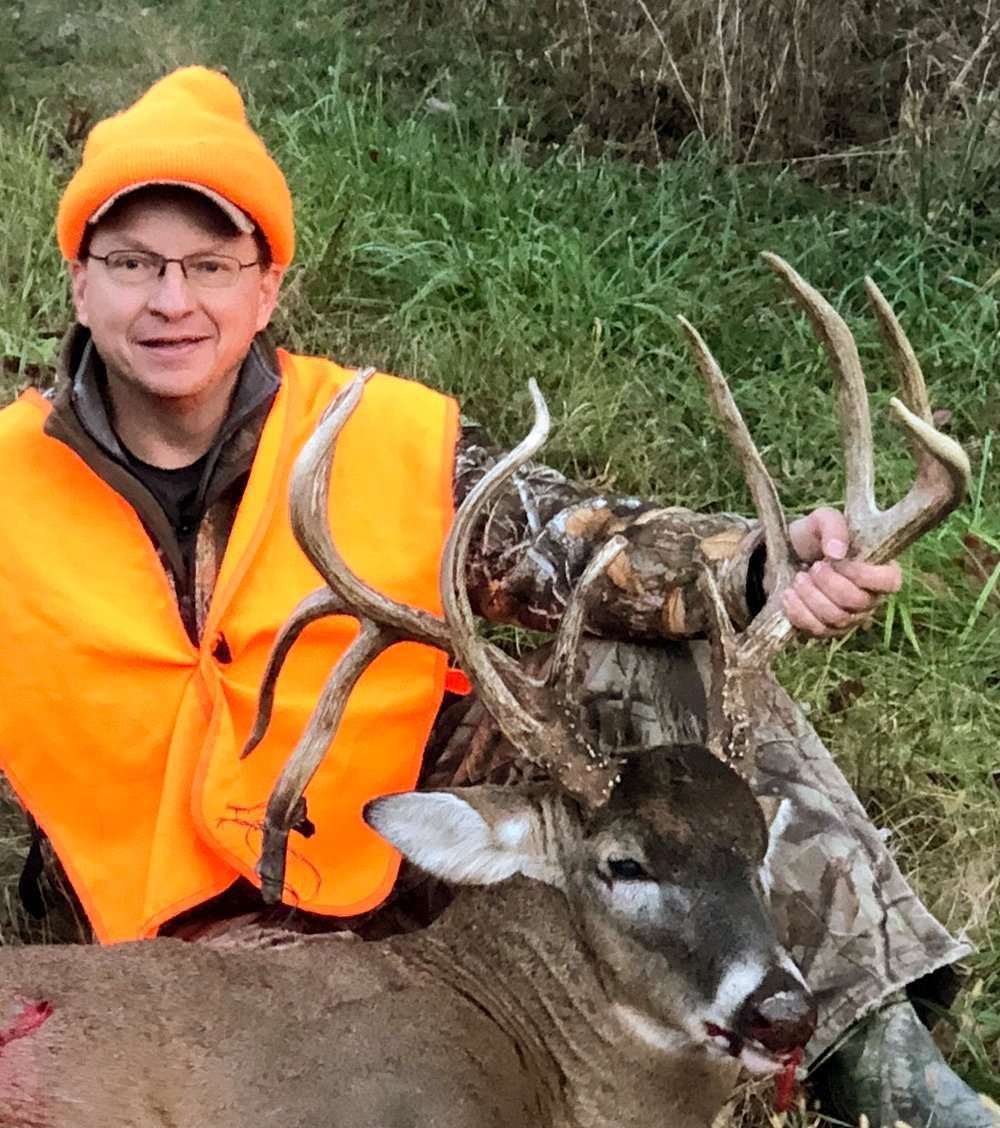 When I finally got to put my hands on his antlers, it was exciting but also bittersweet, Dussold said. All my efforts at the farm are centered around improving wildlife habitat, especially growing mature whitetails. To harvest a mature buck, it's important to use what you've learned to improve your odds. Things such as utilizing trail cameras, wind direction, food source selection, understanding of bedding area locations and overall deer movement between food, water, cover, and bedding, are just some of the variables that can improve the probability of encountering a mature buck.
Dussold obviously enjoyed the hunt, but he cherished it even more because his friend John Navin was there to experience it with him. They walked over to the buck and were shocked by just how big it was. The Illinois monster scored 194 inches.
This deer is the culmination of everything we strive for as hunters, Dussold said. This harvest was the result of years spent understanding the property, preferable food sources, stand locations, means of access and exit, as well as individual habits and movements of the mature deer on the farm.
(Don't Miss: Willie Robertson Shoots Giant Arkansas Swamp Buck)

Watch all the latest video episodes