Alex Wieging shot a great deer with his .450 Bushmaster, but found it with a size 11 boot
Rack Report Details
Buck:
183 2/8 inches (green score)
Time of Year:
Oct. 9, 2022
Place:
Marion County, Ohio
Weapon:
.450 Bushmaster Rifle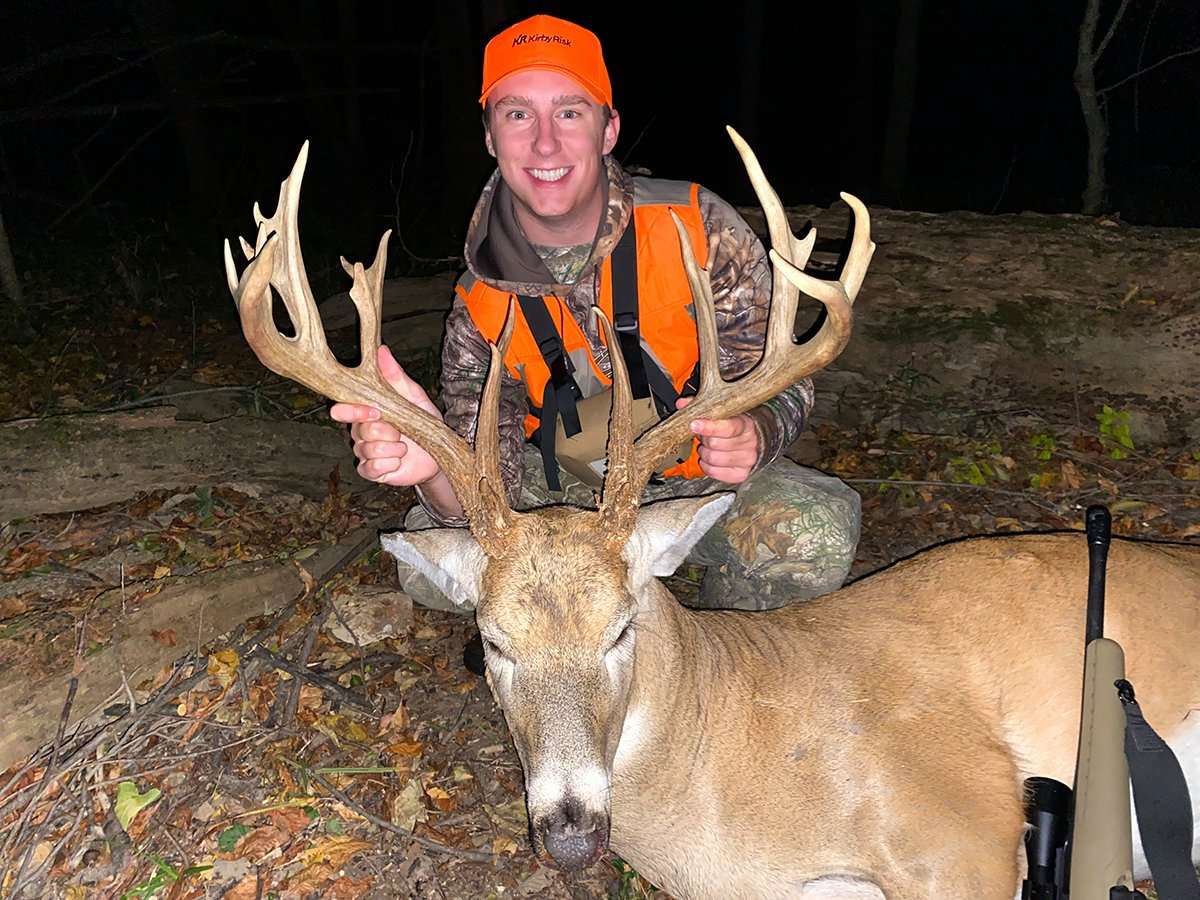 Ohio deer hunter Alex Wieging found himself in a unique situation this season. The Ohio DNR established an early gun season that ran Oct. 8 through 10. Wieging's goal? Get a crack at one of his target bucks — one in particular.
The first run-in I had with this deer was during the summer of 2021 — the first trail camera picture of him, Wieging said. I had an encounter with him during October of the 2021 season. He was a main-frame 10-point at that time. Come August 2022, I received my first trail camera picture of him in velvet. He went from a 10-point to a 21-point freak. I believe he added on all his character from the injuries he received during the prior season.
Oct. 9 was what Wieging called a picture-perfect day for hunting. A cold front was pushing through, and deer were on their feet. Hunting along some flat farm ground, he had to take advantage of the habitat, because topography was nonexistent. He camped out in a patch of timber surrounded by ag fields.
(Don't Miss: Iowa Bowhunter Arrows Old, Heavy-Beamed Monarch)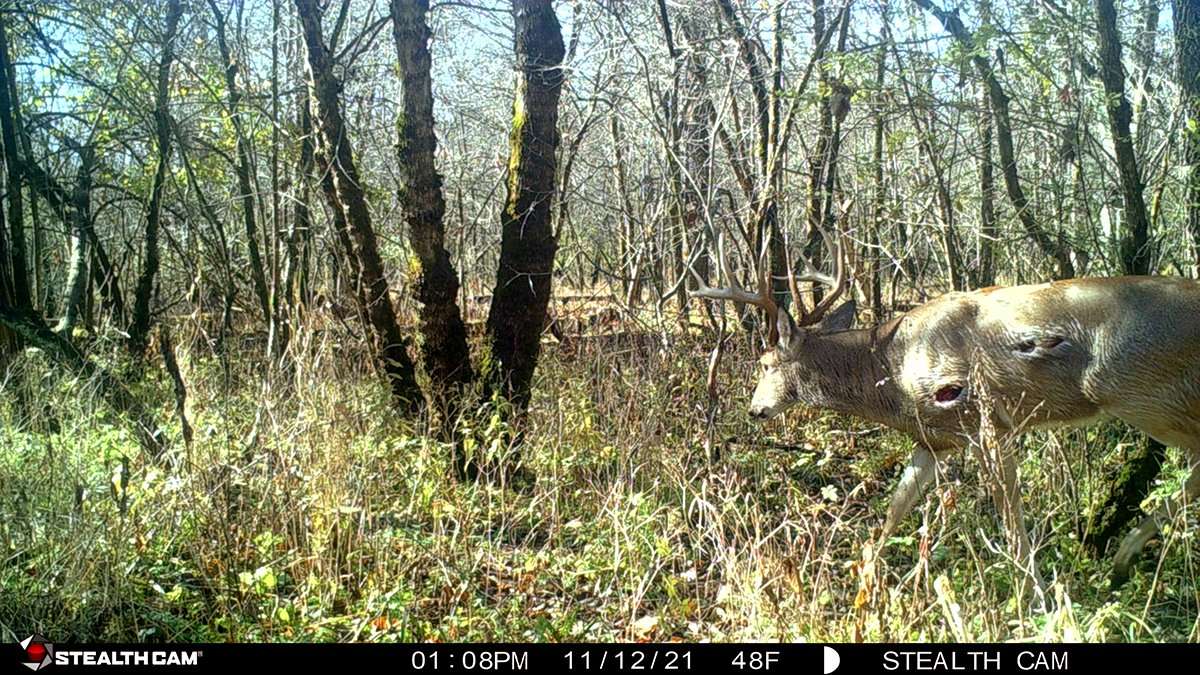 We always joke that it's so flat where we live that you could watch your dog run away for two days, Wieging said.
Fortunately, his dog wasn't running away, but he hoped the big deer would run toward him. Set up in some thick cover, he expected deer activity along a heavy trail. While waiting, Wieging kept thinking back to his encounter with the buck the previous October, which didn't end with a filled tag. He'd already seen the deer once this season, too, but the buck got away. He hoped for better luck.
After Wieging settled in, two cardinals entertained him for a while. Then, about 5:30 p.m., a few does kicked things off. Eventually, eight of them were feeding around his treestand. Around 6:30 p.m., another doe appeared, and the big deer was right behind her.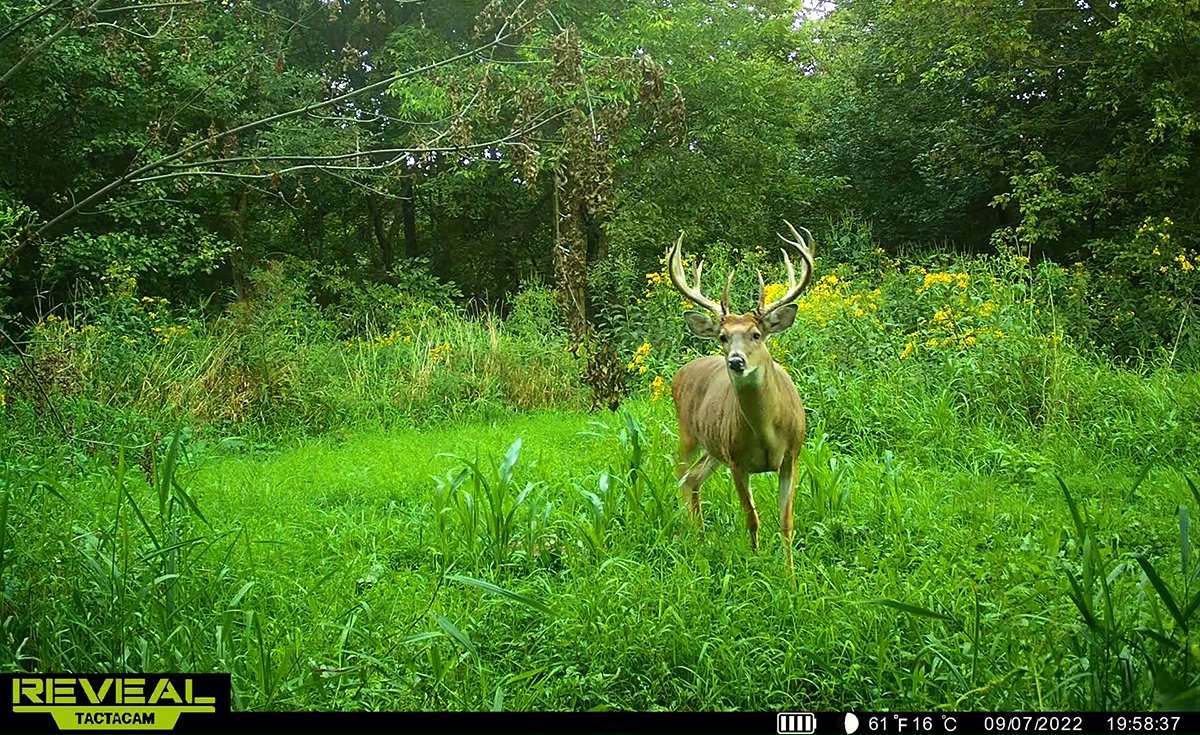 It was almost as if time stopped, Wieging said. I couldn't believe I was going to get an opportunity to take this deer. He was on the trail of the doe but hung up around 120 yards in the timber watching the group. He worked in another 6 yards, where he stopped again. At this point, I had a clear line of sight to him with no obstructions in the way. So, I settled myself, lifted my left knee up to prop my elbow on it to become sturdier, and wrapped my gun sling around my left forearm to stabilize. I then settled my crosshairs on his vitals and took the shot.
The 114-yard shot connected, and the buck tensed up on impact and ran out of sight. About 10 minutes later, Wieging descended the tree and started looking for blood. He couldn't find any. After a couple of hours of searching around at the point of impact, he decided to leave and return with help. A short time later, he and several friends resumed the search and brought a deer-tracking dog, too. Nearly two hours of searching revealed no blood and no deer.
Eventually, everyone got very quiet.
I think everyone was starting to think the same thing I was — either I missed him completely, or I wounded him and he's already three counties away," Wieging said. "Before we called it a night, we decided to go to the very last place I had eyes on him and do one last grid search.
(Don't Miss: Oklahoma Hunter Shoots 7-Year-Old, 14-Point Buck)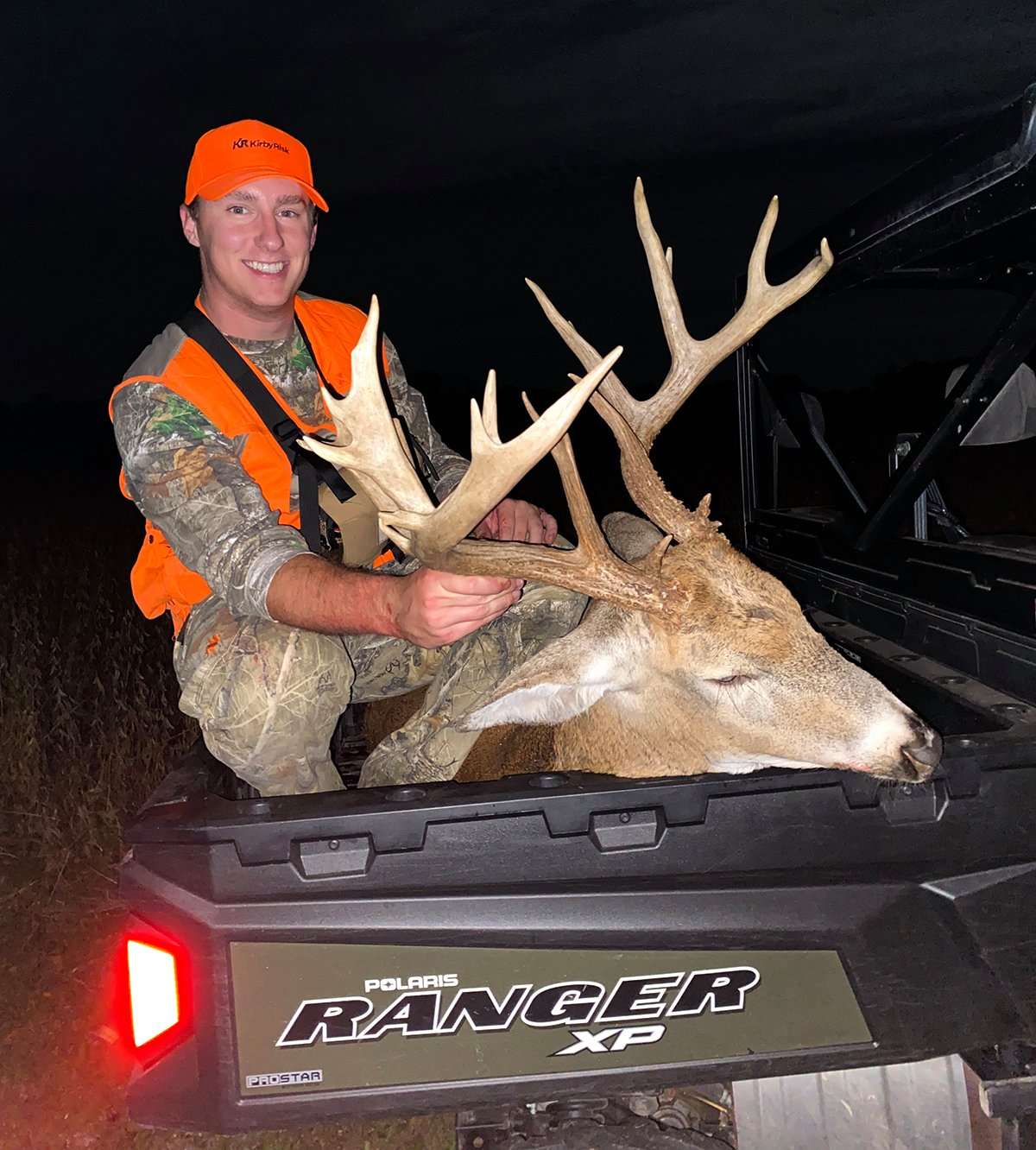 That effort revealed nothing, so they just started talking.
We all turned our flashlights off and just quietly talked to each other, telling stories about deer we heard that were never recovered, Wieging said. After we told our stories, I turned my flashlight back on and began walking again. I took a total of three steps forward when I felt my foot hit something stiff. I looked down at my feet in the thick grass, and I couldn't believe my eyes — I literally stepped on my buck.
Not believing what he was seeing, he yelled to the rest of the guys that he found him. After observing the deer, Wieging learned he'd hit the buck straight through both lungs, and the deer never bled a drop. Even its mouth and hide were clean.
I wouldn't have been mad if it went a little more smoothly, but in the end, I found the deer, Wieging said. Everything happens for a reason. I think someone was looking down on me from the minute I saw the two cardinals in the tree to the moment I had my hands on this deer of a lifetime.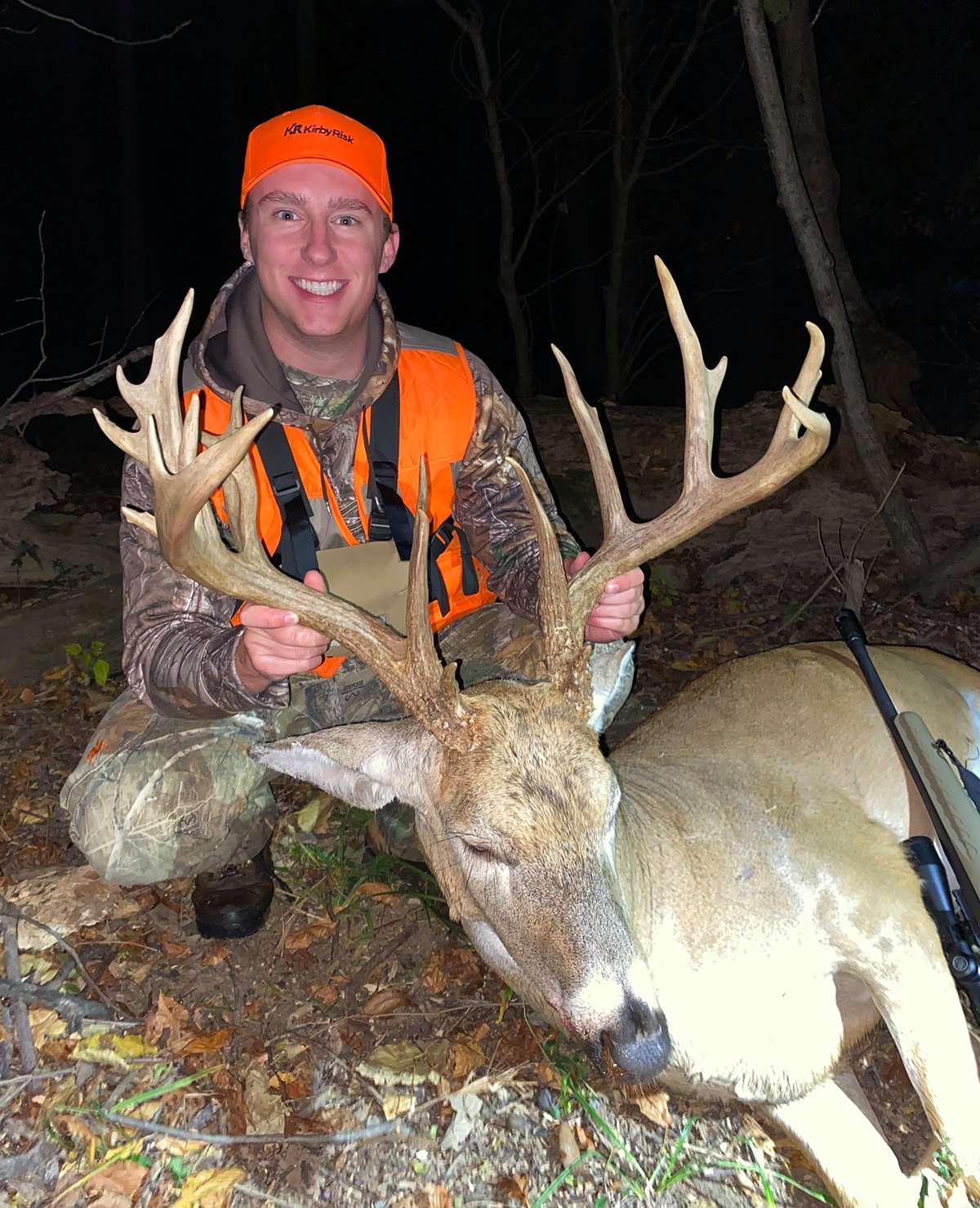 For those who might be wondering about Ohio's new early gun season, this deer was taken during that hunt, which was introduced within the state's disease surveillance area. It's designed to boost harvest numbers to help curb the spread of chronic wasting disease.
I am very grateful for the opportunity I was given to harvest such a beautiful animal, Wieging said. I always dreamed about shooting a giant deer. Now I can say I successfully made that dream come true.
This deer is estimated to be 5-½ years old. It green scored 183-2/8 inches.
(Don't Miss: Bowhunter Takes a Leak from Stand, Smokes a Cigarette, Then Shoots Giant Buck)

Watch all the latest video episodes