North Carolina Grandmother Shows Husband and Sons How It's Done with Monster Buck
Rack Report Details
Buck:
171 ⅜ inches
Time of Year:
November 5, 2022
Place:
Alamance County, North Carolina
Weapon:
CVA Wolf
Karen Nielsen didn't grow up in a hunting family. But she's a mother to three sons and a grandmother to nine, and she learned long ago that the best way to spend time with her family in the fall was to go hunting with them. At first, she just went and sat in the stand with a camera, enjoying being outdoors. Eventually, Nielsen started hunting by herself, until it became a family affair each fall.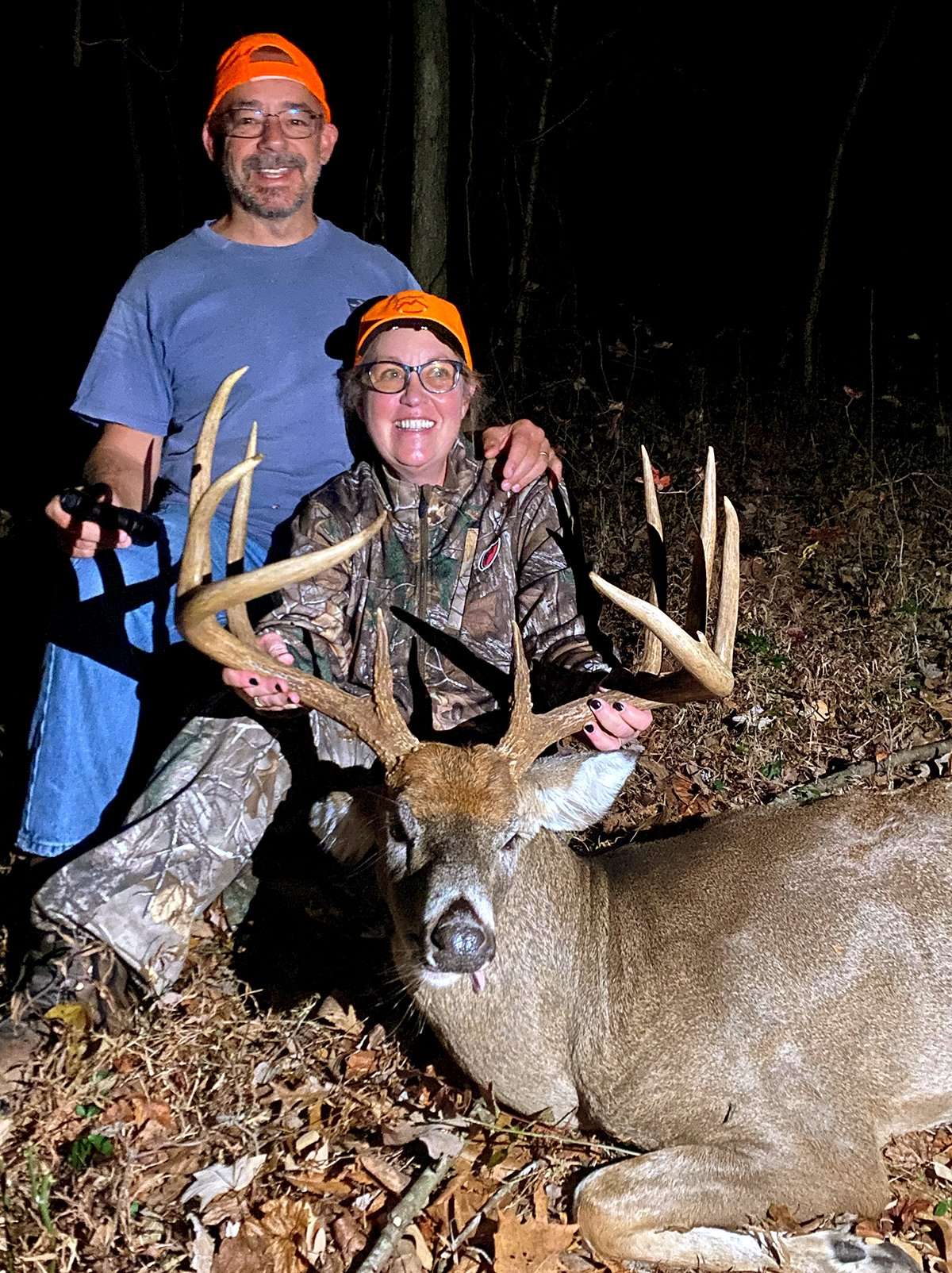 Now that her boys are grown and married with families of their own, Nielsen still enjoys spending time afield with her family. With each of my nine grandchildren, the first thing my husband and I did was buy them a lifetime North Carolina hunting license before they were even a year old, she said.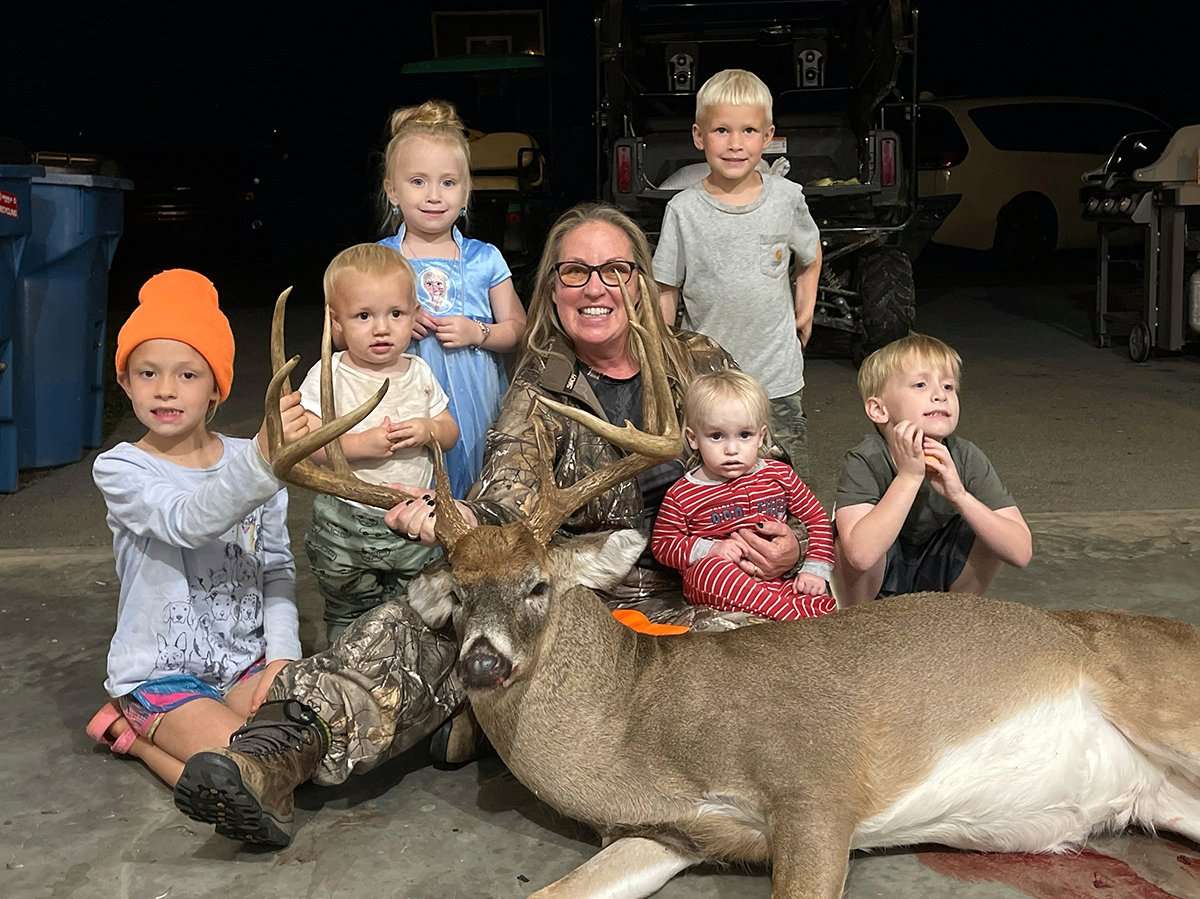 On the day of her big hunt, the North Carolina muzzleloader season had been in a few days. Nielsen had spent the previous Friday with her grandkids and debated on even hunting Saturday evening, since it was very warm outside. But she decided to try her luck.
As the evening wore on, the weather kept deer movement low, but the squirrels were active and noisy all evening. Around 6 p.m., Nielsen heard what she was sure was a deer moving through the thick cover near her stand. The wind was swirling and Nielsen soon heard the deer make an unusual sound. It was almost like a snort you would hear when one catches your scent, but not exactly, Nielsen said.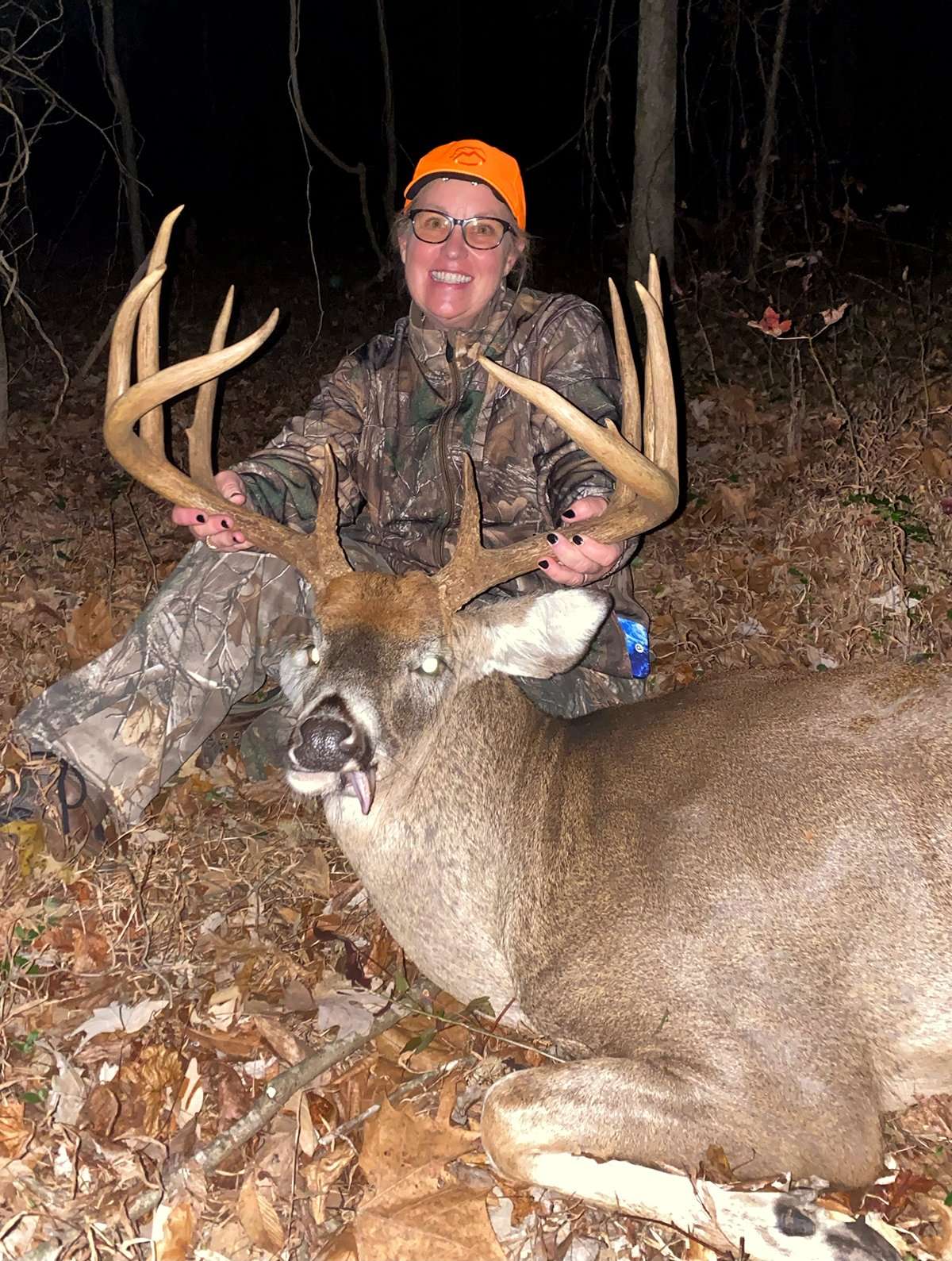 As the end of shooting light drew near, Nielsen glanced down at her phone to check the time. When she looked back up, there was a deer standing just 25 yards from her stand. I had on an older pair of glasses and I had to lower them to check my phone for the time. When I pushed them back up and raised my head, the deer lifted its head, Nielsen said.
It was a buck. With shooting light nearly over, Nielsen didn't have time to study the rack. She thought it was probably a nice 8 they had seen regularly on trail cameras in this spot. I raised my gun and tried to center the crosshairs," she said. "I was shaking and excited, so I made myself take a deep breath and calm down. I realized then that I was aiming a bit too far forward on the buck's shoulder and I eased my crosshairs back just a bit and squeezed the trigger."
(Don't Miss: Does a Snorting Deer Mean Your Hunt's Over?)
At the shot, the buck bolted into thick cover. Nielsen's husband was hunting nearby and immediately texted to see if she had shot. Her sons also began texting. I was trying to listen for the deer and ignore my phone buzzing. I heard the buck stop, then stumble, then start crashing through brush again, then it got quiet, Nielsen said.
After giving the deer plenty of time, Nielsen climbed down to search for blood. Soon, her husband, a son, daughter-in-law, and some of her grandkids showed up to help look. After 20 minutes without any sign, Nielsen was starting to get nervous about the shot.
Then she heard her granddaughter call out. Grandma, we found your deer! Her son and granddaughter had walked up on the buck in the thick cover.
Mom, you shot the big one, said her son, referring to a trophy buck that had shown up on their trail cameras a few times.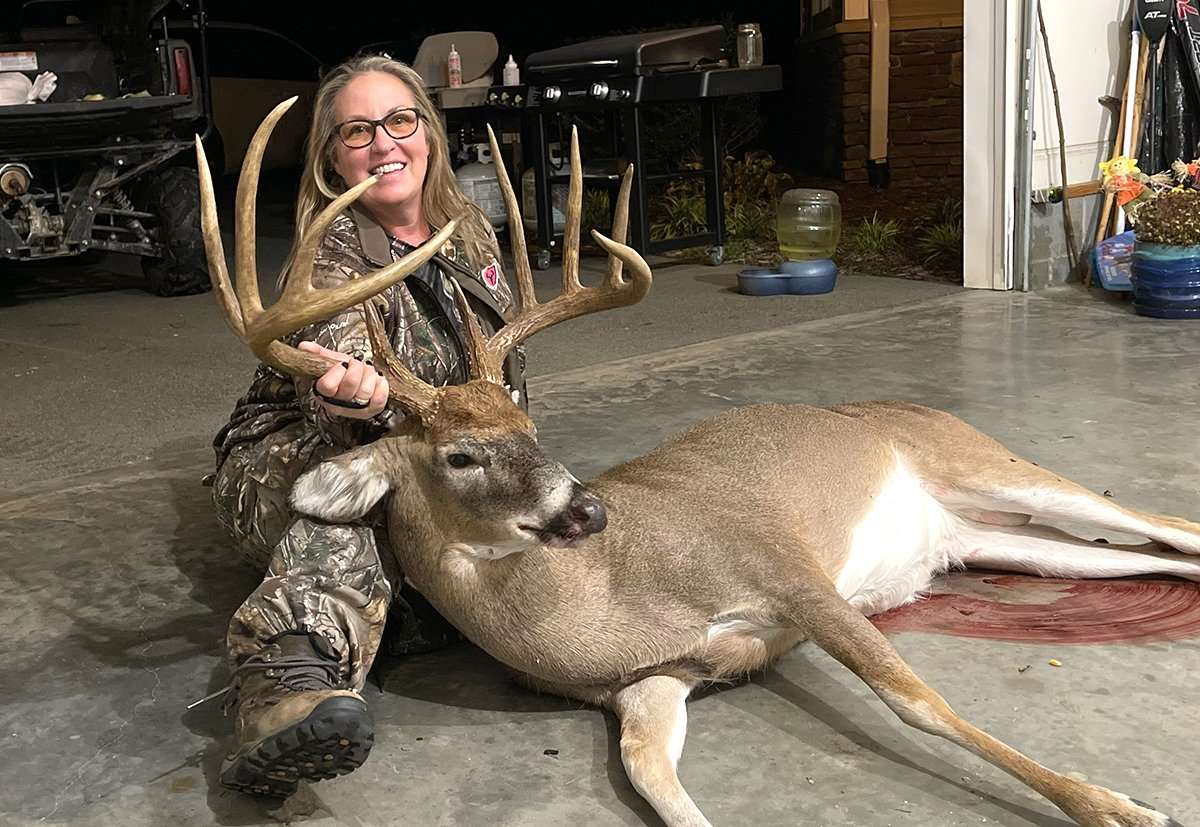 I thought they were teasing me at first, Nielsen said. They weren't. Even though they had seen the buck on camera a few times, this was the first actual sighting that any of them had. The shot had been perfect, hitting right where Nielsen had aimed at the deer's heart.
Nielsen's buck was a true North Carolina trophy. The big main frame 10-point taped out at a whopping 171 and ⅜ inches, making it the largest buck to come from the Nielsen's farm by a long shot.

I didn't go out with the intention of trophy hunting. I just wanted to enjoy the peace and quiet of the deer stand and hopefully kill a nice deer along the way. The first thing we did was print off pictures of the deer to give to each of the grandchildren so they would have a photo of their Grandma with her buck, Nielsen said.
Watch all the latest video episodes