Griffin McClain arrowed the 5 ½-year-old whitetail from his climbing stand a few minutes into a morning hunt in early October
Rack Report Details
Buck:
149 4/8 inches
Time of Year:
October 9, 2022
Place:
Citrus County, Florida
Weapon:
Compound bow Bowhunting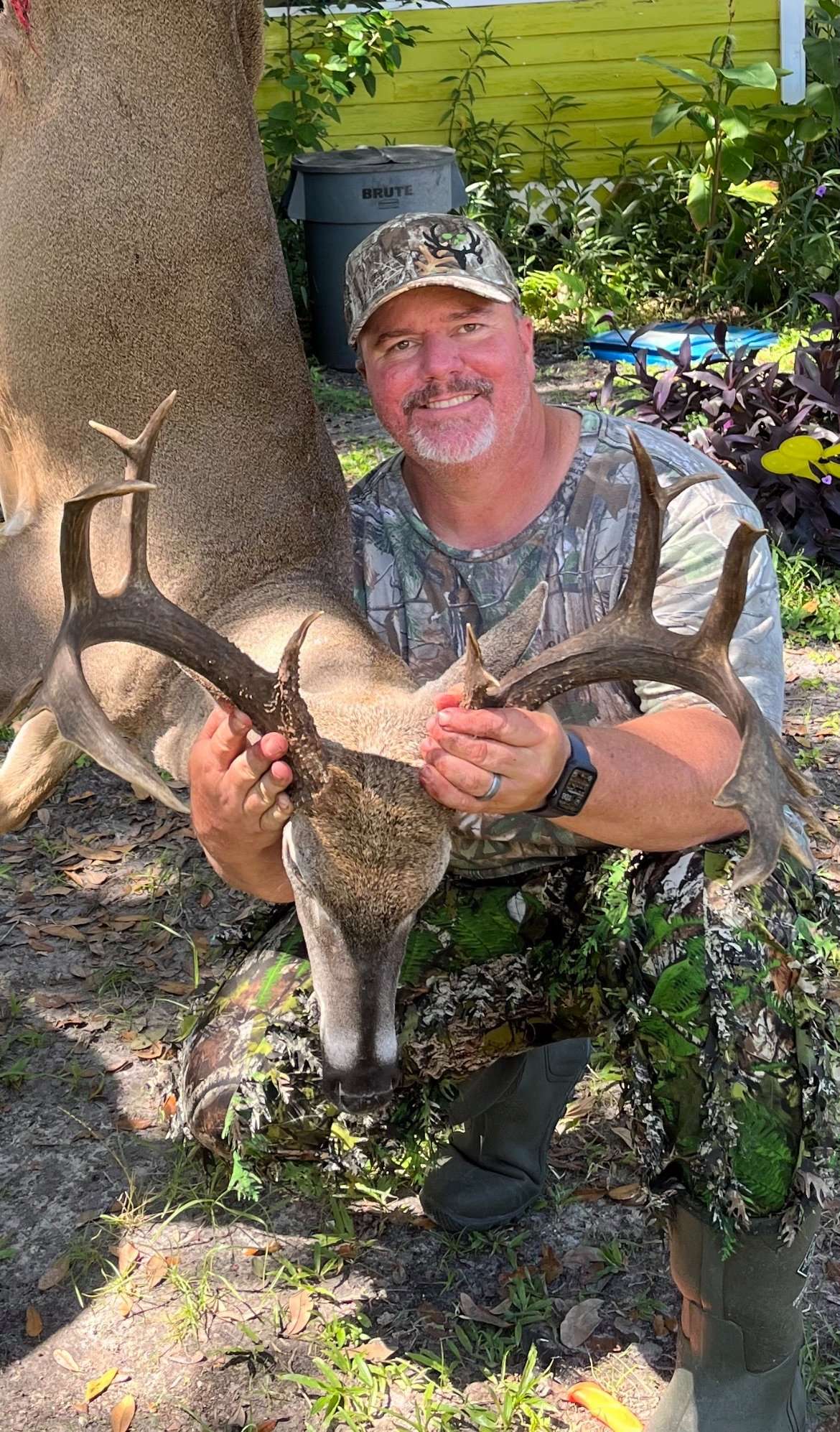 Last fall, Griffin McClain accomplished something few Florida deer hunters do: He shot a massive whitetail buck on public land. McClain has been hunting for about 20 years, and the 2022 season was an incredible one. McClain says it was his first year ever hunting public land, and it worked out quite well for him.
McClain first learned of this buck last season when it appeared on one of his trail cameras. He never hunted the buck last year, only monitored it. But since then, he's spent a lot of time scouting the area, running trail cameras, and fine-tuning hunt plans. McClain, his brother, and his brother-in-law all hoped one of them would catch up to the buck.
October 8, 2022, brought the first weekend of the management archery hunt. McClain saw the buck twice that day. It ran in and out of view a couple of times while chasing does, but unfortunately never offered a shot opportunity.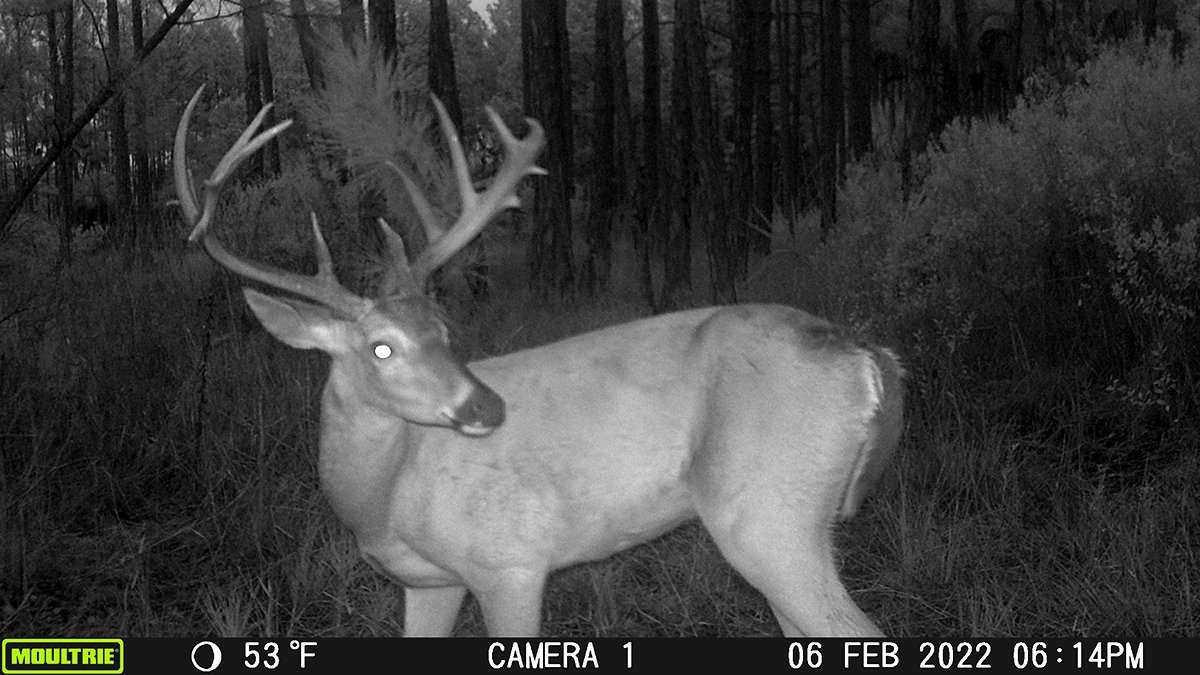 The next day, on October 9, 2022, McClain and his brother went afield again. It was hot, with temperatures in the mid-70s, but the deer were nonetheless moving well. Thinking the buck would still be in the same area as the day before, McClain returned to that location, which consists of swamp ground, pine thickets, and other early successional cover. His specific stand location was positioned between two ponds.
Hunting from a climbing treestand, McClain ascended to about 20 feet and settled in for the morning hunt. He scanned the palmettos around him, glassing in each direction and hoping for a glimpse of the buck. Several game trails weaved throughout the area, and it was likely the deer would appear on one of them.
It didn't take long for that to happen. About 10 minutes into good shooting light, the buck materialized for the third time. Within seconds, the deer was inside of 40 yards. McClain came to full draw, buried the pin on the buck's vitals, and took the broadside, 37-yard shot. He heard the arrow hit and watched as the buck ran off. The buck disappeared about 100 yards out, but McClain never heard the deer crash.
After waiting a few minutes, he descended the tree and went over to the sight of impact. He couldn't find the arrow but did locate blood. Still, he decided to call in a dog tracker. A Florida Fish and Wildlife Conservation Commission (FWC) representative helped with the track job, too. They found the deer in less than 10 minutes about 200 yards from the treestand.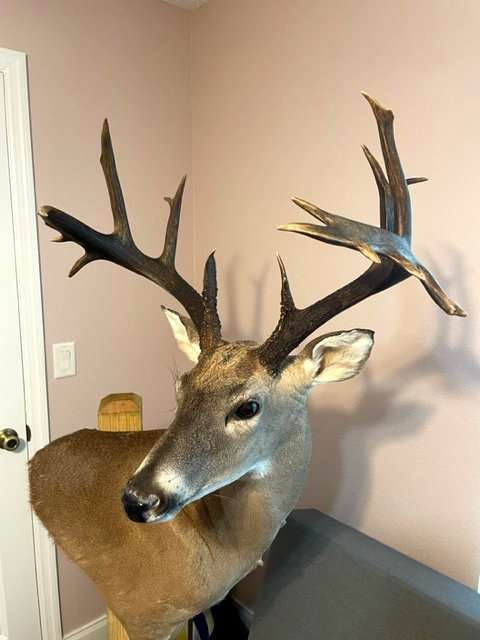 It was awesome, McClain said. Between my brother and brother-in-law, we knew we found a great trophy and were determined to kill this deer. It was just about who was there at the right time.
Looking back, McClain credits hard work and persistence as the cause for tagging this deer. Good scouting efforts, finding the buck's rub lines, and deploying trail cameras as necessary were key factors.
Capitalizing on hard work is great, McClain said. Peace of mind in God's creation is what I love. Just being out there. It was an awesome experience. I was born and raised in this town. To take a deer like this was amazing.
As one might guess, when it hit the Real Florida Hunting and Fishing Facebook page, it lit up the deer hunting world. FWC aged the jawbone at 5 ½ years old. The deer sports 17 points and scores 149 4/8 inches as a central Florida monster buck.
(Don't Miss: A Whopper Florida Buck on 5 Acres)

Watch all the latest video episodes