Rack Report Details
Buck:
152 green
Time of Year:
December 16, 2022
Place:
Randolph County, North Carolina
Weapon:
Savage Bolt Action .243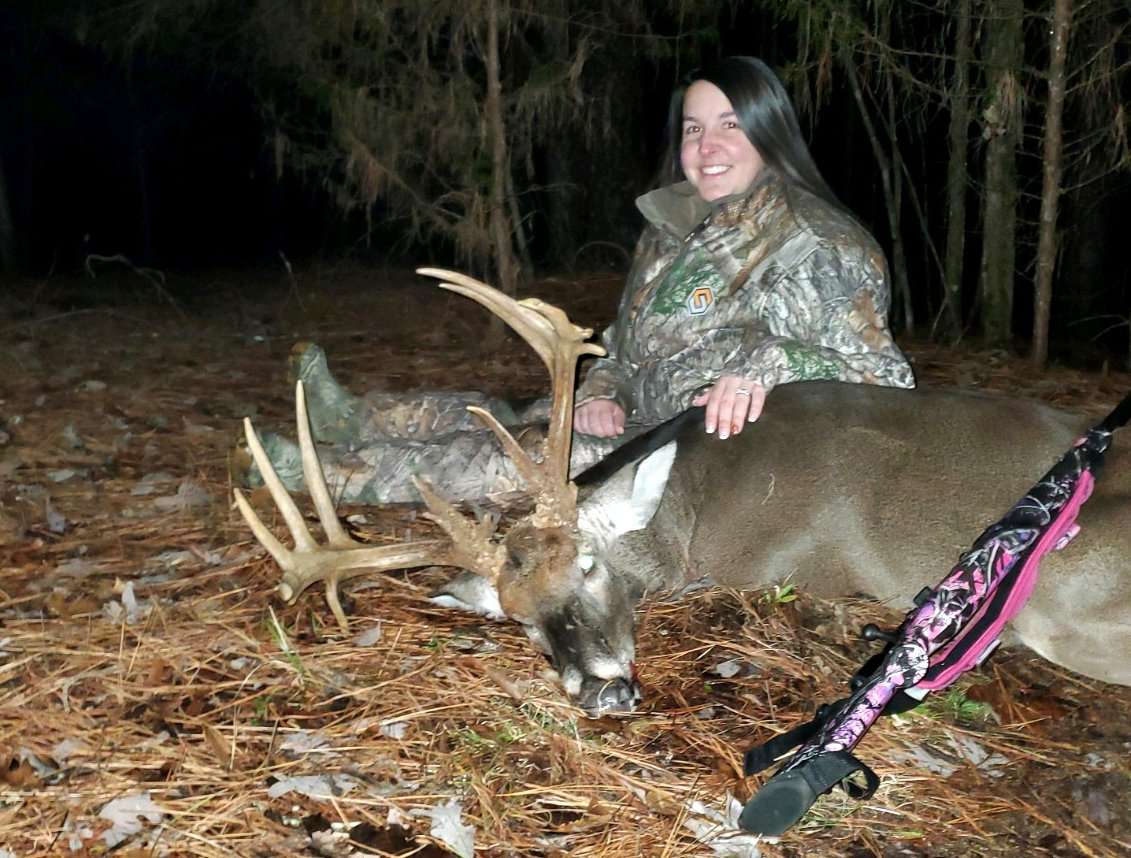 Any mom with young kids doesn't have much free time — especially for deer hunting. Just ask North Carolina's Morgan Moss. Being a mom of two kids that are both under 2 years old means it's tough to leave the house. Add in Christmas shopping and the other stuff this time of year and it's hard to get time to hunt, she said.
But when her husband, Tyler, called to say the expected south wind was perfect and there was a good chance that the buck they had been chasing would come by her stand this evening, Morgan rushed home from shopping, got the kids fed, arranged for a sitter, and hit the woods.
We knew this buck from last year. He was nice then, but we thought he needed another year to be really special, she said. Their patience payed off. This year, the buck showed up in early season with a massive 9-point rack that featured several kickers. Morgan, her husband, and her father-in-law all knew right away that this was a buck they wanted to take.
The trio hunted hard. The buck was on a regular pattern where he would show for a day or two, then move on to the neighboring property where the landowners were also after him. Tyler almost got his chance during archery season when he had the buck at 30 yards, only to run out of light before he got a good shot angle.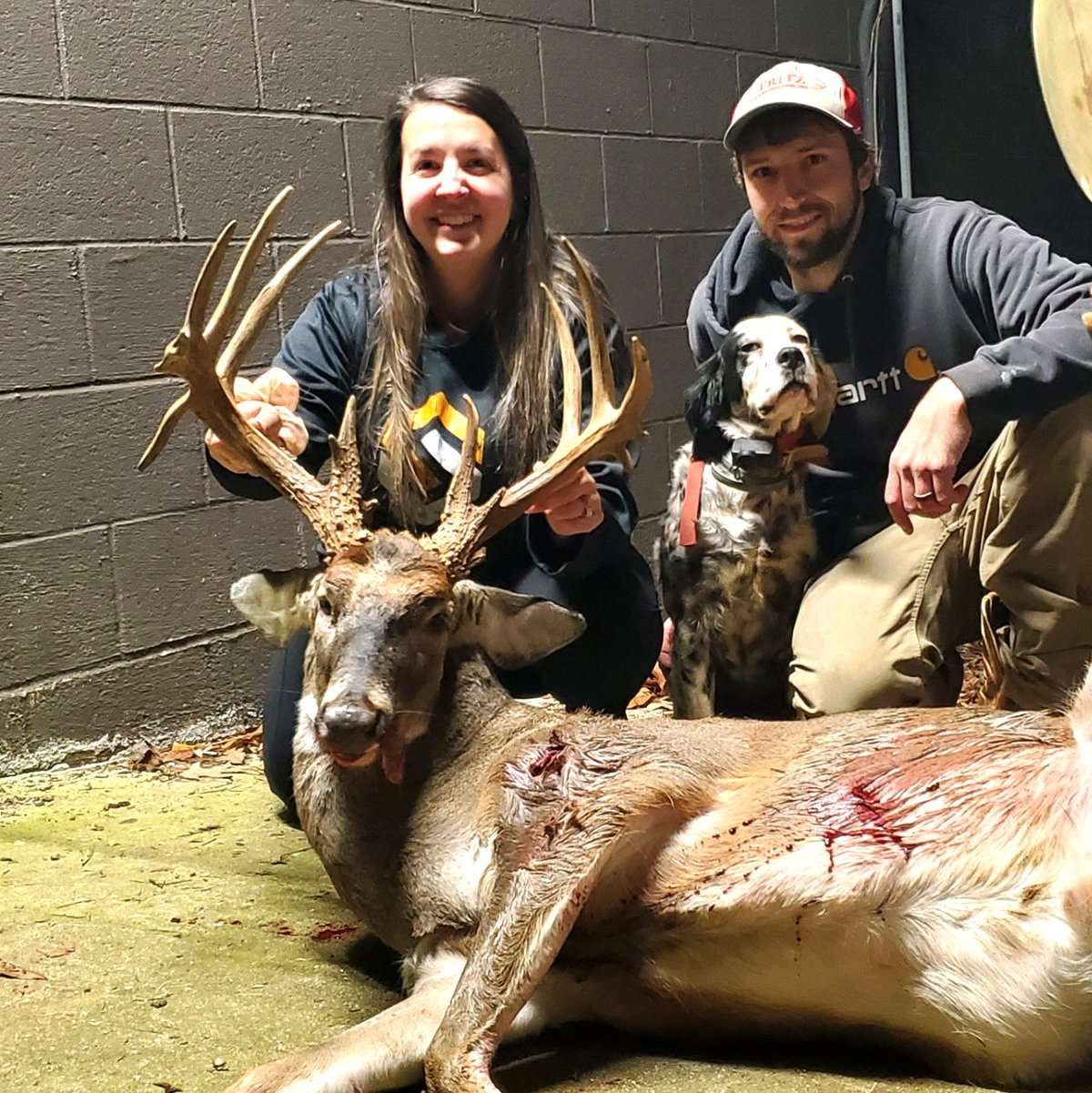 Morgan knew when she headed to the stand that there was a good chance the buck was still in the area. They had gotten trail camera photos of him that morning and, if he followed his usual habits, he would travel back through the area that evening.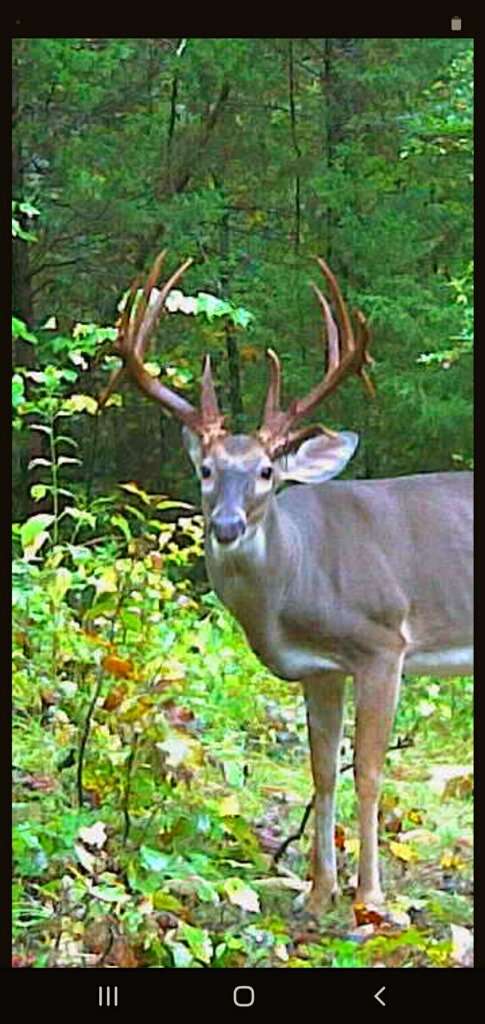 After rushing to the stand, she settled in, expecting a full evening of hunting. Right after she climbed up, a 6-point buck came out. Soon, a spike joined him. The two milled about for a few minutes. Suddenly, both bucks jerked their heads up to look down the trail. She heard another deer approaching. I just knew as soon as I heard the deer walking that it was him. He wasn't like some of the other deer who would stand off a while before coming in to feed. He always just barged right in and that is what this deer was doing, she said.
As soon as the deer entered her sight, she knew it was the buck they had been after. The deer came in to 20 yards and stopped. I was so excited, I was shaking all over. I got settled down enough to squeeze the trigger.
(Don't Miss: 10 Big-Buck Lessons Learned from Last Fall)
The buck bolted at the shot, ran about 30 yards, then stopped. Tyler always told me that if the deer was still standing to keep shooting, so I got the scope on his shoulder and put another one in, she said. The first thing I did was text Tyler. At first he didn't believe me, but then he was as excited as I was.
Once Tyler got there, the two started down the trail and soon found the buck. I was so happy. I had hoped all season that one of us would get him, but I never dreamed it would be me.
The buck featured a 5x4 main frame with five scorable stickers. Rut had been hard on the buck. His body was thin, weighing only a lanky 165 pounds on a massive frame. He had broken the 7-inch kicker that had been visible in early trail cam photos, too.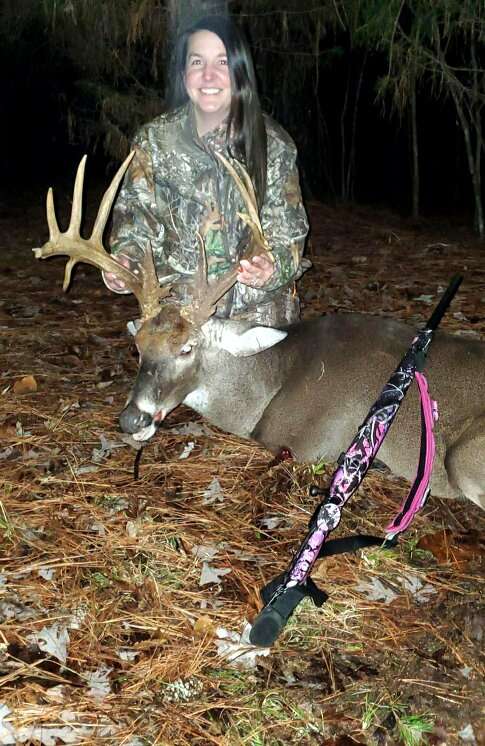 I've taken a couple big 9-points, but nothing like this, Morgan said. I just want to go to the taxidermist and look at him all the time, she laughed.
Morgan's husband and father-in-law were just as happy as she was. They were overjoyed that I killed the buck that everyone had been chasing, but after the two, maybe three, shots they heard, I gained the nickname Machine Gun Morgan. Morgan was happy to point out that all of the shots would have been fatal, she just didn't want to take a chance on the buck getting away.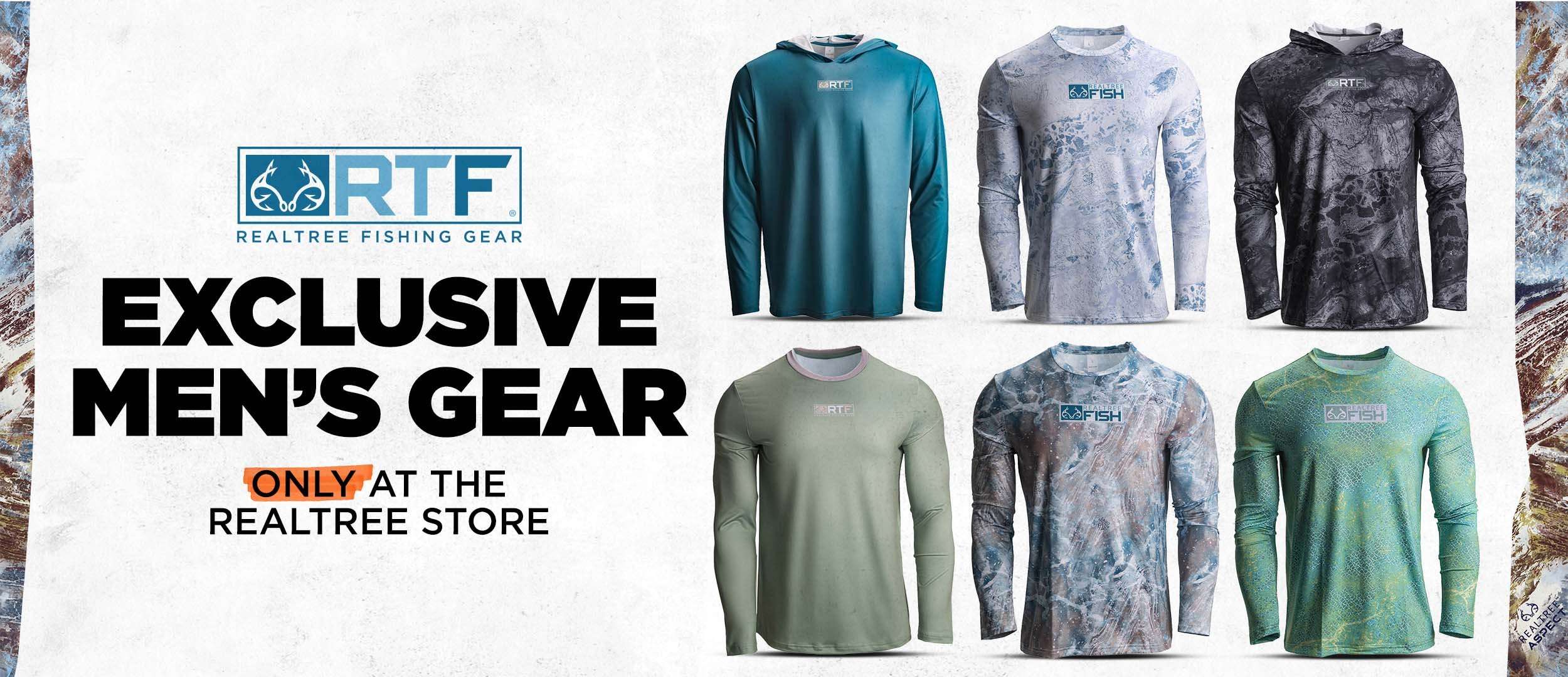 Watch all the latest video episodes