The inside story on the difference between those infomercial jumpers, and a sportsman's choice
Here at Realtree, we frequently introduce you to new products that make your time in the outdoors more enjoyable. Today, I'm going to introduce you to one that can save your butt. I should know; it just saved mine.
Featured in the photo is a new jump starter offered by Michigan-based Complete Battery Source. The unit allows you to jump-start just about anything, anywhere, without the need for another vehicle or cables. It also offers a convenient way to quickly charge a phone or a laptop - anything with a battery. You've likely seen similar products on television infomercials, offering simple convenience without the bulk. However, this particular product is a bit different, and better.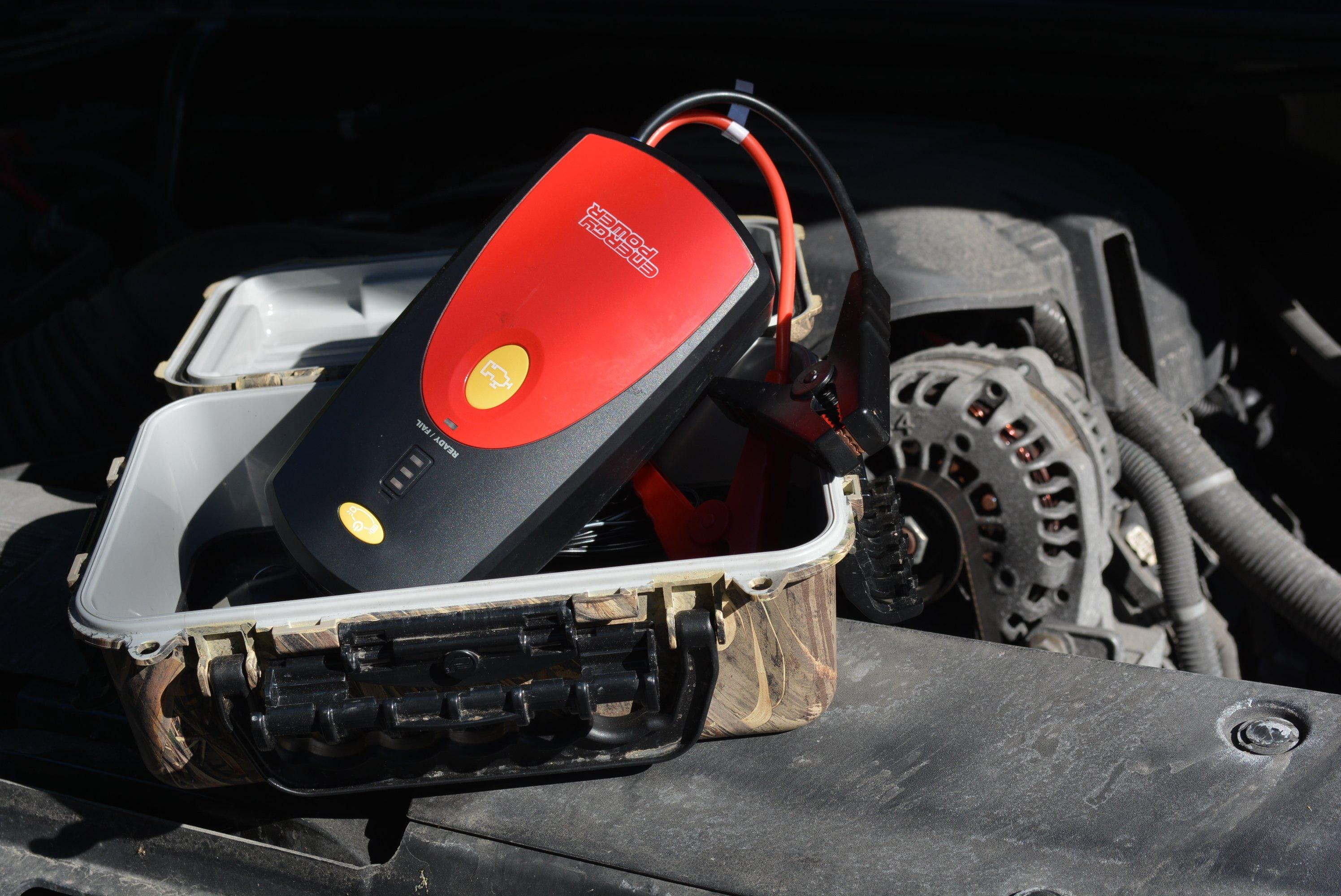 Not to get overly technical, suffice to say that the Complete Battery Source jumper is a newer, better version of the many original, lithium products. Using and internal lithium iron battery (versus a lithium ion source), the unit provides a longer-lasting charge and more discharges, and is much more stable and less prone to fire than earlier generation products (remember the airline warnings for lithium ions?).
Now then, back to my real-world example. I keep this jump-starter in my bass boat all summer long. While competing in tournaments, I often need to run my livewell pumps continuously to keep my catch alive for weigh-in, and such protocol has resulted in a dead cranking battery on more than one occasion. No problem, there, when carrying the jumper pack - despite my boat's giant 1125 MCA starting battery. Plug it in, hit the button, and away I go.
Following a dismal, rough-water tourney, I unloaded my wet, battered bass rig before covering it up; tossing much of my fishing equipment into my truck, including spare pumps, anchors, ropes and, yes, my jumper pack. Fast forward to the next day, as I was out scouting ducks in a remote location where I think a few teal might show up.
My labrador companion and I decided to take to the marsh, both for scouting duties as well as a few bumper tosses. After just a couple hours, we returned to the truck and found it to be completely dead. I have no idea what went wrong - perhaps a dome light was on, perhaps a switch shorted out - but, in any case, we were without any power, on a remote Great Lakes' island, with limited ferry service that was about to close.
You've probably already figured out the rest of the story.
My laziness, resulting in a truck filled with hunting, fishing, and dog training gear at any random time, resulted in a genius course of events.
I simply grabbed the jumper, plugged it into my truck battery, and my vehicle immediately started like the day I took it off the lot.
I contemplated my situation on the way home. What would have formerly taken several hours, as I waited for a buddy or a tow service to bail me out, now just took a minute. I immediately wrote it off, but later felt obligated to report my course of events in order to better prepare us all.
This new jumper pack is stronger and safer than any before. It's relatively inexpensive, considering the alternative, at under a hundred bucks. Recharging is a breeze, and can even be done in the boat or truck once fired up and running. And the jumper's small and lightweight enough to fit in my compact, waterproof camera box. This duck season, it's coming out of the bass boat, and into the duck rig. Permanently.