Her many accolades include being the first female shooter to achieve Grand Master status within the USPSA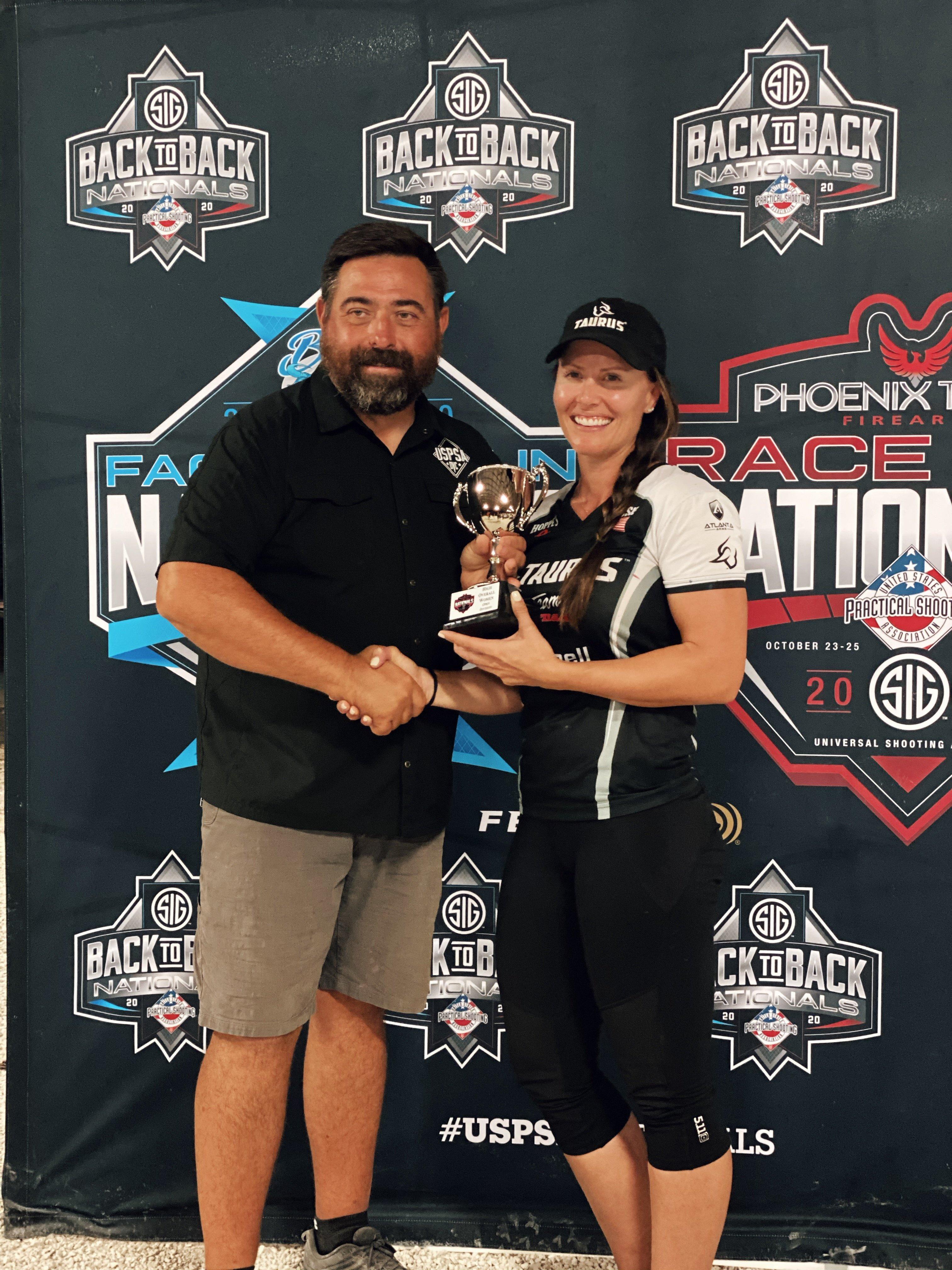 Professional competitive pistol shooter Jessie Harrison is no stranger to shooting success. In fact, she just secured the national title at the United States Practical Shooting Association (USPSA) Race Gun Nationals. She is also the first female shooter to achieve Grand Master status within the USPSA and has an impressive list of accomplishments across seven shooting disciplines. Despite her many achievements, simply winning isn't her end goal. She ultimately wants to leave the sport better than she found it and clear a way for more women to follow in her footsteps.
I recently had the opportunity to chat with Harrison. Read on to find out what it takes to be one of the top female shooters in the world.
SM: How did your interest in competitive shooting begin?
JH: My father introduced me to cowboy action shooting when I was 15. I loved shooting but I also enjoyed the time I got to spend with my family. In addition to my dad, my mom was part of it and my brother shot as well.
SM: When did you know that you wanted to shoot on a professional level?
JH: When I was young and growing up, I didn't know what I wanted to be. I didn't have anything I was set on … that is until I shot in my first competition. Then it just clicked with me. I knew I could be good at it, and I knew it was what I was meant to do and wanted to do.
SM: What makes you one of the top shooters in the nation?
JH: You can teach anyone to shoot and be proficient, but just like in any other sport, there is something that separates the top competitors and it can't be taught. It's something that comes naturally, a mindset and a drive within. I believe each top competitor has a specific talent or strength that aids him or her in their success. For me, I believe it's accuracy. I was taught the importance of precision and the speed will come, so I rely heavily and train to make other areas just as strong. I'm also competitive by nature, obviously, so mentally I compete against myself to be better and stronger. No one knows your weaknesses better than yourself, so that's your toughest competitor.
SM: What do you love about competitive shooting?
JH: I love that firearms and shooting sports teach discipline, responsibility, self-reliance, how to set and achieve goals, how to win humbly and lose gracefully. These are things that I use on the range and off. They translate to important life lessons. I also appreciate the mechanics and manipulation of the firearms. When I was younger and participating in cowboy action shooting, with single-action revolvers, lever-action rifles, pump shotguns, I loved how fast we could shoot those guns and the fact that they were designed over 100 years ago. Now I shoot more modern guns and I love the competition aspect. I thrive on that moment when you feel your heart race and the adrenaline kick in and having to perform.
SM: What obstacles did you encounter becoming the first woman to achieve Grand Master rank in the USPSA?
JH: Thankfully, there weren't too many obstacles in obtaining this achievement. I knew this was a performance-based ranking and all I had to do was put up the qualifying scores and it would happen (easier said than done); there wasn't a rule to say I couldn't. But with anything in life, there will always be someone who says you can't from a capability standpoint, and all that is for me is fuel to the fire. I'm very stubborn, so if you tell me I can't, I will! I wanted to be the first woman to attain this rank. It was one of my first goals I ever set. I wanted to show it could be done. I knew once someone earned it, regardless of who it was, that it would only be the beginning of other women earning the title as well. I'm very proud to have been the first Lady GM — it's one of my greatest accomplishments in my career and I only hope that it has given someone else confidence to reach their goals.
SM: How often do you practice?
JH: Short answer is about five to six days a week during the shooting season. As the season starts, I ease back into training, then as I get closer to major championships and the season is in full swing, I'm typically on the range training every day, traveling to a competition, or actually competing. If I'm not shooting, I'm thinking about it!
SM: You used the Bushnell First Strike 2.0 during your recent win at the USPSA Race Gun Nationals. What do you like about it?
JH: I've been using the Bushnell FS2 for a few years now. One of the things I prefer about this optic is it has a wider field of view than any other red-dot optic. I can see more through the lens rather than peripherally, which is a huge advantage. The adjustability of the red dot intensity is also important because it allows me to be flexible with lighting conditions and see what I need to instead of being stuck with the dot being too bright or too dim.
SM: What advice do you give other women who are interested in competitive shooting?
JH: For many women, shooting can be intimidating or they have a fear of the unknown if they've never shot before. I try to encourage or help them myself to push through any fear and break that barrier. The more you shoot, the more confidence is inspired, so just go!
SM: What type of hunting do you enjoy?
JH: I don't get to go hunting on a consistent basis because of my shooting schedule, so my hunts tend to be more guided than self-guided. I'd love to have property that I could maintain and hunt on my own when I have the time, but I don't have that luxury. So, I try to plan at least one big hunt a year and that allows me to experience a wide variety of hunts. I would have to say that I probably enjoy whitetail or elk hunting the most.
SM: Which Hollywood actors have you trained?
JH: I've been fortunate to have the opportunity to work with actors/actresses such as Michael B. Jordan, Lupita Nyong'o, Halle Berry, and Mark-Paul Gosselaar for various movies and shows. It's an interesting process to be a part of. Actors are kind of like chameleons and adapt very easily to foreign things. It's a fun take on what I do for sure.
SM: What is your ultimate goal as a shooter?
JH: There's still one match on my list that I haven't won yet — the IPSC World Championships, which essentially is our Olympics. It's held every three years. We must qualify within our countries to earn a slot, then can compete representing the U.S.A. Due to COVID-19, it has been postponed from November 2020 to November 2021 in Thailand. I also want to leave this sport better than I found it. I want to have used my time to better things within for the future generations, to help it grow and introduce new people to this world. The women before me paved a path in this sport that made it possible for me to achieve the things that I have. I just hope in all of my accomplishments, that I've done the same thing for the ladies who come after me.