Camp cooking is serious business around here. Here are the items we pack along to make it work.
The Timber2Table Camp Kitchen has been refined by years of deer camps, turkey camps, and family trips too numerous to mention. From a quick lunch to a full-blown meal worthy of a nice restaurant, we can probably handle it with the stuff we keep packed into a few large Rubbermaid totes.
Check out our list and compare it to your camp kit. Let us know what items you keep in your kitchen that we don't have.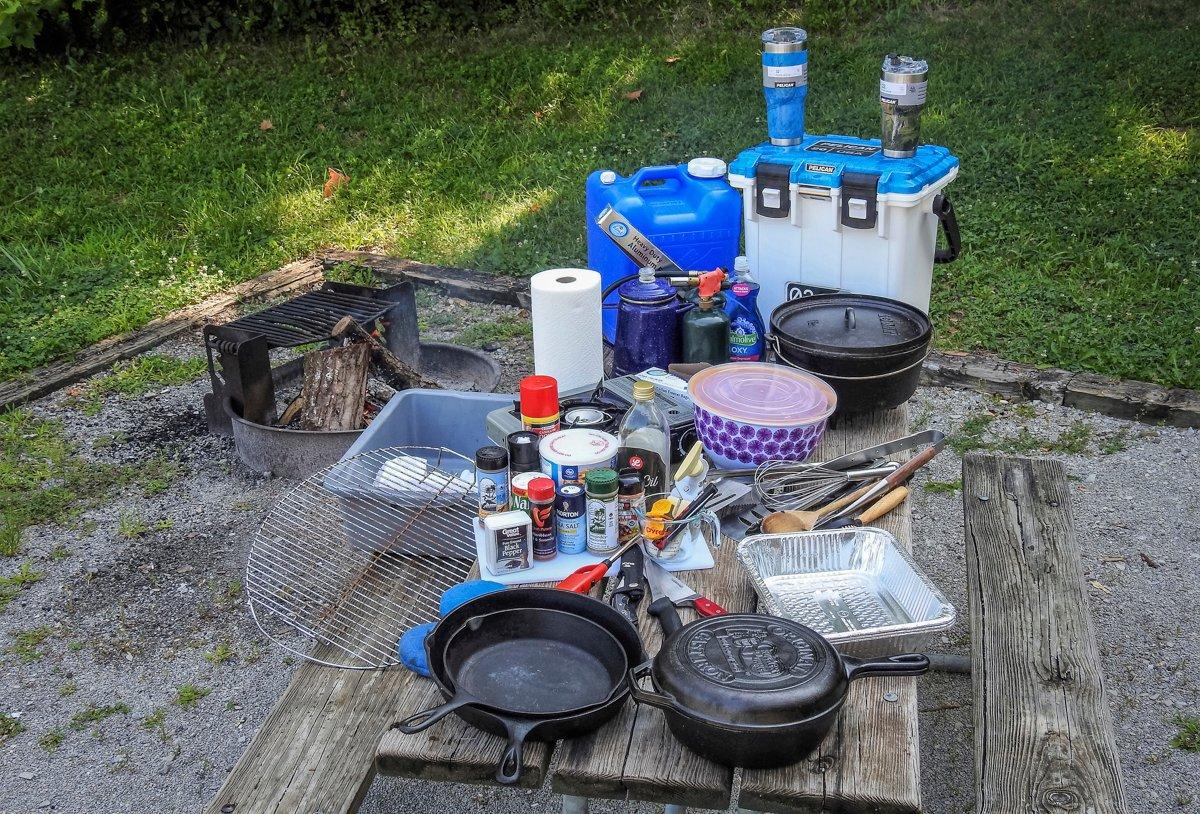 Heat source: We do most of our cooking over an open fire, but a propane stove is a handy item for rainy periods or just heating a small meal or leftovers when you don't have time to build a fire. Depending on the number of people in camp, we alternate between a single burner or two-burner stove. Both run off propane canisters.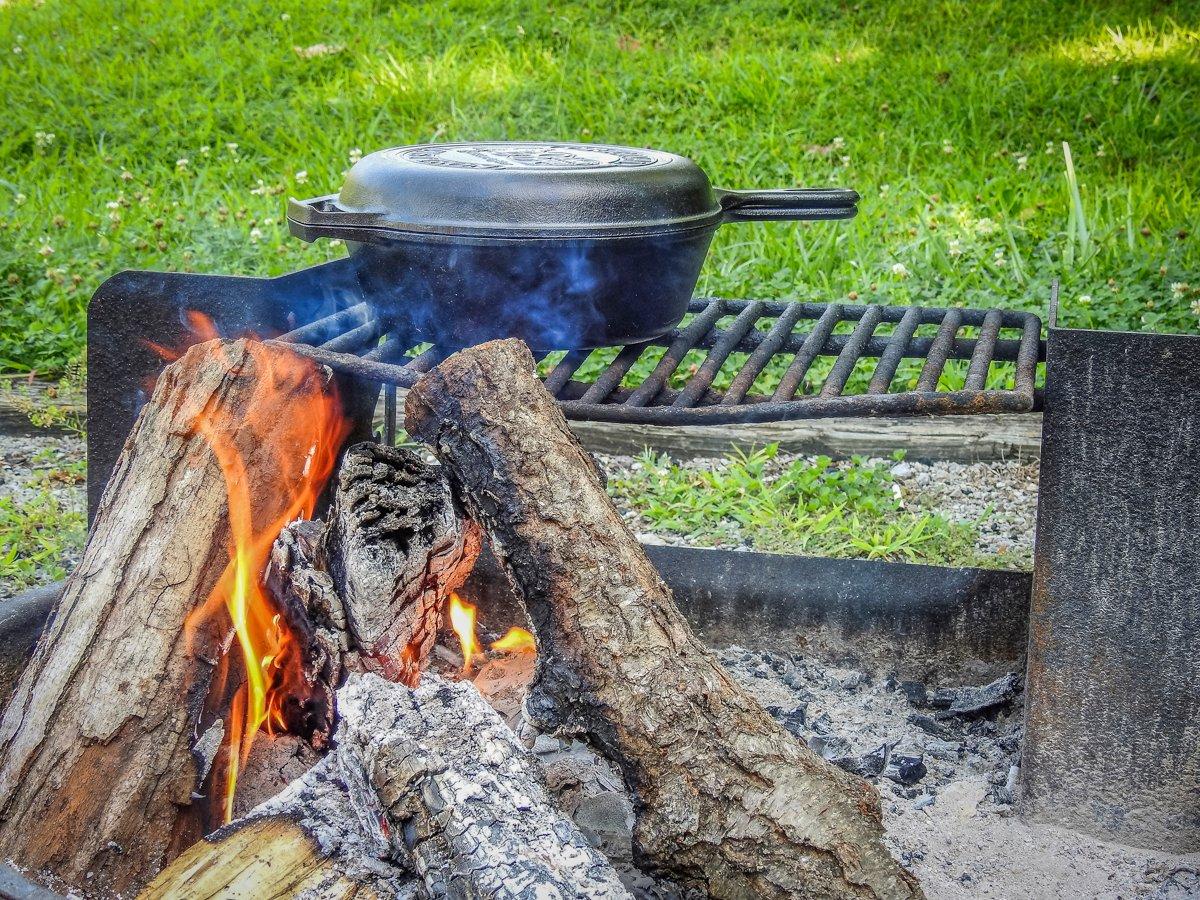 Cast Iron: All of our camp cookware is well-seasoned cast iron. It holds an even heat over an uneven fire, stands up to abuse, and just makes better-tasting food. Our kit contains a 12-inch Dutch oven with lid, a 12-inch skillet, a 10-inch skillet and a 10-inch deep skillet with a lid that doubles as a shallow skillet if needed.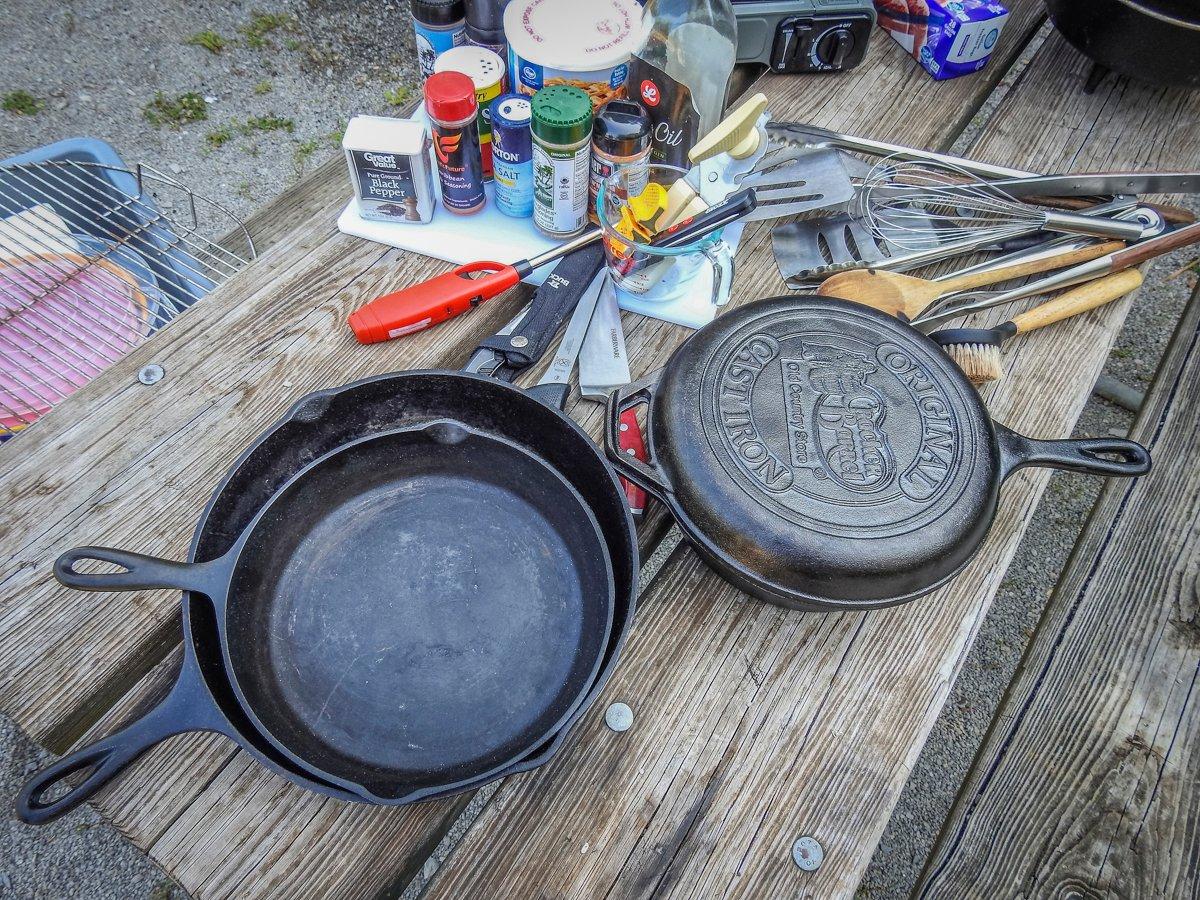 Grill rack: We keep a round grill rack in the kit for cooking over an open fire. Simply find a few large rocks to place around your fire pit to hold the rack at the desired level above the fire.
Rubber tub: A shallow plastic tub comes in handy for washing dishes.
Coolers: Rotomolded coolers are expensive. That said, they do a great job of holding ice for days. Not having to run to town daily for fresh ice is nice, especially if you are camping in the backcountry. We use a three-cooler system — one for drinks, one for raw meat and ingredients, and one for condiments, cheese, and other ready-to-eat items. We keep a separate plastic tote inside the meat cooler that is just a bit shorter than the cooler itself. All raw meat goes into the tote. This keeps the meat cold, but keeps raw meat juice from running out into the ice and the rest of the cooler. Check out the new line of Realtree Coolers from Pelican, they are built tough and keep ice for days.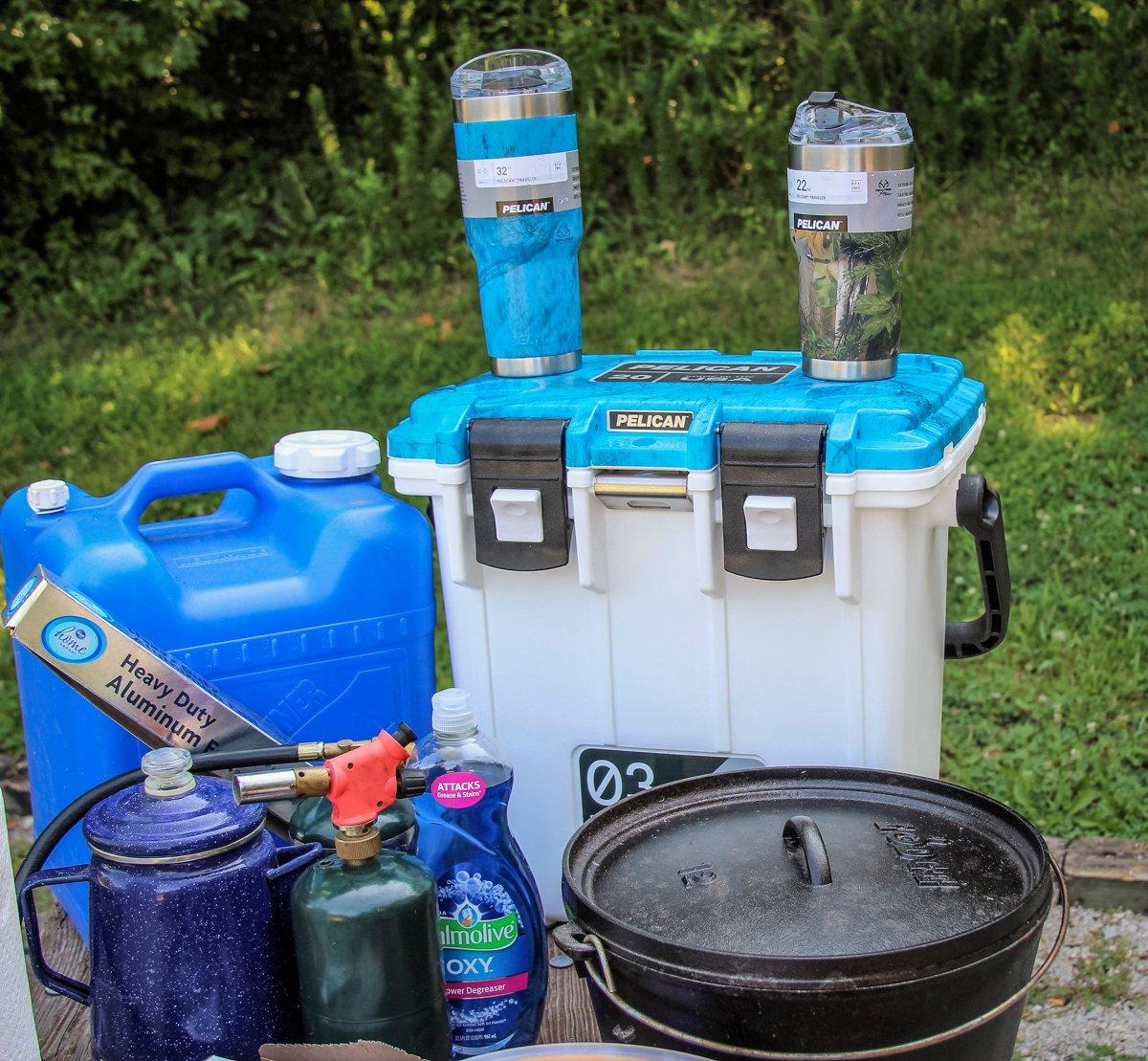 Coffee Pot: Coffee is a must when we camp. We use an old fashioned percolator-style coffee pot. We heat it over the fire or on the gas burner. Maybe it's just the surroundings, but I swear the coffee from that old pot tastes better than coffee from anywhere else. And speaking of coffee, bring along an insulated tumbler for everyone in camp. Our Pelican Realtree tumblers keep coffee hot for hours after the fire has been extinguished and the closing lid keep critters from using your drink as a hot tub.
Utensils: Our utensil list includes a couple sets of long tongs, a whisk, two long forks, a can opener, two spatulas (long handles and heavy-duty construction come in handy when working over an open fire), a couple of long-handled metal spoons and a large wooden spoon. Metal skewers are handy if you like kabobs. A couple of long lighters are useful for starting camp fires and stoves. A propane torch comes in extremely handy when trying to light a fire with damp wood. Pack along a probe-style digital meat thermometer to double check doneness when cooking over the uneven heat of a campfire. A stiff bristle brush, some grease-cutting dish-washing liquid, and a few sponges take care of our dishwashing needs.
Knives: For all of our cutting and chopping needs, an 8-inch chef's knife, two boning or fillet-style knives and a short paring knife suffice. I keep a small sharpener and hone in the kit for quick touch ups in camp. A large plastic cutting board is a must have.
Light: Cooking in the dark sucks: A Coleman gas lantern or an LED lantern is invaluable for those early morning and late-night cooking chores.
Spices and seasonings: Salt and pepper are must-haves. Pack along a few of your favorite all-purpose seasoning blends to round out your kit. A jug of vegetable or olive oil, a tub of vegetable shortening, and a can of non-stick cooking spray come in handy for sautéing and frying foods in camp.
Mixing bowls and aluminum pans: Pack along a couple of mixing bowls with tight-fitting lids and a few disposable aluminum pans for mixing ingredients, coating fried foods with breading, and holding food as it comes off the fire.
Water Jug: Bring along a jug with a spout for drinking water, washing hands and dishes, and cooking.
Garbage bags: paper towels, and heavy-duty paper plates: The dirty plates and paper towels can go straight into the fire. Everything else gets packed out in the garbage bags. Leave your spot better than you found it.