Blackberry Buttermilk Pancakes
As our kids get older and everyone is busy with work and school, quiet mornings with the entire family at home for breakfast are becoming increasingly rare. When it does happen, we like to cook up a nice meal to enjoy. These classic buttermilk pancakes (Alton Brown's base recipe) are perfect. This time of year, we add fresh blackberries to the pancakes for extra flavor.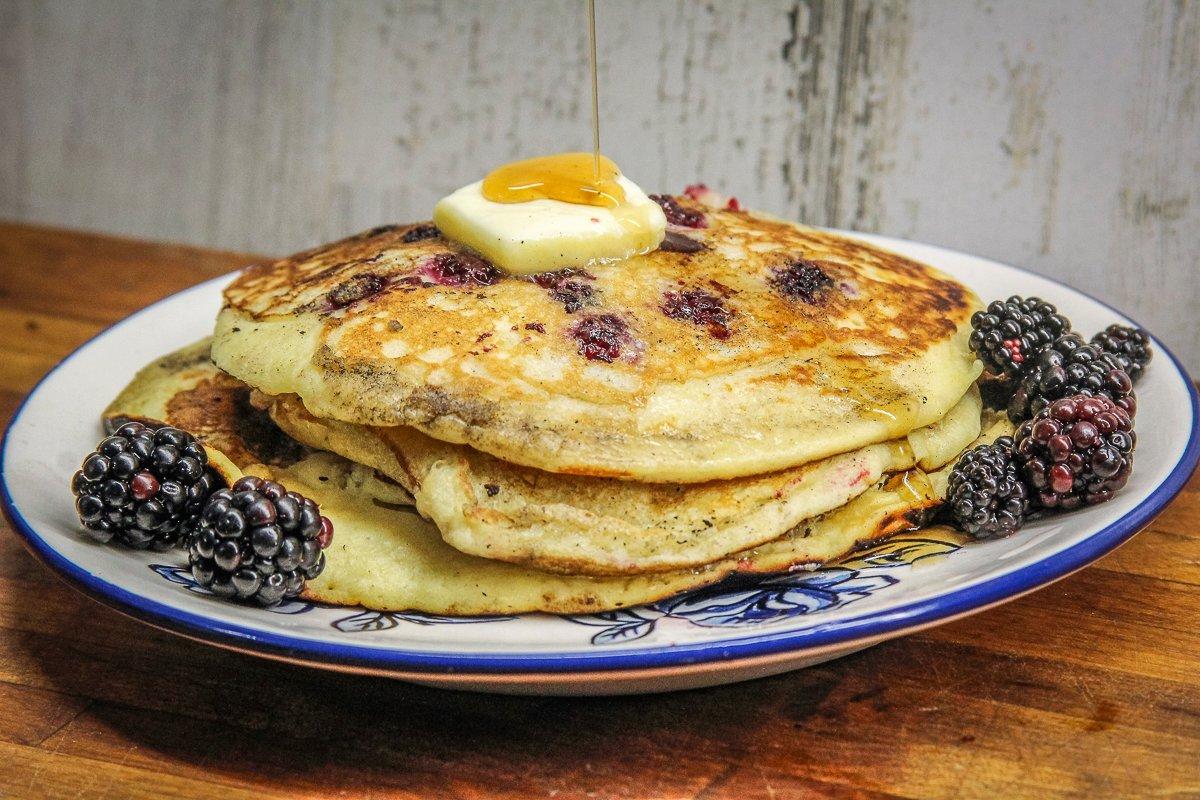 Adding any kind of fresh berry to a pancake isn't as easy as it sounds. If you try to add them straight to the batter, they tend to burst as you mix, discoloring the batter and flattening the berries. This problem is even worse if you are using frozen berries.
Instead, try cooking the pancakes as you normally would, without fruit, then dropping the berries one a time into the pancake batter before it sets up. This keeps the berries whole and prevents the pancake from turning a weird purple color.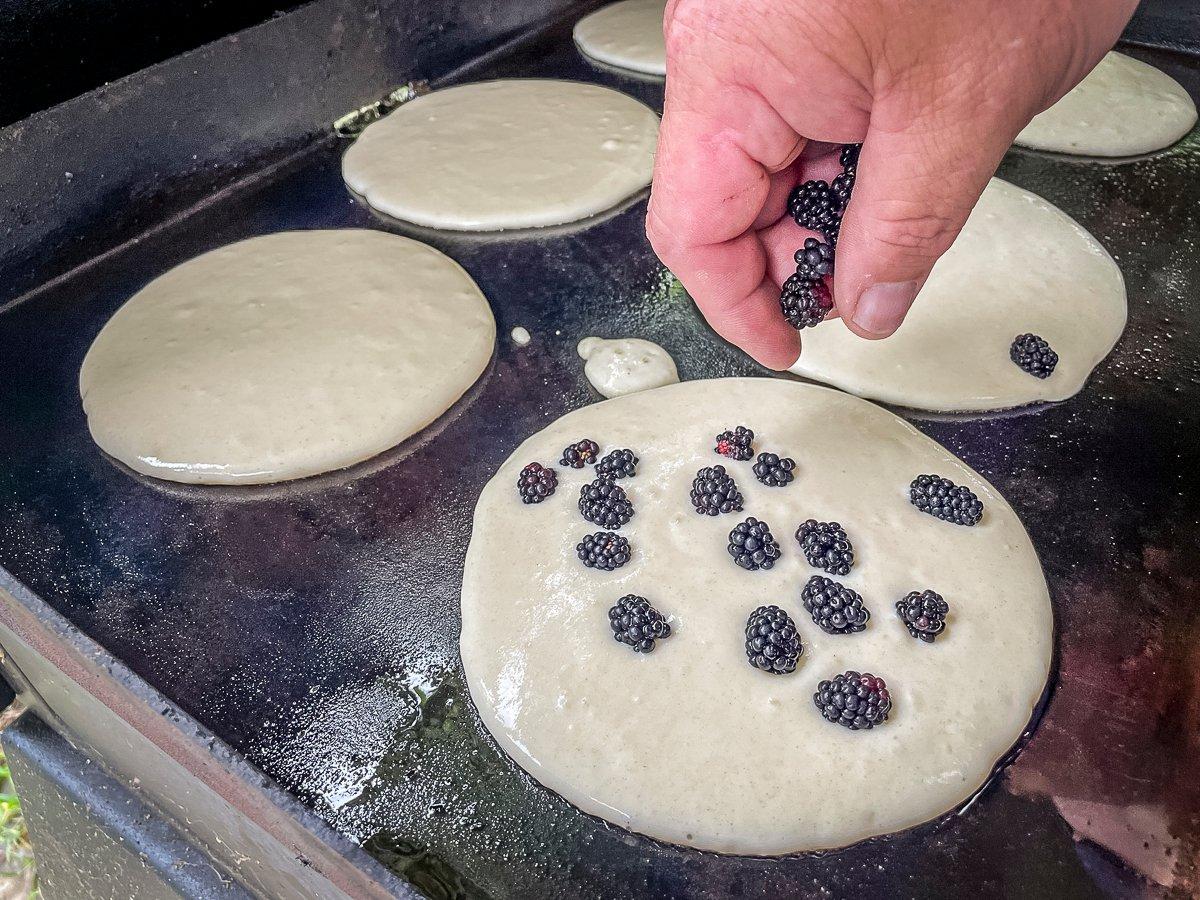 My favorite pancake cooking apparatus is a well-seasoned outdoor griddle, but an electric nonstick griddle works well too. You can also cook your pancakes in a well-seasoned cast-iron or nonstick skillet on the stovetop; it just takes a bit longer to cook the entire batch.
Ingredients
2 cups fresh blackberries
2 cups all-purpose flour
3 tablespoons sugar
1 teaspoon salt
1 teaspoon baking powder
1/2 teaspoon baking soda
2 cups buttermilk
4 tablespoons unsalted butter, melted
2 large eggs, beaten
Cooking Instructions
Pick about 2 cups of blackberries.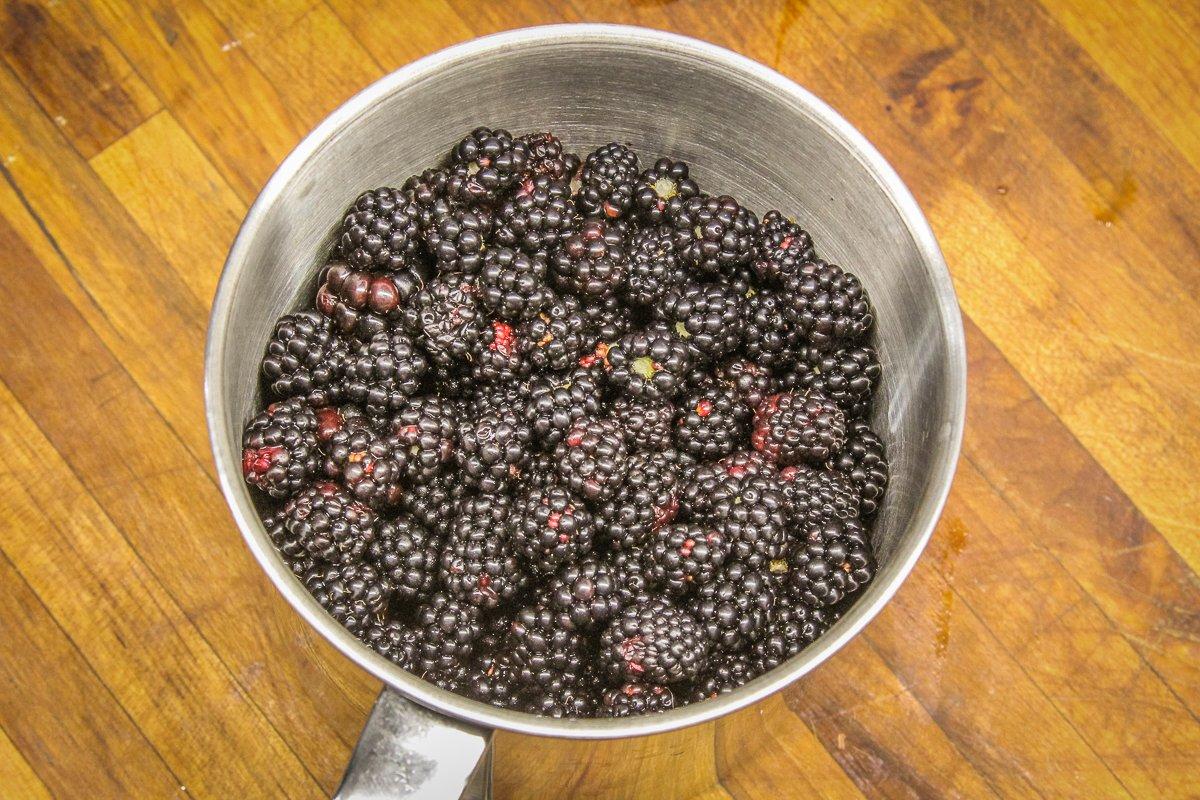 Sift together the flour, sugar, salt, baking powder, and baking soda. Slowly blend in the buttermilk to form a batter. Add the butter and eggs, then stir gently until the batter is smooth. Set the batter aside to rest while the pan or griddle heats.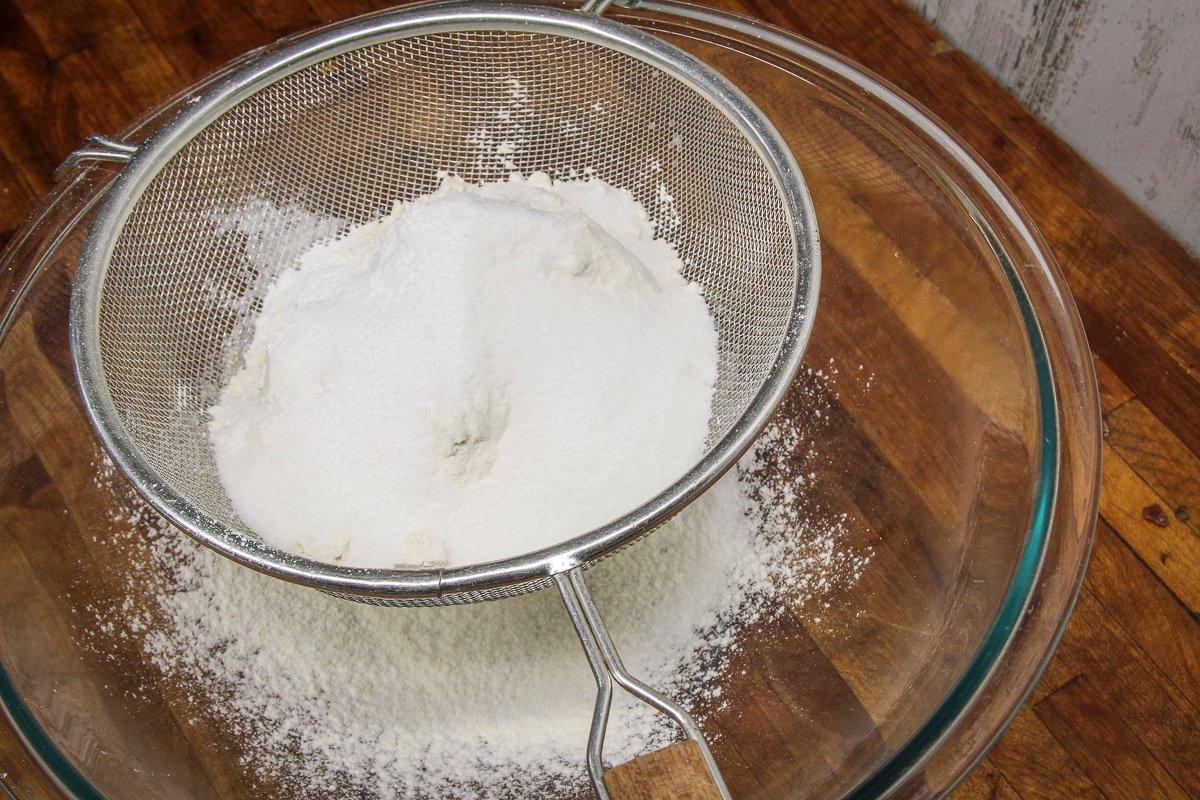 Coat the surface of the griddle or pan with nonstick spray. Ladle on batter to form the size pancakes you want. Quickly drop blackberries into the batter before it sets up.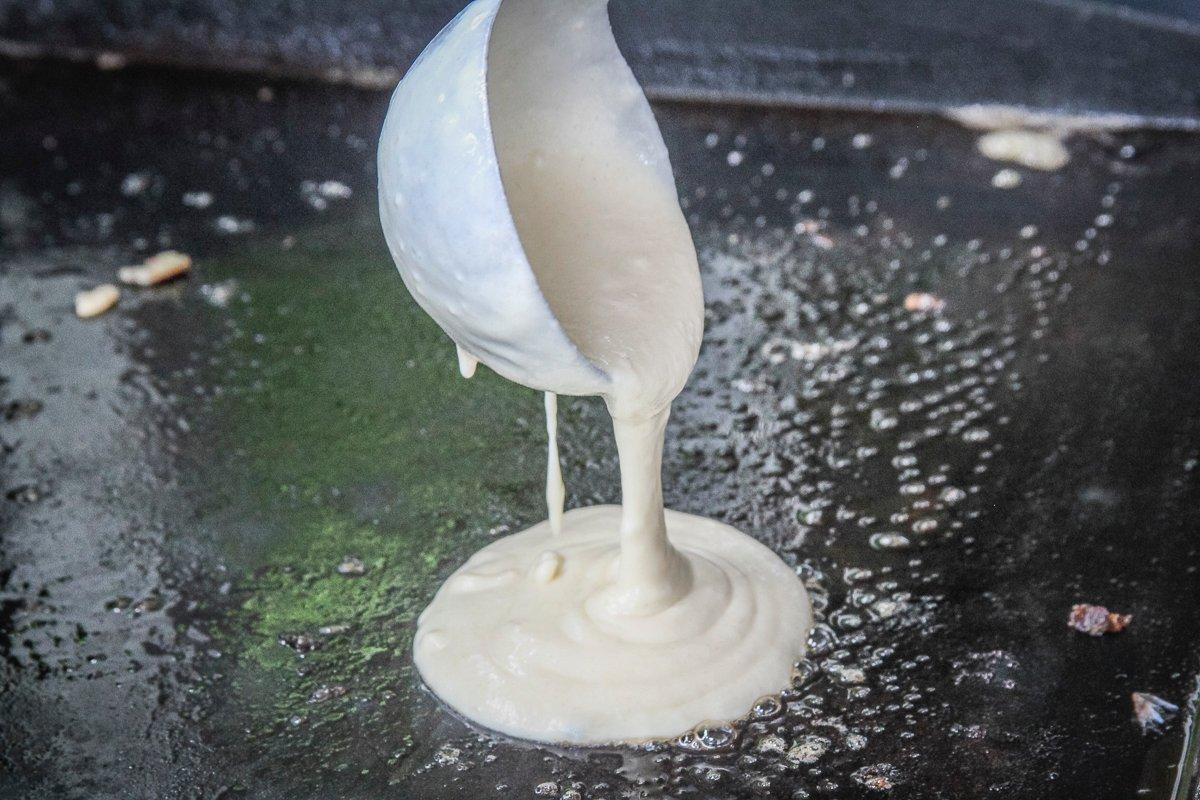 Once the batter starts to brown around the edges and bubble across the entire surface, about 3 to 4 minutes on a medium-hot griddle, use a spatula to flip the pancake and cook through for an additional 2 to 3 minutes.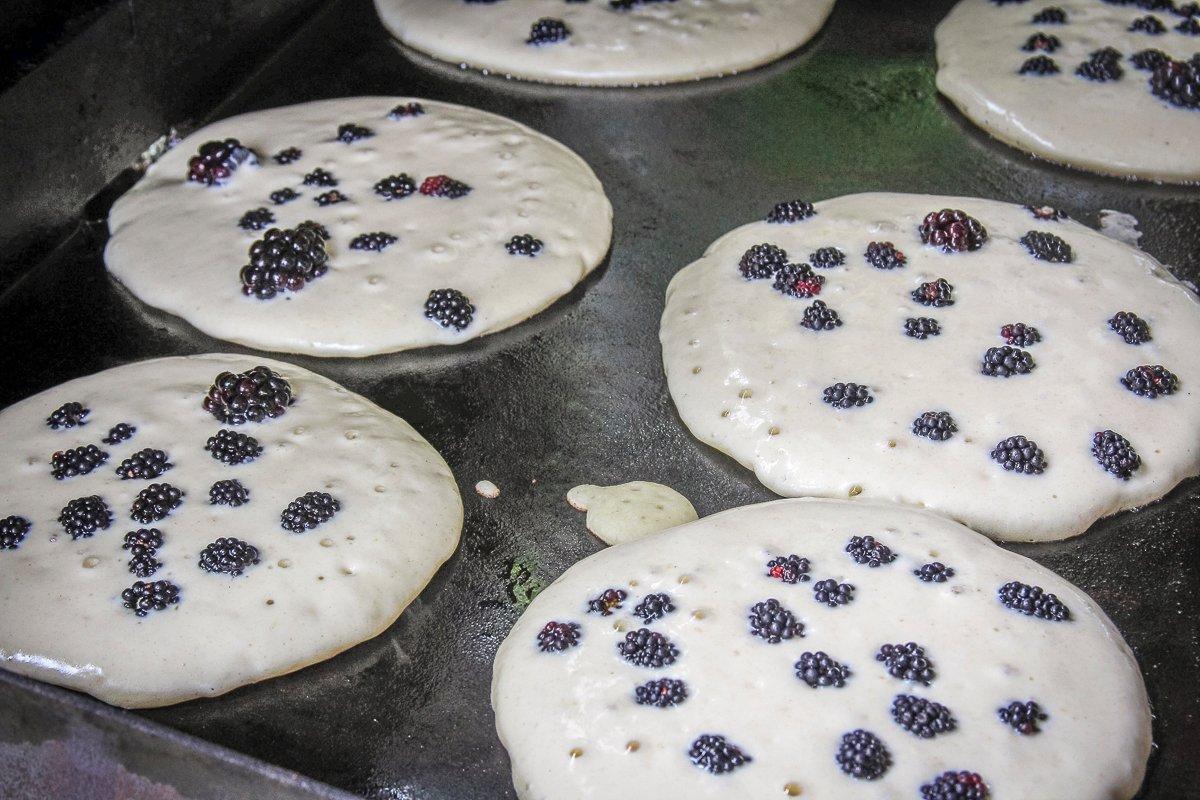 Serve topped with a pat of butter and a drizzle of real maple syrup.