So what do you do when you throw a crawfish boil and you have a few leftover crawfish? I don't know, it never happens at the boils I attend. I am not sure why that is, but my wife has a theory. Anyway, I have it on good authority from Steven Jagoda that the leftover crawdads make an awesome pie.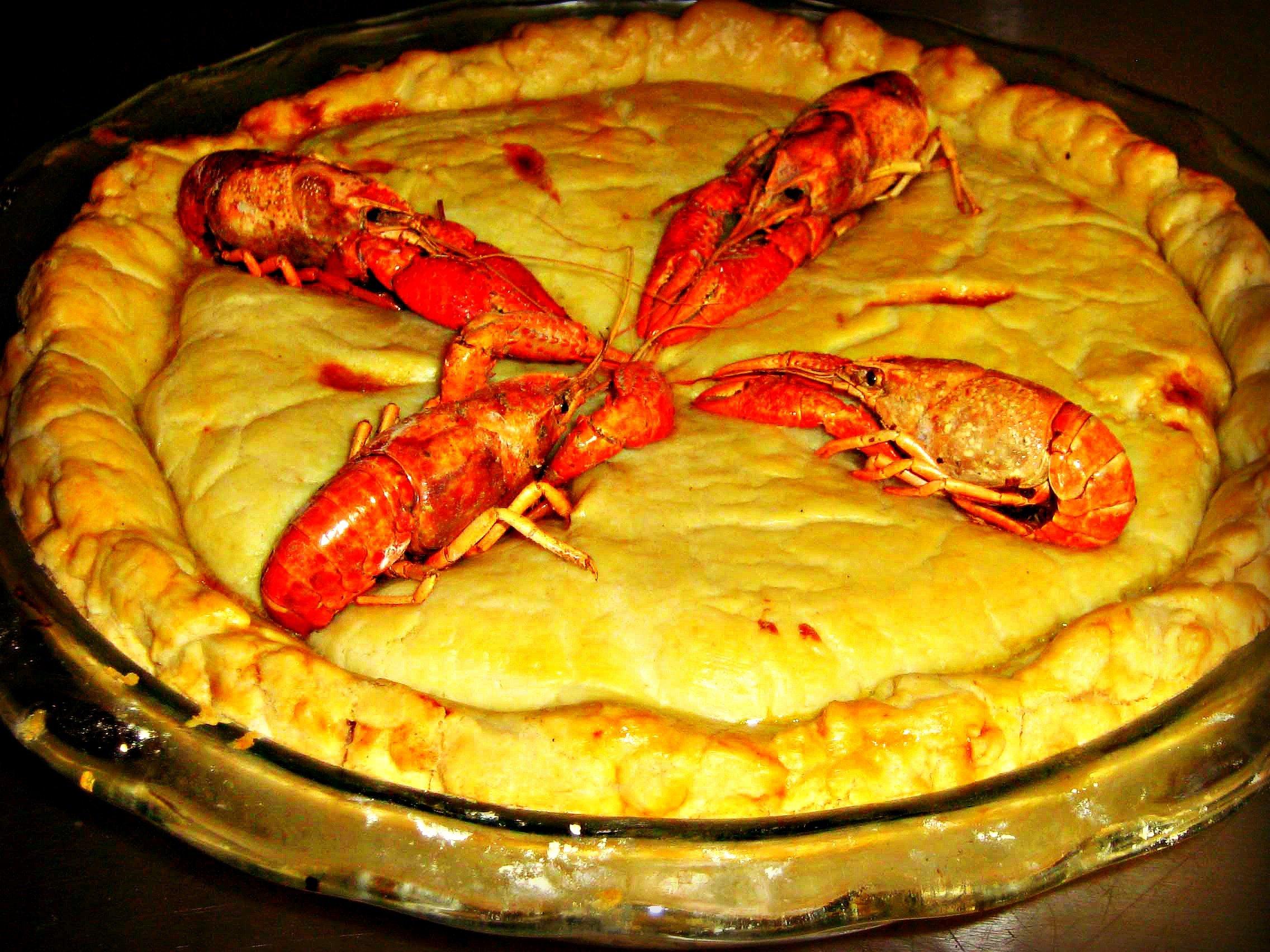 Ingredients
Pie Crust
1 c. lard, very soft
1 tsp. salt
1/2 c. boiling water
3 c. all-purpose flour
Mix flour and salt in large bowl. Add lard and cut it in with a pastry cutter or fork until the flour resembles a coarse meal. Add water and mix just until everything is incorporated. Don't overmix, as it toughens the crust. Wrap in plastic and chill for several hours or overnight. Then let the cold dough sit out at room temperature for about 30 minutes before rolling out. Divide into two equal portions and roll each into a thin crust. Drape one crust over a deep pie dish; sit the other aside for topping the pie.
Pie
4 tablespoons (1/2 stick) butter for roux, plus two more tablespoons to sauté vegetables
4 tablespoons all-purpose flour
3 cups milk
1 pound peeled crawfish tails
1/2 cup chopped yellow sweet onion
1/2 cup chopped green onions
1/2 cup chopped sun-dried tomatoes
1/2 cup chopped celery
1 tablespoon salt
1 teaspoon Cajun seasoning
1/4 teaspoon freshly ground black pepper
Cooking Instructions
Melt two tablespoons of butter in a skillet over medium heat. Add the yellow onion, tomatoes, green onions, celery and salt to the pan. Sauté until the vegetables are soft.
In a separate pan, melt the remaining four tablespoons of butter. Stir in the flour and cook for three to five minutes. Add milk and stir till mixture comes slightly to a boil and begins to thicken. Add the sautéed vegetables, the crawfish tails and the rest of the seasonings and simmer for five to ten minutes or until thick and creamy. Pour the filling mixture into the pie crust and top with second crust. Crimp the top and bottom crusts together. Slice slits into the top crust to vent the steam and top with whole crawfish for decoration. Bake at 375 degrees for 45 minutes.