Sometimes food is an integral part of a story. This one involves our deer camp, three kids, a late youth-only deer season and a pot of Deer Camp Chili.
Our season was winding down here in Kentucky. Even though it had been a good one, we could always use a bit more meat for the freezer. Since the kids each had a remaining tag or two, we headed down to the family farm to stay in the cabin and make a weekend of it.
This was a meat hunt. We didn't care about antler score, number of points on a rack, or even if there was a rack or not. We were there for food in the freezer, and a good time. Our goal was to kill a few deer, fix a big pot of chili over the Saturday night campfire, and generally just have an enjoyable weekend.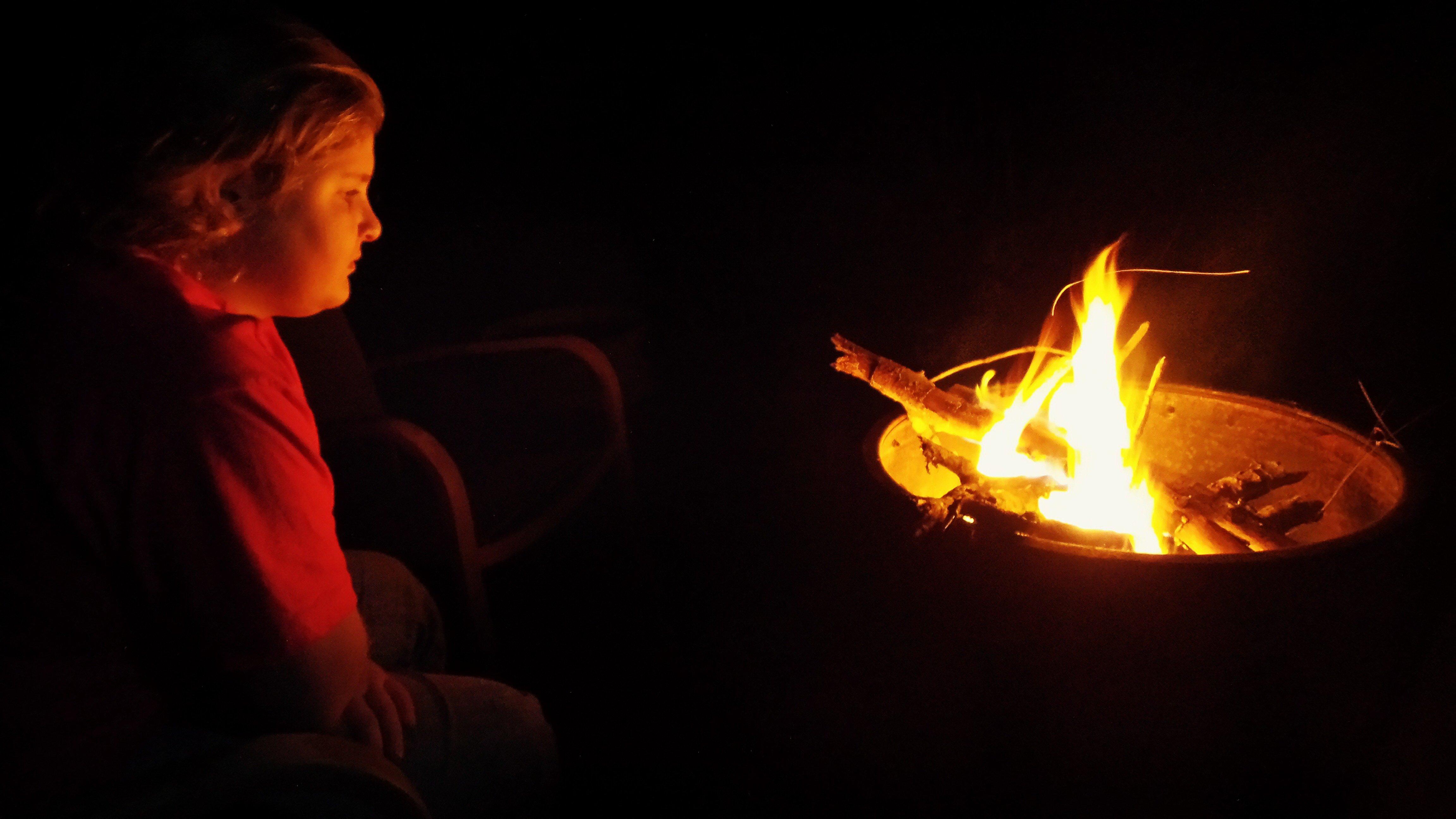 Now we just want the kids to have an opportunity to kill a deer. We don't tell them to only shoot big bucks, we tell them to shoot the deer that makes them happy. Gradually, that attitude sort of bled over to me as well. Big antlers still get me excited, but they no longer define my season.
As seems to happen all too often, the weather didn't cooperate. After a bluebird day for Friday's trip down, rain set in well before dawn on Saturday and hung around all day. We hunted from several of the enclosed shooting houses that have been built around the farm over the years. When we weren't in the stand, we hung out inside the cabin; reading, talking and listening to the rain beat a steady tap on the metal roof.
We still cooked our chili, but under an improvised tarp shelter strung up with ropes and poles between a few trees. We laughed over the rain pouring off the tarp every time someone bumped against one of the ropes. All five of us huddled under the shelter, watching the chili cook and the fire burn. The rain may have even made it better.
The bad weather kept us from filling every tag, but we did manage to add a bit more venison to the freezer. The chili turned out great, the kids all declared it head and shoulders above anything made at home.
.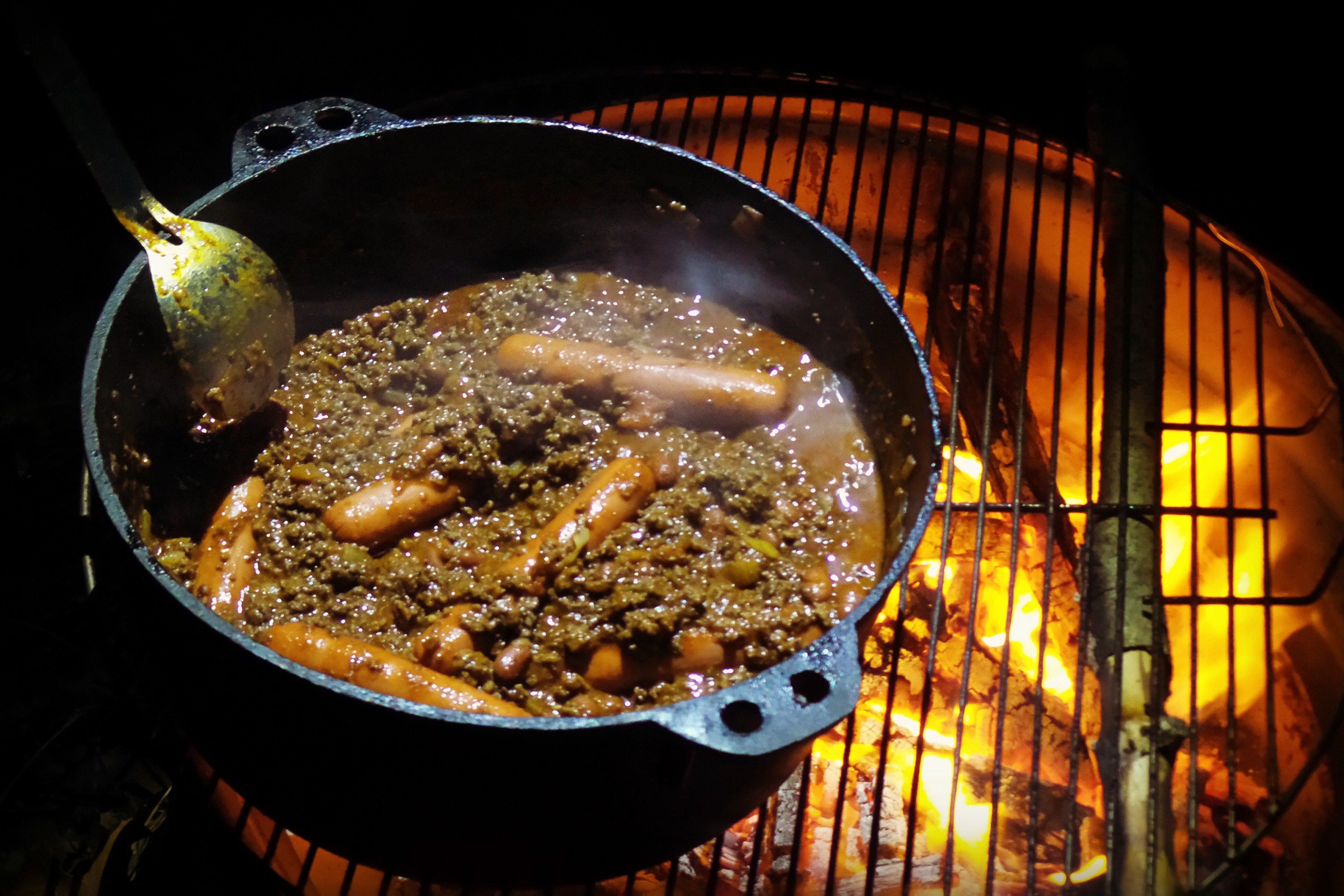 Ingredients
Half pound of bacon, chopped into pieces and rendered down to add some grease to the pan
One or two onions, diced
Two to three pounds of coarsely ground venison
Chili powder to taste, split into two portions. We generally use three to four teaspoons in a pot
Salt and black pepper to taste
One 28 ounce chopped tomatoes or two 14 ounce cans of Rotel diced tomatoes with green chilies
One can of beer or beef broth
One or two cans of chili beans, hot or mild, or one of each
Whatever else you think might be a good addition. Ancho or chipotle chili powder adds a bit of heat and another layer of flavor. Sliced smoked sausage is a good addition. I even toss in some leftover pulled pork from time to time. There are no hard and fast rules when it comes to cooking chili. Since it was raining too hard to stand around the fire and roast our hotdogs, we borrowed one of my dad's favorite chili tricks and dumped a pack of hot dogs into this batch. Worked like a charm.
Cooking Instructions
Start the bacon over a low fire, cooking till the bacon is crisp and fully rendered. Dump in the diced onions and simmer till the onions are translucent and soft. Add in the ground venison and brown with the onions.
Once the meat has browned, take the opportunity to season everything to taste. I like to add my chili powder in a couple of batches, one now, early in the cook, and one late in the cooking process. As the chili powder cooks, the flavor changes and mellows. Splitting the powder into two batches blends the flavor. I generally salt to taste and add at least a teaspoon of chili powder at this point, then simmer a bit longer to meld the flavors.
Next, pour in the tomatoes and the beer or broth. Now, I am a purist when it comes to my chili, and think that beans are best served on the side, if at all. But I am outvoted four to one in this family, so the beans usually go in at this point in the cook. Now is the time to add any other ingredients you might want, then pull the pot away from the heat and slowly simmer the chili for an hour or so. Just before you are ready to serve, stir in another teaspoon or two of chili powder and check for flavor. Add a bit of salt and black pepper if needed and serve.
The best quote of the weekend? It came Saturday morning as Potroast and I watched a big buck, a shooter in just about anyone's book, run across the open field 150 yards in front of our blind. Try as I might, I could never get the buck to slow down, and a 150-yard running shot isn't one I want the kids to take. As the buck disappeared into the trees on the far side of the field, Potroast looked up at me and excitedly whispered, Did you see all the meat on that deer? He is turning into a hunter with his priorities in order.