Traditional Italian Lasagna with Ground Elk Meat Sauce
I love lasagna. Those layers of pasta, meat sauce, and cheese just do it for me. In fact, I don't think I've ever had a lasagna I didn't enjoy. That said, there are definitely some that stand out for me. This traditional Italian recipe with meat sauce, mozzarella, Romano, and Parmigiano-Reggiano cheese is one of my favorites. Done in the Old World style without ricotta or cottage cheese, but with a creamy bechamel sauce to help tie things together, it just may become one of your favorites as well.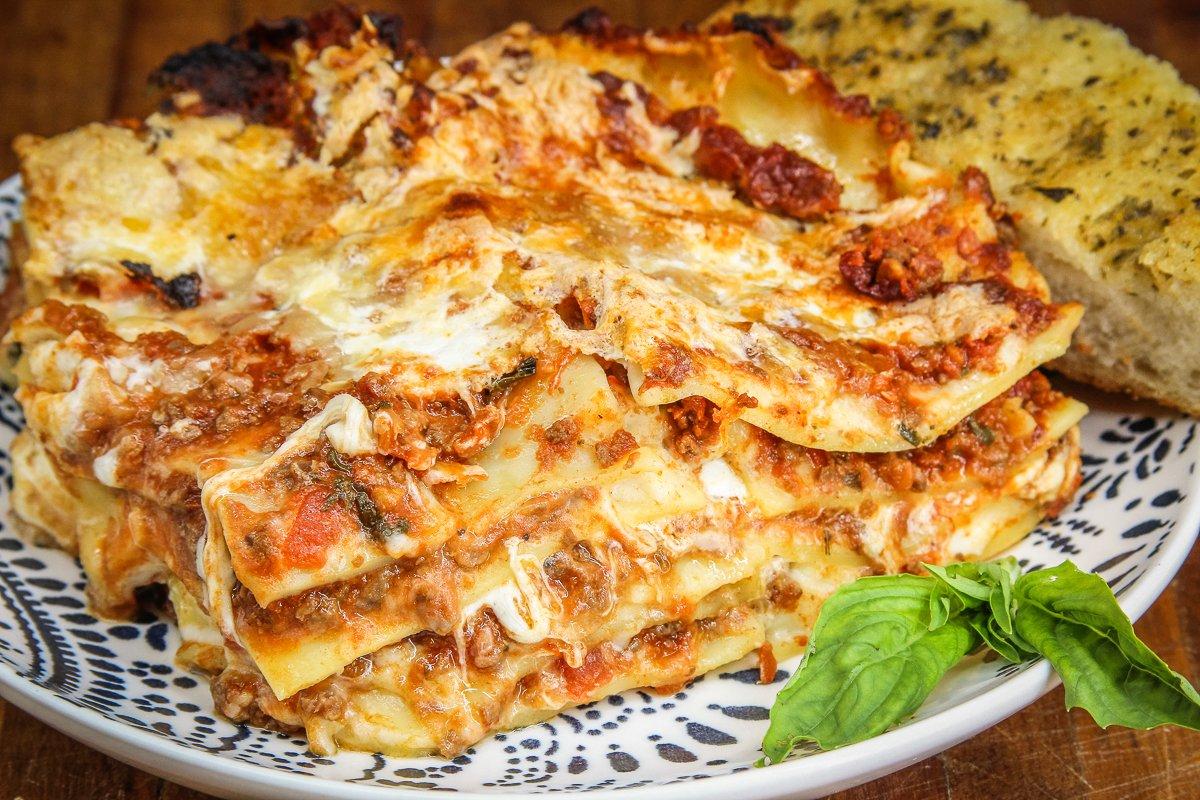 As with most of our meat sauces, we used ground wild game for the base. This one was elk, but any ground game meat will work. The sauce is simple: high-quality crushed tomatoes, fresh basil and flat-leaf parsley, garlic, a bit of salt and pepper, and time. That's all it needs.
For the lasagna noodles, I prefer fresh. If you can't find fresh pasta in your area, dried will work just fine. Prepare according to package instructions but stop boiling them about 5 minutes early, then add the noodles to ice water to stop the cooking process. This will prevent the pasta from becoming too soft as the lasagna bakes.
When it comes to cheese, get a good, whole-milk mozzarella, and shred it yourself. The results will be much better than pre-shredded cheese will produce. A handy tip for shredding soft mozzarella is to chill it in the freezer for 30 minutes or so before shredding. I listed the amount of mozzarella at 8 to 12 ounces. If your crew is like mine and loves cheese, go with 12, or if you want a more classic presentation, cut it back to 8 ounces.
You can make both the meat sauce and the bechamel the day before, if desired. Just refrigerate and warm back up before adding them to the dish.
Ingredients
Meat Sauce
1 1/2 pounds ground elk or venison
4 tablespoons extra-virgin olive oil
3 or 4 cloves of garlic, finely chopped
2 tablespoons chopped fresh flat-leaf parsley
56 ounces San Marzano Italian tomatoes, crushed (two 28-ounce cans)
1 1/2 teaspoons kosher or sea salt
1/2 teaspoon black pepper
1/2 cup fresh basil, torn
Bechamel Sauce
4 ounces butter
4 ounces (3/4 cup) all-purpose flour
24 ounces whole milk, warmed
Dash of nutmeg (just a tiny pinch)
1/2 teaspoon kosher or sea salt
1/2 teaspoon white pepper
Other Ingredients
1 pound lasagna noodles, fresh or dried
8 to 12 ounces shredded whole milk mozzarella cheese
4 tablespoons grated Romano cheese
4 tablespoons grated Parmigiano-Reggiano cheese to sprinkle on top
Cooking Instructions
Start by finely chopping some fresh garlic. Fresh garlic is more flavorful than jarred minced garlic.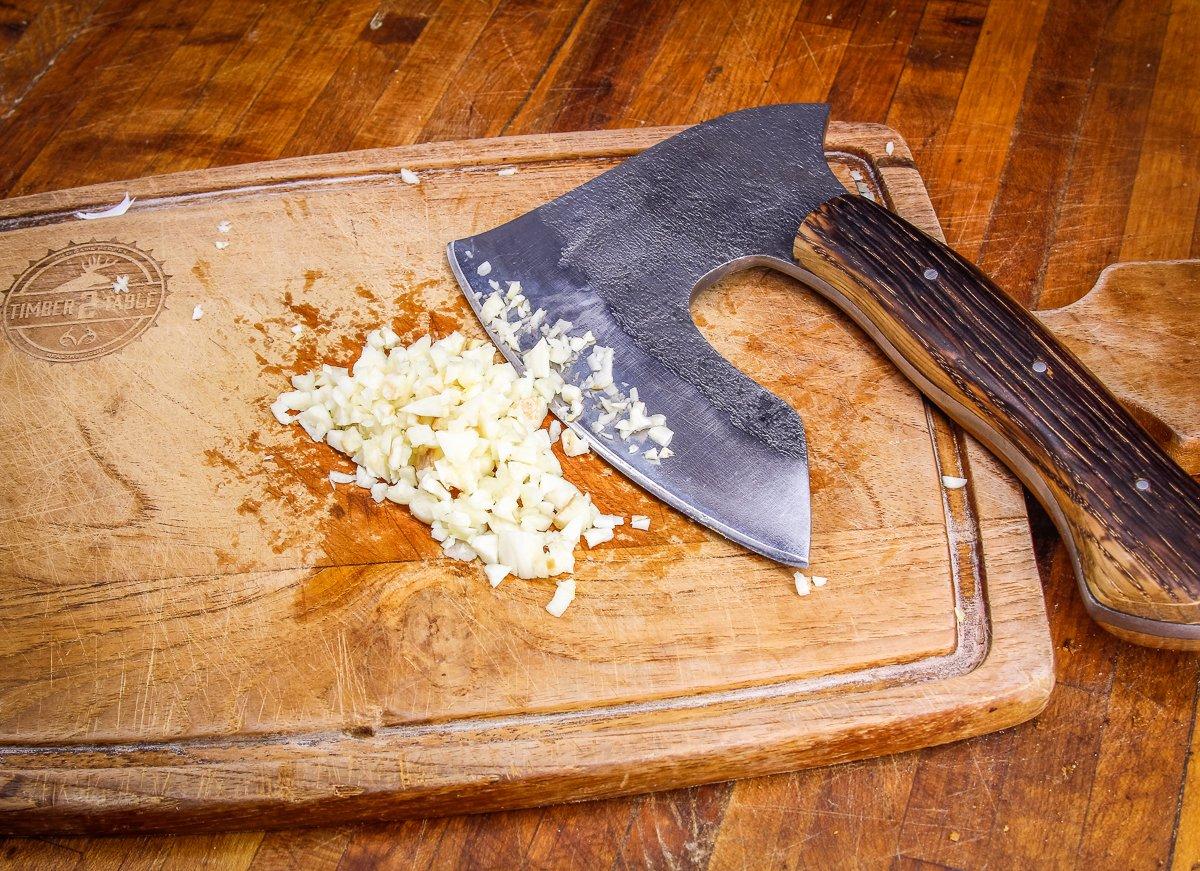 When the garlic begins to lightly brown, increase the heat slightly and add the ground elk. Break up the elk with a spoon as it cooks. Sprinkle with about 1/2 teaspoon of salt.
Once the elk has cooked through, add the tomatoes and stir well. Add another 1 teaspoon salt, then lower the heat and allow to simmer for at least an hour, stirring from time to time. Taste for salt and add pepper.
When the sauce is ready, add the torn basil leaves and stir well. Refrigerate the sauce if making it a day early or set aside while you prepare the bechamel.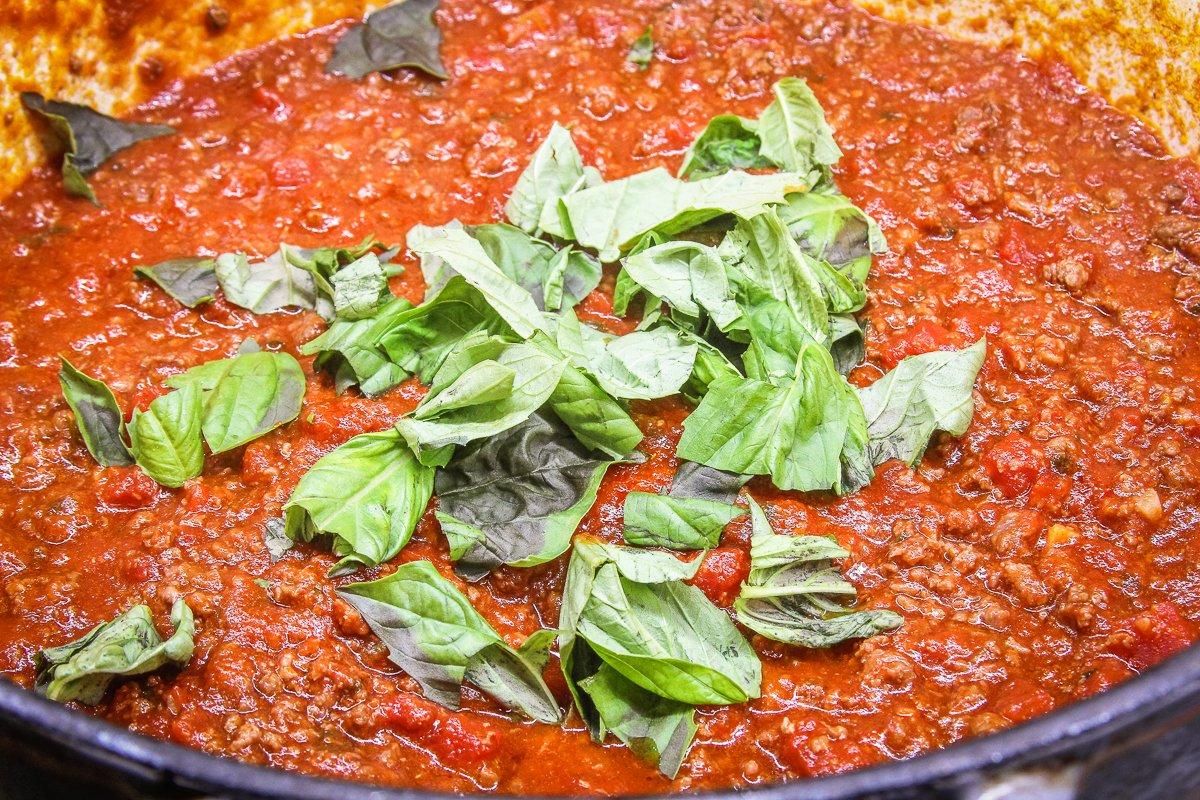 Prepare the noodles according to package instructions, pulling them 5 minutes early and shocking in ice water to stop the cooking process. Reserve 1 cup of the pasta cooking water.
To assemble the lasagna, spread a thin layer of sauce over the bottom of a lightly greased 9-by-13 baking pan. Add a layer of pasta lengthwise in the pan. Spoon a quarter of the bechamel sauce over the noodles, then evenly add dollops of the meat sauce. Sprinkle on a quarter of both the mozzarella and Romano cheese.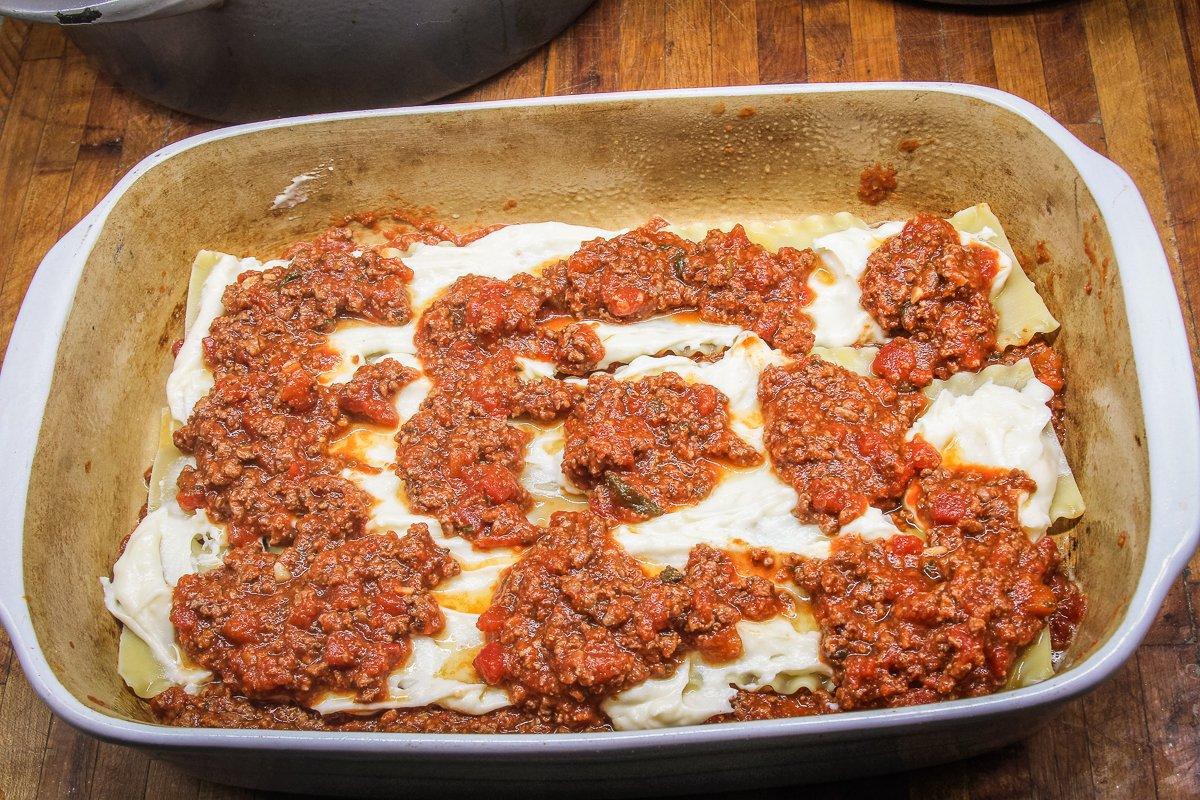 Add a third layer, again lengthwise this time. The alternating layers will give body to the finished pasta and help it hold together on a plate. Repeat the cheese and sauce additions.
You should finish with four to five layers of pasta, depending on how deep your dish is. Add the remaining meat sauce and spread evenly over the pasta. Pour over 1/2 cup of the reserved pasta cooking water. Sprinkle on the Parmesan cheese and any remaining mozzarella evenly over the top.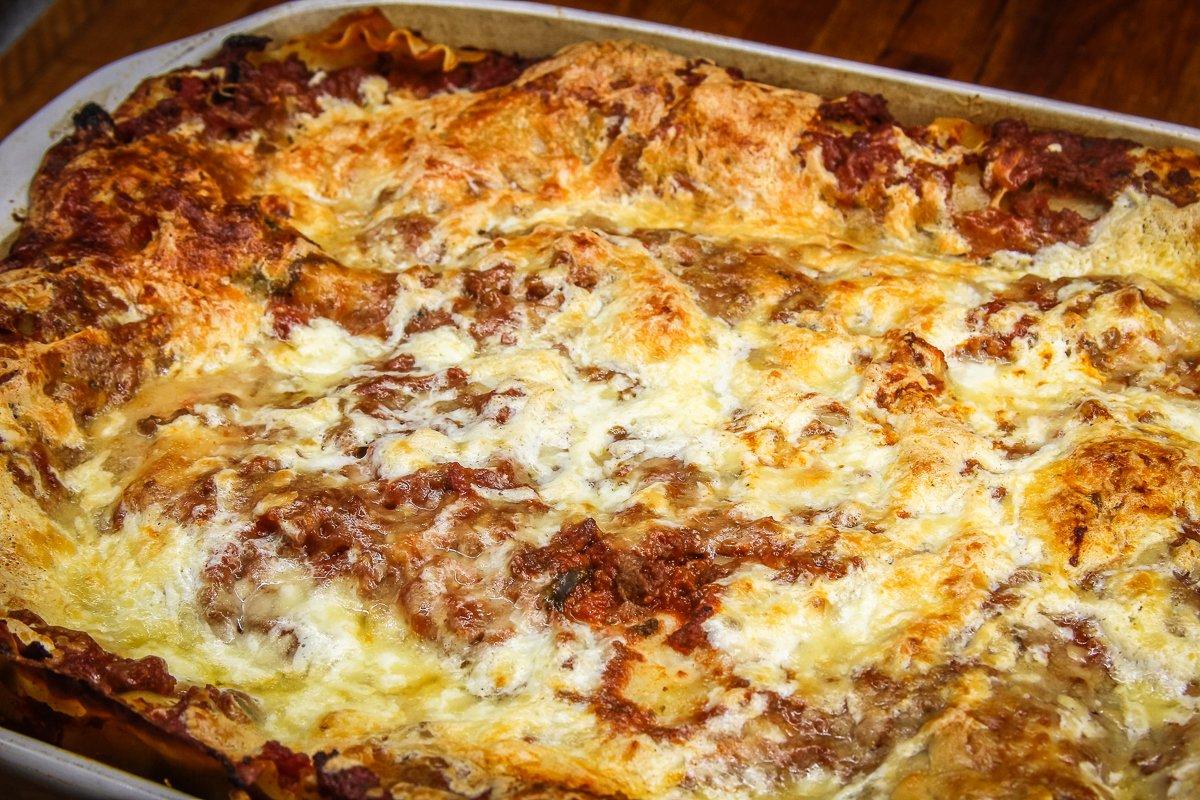 Cover the pan loosely with foil, avoiding contact between the top layer and foil, if possible. Place the lasagna in a preheated 375-degree oven for 30 minutes. Remove the foil and continue baking for another 20 to 30 minutes, uncovered. Allow the lasagna to rest for 10 to 15 minutes before slicing.